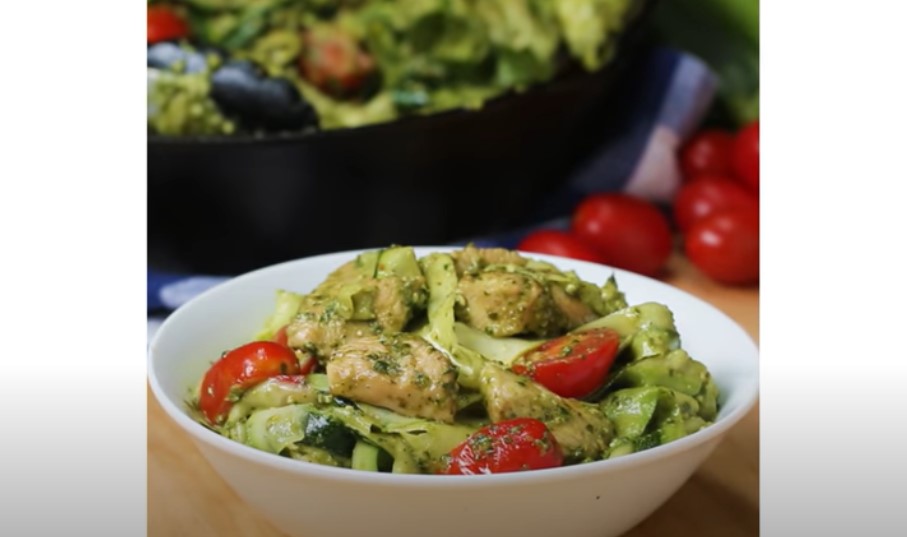 Zucchini Strand Linguine Recipe
How To Make Zucchini Strand Linguine
Cut out on the carbs with this zucchini strand linguine recipe – a healthy and delish whole wheat linguine dish seasoned with salt, pepper, and basil oil.
Ingredients
salt and freshly ground black pepper

¾

lb

whole-wheat dried linguine

¾

lb

zucchini

¼

cup

extra-virgin olive oil

2

tbsp

minced garlic

½

tsp

red pepper flakes

3

tbsp

coarsely chopped fresh basil leaves

½

cup

grated parmesan

¼

cup

basil oil,

(recipe below)
Instructions
Bring a large pot of generously salted water to a boil and add salt. Add the pasta and cook for about 10 minutes until al dente.

While the water comes to a boil and the pasta cooks, cut the zucchini with a fine French-fry cutter on a mandoline or cut by hand into the longest, finest julienne as possible.

Season with salt and pepper. If zucchini is very finely cut, it does not need to be cooked. Otherwise, place in a colander, suspend over the pasta pot, cover the pot, and steam the zucchini for about 2 minutes until still slightly crunchy.

Heat ¼ cup of the olive oil in a small skillet over medium-high heat until hot. Add the garlic and sauté briefly until light brown. Turn on the exhaust fan and add the red pepper flakes. Quickly mix in the basil and parsley and remove from the heat.

When the pasta is al dente, drain through a colander, reserving about ½ cup of the pasta cooking water.

Pour the pasta into a warm serving bowl then add the zucchini, basil oil, the garlic mixture, and ½ cup of the cheese. Toss well, adding cooking water as needed to make a smooth sauce. Taste for seasoning; add salt and pepper, as needed.

Grate about 2 tablespoons of Parmesan over the top and serve at once.
Basil Oil (and other herb flavored oils):
For woody herbs, such as rosemary, sage, thyme, oregano, or lemon verbena, use 1 cup packed leaves to 2 cups of pure olive oil.

In a blender, purée the herbs and oil until completely smooth. Put the puréed mixture in a saucepan and bring it to a simmer over moderate heat. Simmer for about 45 seconds, then pour through a fine-mesh strainer into a bowl. Don't press on the mixture, but you can tap the strainer against your hand to get the oil to drip through faster. (The reason to save the basil oil to toss with the pasta at the end is so the oil will have a fresh, uncooked taste.)
Nutrition
Calories: 

434.28kcal

Fat: 

22.36g

Saturated Fat: 

4.16g

Trans Fat: 

0.04g

Monounsaturated Fat: 

13.35g

Polyunsaturated Fat: 

3.96g

Carbohydrates: 

45.80g

Fiber: 

2.59g

Sugar: 

3.09g

Protein: 

12.78g

Cholesterol: 

8.43mg

Sodium: 

345.43mg

Calcium: 

177.37mg

Potassium: 

308.32mg

Iron: 

1.24mg

Vitamin A: 

35.79µg

Vitamin C: 

11.29mg