Going out for a fancy dinner? No need! In this copycat recipe, we'll show you how to make lasagna with ricotta cheese and tasty ground beef with Olive Garden's Lasagna Classico dish. This lovely pasta dish is a fan-favorite at Olive Garden, a popular restaurant that serves Italian-American cuisine. With our easy copycat olive garden lasagna recipe, you can make your own homemade lasagna classico dish with just a handful of ingredients in less than 2 hours!
Lasagna, The Popular Italian Dish
Italy is home to many iconic dishes, from pizza to spaghetti, and of course, the well-loved lasagna or lasagne. You'll know this dish right away because of its iconic look. Its layers of thin, sheet-like pasta are oozing with cheese, sauces, and fillings like meat as well as veggies.
Although Ancient Greece invented this scrumptious dish, it was Italy that perfected it. Italians served this layered pasta dish on special occasions as they always used fresh ingredients and complicated sauces. And like all other Italian dishes, different regions have their own special version of this dish. There's the pesto version, the meat-and-bolognese, and most importantly, lasagne imbottite or stuffed lasagna. It's this Neapolitan-style stuffed version that eventually became the most popular variation all over the world.
Asides from its rich history, there are many reasons to love this layered pasta dish. It's loaded with various cheesy and meaty flavors and is incredibly filling to eat. It's the perfect go-to meal for fancy dinners or celebrations with friends and family! And the Lasagna Classico at Olive Garden is one of the best lasagna recipes to have graced the culinary world.
Why We Love The Olive Garden Lasagna Classico
In the Olive Garden menu, you can find pasta dishes, salads, soups, and even steaks. The Olive Garden salad and soup are very popular among foodies, so we have plenty of Olive Garden copycat recipes you should check out if you end up liking this lasagna recipe of ours. For Olive Garden soup, there's the chicken and gnocchi soup recipe as well as our heavenly Copycat Olive Garden Zuppa Toscana recipe.
But aside from their soup and salad, their lasagne dishes are also one of the goers' favorite meals! Olive Garden even has a vegetarian-friendly version you can make with our very own copycat vegetable lasagne recipe. But really, nothing beats the classico with its delicious ground beef, gastronomical cheeses, and dried oregano leaves!
Learn how to make Olive Garden's lasagna classico in the comfort of your own kitchen. This copycat Olive Garden lasagna recipe is easy to make and stays as true as possible to the original! For tips on how to cook lasagna noodles, what to serve with lasagna, and more, check out our CAQ section down below.
Just like Olive Garden, you can make this dish with the freshest ingredients. Even better, you can serve it to friends and family fresh out of the oven! You'll be feeding them the softest pasta and meat sauce so fine, it'll taste as if it's melting in their tongue.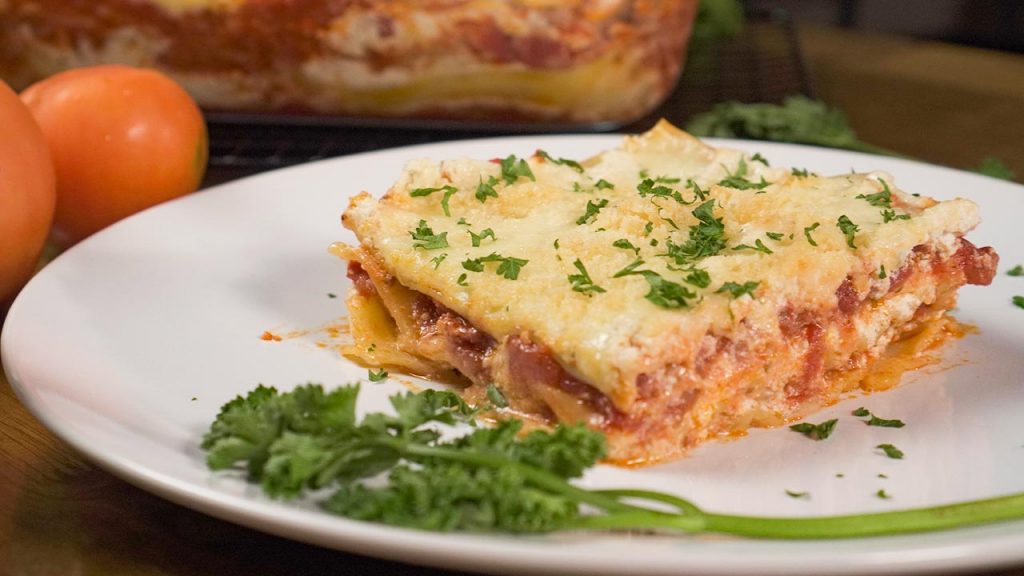 Olive Garden's Lasagna Classico Recipe
How To Make Olive Garden's Lasagna Classico
You can't go wrong with layers of delicious meaty sauce, gooey cheeses, and soft pasta. Our copycat Olive Garden's Lasagna Classico Recipe is the perfect dish for big dinners with loved ones!
Ingredients
½

lb

ground beef

½

lb

Italian sausage,

chopped

2

tbsp

olive oil

4

oz

red onion,

finely chopped

3

garlic cloves,

minced

28

oz

crushed tomatoes,

(2 cans)

1½

tsp

dried oregano,

divided

½

tsp

salt

½

tsp

ground black pepper

16

oz

ricotta cheese,

(1 container)

2

cups

mozzarella cheese,

shredded

½

cup

Parmesan cheese,

grated or powdered

1

egg,

beaten

12

lasagna noodles
Instructions
Preheat the oven to 325 degrees F.

In a large skillet, sauté the onion and garlic in the hot oil until fragrant.

Add ground beef and sausage. Cook over medium heat for 10 to 15 minutes until cooked through. Drain any excess fat if necessary.

Add in crushed tomatoes and ½ teaspoon of oregano. Simmer for 20 minutes.

Season with salt and pepper. Adjust according to preferred taste and set aside.

In a large bowl, combine the ricotta cheese, egg, and remaining 1 tablespoon of oregano. Season it with salt and pepper.

Spread a spoonful of the cheese mixture at the bottom of a greased baking dish. Then, layer the noodles, cheese mix, meat, and tomato sauce.

Top the final noodles with sauce and extra mozzarella.

Cover the pan with foil and bake for 20 minutes.

Remove the foil and bake uncovered for an additional 10 minutes.

Serve while hot to family and friends. Enjoy your lasagna meal!
Recipe Notes
You may cook your noodles before using them in this recipe. However, if you're short on time, you can make this dish with uncooked noodles as well. Just make sure you use no-boil noodles instead!
Nutrition
Sugar:

4g

:

Calcium:

267mg

Calories:

408kcal

Carbohydrates:

29g

Cholesterol:

78mg

Fat:

23g

Fiber:

2g

Iron:

2mg

Monounsaturated Fat:

9g

Polyunsaturated Fat:

2g

Potassium:

439mg

Protein:

21g

Saturated Fat:

10g

Sodium:

558mg

Trans Fat:

1g

Vitamin A:

494IU

Vitamin C:

7mg
Nutrition Disclaimer
Commonly Asked Questions
How do I cook lasagna noodles?
Bring a large pot of water with salt to a boil. Add the noodles and let them cook until they're done. If you want to make the noodles al dente (meaning they're firm but cooked well all throughout), you can submerge them in a large bowl of water with ice cubes right after cooking. This is to make sure that the noodles stop cooking. After, drain the noodles and dry them out on paper towels.
How do I freeze lasagna?
While you can store your pasta dish in the fridge, freezing it will extend its shelf life longer. To freeze, make sure you first line your pan with foil before making the recipe. If you have leftovers after baking and eating, you can then freeze the dish until it's solid. Once the lasagna is ready for storing, take the pasta dish out of the casserole and wrap it in more foil. Now you can store your dish in the freezer.
How long does lasagna last?
When stored in the fridge, your pasta dish can last for up to 5 days. When properly stored in the freezer, it can last for up to a whole month.
How do I reheat lasagna?
If the dish was just stored in the fridge, you can simply microwave it on high heat individually per square slice in 90-second increments until warmed through. To avoid drying it out, you can drizzle it with 2 tablespoons of water before reheating. You can also reheat it in the oven at 350 degrees F for 15 to 25 minutes, until the cheese is bubbling. Although, make sure that it's wrapped in foil first! Remember to let your frozen lasagna thaw in the fridge overnight. After that, you can proceed with reheating it in the same method as when it was stored in the refrigerator.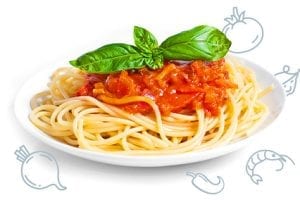 Conclusion
Who knew you could make this scrumptious dish in the comfort of your own kitchen? With our amazing copycat Olive Garden lasagna recipe, you won't have to dine in at the nearest Olive Garden just to have a taste of their delicious lasagna classico.