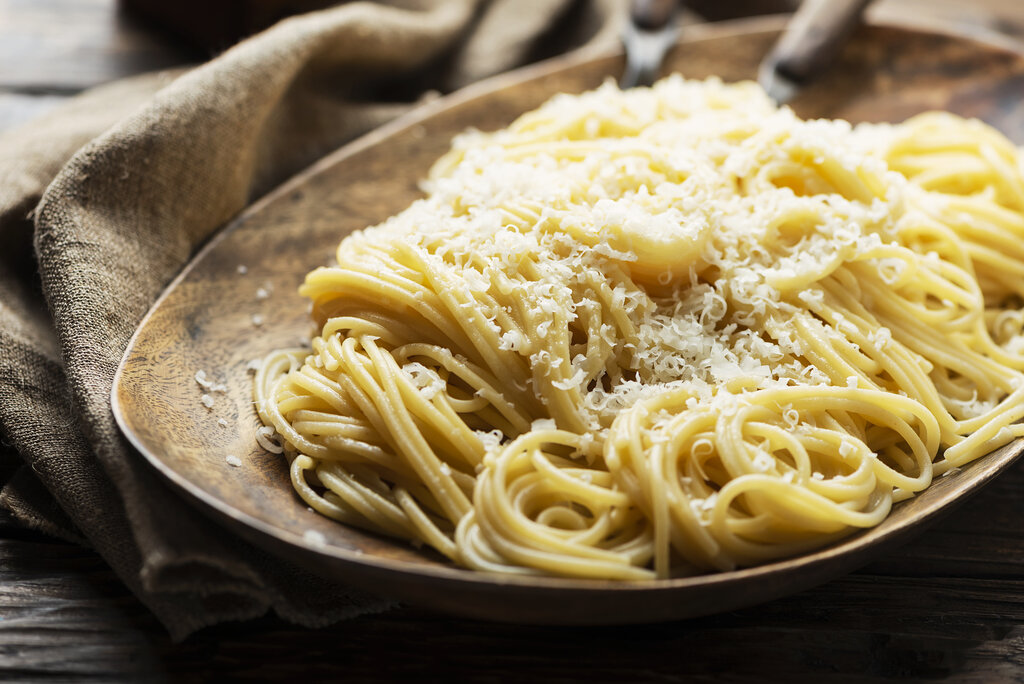 15-Minute Browned Butter and Mizithra Cheese Pasta Recipe
It's been a while since I've tried one of Old Spaghetti Factory's famous pasta dishes. It's the one where they combined Mizithra cheese and browned butter with spaghetti noodles. Honestly, this Old Spaghetti Factory pasta dish was so delicious that I wanted to try recreating it at home. It's more convenient and cheaper than going out and buying it. And, of course, making homemade pasta recipes are my forte so why not take the challenge?
As it turns out, this Mizithra pasta only has 3 basic ingredients: Mizithra cheese, butter, and pasta (either spaghetti or fettuccine). The best part is the Mizithra cheese! I bought mine from the Old Spaghetti Factory. If your local grocery store has one, then you can purchase from there. Mizithra cheese or myzithra is Greek cheese. It's a combination of whey and milk gathered from sheep or goats. It can be sold as fresh, soft cheese or salt-dried cheese perfect for grating. Without the salt, its general taste is almost sweet and milky.
For this recipe, I needed the salt-dried one as cheese topping for this copycat pasta recipe. Remember that the Mizithra cheese is the highlight of this recipe so it's best if you really buy some. But, if you're unable to find one, a good quality Romano cheese or parmesan cheese can be used as substitutes. Although it won't be a copycat recipe anymore, the rich and savory flavors are still there.
Another wonderful cheese tip is also mixing in Romano cheese with the Mizithra. The Old Spaghetti Factory uses this cheese blend, and it's easily found in many grocery stores. That's why I recommend it as a substitute for Mizithra cheese so if you want a more authentic taste, feel free to add it in.
After purchasing the Mizithra cheese, I was ready to get cooking. This has to be one of the easiest pasta recipes I ever made. I cooked the pasta accordingly and then made my own browned butter sauce. It's really easy to make it. I made some recipe notes to help you with the process if you're having a hard time. It's basically just waiting for the butter to melt and turn into a shade of caramel. You have to really wait for that brown color before you pour it over your pasta.
I made all of this in just 20 minutes, and I shared it with my family. I added a bit of fresh cracked pepper and parsley as garnish. I really wanted to give the dish a bit of a fancy finish. It's the perfect lunch or dinner recipe to enjoy alongside delicious side dishes like homemade .
How To Make How To Make Browned Butter and Mizithra Cheese Pasta
Enjoy perfectly savory flavors in this copycat Old Spaghetti Factory pasta mixed with Mizithra cheese and browned butter, cooked in just 15 minutes!
Ingredients
8

oz

pasta,

spaghetti or fettuccine

½

cup

butter,

salted, sliced into pieces

3

oz

Mizithra cheese,

finely grated, or to taste

fresh cracked pepper,

optional, to garnish

parsley,

optional, to garnish
Instructions
Cook the pasta according to the directions listed on the package. You may opt to start with very hot tap water to boil the pasta, as this will cut the time waiting for the water.

Meanwhile, place the butter in a light-colored, small saucepan over medium heat. Cook the butter, swirling the pan occasionally until it has browned. Use sliced butter to ensure even melting.

Drain the cooked pasta well. Do not rinse the pasta with water, or the butter won't stick.

Plate the pasta, then pour the browned butter, including the sediments, over the pasta. Sprinkle with Mizithra cheese and toss, if desired, to evenly coat.

Serve immediately. You can also serve it with fresh cracked black pepper and chopped fresh parsley. No salt may be needed because the Mizithra is a pretty salty cheese.
Recipe Notes
To ensure that the butter will be perfectly browned, you may refer to these stages of browning the butter:
The butter will first melt, then it will become lemon-y yellow.
After 1 to 2 minutes, it will begin to splatter a bit. Swirl the pan the most during this stage to reduce splattering.
It will then foam and begin to smell nutty. When little brown specks will begin to appear in the center of the golden foamy bubbles, remove it from heat. Wait for a few seconds for a generous amount of specs or maybe a 2-inch circle before removing it from heat.
Color wise, it should go from a yellow, to golden tan, to an orange-y toasty golden brown.
Afterwards, let cool. Then, using a mesh strainer, pour the browned butter into a bowl to separate any remaining milk solids or brown residues from the bottom of the pan.
Nutrition
Calories: 

501.31kcal

Fat: 

31.08g

Saturated Fat: 

18.86g

Trans Fat: 

1.18g

Monounsaturated Fat: 

7.86g

Polyunsaturated Fat: 

1.49g

Carbohydrates: 

42.91g

Fiber: 

1.93g

Sugar: 

1.60g

Protein: 

12.81g

Cholesterol: 

82.69mg

Sodium: 

144.11mg

Calcium: 

165.12mg

Potassium: 

159.54mg

Iron: 

0.87mg

Vitamin A: 

254.57µg

Vitamin C: 

1.41mg