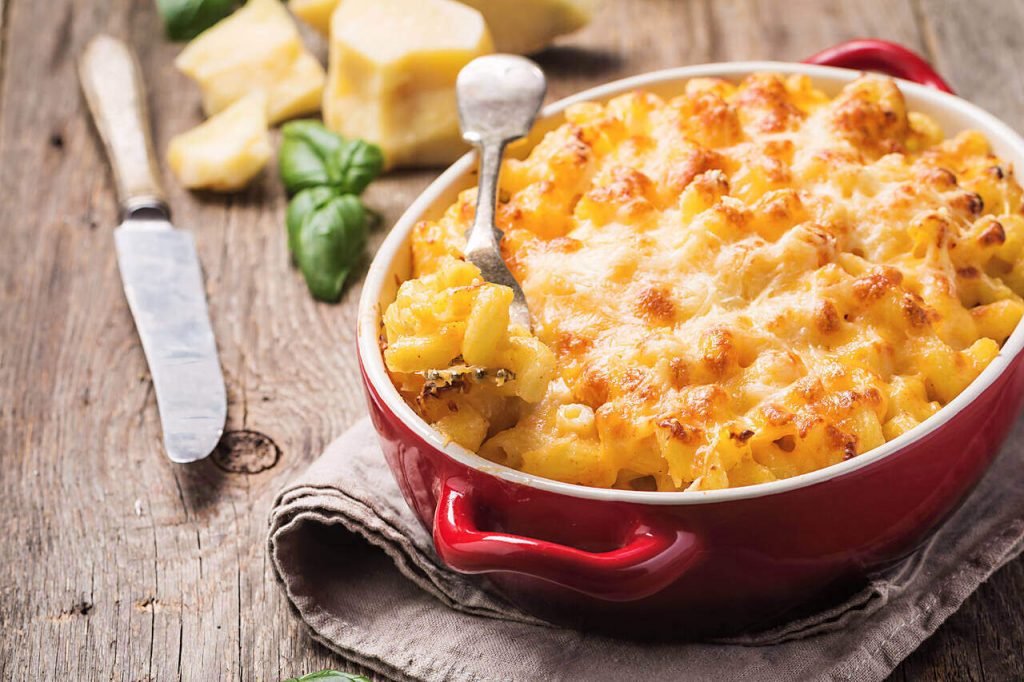 Mac and cheese, american style macaroni pasta in cheesy sauce
Popeyes has always been my go-to favorite fast-food chain. I mean, who doesn't love their crunchy and juicy chicken right? But what I love the most is pairing my chicken with a side of POPEYES MAC AND CHEESE!
This has been my all-time favorite comfort dish and it made me sad when it left their menus for a brief moment. Luckily, it was reintroduced last year as the new Popeyes homestyle mac and cheese. And I swear, this new version just might steal your heart in an instant! I absolutely love the golden-brown crust from being oven-baked. So I tried recreating the popeyes mac and cheese recipe at home in the comfort of my own kitchen.
Here are the ingredients I used to make my Popeyes mac and cheese a comforting and scrumptious dish:
Unsalted butter

– Butter is among the core ingredients to achieve this homestyle

popeyes mac and cheese.

Adding butter prevents the mac and cheese from drying out and makes the dish creamier and thicker. If you don't have butter, try substituting it with sour cream, cream cheese, or mayonnaise.

All-purpose flour

– Flour is used to make a roux alongside butter. It also helps thicken the sauce of your mac and cheese. The best roux for this

popeyes mac and cheese

is a white roux that's made over low or medium heat for 2 to 5 minutes.

Whole milk

– Choosing the right milk is important in perfecting your cheese sauce. I used whole milk in my recipe. Using low-fat, skim, or any reduced-fat type of milk will only result in a greasy output.

Heavy cream

– Apart from whole milk, I also added heavy cream in my recipe because who doesn't love an extra creamy and rich sauce, right? You may skip the heavy cream if you don't like it or if you don't have any on hand.

Mustard, garlic, and cayenne pepper

– You wouldn't want your mac and cheese to be plain, so sprinkle some spices in there! I used mustard powder, garlic powder, and cayenne pepper in my recipe to add some kick of spice. Feel free to select other spices which will suit best to your taste.

Sharp cheddar, parmesan, gouda, and mozzarella cheese.

Popeyes mac and cheese

only use cheddar cheese for their dish. But you can also add other varieties of cheeses such as

gouda and parmesan cheese for added nuttiness. Mozzarella for a satisfying cheese pull. And for a classic mac n cheese flavor, try sharp cheddar cheese for a more cheddar-y flavor.

Macaroni

– Of course, what's a mac and cheese without some macaroni? Popeyes uses elbow macaroni and so did I. But you can switch it with either straight macaroni or other fun pasta types. Try shell, cavatappi, penne, fusilli, or even farfalle.
It may look like a lot just to recreate that Popeyes homestyle mac and cheese. But I promise that the end result will be worth it. After all, who can resist a comforting bowl of mac and cheese like Popeyes? Serve it to your friends and family at your next dinner party, and enjoy!
How To Make Popeyes Mac and Cheese (Copycat)
This classic Popeyes mac and cheese boasts a rich and creamy flavor. Enjoy a mouthwatering combination of salty, nutty, and creamy all in one bite. It's finished off with extra cheese on top for a perfectly golden-brown crust just like Popeyes!
Ingredients
1 lb elbow macaroni, cooked
For Cheese Sauce:
¼ cup unsalted butter

¼ cup all-purpose flour

2 cups heavy cream

3 cups whole milk

½ tsp mustard powder

½ tsp garlic powder

¼ tsp cayenne pepper

⅓ cup parmesan cheese, grated

⅓ cup gouda cheese

½ cup mozzarella cheese, grated, for toppings

⅓ cup sharp cheddar cheese, plus more for topping

salt and black pepper to taste
Instructions
Melt the unsalted butter in a saucepan on medium heat, then add the flour. Cook for 2 to 3 minutes. Turn the fire into medium-low heat. Add the heavy cream and whole milk, and whisk continuously until smooth and thick.

Add the cheddar, gouda, parmesan, mustard powder, garlic powder, and cayenne pepper, then cover, and cook for 5 minutes. Adjust with salt and pepper to taste.

Add the cooked elbow macaroni, then stir to combine. Transfer the mac and cheese mixture into a baking dish.

Top with mozzarella cheese and additional sharp cheddar, then bake for 10 minutes in a 375 degrees F oven or until the cheese is melted.

Serve your Popeyes Mac and Cheese warm, and enjoy!
Recipe Notes
Grate your cheeses beforehand as blocks or packages of cheese take a longer time to melt. Make sure to grate it yourself, as pre-grated cheese often has preservatives that keep the cheese intact, making it extra hard to melt.

Reserve pasta water for thinning out your cheese sauce if it gets too thick. It also comes in handy when you are reheating the mac and cheese to keep the pasta from drying out.

You can also substitute pasta water with milk.
Nutrition
Calories: 

693.26kcal

Fat: 

33.47g

Saturated Fat: 

15.75g

Trans Fat: 

0.67g

Monounsaturated Fat: 

10.99g

Polyunsaturated Fat: 

3.22g

Carbohydrates: 

61.50g

Fiber: 

4.78g

Sugar: 

7.84g

Protein: 

37.16g

Cholesterol: 

83.45mg

Sodium: 

705.28mg

Calcium: 

659.95mg

Potassium: 

715.77mg

Iron: 

2.99mg

Vitamin A: 

362.11µg

Vitamin C: 

10.24mg