As its name implies, Cheesecake Factory specializes in cheesecake. With over 50 signature cheesecake flavors, you'll be surprised that the restaurant does not only serve cheesecake.
Cheesecake Factory also included an additional menu that consists of steaks, salads, sliders, pizzas, and different kinds of pasta. Among their pasta menu, their bistro shrimp pasta is among the bestsellers.
Recreate this amazing shrimp pasta by Cheesecake Factory by following these simple steps. Try it for lunch or dinner and serve it on special occasions. It will absolutely be a treat.
Copycat Cheesecake Factory Bistro Shrimp Pasta Recipe
Ingredients
1

cup

quartered button mushroom

1

cup

grape tomatoes

halved

2

tbsp.

olive oil
Instructions
Saute mushrooms in oil.

Add tomatoes until warm.

Set aside.

Add salt to water and boil for pasta until al dente.

Set aside covered with a little oil so it doesn't stick together.

Melt butter in large skillet.

Add garlic and saute for 2 minutes.

Add cream and chicken broth.

Bring to a boil and cook about 8 minutes or until reduced by about half.

Whisk together fresh squeezed lemon juice and corn starch until smooth.

Add pepper.

Add lemon mixture to cream mixture and whisk constantly for 2 minutes.

Turn down to lowest heat just to keep warm.

Dip raw shrimp in eggs and then transfer to coat with panko breadcrumb and flour mixture.

Fry in butter and oil for a few minutes until golden brown.

Allow them to drip on paper towel covered plate and cook the remainder of shrimp this way.

Add basil to sauce.

Put cooked pasta on plate.

Add desired amount of sauce.

Top with tomatoes, mushrooms, and shrimp.

Enjoy!
Commonly Asked Questions
Can I use tempura mix instead of panko?
We highly recommend sticking to panko, as the texture you can achieve with it will work much better with this dish. Reach for tempura mix as a last resort alternative, but as much as possible, go for panko instead!
What can I serve with shrimp pasta?
This dish is pretty filling on its own, but if you want to serve it with some sides, we recommend opting for a simple mixed salad to offset the richness of your shrimp pasta.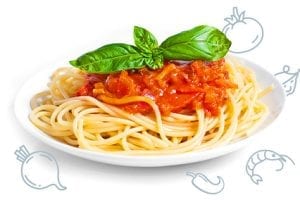 Conclusion
This recipe is a great way to whip up shrimp and pasta into one tasty dish. It's rich and flavorful, so you're sure to leave the table feeling satisfied with your meal. Without a doubt, this is one recipe that is sure to become a new favorite in your kitchen.