Have you ever had that urge to eat a simple pasta dish without the strong flavors? To just indulge in the satisfying mild ensemble of pasta with vegetables? There's always a mood for vegetarian spaghetti, like pasta pomodoro and this one, and now is the time to make some! Our veggie pasta is an awesome meatless pasta dish that any vegan and natural gourmands would definitely love and agree to its flavor. Try making it today and have a bite of just spaghetti with vegetables.
Tips for Making Vegetarian Spaghetti
This vegetarian spaghetti has a simple olive oil-based sauce with the natural savory taste of mushrooms and sweet and juicy slow-roasted tomatoes. It's an authentic Italian spaghetti recipe with the perfect blend of flavors and satisfying taste. It will surely be a regular at your kitchen and lunch table in no time! If you're looking to cook easy spaghetti with no meat, then you're looking at the right vegan pasta recipe. Here are some tips to make your veggie pasta slurping good:
Salt your pasta water.

This is the best way to give flavor to your spaghetti even before adding the olive oil-based sauce and veggies.

Drain your pasta well.

You have probably come across tips that talk about saving pasta water in most pasta recipes. The reason for it is that it helps the sauce stick to the pasta, especially round ones like spaghetti, just like in this

capellini Pomodoro

. However, for this recipe, make sure to drain it out because it's the olive oil's turn to do this job. Olive oil sticks to pasta with all the flavors and with excess water, it will slip away from your spaghetti instead.

Roast some extra garlic in the oven

to caramelize them before adding them to this scrumptious meatless spaghetti. Do this if you love garlic as much as we do. You can roast them along with the tomatoes or you can line another baking sheet for it. You can just add them directly to our scrumptious veggie pasta right after, adding flavors and some crunch.

Add broccoli for more crunchy bites.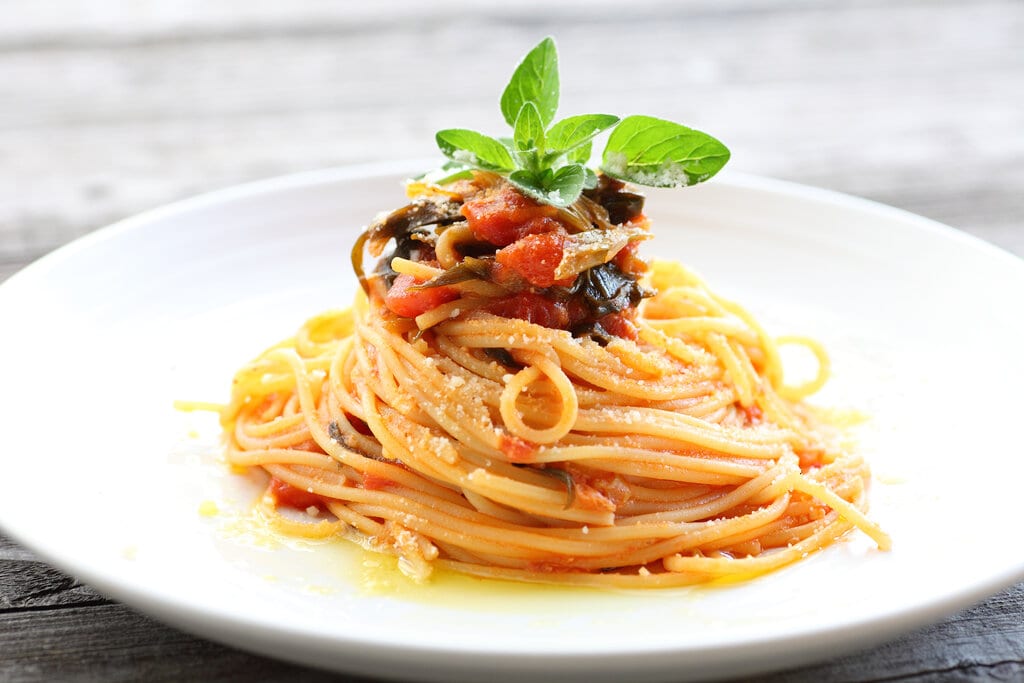 Vegetarian Spaghetti with Mushrooms and Slow Roasted Tomatoes Recipe
How To Make Vegetarian Spaghetti with Mushrooms and Slow Roasted Tomatoes
Enjoy a wonderful mild vegetarian spaghetti topped with sauteed mushrooms and roasted tomatoes coated in olive oil by making this easy recipe. Sprinkle some parmesan on top for an even bolder taste.
Ingredients
1

cup

olive oil,

divided

18

oz

plum tomatoes,

trimmed and halved

salt and pepper,

to taste

2

tbsp

Italian seasoning

3

garlic cloves,

minced

10

oz

fresh mushrooms,

preferably button, matsutake, white or brown beech, or oyster, trimmed or sliced

3

oz

yellow onions,

minced

1

tsp

fresh rosemary,

or thyme, chopped

¼

cup

red wine

½

lb

spaghetti,

cooked

Parmesan cheese
Instructions
Preheat your oven to 250 degrees F.

In a small bowl, combine half a cup of oil, salt, pepper, Italian seasoning, and tomatoes. Toss to coat them evenly.

Line the tomatoes on a baking sheet cut-side up and bake them for 1 hour.

Using a fork or tongs, flip the tomatoes and bake them for another hour.

Flip the tomatoes cut-side up and bake them for an additional 30 to 35 minutes until they become tender and deep red.

Transfer the roasted tomatoes to a bowl and add the minced garlic. Mix to combine and set aside.

In a pan, saute the onions in the remaining oil until translucent.

Add the mushrooms and fresh thyme or rosemary. Saute briefly.

Deglaze with red wine and reduce. Continue sauteing until the mushrooms are well cooked and golden.

Combine the mushrooms, spaghetti pasta, and tomato mixture.

Adjust the seasoning as necessary, and serve them warm.

Garnish with parmesan cheese and indulge in an appetizing Italian spaghetti with olive oil, mushrooms, and roasted tomatoes. Bon Appetit!
Recipe Notes
To make homemade Italian seasoning, simply mix 2 tablespoons each of dried basil, dried oregano, and dried parsley to 1 tablespoon each of dried rosemary, dried thyme, and red chili flakes. Throw in 1 teaspoon of garlic powder or adjust to taste and you're good to go!
Nutrition
Sugar:

6g

:

Calcium:

70mg

Calories:

637kcal

Carbohydrates:

30g

Fat:

55g

Fiber:

5g

Iron:

3mg

Monounsaturated Fat:

40g

Polyunsaturated Fat:

6g

Potassium:

644mg

Protein:

7g

Saturated Fat:

8g

Sodium:

14mg

Vitamin A:

1107IU

Vitamin C:

21mg
Nutrition Disclaimer
Commonly Asked Questions
What to add to spaghetti to make it healthier?
Adding crunchy vegetables like asparagus, broccoli, carrots, beans, or chickpeas to spaghetti is another way to add more bites and flavor to it. Adding this to spaghetti or any meal will surely give it a protein boost!  You can also add chili peppers and cool minty basil for a mild cool savory flavor.
Is it alright if I use a different type of pasta instead of spaghetti noodles?
Of course! You can use any pasta noodles you have on hand. If you want a completely vegan-friendly dish you can use spaghetti squash, rice noodles, quinoa pasta, and even cabbage strands as unique and nutritious alternatives for store-bought noodles.
I don't have red wine. Can I use white wine as an alternative?
Red wine and white wine work differently when it comes to cooking. The latter is best for soups, cream sauces, and deglazing while red wine has a velvety flavor that's great for sauce reduction plus it contributes a beautiful color. If you plan to substitute red wine, you can always use red wine vinegar, grape or cranberry juice, and even chicken or beef stock to make this simple pasta sauce.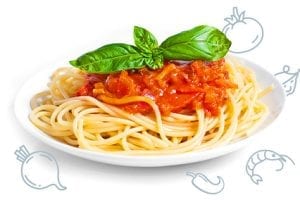 Conclusion
Tossed with a handful of healthy ingredients, herbs, and just the right amount of red wine, this vegetable pasta is a light and savory dish you can easily make at home. Enjoy your weekends and have a fancy Italian vegetarian spaghetti with roasted tomatoes and mushrooms dressed with simple olive oil.