This authentic Italian spaghetti recipe has the perfect blend of flavors with a special homemade sauce. Our Spaghetti with Olive Oil, Mushrooms, and Slow Roasted Tomatoes is a vegetarian-friendly dish that lets you enjoy your delicious classic spaghetti with a healthy twist. Now, don't be intimidated by the number of steps to make this. It takes time to cook but making spaghetti is fairly simple to do.
We're making an olive-oil based sauce for our spaghetti to deviate from the tomato-based classic. It has an amazing blend of flavors that's light and satisfying to the taste. It will surely be a regular at your kitchen and lunch table in no time! This is a great meat-free recipe vegetarians would definitely love with its delicious aroma and exquisite taste.
How To Make Healthy Italian Spaghetti
This pasta dish is the total package. For our vegetarian-friendly Italian spaghetti, we're mixing our pasta with olive oil and topping it with mushrooms seasoned with herbs to make it meat-free. If you're wondering how to make spaghetti sauce the home-style cooking way, you've come to the right place! We'll be making homemade spaghetti sauce for this recipe which consists of tomatoes, mushrooms, and red wine. 
One of the secrets of this simple spaghetti recipe is roasting the tomatoes before making the spaghetti to decrease their acidity and caramelize their sugars. This enhances their flavor, procuring a flavorful Italian spaghetti. Deglazing and reducing are important for this recipe. The process of deglazing also helps loosen the flavors stuck at the bottom of the pan, infusing it in the mixture. After that, we reduce the sauce to concentrate and intensify the flavors. 
Let's delve a bit into the flavors of this dish. Italian seasoning is a blend of dried herbs and spices you will never be able to put down once you get a hold of it. It has the right balance of flavors that really enhances your dish. If you can't seem to find this in your local grocery stores, you can easily make one on your own. Learn how to make homemade Italian seasoning by checking out the Recipe Notes just after the recipe instructions!
On a different note, we assure you that this is a completely healthy Italian spaghetti! Using a couple of healthy ingredients, this meat-free dish is a vibrant and hearty classic spaghetti. Roasted tomatoes contain lycopene that reduces cancer risks, while mushrooms can help maintain healthy skin and protect the heart. Red wine, despite being a liquor, lowers bad cholesterol and regulates your blood sugar. 
Take a bite and you'll taste the luscious flavors of this dish. The tomatoes are smoky yet the sweet juices incorporate itself in the dish. We sauteed the mushrooms with fresh herbs and wine, infusing aromatic flavors. It also adds a crisp texture that balances out the smoothness of this dish. In this recipe, we're using minimal spaghetti ingredients to serve a flavorful meal!
How To Store And Reheat Spaghetti
Storing leftover spaghetti is as easy as placing them in air-tight containers and throwing them in the fridge, lasting for 3 to 5 days worth. Freezing them would last you months but reheating them comes in three ways.
First, you can reheat it in a preheated oven at 350 degrees F in a baking dish covered in foil and bake for 20 minutes. Second, you can sautee your spaghetti, making sure to drizzle them in olive oil and cook for 2 to 3 minutes. Lastly, you can reheat it in a microwave. Splash a small amount of water before reheating it in one-minute increments. Stir and continue reheating until it's warm. This method can be used for other spaghetti dishes you plan to try in the future. 
This is an easy spaghetti recipe and it's perfect for a fancy meal on a budget. You can also double this recipe for a bigger batch. But this meal wouldn't be complete without dessert. Try our quick and easy Grape Sherbet recipe for a sugary treat after a savory dish. You can prep this dessert as the tomatoes are baking in the oven! So, let's get right into cooking and make ourselves a mouth-watering spaghetti dish!
How To Make Spaghetti with Olive Oil, Mushrooms and Slow Roasted Tomatoes
Enjoy a meat-free pasta topped with sauteed mushrooms and roasted tomatoes coated in olive oil with this easy spaghetti recipe. Sprinkle some parmesan on top for an even bolder taste.
Ingredients
1

cup

olive oil,

divided

18

oz

plum tomatoes,

trimmed and halved

salt and pepper,

to taste

2

tbsp

Italian Seasoning

3

garlic cloves,

minced

10

oz

fresh mushrooms ,

preferably button, matsutake, white or brown beech, or oyster, trimmed or sliced

3

oz

yellow or red onions,

minced

1

tsp

fresh rosemary ,

or thyme, chopped

¼

cup

red wine

½

lb

dry spaghetti,

cooked

Parmesan cheese
Instructions
Preheat your oven to 250 degrees F.

In a small bowl, combine half a cup of oil, salt, pepper, Italian seasoning, and tomatoes. Toss to coat them evenly.

Line the tomatoes on a baking sheet cut-side up and bake them for 1 hour.

Using a fork or tongs, flip the tomatoes and bake them for another hour.

Flip the tomatoes cut-side up and bake them for an additional 30 to 35 minutes until they become tender and deep red.

Transfer the roasted tomatoes to a bowl and add the minced garlic. Mix to combine and set aside.

In a pan, saute the onions in the remaining oil until translucent.

Add the mushrooms and fresh thyme or rosemary. Saute briefly.

Deglaze with red wine and reduce. Continue sauteing until the mushrooms are well cooked and golden.

Combine the mushrooms, spaghetti pasta, and tomato mixture.

Adjust the seasoning as necessary, and serve them warm.

Garnish with parmesan cheese and indulge in an appetizing Italian spaghetti with olive oil, mushrooms, and roasted tomatoes.  Bon Appetit!
Recipe Notes
To make homemade Italian seasoning, simply

mix 2 tablespoons each of dried basil, dried oregano, and dried parsley to 1 tablespoon each of dried rosemary, dried thyme, and rec chili flakes. Throw in 1 teaspoon of garlic powder or adjust to taste and you're good to go!
Nutrition
Calcium:

66mg

Calories:

637kcal

Carbohydrates:

30g

Fat:

55g

Fiber:

5g

Iron:

3mg

Potassium:

643mg

Protein:

7g

Saturated Fat:

8g

Sodium:

14mg

Sugar:

6g

Vitamin A:

1105IU

Vitamin C:

21mg
Nutrition Disclaimer
Commonly Asked Questions
 Can I roast my mushrooms instead?
Yes! You can toss your mushrooms to coat in the same mixture as the tomatoes and bake them the same way or until the mushrooms are golden brown. However, the mushrooms wouldn't be able to absorb the flavors of the herbs and red wine so it might taste a little different.
Is it alright if I use a different type of pasta instead of spaghetti noodles?
Of course! You can use any pasta noodles you have on hand. If you want a completely vegan-friendly dish you can use spaghetti squash, rice noodles, quinoa pasta, and even cabbage strands as unique and nutritious alternatives for store-bought noodles.
I don't have red wine. Can I use white wine as an alternative?
Red wine and white wine work differently when it comes to cooking. The latter is best for soups, cream sauces, and deglazing while red wine has a velvety flavor great for sauce reduction plus it contributes a beautiful color. If you plan to substitute red wine, you can always use red wine vinegar, grape or cranberry juice, and even chicken or beef stock to make this simple pasta sauce.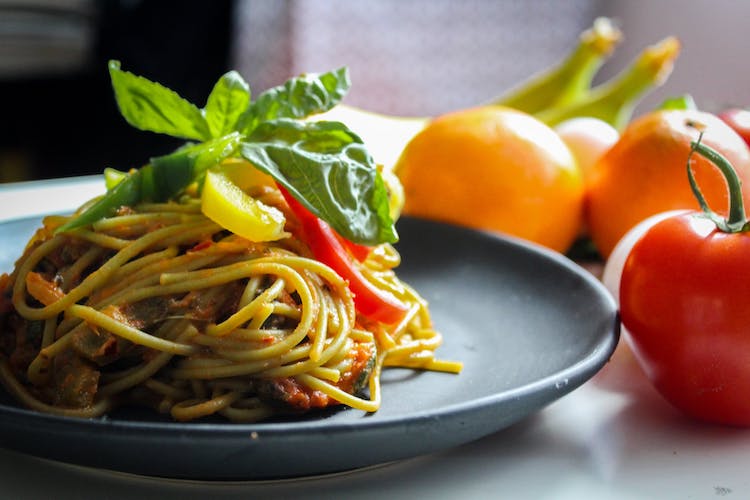 Conclusion
Tossed with a handful of healthy ingredients, herbs and just the right amount of red wine, this easy spaghetti recipe is a light and savory dish you can make at home. Completely omitting any meat or artificial flavorings allows you to have a feast without feeling guilty.
The cherry red tomatoes are coated in olive oil and various seasonings, enhancing its sweet and juicy notes once roasted. Mix it with mushrooms and fresh herbs and you have a fancy Italian spaghetti that you can enjoy on a weeknight without digging deep into your pockets.