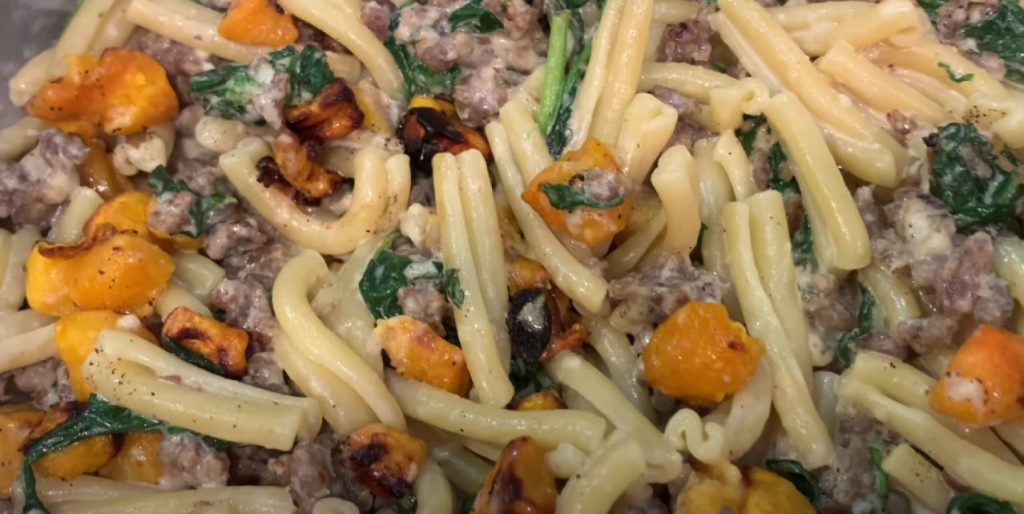 Butternut Sauce, Spicy Sausage and Baby Spinach Pasta Recipe
How To Make Butternut Sauce, Spicy Sausage and Baby Spinach Pasta Recipe
Make chilly nights cozier with this spinach pasta recipe. The creamy butternut squash sauce complements the spicy sausage and the herby sage.
Instructions
Bring a large pot of salted water to a boil. Add butternut squash and cook until soft.
Remove squash with a slotted spoon and place in a blender, blend until smooth.
Add pasta to the boiling water and cook according to package directions for al dente, reserving at least 1 cup of the pasta water before draining.
Meanwhile, in a large deep non-stick skillet, sauté sausage over medium heat until browned, breaking up with a spoon as it cooks. When cooked through, set aside on a plate.
Reduce heat to medium-low and melt the butter, sauté the shallots and garlic for about 5 to 6 minutes, until soft and golden.
Add pureed butternut squash, season with with salt and fresh cracked pepper and add a little of the reserved pasta water to thin out the sauce.
Add baby spinach and stir in parmesan cheese and sage. Toss in cooked pasta and sausage and mix until well coated.
Serve with additional parmesan cheese on the side if desired.
Nutrition
Monounsaturated Fat: 

9.95g
Polyunsaturated Fat: 

3.01g