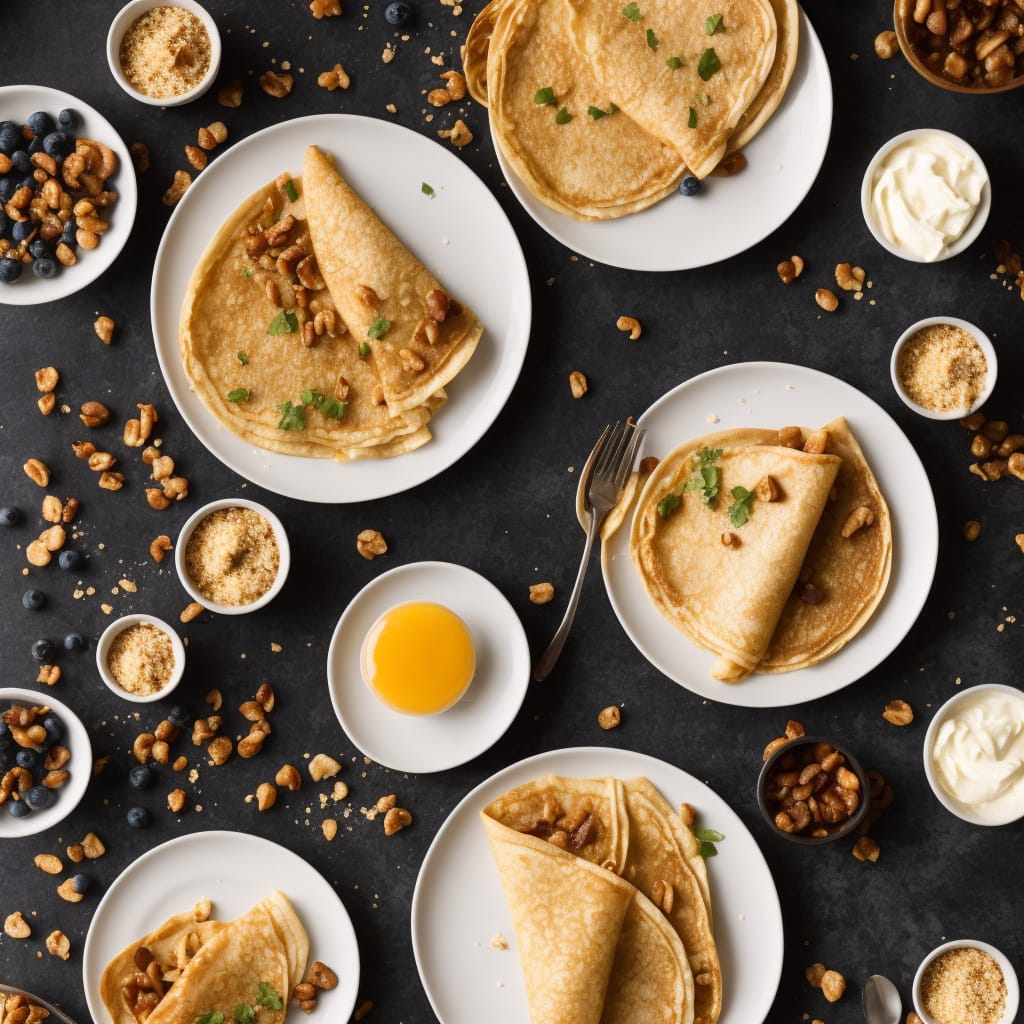 Breakfast Crepes Recipe
How To Make Breakfast Crepes
No breakfast is complete without hot stacks of delicious pancakes! You may not be a morning person now, but with our yummy pancake recipes you certainly will be! There're easy recipes for all kinds of different pancakes. We have thick and thin pancakes and ones with fruits like blueberries and banana. Don't forget fluffy, Japanese-inspired pancakes! Not to mention pancakes made with potatoes and pumpkins (not flour)! Whatever pancake recipes you want to try, we have it here.
Ingredients
1 cup all-purpose flour
2 eggs
1 1/4 cups milk
1/4 cup melted butter
1/4 tsp salt
1 tsp sugar
Your choice of fillings (e.g., Nutella, fresh fruit, ham and cheese)
Instructions
In a large mixing bowl, whisk together the flour, eggs, milk, melted butter, salt, and sugar until smooth.

Heat a non-stick skillet over medium heat and lightly grease with butter or cooking spray.

Ladle about 1/4 cup of the batter into the skillet, tilting and swirling the pan to evenly coat the bottom.

Cook the crepe for about 2 minutes, or until the edges start to lift and the bottom is golden brown. Flip the crepe and cook for an additional 1-2 minutes.

Remove the crepe from the skillet and repeat steps 3-4 with the remaining batter, stacking the cooked crepes on a plate.

Fill each crepe with your desired fillings, folding it in half or rolling it up.

Optional: Heat the filled crepes in the skillet for a few minutes to warm them through.

Serve the breakfast crepes warm and enjoy!
Nutrition
Calories :

320kcal

Total Fat :

16g

Saturated Fat :

9g

Cholesterol :

145mg

Sodium :

350mg

Total Carbohydrates :

34g

Dietary Fiber :

1g

Sugar :

6g

Protein :

9g