This IHOP copycat recipe creates a hearty breakfast meal that is sure to please even the pickiest of eaters. Enjoy a full breakfast with this scrambled eggs recipe, complete with buttermilk waffles on the side. No need to hop into your car just to grab some delicious IHOP waffles as this recipe offers a cheap breakfast option you can have every day of the week. Ready your whisk and skillet to create this IHOP special that's sure to become an instant household favorite! 
How To Make Classic IHOP Waffles From Scratch
We have a few tips and tricks to share to you when making waffles from scratch. The most important tip is that a waffle maker is a must. If you don't have one on hand, a grill pan works just as well. Although, your waffles will come out looking like a pancake rather than the classic IHOP waffle we're used to. But if what you are looking for are some IHOP pancakes, we have also a Copycat IHOP Pancakes Sausage And Eggs Recipe for you to try out. 
Breakfast, as we all know, is the most important meal of the day. It's our source of energy which is why it's highly recommended to eat a nutritious meal first thing in the morning. Luckily, there are ways to turn our copycat recipe into a healthy breakfast. 
Garnishing the dish with fruits like blueberries, strawberries, and even bananas can pack a handful of nutrients in your dish. But if you're looking for a truly healthy breakfast, you should try making your own crispy vegan waffles.
How To Make Fluffy Eggs To Go With Your Waffles
If you're eating scrambled eggs in IHOP, you should know that IHOP doesn't actually use real eggs in their cooking. Instead, they use egg substitutes. In fact, you'll have to request for a real egg during your order. While we may not truly know what goes into the food we eat outside, we'll always know that our homemade food is made with authentic, fresh ingredients. That's the beauty of cooking on your own!
For this scrambled eggs recipe, we're adding heavy cream to make our scrambled eggs rich and creamy. But aside from what you add to the eggs, how you cook them also matters. To make the best scrambled eggs, you must aggressively whisk the eggs. This incorporates air as you whisk, ensuring fluffy scrambled eggs and a beautiful yellow color. Then ensure that the heat is set to low when you cook the eggs to allow the curds to form slowly and gently without overcooking them.  
For more breakfast ideas with eggs, we have a Good Breakfast Casserole Recipe you can try for a deep fish meal. Our McDonald's-Inspired Breakfast Sandwich Recipe incorporates fluffy eggs with ham and cheese for breakfast on the go. Of course, if you want to keep the IHOP menu theme, our Copycat IHOP Fiesta Breakfast Burrito Recipe includes stuffed beef and salsa. We have an array of scrambled egg recipes you can always whip up! Have fun scouring for the best egg recipes.
Cooking Scrambled Eggs on a Microwave and Instant Pot
The skillet is not your only friend when making any scrambled eggs recipe. We'll also show you how to cook scrambled eggs in the microwave and instant pot scrambled eggs. 
To cook scrambled eggs in the microwave, you'll need a microwave-safe container and the rest of your ingredients. Whisk butter, salt, pepper, heavy cream or milk, and eggs in the container and microwave on medium-high heat. Before microwaving, throw in any add-ins you desire. Heat for 1 minute and 30 to 45 seconds, constantly stirring in between cooking time. 
For the instant pot scrambled eggs, set your instant pot to the saute setting and preheat for 1 minute. As it preheats, whisk your eggs in a bowl. Once preheated, throw in the butter and let it melt. Pour in the egg mixture, and just like you would in a skillet, curd your scrambled eggs until soft and moist using a wooden spoon. 
Now, we've shown you how to cook scrambled eggs for breakfast. So, grab your whisk and let's whip up an IHOP special!
How To Make Copycat IHOP's Waffles and Scrambled Eggs
These soft and fluffy IHOP breakfast waffles will truly make your morning. Our scrambled eggs are cooked to perfection, while the IHOP waffles come out a beautiful golden brown. A tasty meal you can whip up in a jiff!
Ingredients
For Waffles:
1¼

cups

buttermilk

1¼

cups

all-purpose flour

1

egg

¼

cup

granulated sugar

¼

cup

cooking oil

1

tsp

baking powder

1

tsp

baking soda

pinch

salt
For Scrambled Eggs:
4

eggs

2

tbsp

heavy cream

Salt ,

to taste

Ground black pepper,

to taste
Instructions
Waffles:
Preheat the waffle maker.

In a bowl, add the buttermilk, flour, egg, sugar, cooking oil, baking powder, baking soda, and salt.

Using a whisk or a hand mixer, mix all the ingredients until well incorporated.

Pour the batter into the waffle maker using a ladle, and cook until golden brown or according to manufacturer's instructions.
Scrambled Eggs:
Heat the butter on a skillet under medium heat.

In a bowl, whisk in the eggs, milk, salt, and pepper.

Lower the heat, then pour in the egg mixture onto the skillet and use a spatula to gently sweep across the bottom, forming large yet soft curds.

Once the eggs are slightly runny and softly set, remove from heat.

Serve the fluffy eggs with your crisp waffles and enjoy a delicious IHOP breakfast!
Recipe Notes
You can use a ½ cup to pour the batter into the waffle

maker

if you don't have a ladle.

Feel free to throw in your desired add-ins such as cheese, chives, or tomatoes for the scrambled egg.
Nutrition
Calcium:

195mg

Calories:

466kcal

Carbohydrates:

47g

Cholesterol:

223mg

Fat:

25g

Fiber:

1g

Iron:

3mg

Potassium:

219mg

Protein:

14g

Saturated Fat:

6g

Sodium:

597mg

Sugar:

16g

Vitamin A:

531IU
Nutrition Disclaimer
Commonly Asked Questions
How long do scrambled eggs last?
Scrambled eggs last up to 4 days in the fridge, granted you've placed them in airtight containers. This can also help you make breakfast ahead of time. To reheat them, all you have to do is either heat them in a frying pan until they have warmed through, or microwave your scrambled eggs for 30 to 60 seconds.
How long do these IHOP waffles last?
A waffle's shelf life depends on how you store them. To do that, first, you must freeze the waffles directly by lining them in a baking sheet and freezing them for a few hours until stiff. Then, transfer them in airtight containers, which will last you 3 days in the fridge or 3 months in the freezer.
How to reheat waffles?
To reheat, you can use a microwave to warm them for 45 to 60 seconds. The toaster works wonders when it comes to reheating waffles. You can use the oven as well: preheat it 350 degrees F, then place the waffles directly on the cooling rack. Bake for around 10 to 15 minutes, or until heated through.
My waffles are turning out soggy. How to make crispy waffles?
There are a couple of things you can do to get crispy waffles. First, always make sure your waffle maker is hot before using it. This allows the waffles to cook immediately the moment the batter hits the pan. Heat your waffle iron for 5 minutes to ensure a crisp, golden-brown exterior. Also, you can try baking your waffles in the oven. Preheat your oven to 250 degrees F, and directly place your cooked waffle on the metal racks. Bake for 5 minutes, allowing the steam to escape which lessens the chances of a soggy breakfast.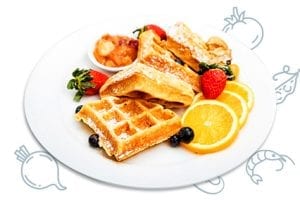 Conclusion
We included in this waffles and scrambled eggs recipe different ways on how to scramble eggs and how to make crisp, scrumptious IHOP waffles that melt in your mouth with each bite. It's a delicious breakfast you can cook for your family, plus it can easily be made ahead of time. Enjoy this ultimate breakfast combo of waffles and eggs!
Topics: