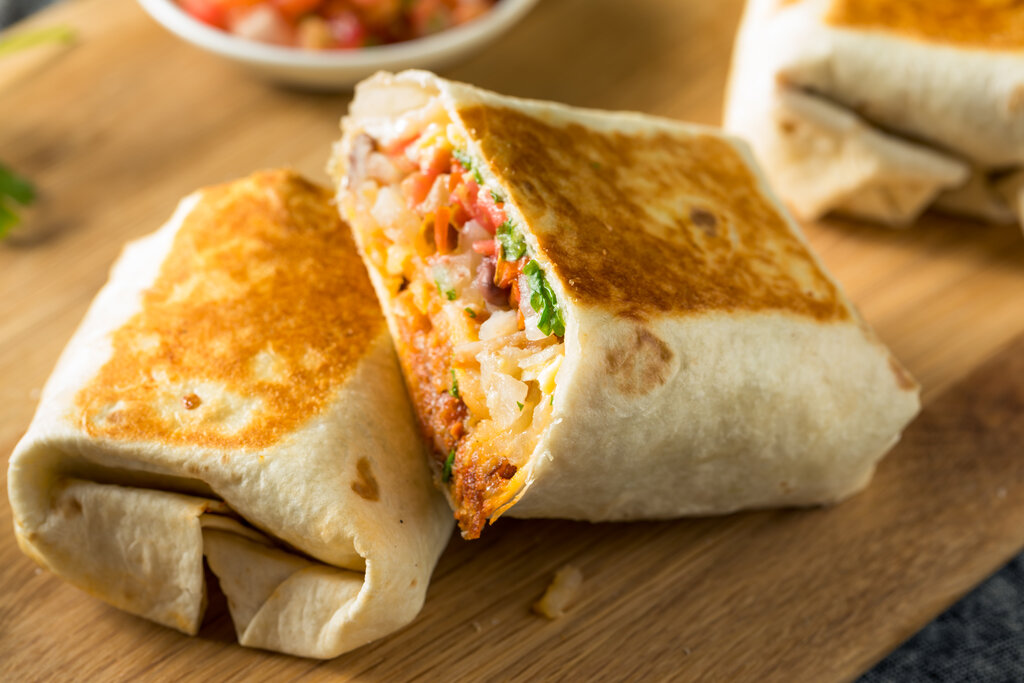 Mcdonalds Breakfast Burrito Recipe (Copycat)
The McDonald's breakfast menu hours includes a bunch of delicious meals truly perfect for the morning, especially when I'm rushing for work. A quick drive to the famous fast food chain is almost a morning routine for me. Aside from their iconic breakfast dishes like hash browns and , I've also been turning to their McDonald's breakfast burrito quite often these days.
I don't know about you, but this sausage burrito McDonald's dish keeps me going throughout the day or at least until lunch time arrives. This Mcdonalds breakfast wrap is not just filling, it's also really tasty. It lives up to its name as it's filled with eggs, pork sausage, cheese, green chilies, and onions. All of which are delicately wrapped in a soft tortilla wrap. I'm really impressed with the McDonald's sausage burrito since it's the perfect convenient breakfast for when I'm busy and just wanting a quick bite to eat.
This fully packed McDonalds' breakfast burrito easily became my favorite. It has everything that I need for a hefty, go-to breakfast. In fact, I liked it so much that I wanted to try and make one at home. I also realized that it's more budget friendly and saves a lot of time. Instead of driving to McDonald's, I can just make a sausage burrito the night before and grab it in the morning.
I'm sharing with you my copycat recipe that is quite similar to the delicious taste of the original McDonald's burritos. It has all of the ingredients which are super easy to find in your local grocery store. I used 6-inch flour tortillas for the wrap, and American cheese slices to recreate the melty cheese inside the breakfast burrito.
Don't forget about the pork sausages, diced vegetables, and green chilies. These make up most of the savory flavors of the McDonald's breakfast burrito. Some people would even spread a bit of on their tortillas before adding in the fillings for a richer and more flavorful burrito.
All you have to do is cook the sausages and vegetables, then the eggs afterwards. When it's done, assemble the burrito filling on each tortilla. I made a lot of these ahead of time so that I can just eat and go to work with no worries. I stored mine inside an airtight container and then refrigerated it. I even tried recreating a McDonald's breakfast burrito combo meal with some hash browns and hot coffee on the side. It was definitely one of the best breakfast recipes to make since it was a delicious and hefty meal that I thoroughly enjoyed.
How To Make How To Make McDonald's Breakfast Burrito (Copycat)
One bite of this copycat McDonald's breakfast burrito offers a burst of flavors from the sausage, green chilies, and eggs, wrapped in a tender tortilla.
Ingredients
1

lb

pork sausage,

mild

½

cup

yellow onion,

diced

¼

cup

fresh tomatoes,

diced

1

tbsp

green chilies,

diced, canned

10

flour tortillas,

6-inch

9

eggs

6

oz

American cheese,

(12 slices)

½

cup

salsa,

for serving
Instructions
Crumble and fry pork sausage, stir and separate meat so it will fry in small little pieces. Remove from heat drain excess grease.

Place drained sausage on the frying pan. Add the onion, green chilies, and tomatoes.

Heat on medium heat just until sausage and vegetables are heated through, stir frequently.

Measure 2 cups of eggs and beat. Add the eggs to the pan with the sausage mixture. When cooked, remove from heat.
To Assemble:
Place 2 tablespoons of the sausage and egg mixture onto 1 tortilla, tear each slice of American cheese into 2 even portions, then place the cheese on top of the sausage mixture, and roll the tortilla.

Serve with taco, salsa, or Picante sauce. Enjoy!
Nutrition
Calories: 

395.37kcal

Protein: 

19.44g

Cholesterol: 

186.60mg