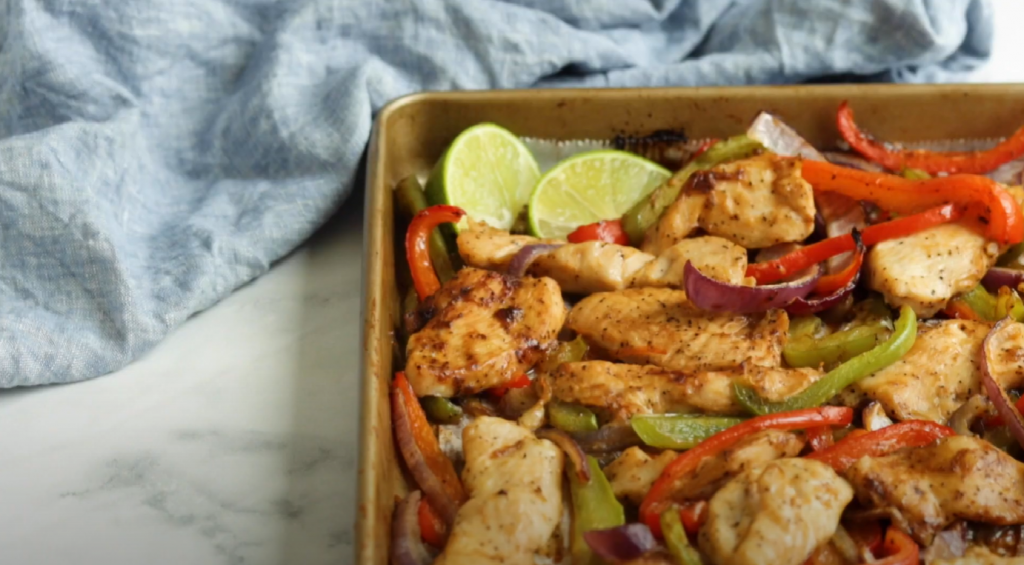 Sheet Pan Chicken Fajitas Recipe
How To Make Sheet Pan Chicken Fajitas
Satisfy all those Mexican food cravings with these chicken fajitas. Prepared in one pan, you get all the flavors without having to spend as much effort.
Ingredients
For Seasoning:
For Fajita filling:
For Serving (optional):
Instructions
Preheat oven to 400 degrees F. Spray a 17×12-inch rimmed baking sheet with non-stick cooking spray.
Seasoning:
In a small mixing bowl whisk together chili powders, cumin, paprika, coriander, salt and pepper, set aside.
Fajitas Filling:
Spread bell peppers and yellow onion onto baking sheet.
Top with chicken strips then sprinkle garlic and seasoning evenly over chicken strips.
Drizzle olive oil over top then toss everything to evenly coat. Spread into an even layer working to keep chicken from overlapping.
Roast in preheated oven for 18 to 25 minutes, tossing once halfway through cooking, until veggies are tender and chicken has cooked through.
Wrap tortillas tightly in foil and warm in oven during last 5 minutes of fajita filling cooking.
Drizzle lime juice evenly over top of the chicken fajita filling, sprinkle with cilantro and more salt to taste and toss to coat.
Serve filling warm in warm tortillas with desired toppings.
Nutrition
Monounsaturated Fat: 

20.27g
Polyunsaturated Fat: 

7.23g