No need to choose between a Philly cheesesteak sandwich or a cheesy beef pizza with this copycat pizza-cheesesteak recipe. In this copycat recipe, we'll show you how to recreate the Philly Cheesesteak Pizza From Domino's! This dish is a one of a kind pizza pie from the popular American pizza restaurant, Domino's Pizza. It takes the flavors of the classic Philadelphia cheesesteak and puts it in the form of mouthwatering, hand-tossed pizza.
The Philly Cheesesteak Pizza is a fan-favorite among many of Domino's savory and delectable dishes, with its crispy pizza crust and tender beef toppings. But don't confuse it with their version of the Philly cheesesteak sandwich! For our copycat recipe, we'll be making a Philly cheesesteak-themed pizza. But don't worry! This steak and cheese-flavored pizza is absolutely scrumptious in its own right. It's the perfect dish for movie nights, game nights, as well as parties with your loved ones! 
What Is a Philly Cheesesteak?
Before we show you how to make the best Philly cheesesteak pizza that's just like Domino's, we'll show you why the restaurant even decided to make a cheesesteak-themed pizza in the first place.
A Philly cheesesteak is a type of sandwich that's now a local delicacy in where it first originated from. Hence its name Philly, which is short for Philadelphia. This sandwich is made up of beef steak, caramelized onions, and melted cheese encased in a long bread, commonly a hoagie. It's a very meaty, cheesy, and, most of all, hearty sandwich. There's a reason it's so well-loved, after all.
Usually, Philly cheesesteak meat is either a thinly-sliced rib eye or top round steak cut. However, other cuts are also used, like the top sirloin (which is cheaper than the ribeye). The cheeses you'd find in this steak sandwich are either American cheese, provolone cheese, or even Cheez Whiz. 
Some food establishments melt the American cheese and then add them to the sandwich for a more gooey eating experience. However, others simply let the heat of the steaks melt the slices of scrumptious American cheese. Also, while hoagie rolls are often used for this sandwich, some variations opt for French bread or the soft and slightly-salted Amoroso rolls. All these different ingredients and methods help give the iconic sandwich its signature taste. 
And sure enough, the Philly cheesesteak is so famous that other places have made their own version of it. In fact, you could say that the West Coast's version, with added crunchy green bell peppers and delectable mushrooms, is more famous than the original. Almost all establishments, from Domino's to Subway and their Big Philly Sandwich, uses the West Coast's recipe. 
If you want to try the West Coast version but with French bread, try Subway's Big Philly. But if you want to know what steak and cheese taste like encased in hoagie rolls, then try our Philly Cheesesteak Recipe. 
Domino's Delicious, Hand-Tossed Philly Cheesesteak Pizza
Domino's Philly Cheesesteak Pizza uses the West Coast's cheesesteak recipe. Along with the cheese, steak, and onions, scrumptious green bell peppers and mushrooms are added for a more filling eating experience! Also, in a more daring approach, Domino's ditched the usual tomato sauce you'd typically find in pizza. 
Instead, they replaced the pizza sauce with generous layers of gooey, melted provolone cheese! Every bite of their cheesesteak pizza is filled with rich, provolone cheese—a signature cheese you'd find in the classic Philly sandwich.
For the tender steak, Domino's used premium quality sirloin cuts which are incredibly versatile and flavorful. All the ingredients are then placed on top of a delicious and crispy, hand-tossed pizza crust. You might think that the thin crust of a hand-tossed pizza doesn't go with the Philly cheesesteak-themed ingredients. However, the crispiness of the pizza crust adds another layer of delicious texture to the toppings' already rich flavors. 
Domino's knew what it was doing when they made a Philly cheesesteak-themed pizza. They took all of the things that made the sandwich so good and transferred it into a hand-tossed crust. So, if you want to try your hand at making this cheesesteak pizza, continue reading below.
How to Make Philly Cheesesteak Pizza Like Domino's
Learn how to make a homemade Philly cheesesteak pizza that tastes just like Domino's with this copycat recipe. This recipe for Philly cheesesteak pizza is quick and easy to make! We keep things simple by having you use a readymade pizza dough. But in case you want to make your own pizza crust, we have this Yummy Crazy Crust Pizza Recipe you can follow.
While Domino's uses top sirloin for the pizza steak, you can opt for any type of beef you want. However, we recommend you use roast beef for that truly flavorful eating experience. We also have an easy but tasty Savory Beef Pot Roast in Crockpot Recipe you can make for this Philly cheesesteak recipe. For the cheese, we added cheddar on top of Domino's provolone cheese. And because some aren't used to eating pizza without sauce, we let you use any pizza sauce you desire.

Tip:
Make sure your oven is hot
enough
before baking your pizza! So, don't skip the preheating step. Also, remember to add just a thin layer of pizza sauce to keep your pizza from getting soggy. Lastly, you can brush the crust with olive oil right before you pop the pizza inside the oven
for
added flavor and texture!
We're sure that you'll enjoy making this Domino's-inspired cheesesteak pizza as much as you will eating them!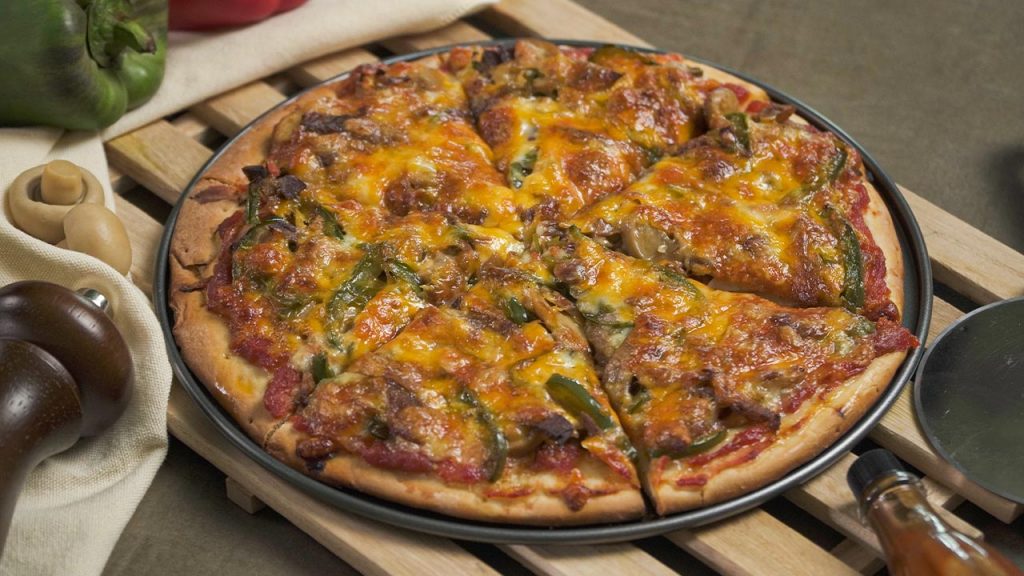 Copycat Domino's Philly Cheesesteak Pizza Recipe
How To Make Copycat Domino's Philly Cheesesteak Pizza
The cheesy and tender beef of a Philly cheesesteak is now available in pizza form! Recreate Domino's Philly Cheesesteak Pizza dish with our amazing copycat recipe.
Ingredients
2

tbsp

olive oil

5

oz

red onion,

chopped

2

cloves

garlic

1

cup

button mushrooms,

of your choice, canned, sliced

5

oz

green bell peppers,

or of your choice, sliced

1

cup

beef,

of your choice, cooked, preferably roast beef

salt and pepper,

to taste

2

pizza doughs,

(8-inch each), premade

2

tbsp

pizza sauce,

of your choice, as desired

1

cup

provolone cheese,

shredded

1

cup

cheddar cheese,

shredded
Instructions
Preheat the oven to 400 degrees F.

In a large skillet, heat the oil and sauté the onions, garlic, mushrooms, and green bell peppers.

Sauté for about 5 minutes until the vegetables are tender. Add in the roast beef then sauté until heated through. Season with salt and pepper.

Place the pizza dough on a baking pan and spoon on the sauce. Top with the roast beef and sautéed vegetables.

Sprinkle on the provolone and cheddar. Bake for 15 to 20 minutes until golden brown.

Slice into six slices, serve, and enjoy!
Nutrition
Sugar:

16g

:

Calcium:

479mg

Calories:

946kcal

Carbohydrates:

101g

Cholesterol:

92mg

Fat:

43g

Fiber:

5g

Iron:

7mg

Monounsaturated Fat:

15g

Polyunsaturated Fat:

3g

Potassium:

446mg

Protein:

42g

Saturated Fat:

18g

Sodium:

1959mg

Trans Fat:

1g

Vitamin A:

738IU

Vitamin C:

33mg
Nutrition Disclaimer
Commonly Asked Questions
What is on Philly cheesesteak pizza?
The usual toppings on Domino's Philly cheesesteak pizza include chopped steak, cheese, green bell peppers, and mushrooms. However, you can also use John's Roast Pork suggested toppings like tomatoes, celery, and basil to switch it up.
How to store leftover Philly cheesesteak pizza?
In an airtight container, alternate layers of leftover pizza slices with parchment paper or foil. If you store in the refrigerator, it can last for up to 4 days. If you wish to store it in the freezer, you may use the same method but with an added outer layer of aluminum foil. Your homemade pizza will be good for 1 to 2 months in the freezer.
How to reheat Philly cheesesteak pizza?
You can warm it in the oven by first placing the pizza slices on a baking sheet and covering it with aluminum foil. Place them on the lowest rack of your preheated oven, then bake for 25 to 30 minutes at 275 degrees F. You can also reheat your homemade pizza using a microwave without making it tough! Just make sure to microwave your pizza slices together with a cup that's half-full of water for around 30 seconds. The water makes sure that your microwave evenly heats the pizza, and not just the toppings or the crust.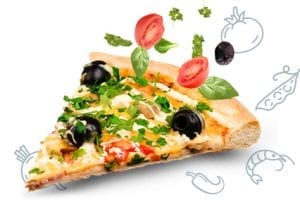 Conclusion
Make your own Philly cheesesteak pizza with our Domino's-inspired copycat recipe! No need to order or line up for a taste of this delicious combo pizza.