The best thing about learning how to make my own homemade sushi and rolls at home is that I get to savor it a little bit more. I usually make popular American-style cooked sushi like California rolls. These are different from sashimi which are thinly sliced raw meats like salmon, typically found in Japanese cuisine. For this recipe, I wanted to recreate one of my favorite sushi. I always enjoy eating these at buffet joints and restaurants. I made my own homemade Dragon Roll sushi which I very much enjoyed eating alongside soy sauce with a bit of wasabi. 
So, what is a dragon roll? It's an inside-out sushi roll. It means that the rice is outside and the flavorful sushi ingredients are tightly packed inside. As for its name, the sushi roll is sliced and artistically arranged with avocado slices to resemble green dragon scales. There are variations to this sushi roll, but it's typically made with sushi vinegared rice, lightly fried shrimp tempura, imitation crab, avocado, and cucumber. Another version of this dragon sushi roll includes unagi (grilled eel) instead of shrimp tempura. That's why, sometimes, it's also called an eel roll or shrimp tempura roll, depending on what you're using as the main filling. 
These are some of the key ingredients in making a dragon sushi roll. Most of them are available in mainstream grocery stores. It wasn't difficult to find the ingredients I wanted. For my dragon roll recipe, I didn't have time to prepare a homemade shrimp tempura and unagi. Instead, I bought those frozen ready-made ones at the store. Then, I just baked the tempura until they were golden and crispy, and sliced the grilled eel for topping. I also bought one of those nori (seaweed) sheets and imitation crab. 
For the fruits, I suggest choosing ripe avocados. These are slightly nutty and smooth to eat. These have a slightly darker skin and should not be too soft when pressed. I also recommend using Japanese cucumbers for this recipe since they're longer, slender, and have fewer seeds. A typical American cucumber tends to have a waxy thick skin and too many seeds. You can also use Persian cucumbers as a substitute. 
What I focused on the most was making the sushi vinegared rice. Sushi rice is usually made from Japanese short-grain rice that's steamed and seasoned with rice vinegar, sugar, and salt. Afterwards, I let it cool before arranging them on the nori sheets. I lined up all of my ingredients, and arranged my rolling sushi station. I used a bamboo sushi mat and then started making my homemade dragon rolls! 
For my dragon roll, I used imitation crabmeat, cucumber, and shrimp tempura for my fillings. Then, I layered the thinly sliced avocados and unagi on top of the roll so it's extra delicious. Since I've been making this dish for quite some time, I've also experimented with a variety of toppings. Besides the avocado and grilled eel, you can also drizzle Japanese mayonnaise, spicy mayo, Sriracha sauce, or sprinkle toasted black sesame seeds for extra flavor and appearance.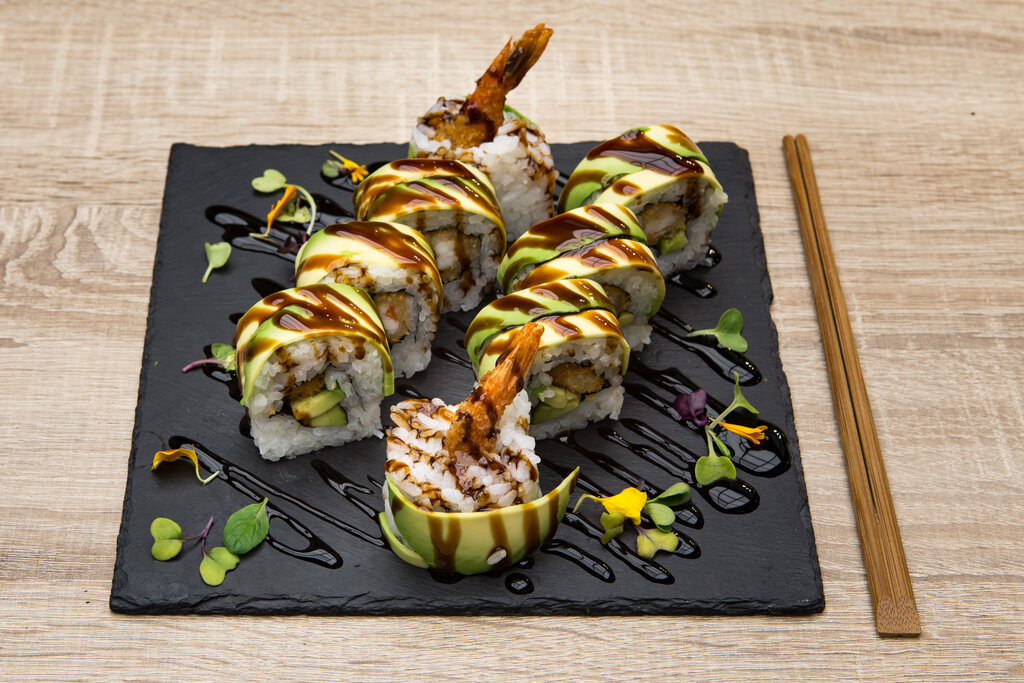 Dragon Roll Recipe
Enjoy mouthwatering dragon roll at home by making this avocado-topped sushi roll loaded with crunchy shrimp tempura, crabmeat, and unagi.
Ingredients
¾

cup

Japanese sushi-style rice

¾

cup

water

1⅓

tbsp

rice vinegar

1⅓

tbsp

white sugar

2¼

tsp

salt

8

tempura shrimp,

frozen

2

sheets

nori,

(dry seaweed)

2

sticks

imitation crabmeat,

cut into ¼-inch pieces

1

cucumber,

peeled, seeded, and cut into ¼-inch strips

1

avocado,

sliced

10

oz

unagi kabayaki,

(grilled eel), frozen, thawed and sliced into 2-inch strips
Optional Toppings:
tobiko,

(flying fish roe)

spicy mayo,

or Japanese mayonnaise

unagi sauce,

(eel sauce)

toasted black sesame seeds
Instructions
Rinse rice in a strainer until water runs clear.

Combine rice and water in a saucepan, then bring to a boil. Reduce heat to low, cover, and cook for about 20 minutes until rice is tender and water is absorbed.

Combine rice vinegar, sugar, and salt in a small saucepan over low heat; stir for 1 to 2 minutes until the sugar is dissolved. Pour sushi vinegar over rice, then stir until rice cools and looks dry.

Preheat oven to 400 degrees F. Grease a baking sheet with cooking spray.

Arrange the shrimp tempura on the baking sheet.

Bake in the preheated oven for about 6 minutes per side, until golden and crispy. Cut tails off 4 of the shrimp tempura.
To Assemble:
Cover a bamboo sushi mat with plastic wrap. Lay 1 nori sheet, shiny-side down, on the plastic wrap. Spread 1 cup of rice on top using moistened fingers, leaving a ⅓-inch border. Flip nori so rice is facing the mat.

Arrange imitation crabmeat and cucumber along the bottom edge of the nori sheet. Place 2 tail-off shrimp in the center of the nori sheet. Place 2 tail-on shrimp on the end so that the tails extend over the sides of the sheet. Lift the edge of the bamboo rolling mat, and roll up nori into a tight log around the filling.

Transfer sushi roll to a serving plate. Layer avocado and unagi slices on top to cover the top and sides of the roll. Slice the roll into 8 pieces using a moistened knife.

Repeat with remaining nori, rice, crabmeat, cucumber, avocado, and unagi to make a second roll. If desired, put tobiko on each sushi then drizzle spicy mayo and sprinkle black sesame seeds on top.

Serve dragon sushi rolls, and enjoy!
Nutrition
Sugar:

12g

:

Calcium:

40mg

Calories:

242kcal

Carbohydrates:

25g

Cholesterol:

3mg

Fat:

15g

Fiber:

8g

Iron:

1mg

Monounsaturated Fat:

10g

Polyunsaturated Fat:

2g

Potassium:

702mg

Protein:

5g

Saturated Fat:

2g

Sodium:

2801mg

Vitamin A:

390IU

Vitamin C:

16mg
Nutrition Disclaimer