Picture tomorrow's breakfast with our fluffy Panera souffle paired with our BLT breakfast salad and slices of crusty artisan bread. Do you see the mouthwatering combination of light eggs, melted cheeses, colorful vegetables, and slices of soft crusty bread calling you? We're sure you'll love having this four-cheese souffle inspired by Panera's with your breakfast favorites.
What's in Our Four Cheese Panera Souffle?
The Panera souffle is popular for its creamy cheesy goodness. The vibrant cheddar cheese, the nuttiness of parmesan, the creaminess and stretch of Monterey jack, and the richness of Asiago when combined, make a flavor party in your mouth.  Wondering it might be too cheesy for you? No worries, the spinach we're adding will mellow out the savory cheese flavors in this vegetarian dish.
On top of that, it's a lot easier to make than a traditional souffle. No need to whip egg whites or give it time to cool in the oven.
Tips for Making Panera Souffle
You'll realize how easy it is to make a souffle recipe that you thought was intimidating. Making an egg souffle has never been this trouble-free. Nonetheless, we still have some valuable tips for you in making this cheesy souffle:
Microwave the egg mixture in intervals.

This ensures that it doesn't cook thoroughly. It should still be runny but would be thick enough that the flaps of the dough, when folded over, won't sink. The eggs should be dense enough to hold the dough afloat.

Use a toothpick to check doneness.

Insert a clean toothpick in the middle of the cheese souffle. If the egg mixture is cooked and fully set, it should come out moist but clean with no traces of thick mixture. But if the mixture is still runny, simply bake it a little longer in increments of 3 minutes and do checks in between.

If you're out of any of the cheeses

that we used in this recipe, you can replace it with the best melting cheeses like

brie, Gruyere, Emmental, Manchego, and bleu cheese.

Mix-ins may be added

to load up your souffle such as crispy bacon bits, chopped chives, and grated garlic. Take note that all mix-ins should be pre-cooked. Avoid adding liquid as this might loosen the consistency of the mixture.

You can

use smaller ramekins to make more souffles

. Just remember to adjust (lessen) baking time accordingly.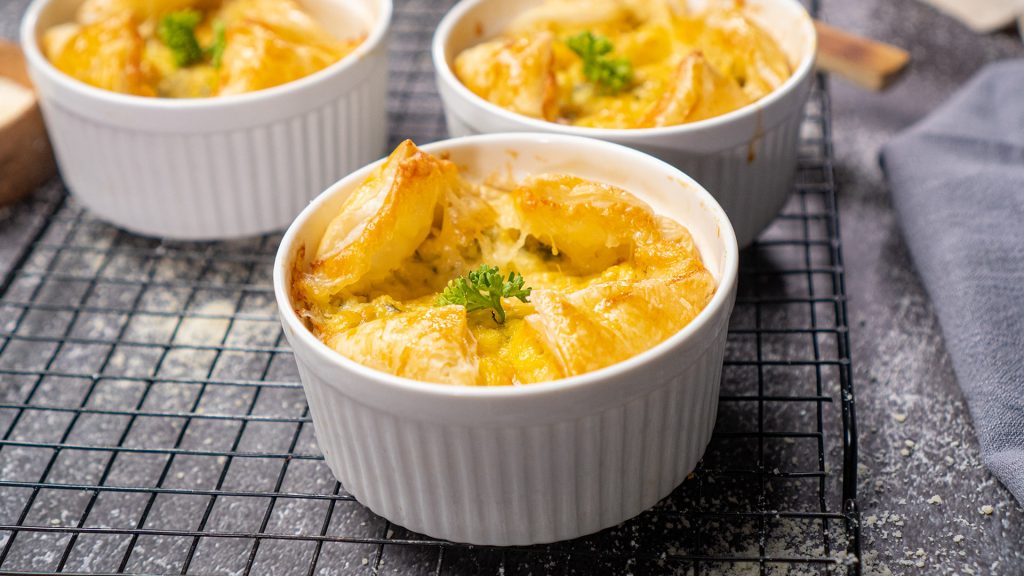 Four Cheese Panera Souffle Recipe (Copycat)
How To Make Four Cheese Panera Souffle (Copycat)
Upgrade your usual breakfast meals by making this delicious restaurant-quality Panera souffle at home.  Enjoy the irresistible taste of parmesan, Asiago, Monterey Jack, and Cheddar cheese combined in this light and airy egg souffle.
Ingredients
5

pcs

eggs,

large, whole, divided

3

tbsp

frozen spinach,

thawed

2

tsp

onions,

minced

2

tsp

red bell peppers,

minced

2

tbsp

whole milk

2

tbsp

half-and-half

1

tbsp

Parmesan cheese,

shredded

1

tbsp

unsalted butter,

softened

¼

cup

Asiago cheese,

shredded 

½

cup

Cheddar cheese,

shredded

¼

cup

Monterey Jack cheese,

shredded

¼

tsp

salt

1

pkg

crescent dinner rolls,

refrigerated

2

tbsp

water
Instructions
Preheat your oven to 375 degrees F.

Place the spinach, onion, and red peppers together in a bowl.

Pour in 2 tablespoons of water and cover the bowl with plastic wrap.

Poke a few holes in the plastic wrap and microwave for a minute.

In another bowl, beat 4 of the eggs. Add the milk, half-and-half, Monterey Jack cheese, Cheddar cheese, Parmesan cheese, and salt.

Mix the ingredients well and then add in the heated and drained vegetables.

Microwave this bowl for 1 minute in medium-high heat. Stir and repeat this process 4 more times.

Divide your puff pastry into 4.

Brush the inside of a souffle cup with butter.

Line each cup with the puff pastry pieces. Pour the egg mixture equally into each cup.

Sprinkle the Asiago cheese over the egg mixture in each tin. Gently fold the dough pieces over top.

In a small bowl beat the last egg and then brush the whisked mixture on the crust of each souffle.

Bake for 30 minutes.

Your egg soufflés are now ready. Have fun serving them!
Nutrition
Sugar:

7g

:

Calcium:

275mg

Calories:

357kcal

Carbohydrates:

25g

Cholesterol:

41mg

Fat:

25g

Fiber:

1g

Iron:

1mg

Monounsaturated Fat:

5g

Polyunsaturated Fat:

4g

Potassium:

92mg

Protein:

11g

Saturated Fat:

13g

Sodium:

862mg

Trans Fat:

1g

Vitamin A:

1765IU

Vitamin C:

4mg
Nutrition Disclaimer
Frequently Asked Questions
Can I make cheese soufflé in advance?
Absolutely! First, make sure to give your souffle some time to cool completely. Then wrap each souffle with plastic wrap. Keep them in plastic containers or jars to preserve their shapes. They'll remain good for up to three days when refrigerated, and a week when frozen. When ready to serve, thaw them until they reach room temperature. Bake in a preheated oven at 350 degrees F for 6 minutes or until they rise.
What do you eat with cheese souffle?
We recommend pairing our Panera souffle with a cup of freshly brewed coffee and fresh fruits like strawberries, blueberries, tangerines, and peaches. You might also want to add this apple celery salad to make your meal more filling. And for dessert, try our Panera Chocolate Chip Cookie. Sounds good? We know! It makes a great party food as well. Lay your cookies and souffle on a platter, prepare individual salad cups and you've got yourself a fancy little breakfast date.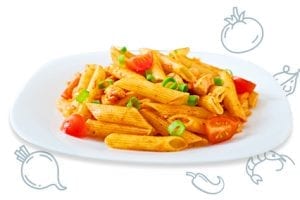 Conclusion
Level up your breakfast table with this fancy yet easy-to-make savory baked egg dish. It's ideal for intimate dates, family gatherings, or a simple meal by yourself. Simple yet impressive, this egg souffle will surely not let you down!