Our tasty egg cheese soufflé recipe is a soft, chewy, and deliciously delightful creamy dish to make at home. It contains basic easy-to-find ingredients yet a perfect sophisticated dish that offers a wholesome tasting experience. Egg cheese soufflés may seem like a fancy breakfast option, but we promise you that it's an appetizer that's fun to prepare and heavenly to eat. 
Soufflés are a popular French-originated baked dish that is commonly enjoyed alongside other main dishes or eaten alone. There can be two types of soufflé, one as a sweet dessert type where fruits and other sweet things can be added, while the other as a savory dish which include cheeses, meat, and other spices. Our cheese soufflé recipe is a savory dish that goes well with other breakfast meals like the Classic Sunny-Side-Up Eggs with Bacon and Pancakes Recipe. 
What's in a Cheese Soufflé Recipe?
The primary ingredient in a soufflé is eggs. Soufflés are made by separating the egg yolks from the egg whites, a familiar process for such type of dessert like our soufflé pancakes. They beat the egg whites until it's fluffy and stiff peaks form, then egg yolk is added and incorporated with the egg white by gently folding it. However, for savory type soufflés like our Panera-style egg and cheese soufflé recipe, we don't have to separate the egg whites from the egg yolks since it is a cheese-based recipe. We only have to beat the eggs and add our cheeses and spinach. Make sure not to over bake or under bake your soufflés so that it can rise properly and not deflate. 

Tip: When it's done baking, wait for at least 15 to 20 minutes before opening the oven door. This prevents any outside air from deflating the baked soufflé.
Our cheese soufflé recipe combines cheese, milk, spinach, onion, and red bell pepper to make that elegant dish for your breakfast meals. This dish contains 4 types of cheese: parmesan cheese, asiago cheese, cheddar cheese, and Monterey jack cheese. We combine all of these ingredients in our egg mixture, and bake them. The desired result is an adorable medium-sized dish that has a crusty, golden brown surface on top. It's chewy texture on the inside is the combination of the delicious cheeses and egg that complements the whole recipe. 
A soufflé recipe shouldn't be a difficult cooking experience. Our Panera-style cheese soufflé recipe is simple to make. It's all about mixing the ingredients, baking them, and enjoying them afterwards.
Delicious Meals for Your Panera Style Cheese Soufflé 
It's also a dish perfect for sharing at any gatherings that will surely satisfy a lot of people's appetite. Improve your egg soufflé dish by adding other meals on the side:
French bread

– start simple with a slice of bread that you can enjoy either toasted or plain. Feel free to add your favorite spreads to the bread for a more flavorful meal.

Fresh fruits like cucumber, plums, or frozen grapes

– fruits are perfect for any dish and you enjoy your egg soufflé while munching on these. 

Creamy Tomato Soup with Chives

– it's traditional to serve egg soufflés with some delicious tomato soups, and we're sure that this creamy soup will enhance your meals.

Roasted Asparagus with Balsamic Vinegar

– if you want some veggies on the side, try this roasted asparagus dish for that crunchiness. 

Roquefort Pear Salad

– a delicious containing pears, pecans, avocados, and cheese. It's a perfect addition to your egg soufflé to give it that interesting delicious combination. 
These are some of our favorite recommendations. Try experimenting with other dishes of your choice for a more fulfilling and appetizing experience. You can also serve some drinks on the side like a crisp white wine or a simple hot coffee to really enhance the overall taste. In the end, our cheese soufflé recipe will be a delicious dish that will surely satisfy your palate.
How To Make Egg Cheese Soufflé (Panera Copycat)
Upgrade your usual breakfast meals with this delicious Panera-style cheese soufflé recipe. It's perfect for those warm and cozy mornings!
Ingredients
5

large eggs,

whole

3

tbsp

frozen spinach,

thawed

2

tsp

onions,

minced

2

tsp

red bell pepper,

minced

2

tbsp

whole milk

2

tbsp

half-and-half

1

tbsp

Parmesan cheese,

shredded

1

tbsp

butter,

melted

¼

cup

Asiago cheese,

shredded 

½

cup

Cheddar cheese,

shredded

¼

cup

Monterey Jack cheese,

shredded

¼

tsp

salt

1

pack

crescent dinner rolls,

refrigerated

1

pack

all-purpose flour
Instructions
Preheat your oven to 375 degrees F.

Place the spinach, onion, and red peppers together in a bowl.

Pour in 2 tablespoons of water and cover the bowl with plastic wrap.

Poke a few holes in the plastic wrap and microwave for 2 to 3 minutes.

In another bowl, beat 4 of the eggs. Add the milk, half-and-half, Monterey Jack cheese, Cheddar cheese, Parmesan cheese, and salt.

Mix the ingredients well and then add in the heated veggies.

Microwave this bowl for 30 seconds. Stir and repeat this process 4 more times.

Using the crescent dinner rolls as dough, divide into 4 rectangles. Use a bit of flour and spread it over the 4 pieces.

Brush the melted butter inside 4 large muffin tins.

Line each tin with the 4 dough pieces. Equally pour the egg mixture into each tin.

Sprinkle the Asiago cheese over the egg mixture in each tin.

Gently fold the dough pieces over.

In a small bowl, beat the last egg and then brush it over each tin.

Bake for 30 minutes.

Your egg soufflés are now ready. Have fun serving them!
Nutrition
Calcium:

305mg

Calories:

235kcal

Carbohydrates:

2g

Cholesterol:

242mg

Fat:

18g

Fiber:

1g

Iron:

1mg

Potassium:

148mg

Protein:

16g

Saturated Fat:

10g

Sodium:

509mg

Sugar:

1g

Vitamin A:

2034IU

Vitamin C:

4mg
Nutrition Disclaimer
Commonly Asked Questions
Can I make cheese soufflé in advance?
Absolutely! After preparing these cheese soufflés, you can store them in the fridge. Make sure to cover each soufflé with a plastic wrap and then refrigerate. They can last up to 2 to 3 days or up to 1 week in the freezer.

Can I re-bake a soufflé?
Before re-baking your soufflé, it's important that they come to room temperature first. Preheat your oven to 350 degrees F. Remove the plastic wrapping and place them inside the oven. Bake for up to 6 minutes until they rise.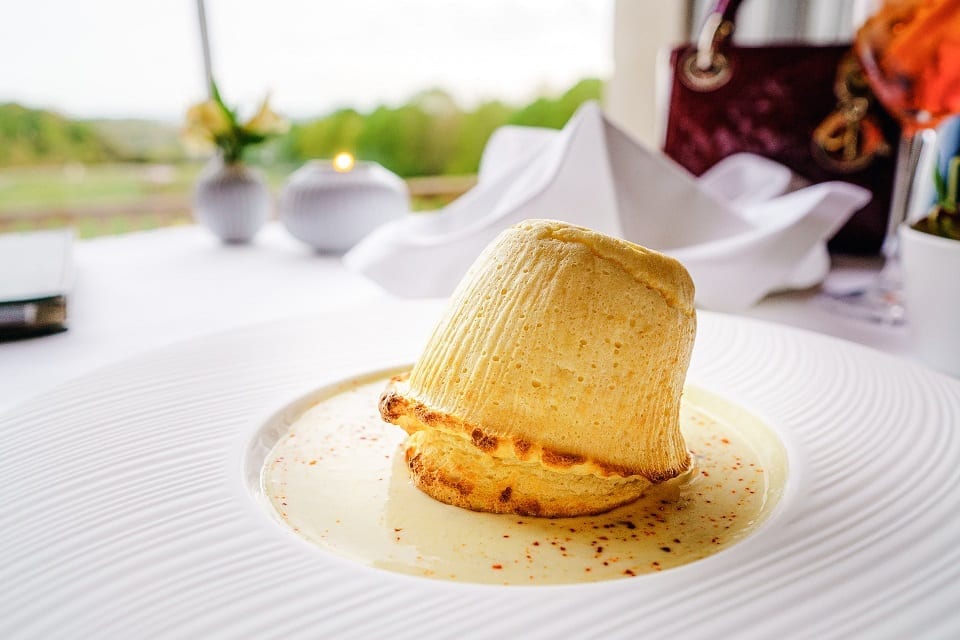 Conclusion
This simple yet fancy savory dish is the perfect start to your breakfast meals. Make your own homemade Panera-style cheese soufflé meal by following these easy steps. Enjoy the deliciousness with every bite.