If you're looking for easy dinner ideas that involve pastas and baking, then this Cavatappi pasta might be just what you need. It's a flavorful dish with a rich taste and cheesy texture made from combining tender Italian sausages, shredded mozzarella cheese, and homemade marinara sauce. You can even spice it up by sprinkling in a bit of Italian seasoning and red pepper flakes on top for a spicy Cavatappi pasta variation with herby notes. Enjoy a full gastronomic experience with this easy baked Cavatappi pasta recipe that's perfect when paired with a tasty caprese salad.
What is Cavatappi?
Cavatappi, an Italian word which translates to corkscrew pasta, is called as such because it is shaped like a corkscrew. These Cavatappi noodles are long spiral pasta tubes that are typically longer than the typical elbow macaroni. This unique type of Italian curly pasta is usually paired with creamy alfredo sauce or tomato-based sauces since its exterior has ridges that perfectly hold on to the sauce. 
Since Cavatappi is similar to macaroni, you can also make use of it to make mac and cheese. And of course, this spiral pasta is also good for making salads. The next time you're craving a salad, try making a Cavatappi pasta salad for a change and drizzle it with a pesto dressing. Aside from that, Cavatappi also tastes great in casserole dishes just like this delicious pasta bake recipe we're making. 
Tips on Cooking Cavatappi Pasta
To turn this pasta into a truly delicious Italian food for your guests, take note of these tips on how to properly prepare and cook Cavatappi pasta so that it's the perfect consistency for your tomato sauce. 
Undercook the Cavatappi pasta

. The way Italians call it, it has to be

molto al dente

. Its texture should be slightly chewy with a gritty and chalky texture. It has to slightly undercook by a couple of minutes since we have to bake it again. 

Sprinkle in some sea salt

for a richer pasta taste. Use this for both the salted pasta water and sauce. Sea salt is a healthier and more natural alternative to regular salt. It also has a more intense flavor that will go perfectly with this baked Italian sausage pasta. 

Keep the dish covered while baking

to prevent it from losing moisture. For the first 20 minutes, it's best to keep your pasta covered with an oven-safe foil. Then, remove and continue to bake according to the recipe instructions.
Frequently Asked Questions
How long do I cook Cavatappi pasta?
It should take about 8 to 9 minutes to cook the pasta molto al dente. Always follow package directions when cooking any type of pasta. For this recipe as well as other baked pasta dishes, however, you should pre-cook your pasta in a large pot before it goes into the oven so that it's not too firm or dry. Baked pasta dishes require the pasta to be slightly undercooked, or in culinary terms, molto al dente. Boiling in salted water at least ¼ of the suggested cooking time should be just enough. As a general rule, remove the pasta from heat while it is still undercooked. Drain the pasta well before combining it with the rest of the ingredients.
What is a good substitute for Cavatappi pasta?
The best Cavatappi pasta substitute you can find is Cellentani. This is another corkscrew-shaped pasta that has more ridges than cavatappi. If you can't find that one, then gemelli pasta or rigatoni also work well for this dish. Gemelli pasta is another long, twisted, and spiral noodle. With its shape, it can also hold sauces perfectly since it has the beautiful twists and crevices on it. Meanwhile, the rigatoni is short, wide, and sturdy tube-shaped pasta that also has ridges on the outside. It's perfect for chunkier sauces. The wide center also helps in capturing the sauce perfectly in every bite.
What is a substitute for Italian sausage?
Sweet Italian sausage has distinctive garlic and anise flavor. But if you're one who likes a little spice in their pasta, we recommend substituting it with any smoked sausages like andouille as they tend to be spicier than regular sausages. You can also just use plain and non-Italian sausages, and add some garlic powder and fennel seeds for a rich and authentic Italian flavor.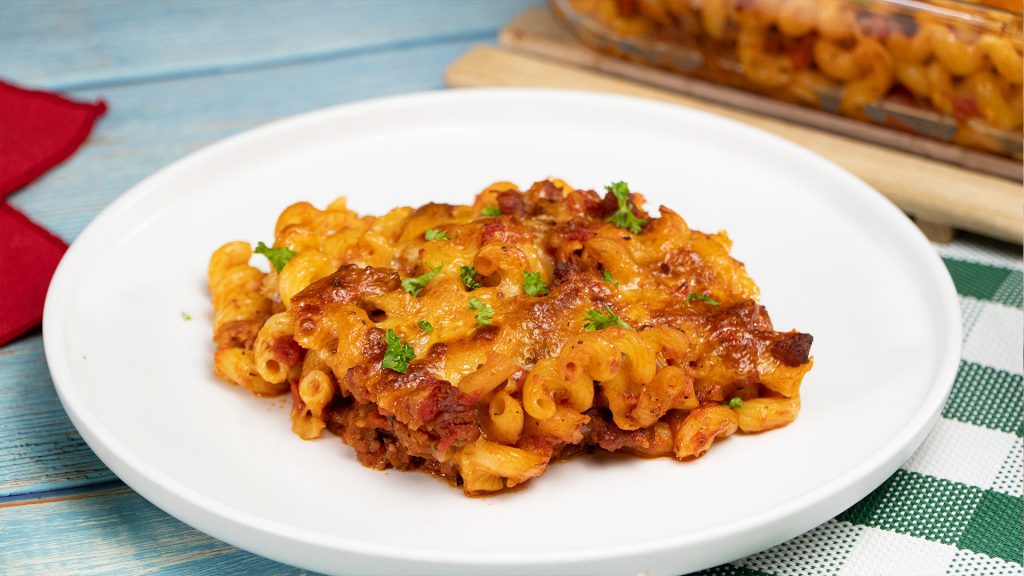 Baked Cavatappi with Italian Sausage Recipe
How To Make Baked Cavatappi with Italian Sausage
Switch up your regular macaroni with Cavatappi pasta and indulge in a gloriously baked cheesy pasta filled with crumbled Italian sausages in tomato sauce.
Ingredients
1

lb

Cavatappi pasta,

cooked and cooled

2

tbsp

olive oil

1

lb

Italian sausages,

crumbled

28

oz

tomatoes,

(1 can), diced or crushed

5½

oz

red onions,

or yellow onions, chopped

2

cloves

garlic,

chopped

2

cups

mozzarella cheese,

or parmesan cheese, shredded or grated

1

tbsp

honey

2

tsp

dried oregano

2

tsp

dried basil

salt and ground black pepper,

to taste
For Serving:
Instructions
Preheat the oven to 375 degrees F. Grease a baking casserole with cooking spray.

In a deep skillet, warm the olive oil over medium-high heat. Place the Italian sausage crumbles in the pan, and saute until caramelized.

Add in the chopped onion, garlic, oregano, and basil. Continue sauteing until translucent.

Stir in crushed tomatoes and honey. Bring to a boil, stirring continuously, then reduce heat to low. Let the sauce simmer for 30 minutes, stirring occasionally. Season with salt and pepper.

Stir in the Cavatappi pasta. Transfer the pasta and sauce into the baking dish.

Sprinkle it with shredded or grated mozzarella cheese. Bake for 30 minutes until the dish is warmed through and the cheese has melted.

Garnish with parsley and serve.
Recipe Notes
For the leftovers, pack and store them inside an airtight container and place them inside the fridge to last longer. 

To reheat, place the pasta inside a shallow oven-proof baking dish and then cover with foil. Bake for about 15 to 20 minutes or until heated through. To recover its gooey cheesiness, sprinkle some more shredded cheese on top during the last 5 minutes.
Nutrition
Sugar:

10g

:

Calcium:

257mg

Calories:

744kcal

Carbohydrates:

69g

Cholesterol:

87mg

Fat:

38g

Fiber:

5g

Iron:

3mg

Monounsaturated Fat:

17g

Polyunsaturated Fat:

4g

Potassium:

763mg

Protein:

31g

Saturated Fat:

14g

Sodium:

800mg

Vitamin A:

1369IU

Vitamin C:

22mg
Nutrition Disclaimer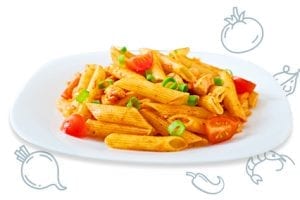 Conclusion
The tender Italian sausage crumbles and cheesy mozzarella goodness mixed with the soft yet firm Cavatappi pasta bake makes this recipe the perfect dish to satisfy your pasta cravings. Enjoy a delicious serving with friends and family.