You can't say you love Chicago-style pizza like Gino's East Pizza or Uno's Deep Dish without trying our Copycat Giordano's Deep Dish Pizza Recipe. In this recipe, we'll show you how to make Chicago deep dish, Giordano's style! Many people consider Giordano's pizzas as arguably the best Chicago pizza. But what makes it the best? More than all the cheese, sauce, and toppings, its thick and buttery crust makes it all better!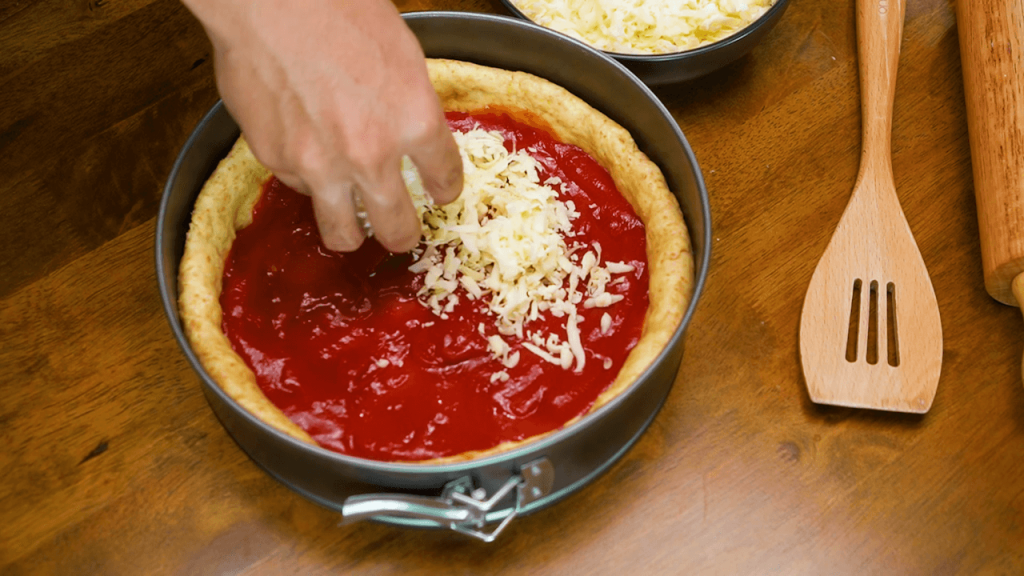 What Is Chicago Deep Dish Pizza?
When we talk about hometown classics, Chicago's pizza certainly rings a bell. There are many kinds of Chicago-style pizza, from stuffed pizza, Tavern Style or Chicago Style Thin, Sicilian, and Artisan Pizza pie. But the most popular of all is the Chicago style deep dish. What sets pizzas like Chicago's apart from the regular, flat pan and hand-tossed pizzas is its thick, deep crust.
You'll immediately recognize this local delicacy once you lay your eyes on it. From its name, the deep dish is thicker than normal, flat pizza, and almost looks like a pie. Aside from its shape, what makes this pizza different is its placement of pizza toppings. Pizza toppings like pepperoni are placed inside the dough, together with heaps of cheese. At the top lies even more cheese and a beautiful spread of tomato sauce. Also, it's baked in a deep dish cake pan. This gives the pizza a thicker and deeper crust, giving it far bigger space for holding the cheese, chunky tomato sauce, and toppings.
Although pizza came from Italy, those who left brought their cuisine along with them, introducing the wonders of Italian food to their new-found communities. The story of Chicago-style pizza is the same. Many food historians have pointed to Pizzeria Uno as being the first restaurant to offer Chicago-style deep dish. But now, many other Chicago deep-dish pizza restaurants have tried their hand at this local delicacy, and Giordano's is one of them.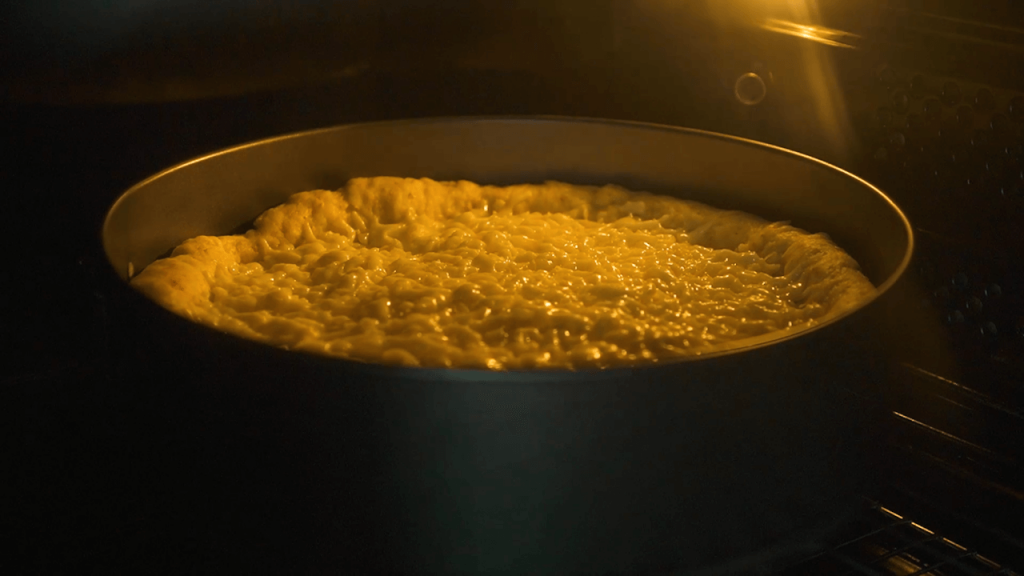 Giordano's Deep Dish Pizza
Giordano's is a popular American pizzeria chain that specializes in making Chicago-style stuffed crust pizzas. Many people say that Giordano's is the best when it comes to serving Chicago-style deep dish. In fact, they're one of the biggest names to ever grace Chicago's pizza scene, and it's no wonder why.
The thick, crispy crust of Giordano's pizza is one you can't miss. Buttery and full, the crust is baked to absolute perfection. Although it needs to be firm to hold the gooey, mozzarella cheese, and sweet tomato sauce together, it's also incredibly soft. It's chunky tomato sauce, addicting cheeses, and choice of toppings like sausages, pepperoni, and green bell pepper further boost the whole eating experience!
Making Chicago-style pizza like Giordano's pizzas may seem challenging to make. But trust us, it's easy to master with our amazing recipe. No need to worry if it's your first time making pizza dough, or deep dish in general. Our clear instructions will guide you through the whole pizza-making process. And we guarantee the result will surely surprise you, with its likeness so similar to Giordano's famous pizza pies.
After making Giordano's Chicago-style pizza at home, try Detroit's signature square, deep-dish pizza with our Jet's Detroit-Style Pizza Recipe!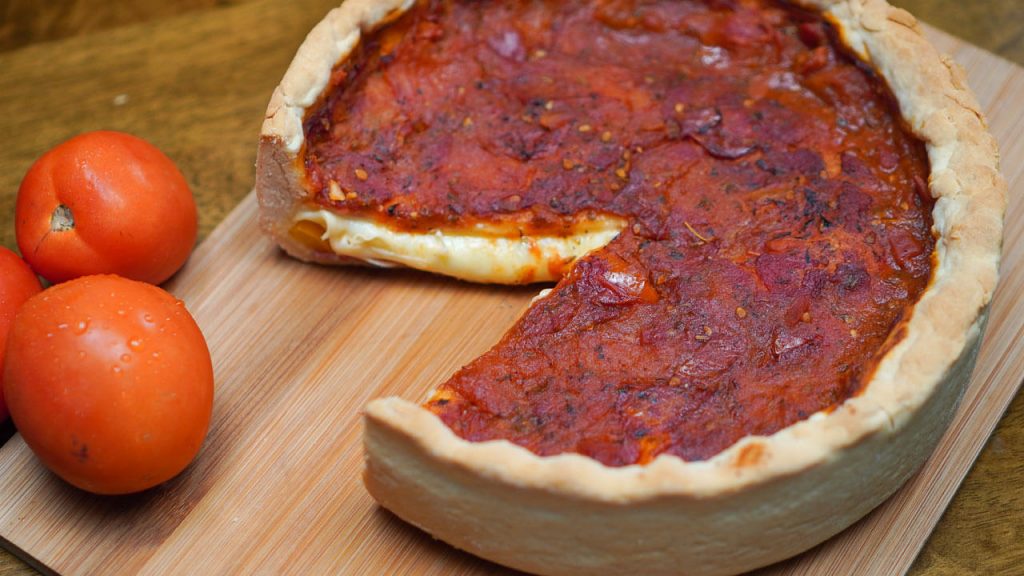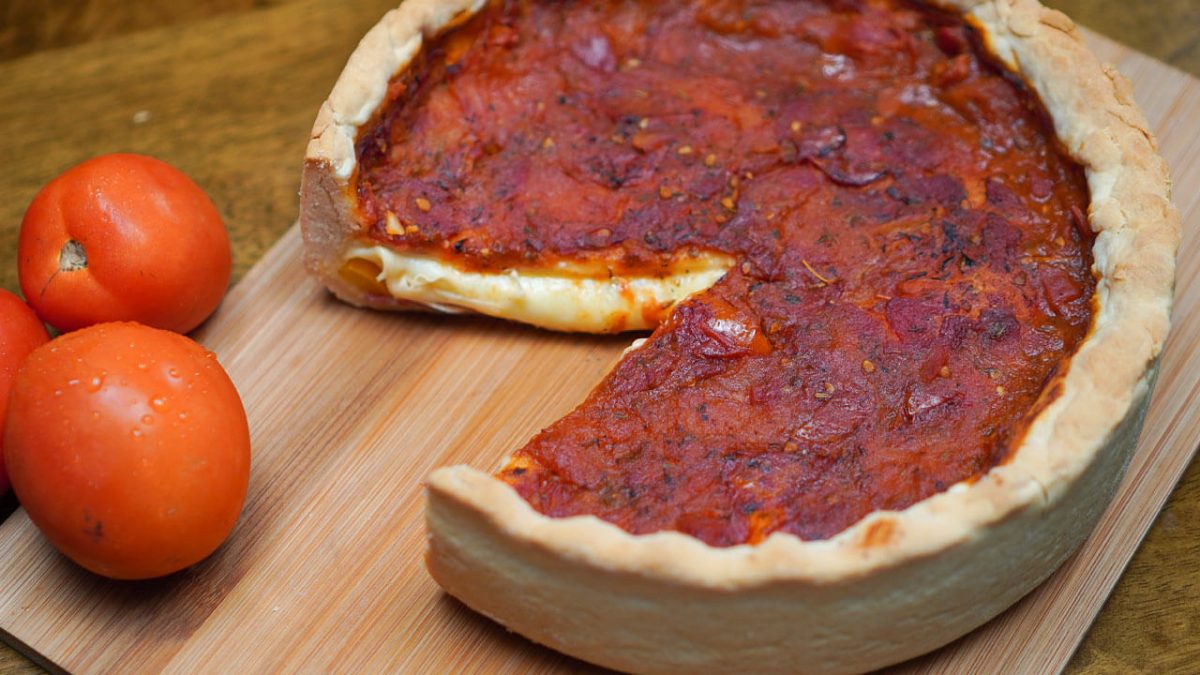 Copycat Giordano's Deep-Dish Pizza Recipe
How To Make Copycat Giordano's Deep Dish Pizza
Bite into a thick, soft, buttery, and cheesy pizza slice just like at Giordano's! Enjoy a local Chicago delicacy with our Giordano's Deep Dish Pizza Recipe.
Total:
2

days
1

hr
35

mins
Ingredients
For Pizza Crust:
3

tsp

active dry yeast

¾

cups

water,

at room temperature

1

tbsp

granulated sugar

3

cups

all-purpose flour,

and more for dusting

1

tsp

salt

6

tbsp

butter,

unsalted and softened

⅓

cup

olive oil
For Pizza Sauce:
2

tbsp

olive oil

20

oz

local tomatoes,

quartered

1 ½

cups

canned tomatoes,

crushed

2

tsp

Italian seasoning

1

tsp

garlic powder

Salt and ground black pepper,

to taste
For Deep Dish Pizza:
25

slices

pepperoni,

can add extra for garnish

1

cup

green bell peppers,

chopped, can add extra for garnish

1

lb

mozzarella cheese,

grated and at room temperature

Parmesan cheese,

grated, for garnish
Instructions
Pizza Dough:
In a small bowl, dissolve the yeast and sugar in water.

Let it stand for a few minutes, or until it blooms or bubbles up. Set aside.

Sift the flour and salt in a mixing bowl. Then, add in the oil, butter, and yeast solution.

Mix the dough well enough to combine, incorporating as much flour as possible.

Lightly dust a flat surface with flour, then knead the dough until it forms into a small soft and elastic ball.

Wrap the ball of dough tightly in a plastic wrap. Store in the refrigerator for about 2 days.
Pizza Sauce:
Heat olive oil in a medium-sized pan.

Saute the quartered tomatoes. Then, add in crushed tomatoes, Italian seasoning, and garlic powder. Mix well.

Season with salt and black pepper, and adjust according to your preferred taste.

Let the sauce simmer for 15 minutes, or until it has been reduced to half.

Transfer the sauce to a bowl and lightly mash the quartered tomatoes into smaller bits. Don't crush the tomatoes too much since the sauce should still be chunky for this pizza recipe.

Set aside and let it cool.
Deep Dish Pizza:
Take the dough out of the refrigerator and let it cool down to room temperature.

Preheat the oven to 425 degrees F.

Slice ⅓ of the pizza dough and set aside the smaller portion.

Roll the larger portion with a rolling pin into a 14-inch circle.

Fold the dough in half.

Grease the cake tin with cooking spray. Lift the dough into the cake tin and unfold it.  It's normal to have excess dough hanging off the outside of the tin.

Layer the pepperoni in a circular fashion. Add green bell peppers and top with mozzarella cheese until it has filled ¾ of the cake tin.

Roll the remaining pizza dough into a 10-inch circle. Make sure that it's thinner than the pizza dough covering the bottom of the cake tin.

Then, use it to cover the cake tin like a blanket. Gently press the dough down onto the cheese.

Seal the pizza all the way around by pinching both top and bottom dough together.

Pinch both pizza doughs together to seal all the way around, then trim the top. Punch a few holes on the top of the pizza dough.

Spoon pizza sauce on top of the dough, just enough to cover the whole surface. Don't use up the pizza sauce so you can use it for another pizza.

Bake the pizza for about 40 minutes or until the top turns golden brown.

After baking, allow the pizza to slightly cool in a warm area.

To remove the pizza from the cake tin, gently nudge the pizza out using a flexible spatula, then carefully remove the springform ring.

Cut the pizza into 8 slices and serve while hot! Enjoy!
Recipe Notes
Always be careful with kneading the dough. Over-kneading it can make your pizza crust dry and tough to chew.

Storing the dough in the refrigerator for 2 days allows the dough to properly rise. This will give you a pizza crust that's mellow and tender.

When baking the pizza, you may need to spin it around every so often to evenly brown on all sides.
Nutrition
Sugar:

7g

:

Calcium:

329mg

Calories:

602kcal

Carbohydrates:

47g

Cholesterol:

51mg

Fat:

37g

Fiber:

4g

Iron:

4mg

Potassium:

473mg

Protein:

21g

Saturated Fat:

12g

Sodium:

923mg

Vitamin A:

1523IU

Vitamin C:

29mg
Nutrition Disclaimer
Frequently Asked Questions
What's the difference between New York-style and Chicago-style pizza?
Two of the most famous styles of pizza in the U.S. are New York-style and Chicago-style pizza. Both were invented by Italian-American immigrants, but they're different in every sense of the word. New York-style is known for its thin, crispy pizzas. Both its crust and layer of sauce and cheeses are thin as well. And while there are many kinds of Chicago-style pizza, the most famous is the deep dish, with its thick, buttery crust.
How do I keep my pizza crust from getting soggy on deep dish?
The most common mistake first-timers do is not baking their pizzas in the right temperature. Make sure that your oven is preheated and that you're baking the pizza with the right amount of heat and for the right amount of time. Also, it helps to pre-cook the dough first for around 8 to 10 minutes before adding the sauce and toppings. The reason for this is that most pizza ingredients are moisture-releasing, meaning they can get the dough soggy if too much mozzarella cheese or tomato sauce is used.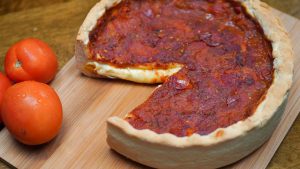 Conclusion
With our amazing copycat recipe, you'll make the perfect deep-dish pizza just like Giordano's. Enjoy the thick, buttery, and cheesy pizza slice of a Chicago-style deep dish with loved ones, whether it's lunch or dinner!