It's a quick, tasty bite! Whip up a batch of crispy-coated chicken chunks in your microwave. They're perfect for dipping.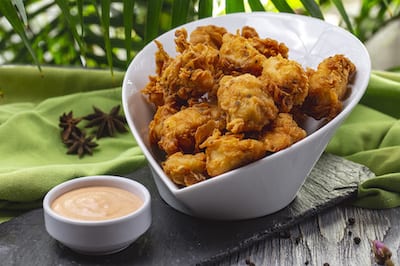 Quick Chicken Chunks Recipe
How To Make Quick Chicken Chunks
Ingredients
1 1/2

cup

crushed corn flakes

1/2

cup

Bisquick mix

3/4

tsp

paprika

1/4

tsp

salt

1/4

tsp

pepper

1

lb

boneless and skinless chicken breast,

cut into 1-inch pieces

1

tbsp

vegetable oil
Instructions
In a 2-quart resealable plastic bag, mix all ingredients except for the chicken and oil. These two should be mixed separately.

Shake about 6 chicken pieces at a time in a bag until they are well-coated. Make sure to shake off any extra crumbs.

Place the chicken pieces in a single layer in a microwavable dish.

Cover the dish with waxed paper, then microwave it on high setting for 3 minutes. Afterward, turn the dish halfway then microwave it for 4 to 5 minutes or longer until the chicken is no longer pink in center.

Once your chicken chunks are done cooking, serve them and enjoy!
Comments
Cami Halısı Modelleri Camiler İslam kültüründe oldukça önemli mimari yapılardır. Camiler binlerce insanı bir araya getirirken, İslam mimarı ve motiflerini de içinde barındıran kültürel bir mirastır. Mimari yapısı, motifleri ve daha birçok özelliği ile göz alıcı güzelliğe sahip olan camilerde kullanılan halılar da dikkat çekici detaylar arasında yer alır. Cami halısı desenleri çeşitli yapılara sahiptir. Bunlar; saflı cami halısı, seccadeli cami halısı, göbekli cami halısı gibi modellerdir. Cami halısı modelleri üretiminde kullanılan hammadde ve desen açısından birbirinden farklılık gösterir. Bu modeller arasında en çok tercih edilen modeller arasında saflı cami halısı ve göbekli cami halısı modelleri bulunur. Saflı cami halısı modeli, düzenli ve eşit aralıkları ile saflara ayrılarak, ibadet eden kişilerin huzurlu bir ortam içerisinde ibadetlerini gerçekleştirmelerine yardımcı olur. Düzenli ve hijyenik bir yapıya sahip olan saflı cami halısı, desen ve motifleri ile estetik bir görünüm sağlar ve ibadet eden kişilerin huzurlu bir ibadet ortamında olmalarına yardımcı olur. Akrilik cami halıları ise fiziksel dış etkenlere karşı kuvvetli olmasıyla dikkat çeker ve bu özelliği sayesinde uzun süreli kullanım imkanı sağlar. Keçelenmenin önüne geçen malzemesi ile halının aşınması ya da iz tutması gibi durumların önüne geçer aynı zamanda akrilik cami halıları rutubet ve küf tutmayan özellikleri ile dört mevsim boyunca rahatlıkla kullanılabilir. Göbekli cami halısı modeli, adından da anlaşıldığı üzere halının orta kısmında büyük bir desenin yer aldığı halı modelidir. Ülkemizde yer alan camilerde sıklıkla tercih edilen bu halı modeli, ateşe karşı dayanıklıdır ve ısı yalıtımı, ses akustiği sağlar.

Comment is awaiting moderation.