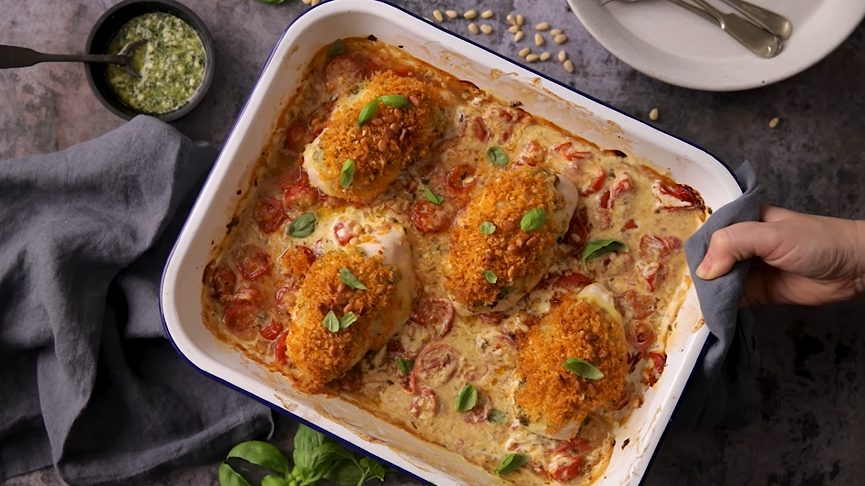 Chicken Pesto Bake Recipe
How To Make Chicken Pesto Bake
This easy pesto chicken is baked in 15 minutes to achieve tender and juicy meat. Keep it low-carb with cheese, tomato, and refreshing basil pesto.
Instructions
Wash chicken and dry with a paper towel. Slice chicken breast horizontally to create 4 thinner cutlets. Season lightly with salt and fresh pepper.
Preheat the oven to 400 degrees F. Line baking sheet with foil or parchment if desired for easy clean-up.
Place the chicken on prepared baking sheet. Spread about 1 teaspoon of pesto over each piece of chicken.
Bake for 15 minutes or until chicken is no longer pink in center.
Remove from oven; top with tomatoes, mozzarella and parmesan cheese. Bake for an additional 3 to 5 minutes or until cheese is melted.
Serve and enjoy.
Recipe Notes
To Grill: Grill chicken over medium flame on both sides until cooked through in the center. Lower flame, top chicken with pesto, tomatoes and cheese, and close grill until cheese melts.
*Check out Skinny Basil Pesto Recipe for pesto sauce.
Nutrition
Monounsaturated Fat: 

5.16g
Polyunsaturated Fat: 

1.93g