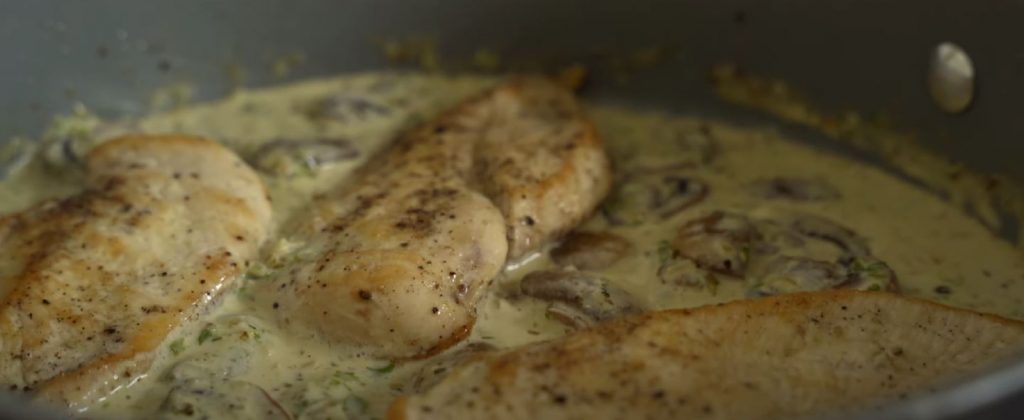 Julia Child's Chicken and Mushroom Recipe
How To Make Julia Child's Chicken and Mushroom
Recreate Julia Child's chicken and mushroom dish complete with a creamy sauce that has a distinctly minty and milky flavor for 45 minutes.
Instructions
Preheat oven to 400 degrees F.
Rub the chicken breasts with lemon juice and season lightly with salt and pepper.
Heat the butter in a heavy, oven-proof casserole, about 10 inches in diameter until it is foaming.
Stir in the minced shallots or green onion and saute a moment without browning.
Then stir in the mushrooms and sauté lightly for a minute or two without browning. Season with salt.
Quickly roll the chicken in the butter mixture and lay a piece of buttered wax paper over them. Cover the casserole and place in the hot oven.
After 8 to 10 minutes, flip the chicken and cook for another 8 minutes in the oven.
Alternatively, brown chicken fillets on each side until golden, then cover and place into a preheated oven to continue cooking for a further 8 minutes until cooked through.
Remove the chicken to a warm platter (leave mushrooms in the pot) and cover while making the sauce.
To make sauce:
Pour the stock and wine in the skillet with the mushrooms. Boil down quickly over high heat until liquid has reduced to half.
Add in the cream cheese, breaking it down with your wooden spoon.
Cook over low heat until it turns into a thick cream. Gradually add in the evaporated milk, stirring through the cream cheese until thickened.
Take off heat and taste for seasoning. Squeeze over a little extra lemon juice to taste. Add in the broccoli and pour the sauce over the chicken. Garnish with parsley and serve immediately.
Nutrition
Monounsaturated Fat: 

11.43g
Polyunsaturated Fat: 

4.28g