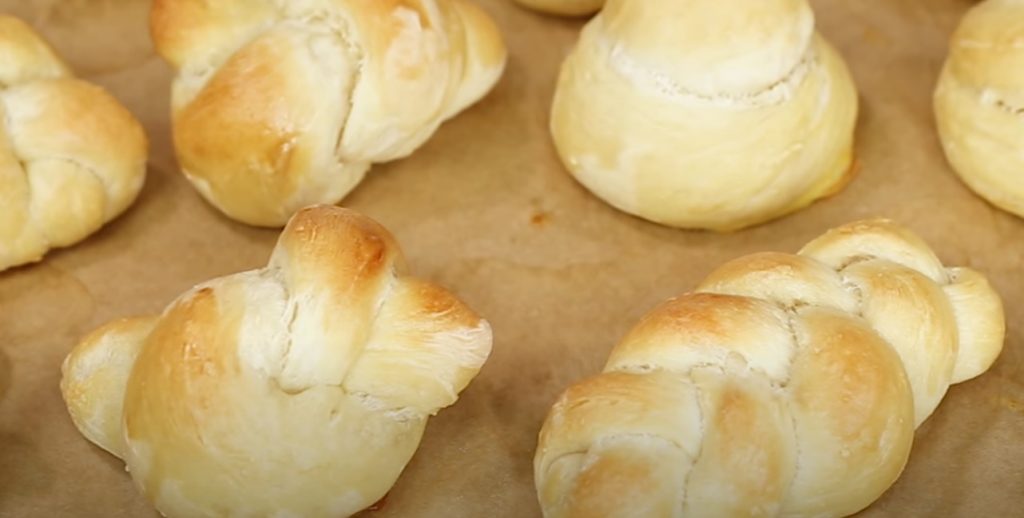 Braided Bread Recipe
How To Make Braided Bread
Enjoy pesto-packed & elegant Russian braided bread in this recipe for fluffy and chewy snacks, made using yeast, vinegar, and canola oil.
Ingredients
3½

cups

all-purpose flour

2¼

tsp

instant yeast,

(1 package)

2

tsp

granulated sugar

1½

tsp

salt

1¼

cups

water

¼

cup

canola oil

1

tbsp

white vinegar

½

cup

pesto
Instructions
In the bowl of a stand mixer, using the paddle attachment, combine 2½ cups of flour, yeast, sugar, and salt.

Heat water and canola oil until warm. Add to flour mixture. Add vinegar. Blend at low speed until well combined.

Switch to the dough hook and mix in the remaining flour a little at a time, to make a soft dough that's not sticky to the touch, adding more or less flour as needed.

Knead the dough for 5 minutes. Place in a greased bowl, turning to grease the top. Cover; let rise in a warm place until almost double.

Preheat oven to 400 degrees F. Grease a 9-inch springform pan, and line bottom with parchment; grease paper. Place on top of a baking sheet. Set aside.

Punch down the dough. On a floured surface, roll the dough into a very thin rectangle, as thin as possible. Spread a thin layer of pesto on top of the dough. Leave the bottom of the long edge clear ½-inch.

Start at the top of the long edge and slowly, tightly and gently roll the dough into a log. Pinch it closed.

Use a bench scraper to cut the dough in half lengthwise. Cross the 2 halves, layers facing up, to create an X shape.

Braid the top and bottom of the dough by laying the left piece over the right keeping the cut side up, until pieces of dough are tightly twisted. Pinch ends together.

Start at the thinner edge and slowly and very gently, roll the braid into a giant snail shell or a very large cinnamon bun. Be careful to keep all the layers facing up. Pinch the end delicately.

Carefully pick up the braid and place it in the prepared springform. Cover; let rise in a warm place until almost double.

Bake at 400 degrees F for 5 to 10 minutes, lower oven temperature to 350 degrees F and bake for an additional 20 to 30 minutes.

When the bread is out of the oven lightly brush olive oil on top and sides. Let cool on a rack.

Serve and enjoy.