While there are already a hundred and one ways of cooking eggs like scrambled, boiled, and poached, this baked eggs recipe is a must-try. It's like eating soft-boiled ones but without needing to peel off eggshells! The eggs lie on a bed of creamy butter-sauteed leeks and smoked salmon. Serve this breakfast dish with white bread toasts to dip in its bright yellow yolk. In addition, you might as well want to make a plate of caesar salad to complete the gourmet breakfast spread.
Tips on Making Baked Eggs
Making baked eggs or shirred eggs is easy even for beginners. It certainly is one of those easy egg recipes that are fit for a special breakfast and an advanced meal prep. Here are some of the best tips on making this recipe:
First, always grease the baking dish with cooking spray or butter

to help prevent them from being stuck. Running a

butter knife

around the edge will help them loosen up.
Cook baked eggs in muffin tins, ramekins, or any baking pan that you prefer.

You can crack two eggs per serving if the dish is roomy enough. Take note that using a thick ceramic baking dish will need an additional few minutes of cooking time.
Make them ahead of time

by allowing them to cool completely then transferring them in sealed containers. They will stay good in the fridge for 5 days.
Cook them for a minimum of 12 minutes

for a runny yolk, and longer to make them hard-boiled. Alternatively, you can also make them scrambled by beating the eggs before baking.
Lastly, top them with other delicious ingredients

like bacon, sauteed spinach, mushrooms, feta cheese, and parmesan cheese, for instance. Alternatively, you can also top it with

pico de gallo

 for added freshness and a pop of color.
Looking for other easy egg recipes for breakfast? Check out this shakshuka recipe, a spicy Middle Eastern spin on egg skillet.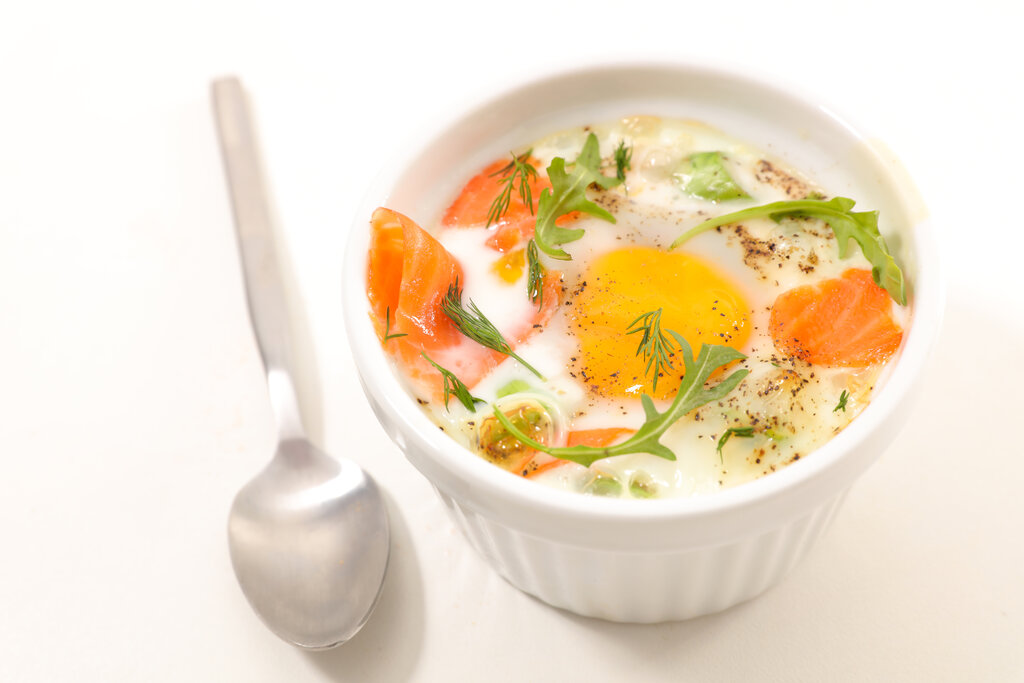 Baked Eggs with Leeks and Smoked Salmon Recipe
How To Make Baked Eggs with Leeks and Smoked Salmon
Serve buttery and soft-yolk baked eggs with smoked salmon and creamy sauteed leeks for breakfast with this quick recipe. Have a couple of toasts ready on the side for dipping.
Ingredients
3

cups

spring onions,

or leeks, finely chopped

¼

stick

salted butter

3

tbsp

cream

¼

cup

salmon,

smoked, roughly chopped

4

eggs

black pepper,

freshly ground

kosher salt,

to taste

brown toast triangles,

to serve, optional
Instructions
Preheat the oven to 350 degrees F.

Prepare boiling water for the water bath.

Heat the butter in a small, heavy-based saucepan. Add in spring onions or leeks and cook very gently stirring now and then for around 5 minutes or until softened.

Arrange four ramekins in a large, deep ovenproof dish. Divide the cooked leeks evenly between the ramekins.

Spoon 1 teaspoon of cream over the leeks in each ramekin. Season with freshly ground pepper.

Pour enough boiling water around the ramekins to reach ½-inch up their sides.

Bake the ramekins in the oven for 5 minutes. Working speedily so that you don't lose too much heat from the ramekins, take them out of the oven, divide the smoked salmon between them, then break an egg into each one.

Trickle one more teaspoon of cream over each egg, then season with salt and freshly ground pepper.

Return to the oven for 12 minutes until the whites are set but the yolks are still runny.

Serve immediately with brown toast triangles. Enjoy!
Nutrition
Sugar:

2g

:

Calcium:

89mg

Calories:

205kcal

Carbohydrates:

10g

Cholesterol:

199mg

Fat:

15g

Fiber:

2g

Iron:

2mg

Monounsaturated Fat:

4g

Polyunsaturated Fat:

1g

Potassium:

320mg

Protein:

10g

Saturated Fat:

8g

Sodium:

133mg

Trans Fat:

1g

Vitamin A:

1331IU

Vitamin C:

14mg
Nutrition Disclaimer
Frequently Asked Questions
How long does it take for eggs to cook at 350?
We recommend baking eggs in the oven for a minimum of 10 minutes for them to reach their optimal internal cooking temperature of 160 degrees Fahrenheit at which potentially harmful bacteria die. At this point, you should notice that the whites are set and the yolk is still runny. However, if you'll be using thick baking dishes you might need more cooking time.
How do you know when eggs are done in the oven?
You should notice that the egg whites are no longer clear and when you insert a knife or toothpick in them it comes out clean. However, you may bake eggs for an additional couple of minutes until it reaches your desired level of doneness.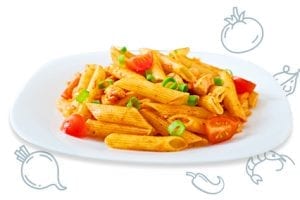 Conclusion
Make sure to add this muffin tin eggs recipe to your go-to egg dishes! Whether it's for a special Sunday brunch date or a quick on-the-go breakfast, these baked eggs with salmon and leeks will surely be a satisfying treat.