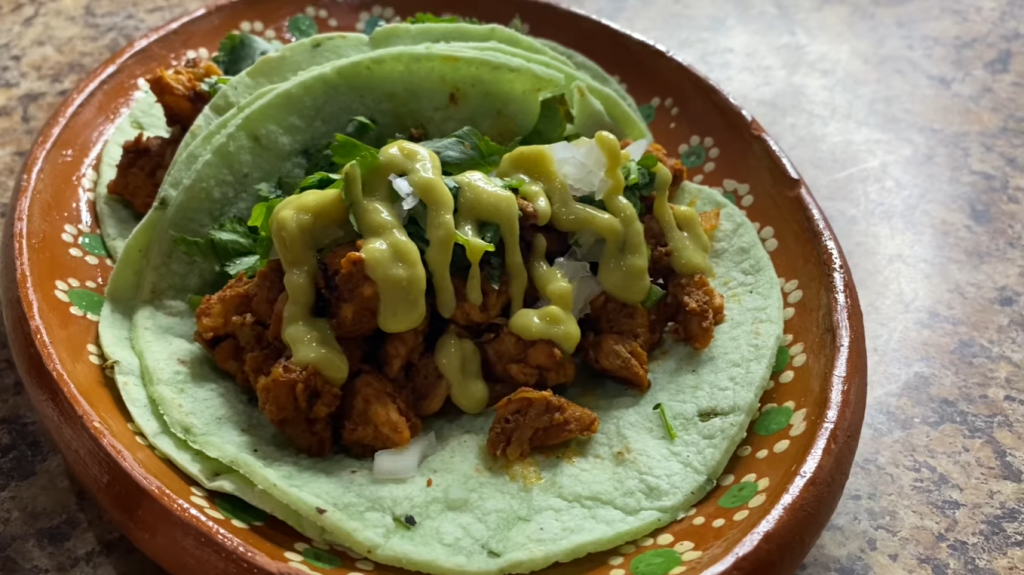 Sweet Potato Burrito Smothered in Avocado Salsa Verde Recipe
How To Make Sweet Potato Burrito Smothered in Avocado Salsa Verde Recipe
This sweet potato burrito comes loaded with beans and bell peppers too. Everything is then finished off with a light and fresh avocado salsa.
Ingredients
For Burritos:
For Avocado Salsa Verde:
For Toppings:
Instructions
Preheat the oven to 450 degrees F. Scrub and peel the sweet potatoes. Chop them into large, bite-sized chunks.
Toss the sweet potatoes with the olive oil, cumin, smoked hot paprika, cayenne pepper and salt and pepper. Make sure they are lightly coated in oil on all sides.
Pour the sweet potatoes onto a large baking sheet lined with parchment paper. Arrange the sweet potatoes evenly in a single layer. Do not overcrowd.
Bake for about 45 minutes, flipping the sweet potato chunks halfway, until they are golden and caramelized around the edges.
Avocado Sauce:
In a food processor or a good blender, combine the avocado flesh, salsa verde, garlic, jalapeño and lime juice. Blend.
Add the cilantro and blend again. Add water to thin out the sauce if desired; the sauce should glop easily off a spoon.
Taste and blend in some sea salt or add another squeeze of lime if necessary.
Make sure the oven is still on at 450 degrees F.
Place tortillas on a baking sheet lined with parchment paper. In the middle of each tortilla, put down a couple strips of roasted red pepper, then pour ⅓ cup black beans down the center and top it all with ⅓ cup roasted sweet potato chunks.
Sprinkle ¼ cup or more of jack cheese on top. Pull one edge of the tortilla over to the center of the burrito, then pull the opposite edge over to overlap a bit. Gently roll the burrito over.
Repeat with remaining burritos. Bake burritos for about 5 minutes on the middle rack, until the cheese is melted and the tortillas are lightly crisp.
Carefully transfer each burrito to a plate. Smother it in avocado sauce, sprinkle with ample romaine lettuce, some chopped red onion, jalapeño, and a dollop of sour cream.
Nutrition
Monounsaturated Fat: 

20.57g
Polyunsaturated Fat: 

4.76g