Chick-fil-A, as we all know, is famous for dishes like their Spicy Chicken Deluxe Sandwich and Crispy Chicken Strips. But that doesn't mean we should overlook other mouth-watering dishes in their menu! One of their improved menu-favorites is the grilled chicken wrap. However, they don't serve it warm, making it a perfect quick meal for summer! This cool grilled chicken wrap recipe is perfect for any leftover chicken you may have at home!
Wrap Ideas
We all have our own preferences when it comes to wraps. Some like it cheesy and meaty, while others prefer an entirely vegan-friendly wrap. Although, there are instances where we're really stumped on what possible combinations to use when making a delicious wrap that would suit our tastes. Luckily, we have a few wrap recipes that might also help you get an idea on what you can put together.
For instance, we have a Mexican Breakfast Tortillas recipe, where a tortilla wrap is stuffed with a sausage slice and a touch of avocado. Our Thanksgiving in July Turkey Wrap isn't just for the holiday season too. For simple lunch wraps, you could always go with an Easy Ham, Tomato, and Avocado Wraps recipe.
There's a perfect snack wrap for every season, but Chick-fil-A's Grilled Chicken Cool Wrap is perfect once the hot season rolls around. This grilled chicken wrap is truly our favorite among all the wrap recipes!
What To Put In A Chicken Wrap
The amount of wrap ingredients listed in this recipe should not overwhelm you. In fact, think of this as a fun activity you can do with your family. Putting the grilled chicken wrap together with its fresh veggies, chicken tenders, and preparing the avocado lime dressing may be tedious. But trust us, it will be worth it by the end.
Apart from the juicy chicken, the meat's placement on top of a bed of lettuce, accompanied by red onion slices, adds a nice heat to the wrap's taste. It also has cheeses, cucumbers, and juicy tomatoes.
Finally, lime dressing is drizzled on top before wrapping. It's made out of guacamole, mayonnaise (for a slight tang), plain yogurt, lime juice, and cilantro. It also comes with a sprinkle of garlic powder and cumin. Whether you want a thick or light lime dressing consistency, you can always adjust by adding or lessening the milk!
Pair one of the best chicken wraps you'll ever have with a decadent drink like our own version of a Copycat Chick-fil-A Chocolate Milkshake Recipe. Bring the timeless fast food joint into your own home with these simple and easy meals. Now, let's march to the kitchen and make our own homemade chicken wraps!
How To Make Copycat Chick-fil-A Grilled Chicken Cool Wrap
This mouth-watering chicken wrap is filled with juicy chicken tenders on a bed of lettuce, onions, and tomatoes drizzled in avocado lime ranch dressing. Our Copycat Chick-fil-A Grilled Chicken Cool Wrap is truly the best chicken wrap you'll ever have!
Advertisement
Continue Reading Below
Ingredients
For Grilled Chicken Cool Wrap:
cooking spray

10

oz

chicken tenders,

grilled and sliced into strips

2

green leaf lettuce leaves

¼

cup

red onion,

thinly sliced

½

cup

Monterey Jack and cheddar cheese blend,

shredded

⅓

cup

English cucumbers,

thinly sliced and chopped (optional)

1

tomato,

thinly sliced

4

large tortillas,

flour or corn

salt,

to taste

black pepper,

ground, to taste
For Avocado Lime Ranch Dressing:
½

cup

guacamole,

prepared

½

cup

mayonnaise

½

cup

plain yogurt

½

tsp

garlic powder

½

tsp

salt

¼

tsp

cumin powder

2

tsp

lime juice

3

tbsp

chopped cilantro,

chopped

Milk ,

as needed
For Serving:
tortilla chips

sour cream

tomato salsa
Instructions
Avocado Lime Ranch Dressing:
In a blender, combine the guacamole, mayonnaise, yogurt, cilantro, garlic powder, salt, cumin, and lime juice. Puree until smooth.

Adjust the consistency of the dressing with milk as desired. Season to taste with salt and pepper.

Keep the dressing inside the fridge to chill, then continue to make the wrap.
Grilled Chicken Cool Wrap:
Grease a pan skillet then warm the tortillas on both sides.

Transfer to a working board and assemble the wrap. Start with the chicken, lettuce, red onion, cheese, cucumbers, and tomatoes.

Drizzle the avocado lime ranch dressing on top and wrap your grilled chicken wrap.

Serve with chips, sour cream, and salsa. Enjoy a filling grilled chicken wrap!
Advertisement
Continue Reading Below
Advertisement
Continue Reading Below
Commonly Asked Questions
Are wraps healthy?
Unfortunately, wraps have less fiber and more carb, saturated fat, and sodium compared to bread. You can easily make a batch of healthy wraps by using healthy ingredients like lean protein and vegetables, which we incorporated in this Chick-fil-A Grilled Chicken Cool Wrap. You can use corn tortillas in this recipe as it is a healthier alternative than flour tortillas. So, we can say that this snack wrap is healthier than most. If you need more ideas on how to make healthy wraps, check out some of our healthy wrap recipes like Healthy Ham And Spinach Wrap and Tasty Low-Carb Turkey Fajita Wrap.
How can I store this grilled chicken cool wrap recipe?
The great thing about this grilled chicken wrap is that its a cool wrap recipe, so there will be no reheating necessary. You can easily make this ahead of time as well. All you have to do is assemble them and wrap them as is in parchment paper. Place them in a Ziploc bag and they will last you 3 to 5 days in the fridge.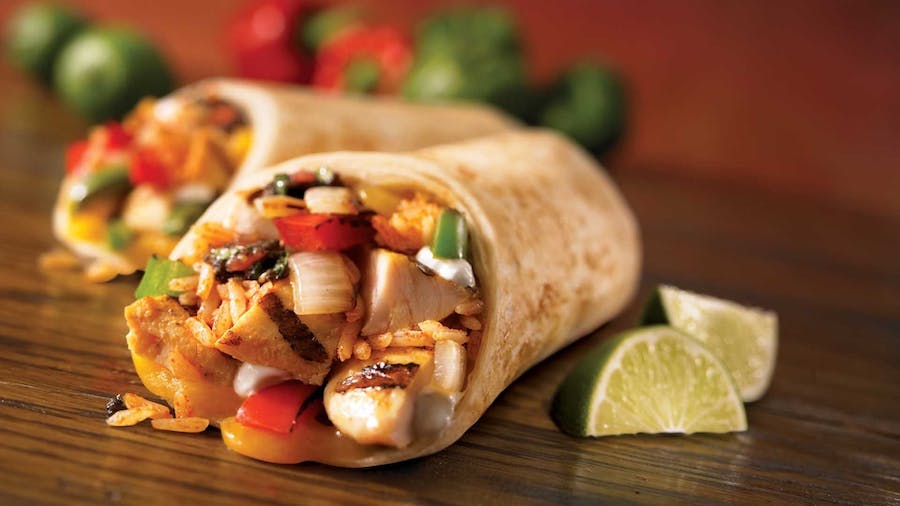 Conclusion
Arguably the best chicken wrap recipe to make, this Chick-fil-A inspired dish is filled with all kinds of flavors. Definitely one of the easy wraps for lunch, this chicken snack comes with simple steps that show you how to easily assemble such a great-tasting wrap. It's also a protein-packed meal with fresh veggies stuffed inside the tortilla wrap, together with grilled chicken and homemade avocado dressing.
Advertisement
Continue Reading Below
Topics:
Advertisement
Continue Reading Below
Advertisement
Continue Reading Below