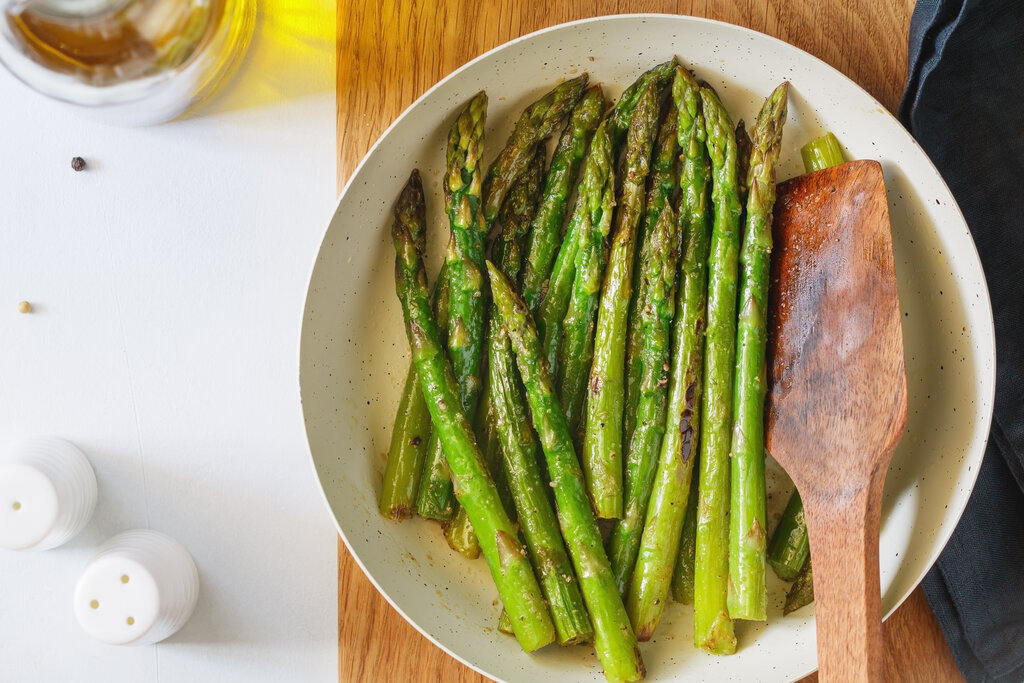 Air Fryer Asparagus Recipe
Tender, crisp, and healthy is how I describe this delicious air fryer asparagus recipe. The roasted asparagus is made with minimal ingredients which, for me, makes it the best way to cook asparagus. I only used salt, pepper, and a little bit of oil to coat and season the asparagus, then I placed it inside my air fryer basket to cook. In just a few minutes, I had a tasty and savory vegetable dish ready to eat.
What's wonderful about using an air fryer is that it uses less oil and cooks faster. It's a healthier and more convenient cooking alternative compared to actual frying. You don't need lots of oil for this asparagus air fryer recipe. I only used about two teaspoons of oil and it tasted just as good as when you fry it over the pan. You just air fry asparagus for about 6 to 10 minutes, and then that's it! It's really simple.
Another great thing about cooking asparagus in the air fryer is that you can have fun with the recipe. Make other seasoning variations with the vegetables by adding in other flavorful ingredients. You can add smoked paprika, seasoning salt, garlic powder, lemon juice, parmesan cheese, or even balsamic vinegar. I already experimented with these ingredients before, and it tasted even more delicious. Some people would even dredge and coat them in breadcrumbs to make tasty asparagus fries with an accompanying dip on the side.
I even tried a air fryer recipe just to see what else I could do with this simple recipe. The bacon asparagus tasted just as good – if not better, even! You can also mix in other vegetables like potatoes to make an air fryer asparagus and roasted potatoes pairing. There's just so much you can do with this simple recipe, and you can do it easily with an air fryer.
Feel free to enjoy this air fried asparagus as a healthy appetizer, snack, or side dish. It's a quick and easy recipe that you can serve with other delicious pasta or meat entrees.
How To Make Air Fryer Asparagus
Whip up this easy and quick air fryer asparagus that boasts of a tender and crispy texture in just under 15 minutes!
Ingredients
1

lb

asparagus

2

tsp

olive oil

salt and pepper,

to taste
Instructions
Rinse the asparagus and dry well. Holding the center and bottom of each spear, snap off the bottom and discard.

Preheat the air fryer to 400 degrees F.

Toss the asparagus with olive oil, then season with salt and pepper.

Add asparagus in air fryer and cook for 6 to 10 minutes, or until tender-crisp and lightly roasted.

Serve warm, and enjoy!
Recipe Notes
Thinner asparagus will take closer to be cooked within 6 minutes, while thicker stalks will take closer to 10 minutes.
Nutrition
Calories: 

43.44kcal

Fat: 

2.40g

Saturated Fat: 

0.36g

Monounsaturated Fat: 

1.64g

Polyunsaturated Fat: 

0.30g

Carbohydrates: 

4.62g

Fiber: 

2.47g

Sugar: 

2.13g

Protein: 

2.53g

Sodium: 

269.74mg

Calcium: 

28.94mg

Potassium: 

233.75mg

Iron: 

2.48mg

Vitamin A: 

43.18µg

Vitamin C: 

6.35mg