Dumplings are known as a popular Asian food worldwide. This could be attributed to them being easily accessible and attuned to our feelings. Pork dumplings, for instance, are the ultimate comfort food. We love them in a hot wonton soup on a cold day. Other than having them steamed or boiled, we also enjoy fried dumplings for their crunchy exterior and savory meaty filling. Indeed, this versatile Asian specialty can be enjoyed in so many ways! But to truly savor it like how the Chinese do, have it boiled. With this recipe, we'll teach you how to make easy boiled Asian pork dumplings from scratch.
Tips in Making Asian Pork Dumplings
We get it, the good savory bites of that pork dumpling you had got you wondering how to make them. Now we're here, ready to make the best pork dumpling recipe ever.  Meanwhile, you might want to keep these tips in mind as we make this dish:
Having difficulty rolling out the dough because it's too tough?

Let it rest for 3 to 4 hours

until it's soft enough. But not too soft! Otherwise, you won't be able to wrap the dumplings properly and won't hold their shape.

Work fast in wrapping the fillings.

Otherwise, the wrappers will dry out and they will be hard to seal.

Do not overwork your dough.

It will give you chewy bites instead of delicate and soft ones. Also, make sure that your dough is rolled out with just the right thickness and it's not too thick or too thin. A thick dough will make it chewy. Thin ones will cause the dough to fall apart during the cooking process.

After cooking, rinse your homemade dumplings in cold water for a few seconds to avoid sticking. Rinsing helps remove extra starch which makes them sticky. But if you're going to use them as an ingredient for soup, you can skip this part.
Gently stir the water continuously towards one direction.

Use a big ladle for 1 minute to prevent them from sticking to the bottom. Keep the water at boiling point by adjusting the heat.

Keep an eye on them

as they cook quickly. When overcooked, they will start falling apart immediately.

Try different filling varieties that suit your preference. In this recipe, we'll be making pork dumplings. However, feel free to use and add any filling you prefer, including veggies. You can use savory mushrooms, crunchy carrots, spinach, and lettuce in making them.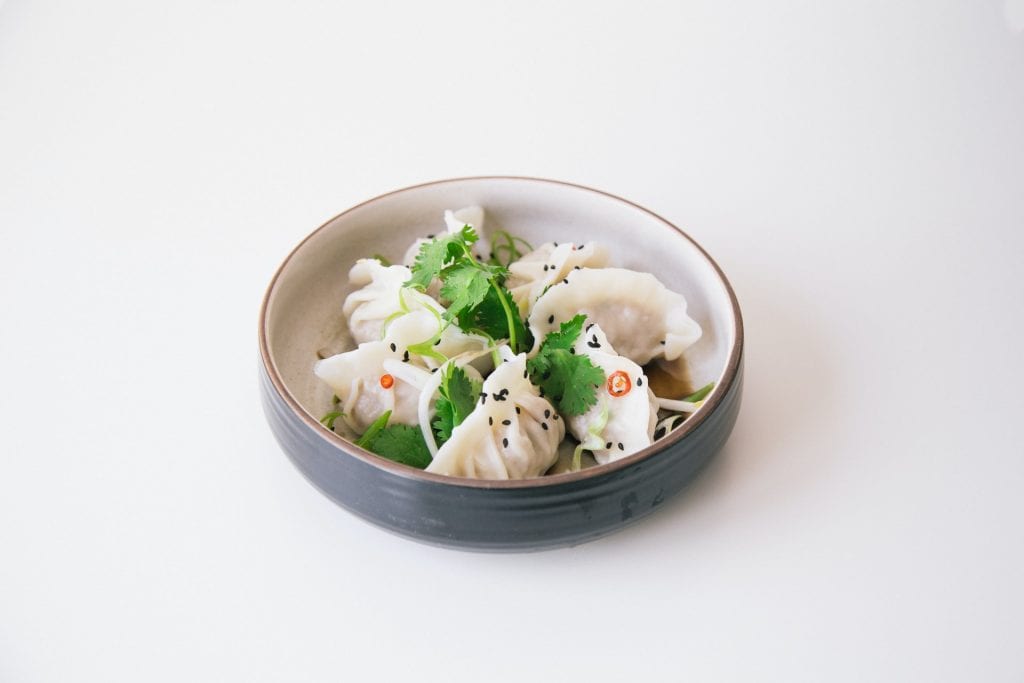 Asian Pork Dumplings Recipe
How To Make Asian Pork Dumplings
The meaty, savory flavors, and soft silky exterior of pork dumplings made it ultimate comfort food. This recipe serves juicy and flavorful pork dumpling filling wrapped in a tender homemade dough that is surely addicting.
Ingredients
For Dumpling Dough:
2

cups

all-purpose flour

½

cup

water,

cold

1

tbsp

vegetable oil
For Dumpling Filling:
1

lb

napa cabbage,

root cut off, cabbage halved lengthwise

¾

lb

ground pork

2

green onions,

minced

1

tbsp

fresh ginger,

finely grated

1

tbsp

dark or regular soy sauce,

dark or regular

½

tbsp

garlic,

finely grated

1

tsp

toasted sesame oil

¾

tsp

kosher salt

1

tbsp

vegetable oil

soy sauce,

to serve
Instructions
Dumpling Dough:
Place the flour in a large mixing bowl and slowly add cold water and vegetable oil.

Stir the flour until the dough starts to form.

Dust your workstation with flour and knead the dough for about 10 minutes.

Let it rest in the refrigerator for 30 minutes.
Dough Filling:
Heat a steam basket above boiling water.

Place the cabbage in the steam basket and steam it for about 20 minutes until tender.

Transfer the cabbage to a colander and squeeze the remaining water out.

Chop the cabbage evenly.

In a large mixing bowl, combine the cabbage, pork, ginger, soy sauce, green onions, garlic, salt, sesame oil, and vegetable oil.

Once all the ingredients are all combined, refrigerate them for at least 1 hour.
Assembly:
Take out your dough and cut it into 4 parts. Take 1 part (cover the rest with plastic to prevent them from developing skin) and roll it out into a log. Cut it into 12 smaller pieces. Roll each small dough into a perfect circle.

Take one small dough and press it to form a round disk. Roll it with a rolling pin to make it about. Make the edge thinner than the middle because you have to fold them to seal your dumplings.

Once the wrappers are prepared, scoop 1 tablespoon of the filling and place it in

Pull the sides of the dough up and seal the top center. Make small indentations to the center of the wrapper. Make it visually pleasing.

Bring a large pot of water to a boil. Add the dumplings (in batches) in the boiling water carefully and let them cook for 3 to 4 minutes.

Once your Asian dumplings float to the surface, wait for them to be filled with air and get swollen, and the wrapper to become almost transparent.

Transfer the dumplings to a plate. Serve them with your desired sauce and enjoy.
Nutrition
Sugar:

1g

:

Calcium:

9mg

Calories:

45kcal

Carbohydrates:

4g

Cholesterol:

5mg

Fat:

2g

Fiber:

1g

Iron:

1mg

Potassium:

51mg

Protein:

2g

Saturated Fat:

1g

Sodium:

62mg

Vitamin A:

35IU

Vitamin C:

3mg
Nutrition Disclaimer
Frequently Asked Questions
Do you put raw pork in dumplings?
Yes. It's not advised to cook the meat filling before wrapping it with dough. This is because raw meat will stick to the dough better than cooked meat, which is what you need. Don't worry about undercooking your meat. A small amount of meat will cook easily when you boil your dumplings.
How do you tell if pork dumplings are cooked?
If you're boiling it, then it should go up above the water. You can also stick a toothpick into your boiled dumplings and see if it comes out clean. If it does, then it's already cooked, safe, and ready to be eaten. Note that this toothpick method also applies to steamed ones.
What goes with pork dumplings?
Pork dumplings go well with white rice or fried rice. You can also serve it with vegetable stir fry and spring rolls. Aside from adding them in a wonton soup, you can also put it in egg drop soup to add more bites and savory flavor!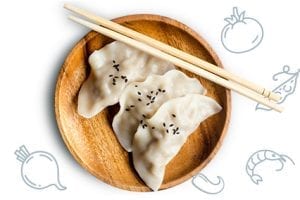 Conclusion
You might think that making pork dumplings from scratch is a tedious process, from making the dough to preparing the filling. But this recipe will make it easy for you! Above all, having meaty and hearty bites of your homemade Asian dumplings will surely take away all the exhaustion in you.