Get your cups and mugs ready because we're brewing a hot pot of healthy ginger cinnamon tea. On their own, both ginger tea and cinnamon tea are tasty drinks with numerous health benefits. Enjoy the delicious fusion of these healthy herbal teas in this easy recipe.
So if you're cold or not feeling well, then this warm ginger cinnamon drink will be the perfect soothing treat. Start your day with a hot cup of tea with healthy gluten free banana bread!
How To Make Ginger Cinnamon Tea
Ditch your stale tea bags and brew yourself a fresh cup of piping hot ginger cinnamon tea using cinnamon sticks. The strong, spice-laden yet sweet taste of cinnamon makes for a comforting drink. We're also adding a bit of honey to it for that extra sweetness and flavor. 
You can actually make it from the ginger juice that you made at home. Just strain the ginger juice pulp and pour boiling water over it. Add a cinnamon stick or ground cinnamon inside a tea infuser and dip it into your ginger tea for 12 to 15 minutes. Remove the infuser, add some honey, and enjoy!
These healthy ingredients make a delightful blend that will make your mornings feel fresher, and your days healthier.
Benefits of Cinnamon Tea With Ginger
What is this drink good for, exactly? If you're having a high tea or looking for the best tea for a cold or an upset stomach, then this ginger cinnamon tea recipe is the way to go.
Natural juices make the best refreshment that can boost your immune system and make your body feel better. For instance, cinnamon tea is known to help with weight loss, relieving menstrual cramps, lowering inflammation and blood sugar levels, among others. If you need more reasons to add healthy drinks to your regular lifestyle, discover more herbal tea benefits by reading our article on it.
Now going back to cinnamon, we highly suggest using Ceylon cinnamon sticks or "true cinnamon". It might be a bit harder to find than the other type of cinnamon called cassia or "regular cinnamon" which is usually sold in supermarkets. But it's worth the find as it's safer to use and also tastes better. Ceylon cinnamon has brighter citrus and almost floral flavor while cassia generally has an intense strong bitter flavor. Taste apart, consuming too much cassia cinnamon can also cause mouth sores, low blood pressure, and breathing problems.
If you plan on having this health-boosting drink on the regular, we suggest having Ceylon cinnamon sticks in stock. And if you're interested in other cinnamon spice tea recipes, try our spicy green tea recipe or our chocolate chai tea.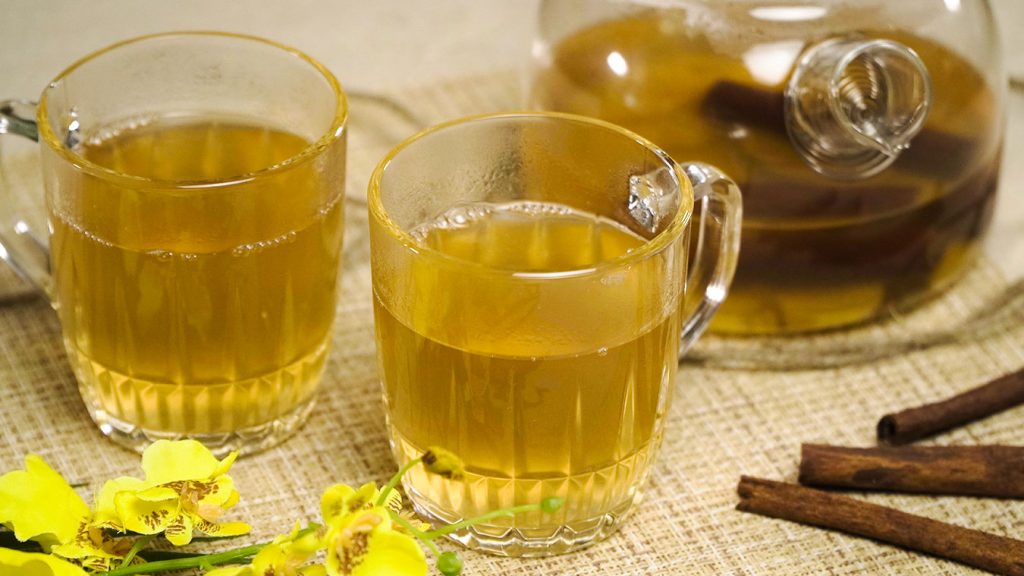 Ginger Cinnamon Tea Recipe
How To Make Ginger Cinnamon Tea
Enjoy a warm cup of honey-sweet and zesty, ginger and cinnamon-infused tea with our Ginger Cinnamon Tea Recipe. It's a healthy and truly comforting drink!
Ingredients
½

cup

ginger,

fresh, thinly sliced

6

cups

water,

cold

2

cinnamon sticks

2

tbsp

honey
Instructions
In a deep saucepan, add the cold water, ginger, and cinnamon sticks.

Bring to a boil.

Bring the heat down to low and let it simmer for about 10 minutes.

Add the honey.

Strain the tea to separate from ginger and cinnamon. Serve while hot!
Recipe Notes
You may drink this tea cold as well as hot. For cold serving, simply transfer the tea to a pitcher or carafe, and let it chill in the refrigerator until cool.

For a hint of citrus flavor, you may add a washed lemon peel to your tea. Make sure to boil it along with the ginger, cinnamon, and cold water. No lemon peel? No problem. Mixing in 1 tablespoon of fresh lime juice will have the same effect.

If you don't have any ginger root, using ground ginger will also help give your tea a more robust taste.
Nutrition
Sugar:

6g

:

Calcium:

19mg

Calories:

31kcal

Carbohydrates:

8g

Fat:

1g

Fiber:

1g

Iron:

1mg

Potassium:

33mg

Protein:

1g

Saturated Fat:

1g

Sodium:

13mg

Vitamin C:

1mg
Nutrition Disclaimer
Frequently Asked Questions
Can I use ground cinnamon for this drink?
We definitely prefer using cinnamon sticks over ground cinnamon because they release their flavor over a longer period as compared to ground cinnamon. Cinnamon powder can release its flavors quickly but it wouldn't last long. In case, you only have cinnamon powder with you, remember that it's best to add it in last so you can still enjoy its maximum flavor once served.
Is it good to drink cinnamon tea at night?
Having this beverage at night can help you get a good night's sleep. It helps relax the muscles, aids in digestion, and boosts immunity. But you can definitely have it any time of the day since it's non-caffeinated.
How long does ginger cinnamon tea last?
It can last for up to a week when stored in the refrigerator. While you can drink it cold, you can also reheat it in case you want to have it hot. Pour the tea into a kettle and wait for the kettle to boil. Pour the tea in your mug or cup, and consume once it's cooled down a bit.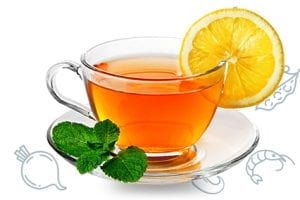 Conclusion
This ginger cinnamon tea is well-spiced, delicious, healthy, and soothing. It's great for cold days and early mornings with loved ones.