Get your cups and mugs ready because we're making a healthy herbal tea with this Ginger Cinnamon Tea Recipe! On their own, both ginger tea and cinnamon tea are tasty drinks with numerous health benefits. They're classic tea recipes that have been around for quite a while now. However, pairing them with delicious early-morning snacks like Apple Pie Bars or Oatmeal Pancakes make days even better!
So if you're cold or not feeling well, then some warm Ginger Cinnamon Tea will be the perfect soothing treat. It's a great drink to start the day, and can easily give your cup of regular brewed coffee a run for its money! It's also incredibly easy to make. This warm, comforting ginger and cinnamon tea recipe really does hit plenty of birds with just one stone. 
What Is Ginger Tea?
If you're looking for a wonderful spice tea recipe to try, then this Ginger Cinnamon Tea is perfect. The base, for this recipe, is ginger tea, added with cinnamon and honey for that extra kick and flavor. Before we show you how to make ginger cinnamon tea, let's first learn the intricacies of ginger and cinnamon tea.
Ginger tea, or ginger water, is an age-old tea recipe that originated from Asia, where the ginger plant is native. Ginger has been a popular ingredient in Asian cuisine for its unique flavor. Its zesty taste makes dishes like Easy Asian Dumplings and Lemon Chicken with Asian Rice Stuffing truly amazing!
Most of the ginger tea recipes from before, and even now, use the ginger root for its more intense flavor. And the reason why it's sometimes called ginger water is that this drink really is just hot water boiled with ginger. So, make no mistake. Despite the word "tea" in its name, this is really just a ginger drink. 
However, the fact that this drink doesn't have any caffeine is definitely an advantage for some. For example, because it's non-caffeinated, it's safe to drink ginger tea before bed since it won't make you stay up. However, this is just one of the many reasons to drink our ginger cinnamon tea recipe! 
If you think ginger tea is great, then just wait! We'll also tell you the wonders of cinnamon spice and what it can do to make this drink even better.
Ginger Tea with Cinnamon Sticks
Ditch your stale cinnamon tea bags and brew yourself a fresh cup of piping hot ginger tea with cinnamon sticks. Unlike ginger tea, cinnamon tea wasn't just limited to Asia. Other countries, like Chile and Lebanon, also had access to the flavorful cinnamon spice. 
Cinnamon tea, most often, was made by boiling a cinnamon stick or bark along with hot water. It was strained then added with sweeteners like sugar or honey. The strong, spice-laden yet sweet taste of cinnamon makes for a comforting drink. If you're interested in other cinnamon spice tea recipes, try our Spicy Green Tea Recipe or our Chocolate Chai Tea. 
On its own, cinnamon tea is a wonderful-tasting herbal drink with various uses and benefits. But ginger and cinnamon combined in one delightful drink will really make your mornings feel fresher, and your days healthier.
What Are the Benefits of Ginger Cinnamon Tea?
What is Ginger Cinnamon Tea good for, exactly? If you're looking for the best tea for a cold, or tea for an upset stomach, then this drink is perfect.
For centuries, people have been drinking ginger root tea to help with their digestion, or to relieve their nausea or morning sickness. They also drank this tea to help boost their immunity and lessen stress.
Nowadays, studies have also shown that drinking ginger tea can help protect your heart against cardiovascular diseases. It's also shown to be effective for weight loss, and can even help prevent cancer!
On the other hand, honey and cinnamon tea benefits also include heart protection (by lowering levels of bad cholesterol in your body), pain relief, as well as cancer prevention. Its anti-inflammatory effects can also help reduce the likelihood of developing diabetes and obesity. And, like ginger tea, it can also help boost your immunity to fight off viruses, as well as help ease stomach pain.
The benefits of cinnamon and honey are numerous! Combined with those of ginger, it's no wonder why people from centuries ago made and drank this tea. Although, do be careful when choosing the right kind of cinnamon. While it has health benefits, having too much of the wrong kind can lead to some unwanted side effects.
Negative Side Effects of Too Much Cinnamon
These 2 kinds of cinnamon are cassia or "regular" cinnamon, and ceylon or "true" or "real" cinnamon. Ceylon has a lighter, less bitter taste, and also fewer coumarin. Coumarin, when consumed too much, causes cinnamon's negative side effects like mouth sores, low blood pressure, and even breathing problems. It can also negatively interact with any current medications you may be taking. 
But don't worry! All this can be prevented by avoiding cassia or "regular" cinnamon when making your tea drink. That's why in this recipe, we highly recommend you use Ceylon or true cinnamon sticks. You can easily buy them online or in grocery stores near you. They may be more expensive than regular cinnamon, but if you plan on drinking this tea regularly, then it's the safer option. 
How to Make Ginger Cinnamon Tea
Whether you're drinking Ginger Cinnamon Tea for comfort or as a remedy, it's important to know how to properly make this drink. Don't worry, it's actually quite simple—in fact, it's the same as how ginger tea and cinnamon tea is made. 
Basically, you'll be boiling cinnamon sticks and ginger in a hot pot full of boiling water. After that, you'll need to strain the tea and transfer it into a teapot or pitcher. And finally, add some rich, delectable honey as your sweetener! 
Also, having too much cassia or "regular" cinnamon can cause negative side effects when consumed too much in one day. So, we recommend you use Ceylon or "true" cinnamon sticks for this tea drink. We also suggest you use fresh ginger, or ginger root if available. But if not, you can also make this Ginger Cinnamon Tea using some ginger juice pulp.
If you've recently made some ginger juice, don't throw away the excess pulp! You can use it for making this tea drink as well. Put the ginger juice pulp in a strainer, and just pour boiling water over it. Then, add a cinnamon stick or cinnamon powder inside a tea infuser and dip it into your ginger tea for about 12 to 15 minutes. After that, remove the infuser, add honey to your tea, and voila! Enjoy your warm cup of delicious Ginger Cinnamon Tea!
This Ginger Cinnamon Tea Recipe of ours is sure to bring you comfort and relaxation. This drink is, by no means, a substitute for going to the doctor. But if you're cold or you have a stomach ache after eating too much, then our tea can help you.
How To Make Ginger Cinnamon Tea
Enjoy a warm cup of honey-sweet and zesty, ginger and cinnamon-infused tea with our Ginger Cinnamon Tea Recipe. It's a healthy and truly comforting drink!
Ingredients
½

cup

fresh ginger,

thinly sliced

6

cups

water,

cold

2

cinnamon sticks
To serve:
Instructions
In a deep saucepan, add the cold water, ginger, and cinnamon sticks. Bring to a boil.

Bring the heat down to low and let it simmer for about 20 minutes.

Sift the tea using a tea strainer or a sieve.

Add honey, then serve while hot!
Recipe Notes
We recommend you use Ceylon cinnamon sticks for this Ginger Cinnamon Tea Recipe. Refrain from using Cassia cinnamon as it is known to make people sick when consumed in large quantities.

You may drink this tea cold as well as hot! For cold serving, simply transfer the tea to a pitcher or carafe, and let it chill in the refrigerator until cool.

For a hint of citrus flavor, you may add a washed lemon peel to your tea. Make sure to boil it along with the ginger, cinnamon, and cold water. No lemon peel? No problem.

Mixing in

1 tablespoon of fresh lime juice will have the same effect.

For the ginger, you may use

fresh ginger root

to give your tea more flavor. However, if you don't have any

ginger root

, using

ground ginger

will also help give your tea a more robust taste.
Nutrition
Calcium:

19mg

Calories:

31kcal

Carbohydrates:

8g

Fat:

1g

Fiber:

1g

Iron:

1mg

Potassium:

33mg

Protein:

1g

Saturated Fat:

1g

Sodium:

13mg

Sugar:

6g

Vitamin C:

1mg
Nutrition Disclaimer
Commonly Asked Questions
How to cut ginger for tea?
Good news! You won't need to remove the ginger's skin for this tea recipe. However, you still need to cut it into slices to really get that zesty flavor. First, rinse your ginger under running water to remove any dirt or soil. Then, simply cut it into thin slices. If you plan on using ground ginger, simply grate the plant with the skin on.
Does cinnamon go bad?
Fortunately, spices like cinnamon don't expire or "go bad". They do, however, lose their intense flavor after a long period of time. If you have a 1-year old cinnamon stick in your pantry, chances are its flavors are gone. It's best to buy a new pack when making this tea.
How long does Ginger Cinnamon Tea last?
This ginger cinnamon tea can last for up to a week when stored in the refrigerator. While you can drink this tea cold, you can also reheat it in case you want to drink it hot. Pour the tea into a kettle and wait for the kettle to boil. Pour the tea in your mug or cup, and consume once it's cooled down a bit.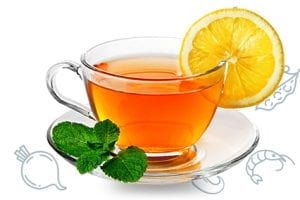 Conclusion
This Ginger Cinnamon Tea is well-spiced and delicious. It's also an incredibly healthy and soothing tea recipe. It's great for cold days and early mornings with loved ones.