Cutting down the sugar but still want a delicious and healthy breakfast meal? Oatmeal is a good breakfast for diabetics and even for non-diabetics who are on a diet. Here's an apple pie oatmeal breakfast which we bet will be one of your go-to diabetic oatmeal recipes! This low carb breakfast bowl made with rolled oats topped with spiced chopped apples tastes just like apple pie, but won't raise the blood sugar levels. We'll teach you how to prepare oats for diabetics like a pro in this recipe. You might also want to pair it with this equally healthy fresh lemongrass tea for drinks.
Tips on Making this Diabetic Oatmeal Recipe
Oatmeal goes on top of the list of breakfast foods that are rich in health benefits. They're low carb and have a low glycemic index, which means consuming them in regular serving portions won't affect blood sugar levels that much. Diabetic oatmeal recipes are filling, delicious, and can be enjoyed by non-diabetics, too! We gathered these must-know tips for preparing oats for diabetic patients. Check them out:
The best oatmeal for diabetics is steel cut oats.

Both steel cut oats and rolled oats fit the bill though so feel free to use whichever is available for you. They are less processed and have the most nutritional content.

Gluten free oats

are even better. We do not recommend

quick oats

or

instant oatmeal

as these kinds are extremely processed and have a higher glycemic index.
Incorporate other whole grain ingredients with the oats

like

hemp seeds

,

chia seeds

, or quinoa for an interesting flavor and texture combination.
No time to cook in the morning? Try preparing it as no-cook overnight oats!

Just combine the oats, milk, and sugar substitute in serving bowls. Add the spiced apples the next day or when ready to serve.
Be sure to use sugar free and low fat milk.

We recommend using

unsweetened almond milk

, but feel free to use your preferred

plant based

milk.
Add other delicious topping ingredients

like toasted coconut, cacao nibs, sugar free chocolate chips, walnuts, and almonds, for instance. You can even drizzle peanut butter for some added protein and

healthy fats

! Just make sure it's all-natural and has no sugar.
More Diabetic Oatmeal Recipes to Try
We have a rich collection of diabetic recipes where you can find sugar free versions of cakes, cookies, and other healthy diabetic breakfast ideas. Feel free to browse through later on! But for now, here are more diabetic oatmeal recipes that are both easy to make and enjoyable. Check them out. 
Diabetic-Friendly Apple Oatmeal Muffins

— Made with a mix of rolled oats and quick oats, these oat muffins have a tender texture with a bit of a chew. They're flavored with vanilla extract, apple, cinnamon, and cranberries.
Cranberry Oatmeal Cookies

— Just like their cousin

oatmeal raisin cookies

, these cranberry

oatmeal cookies

are also chewy and chunky! They're flavored with spices like cinnamon, ginger, nutmeg and are filled with

dried fruit

and nuts all over.
Breakfast Granola Cups

— These

baked oatmeal

granola cups made with banana, honey, and rolled oats are perfect for making ahead. Fill them up with

plain Greek yogurt

and berries for some filling, colorful, and delicious snacks.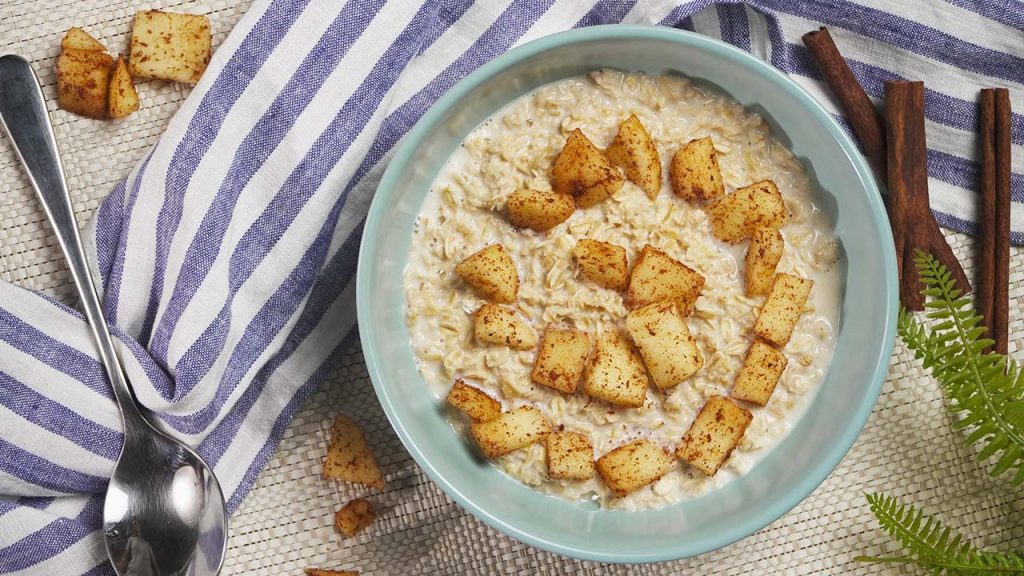 Diabetic-Friendly Apple Oatmeal Recipe
How To Make Diabetic-Friendly Apple Oatmeal
Serve this delicious apple pie-inspired diabetic oatmeal recipe for a fun and enjoyable breakfast time. It's ready in just 10 minutes!
Ingredients
1

cup

milk

8

tbsp

rolled oats

2

tsp

substitute of your choice,

preferably Splenda or maple syrup

½

red apple,

chopped

¼

tsp

apple pie sauce
Apple Pie Spice
1½

tbsp

ground cinnamon

¾

tsp

ground allspice

¾

tsp

ground green cardamom
Instructions
Combine milk, oats, and sugar substitute in a microwave-safe bowl. Stir to combine.

Cover with plastic wrap but leave a small space on the edge for steam to escape.

Microwave on high for 2½ to 3 minutes. Stir well once cooked.

Combine all ingredients for the apple pie spice. Store, cover, any excess for future use.

Combine apple pie spice and apples. Toss to combine.

Top your apples on the cooked oats. Serve and enjoy!
Nutrition
Sugar:

23g

:

Calcium:

445mg

Calories:

421kcal

Carbohydrates:

70g

Cholesterol:

24mg

Fat:

12g

Fiber:

14g

Iron:

4mg

Monounsaturated Fat:

3g

Polyunsaturated Fat:

2g

Potassium:

681mg

Protein:

15g

Saturated Fat:

5g

Sodium:

112mg

Vitamin A:

489IU

Vitamin C:

6mg
Nutrition Disclaimer
Frequently Asked Questions
Is oatmeal good for diabetics?
Yes! Oatmeal is low carb and has a low glycemic index which means that consuming it won't cause a sudden rise in blood sugar levels. It is also high in soluble fiber that aids digestion, helps in weight management, improves heart health, and lowers cholesterol levels. While oatmeal is a common breakfast idea for diabetics, it is good to consume any time of the day.

What can diabetics use to sweeten oatmeal?
Besides adding fruits like apples and bananas which give natural sweetness, there are sugar free sweeteners available in the market. Sucralose by the brand Splenda is the most popular and easiest to access sweetener for diabetics. Other options include saccharin and stevia. Take caution in using sugar alcohols as excessive amounts may cause indigestion, bloating, or diarrhea.

How to store this apple oatmeal?
This apple oatmeal is one of those great make ahead breakfast recipes. You can make a big batch, cool it down, and divide the whole batch into portion sized cups. It'll stay good in the refrigerator for up to 7 days and in the freezer for up to 2 months. To reheat, simply blast it in the microwave on High for 1 to 2 minutes or until fully heated through.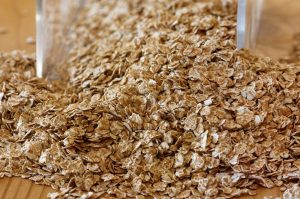 Conclusion
Enjoy the dynamic combination of fall spices and apples in a healthy bowl of oats. Whether it is for breakfast or a quick midday snack, this apple oatmeal will surely be one of your go-to diabetic oatmeal recipes.