Indulge in a new kind of dessert with this nata de coco recipe. It's never too late to try this famous Southeast Asian dessert at home. So, what is nata de coco? It directly translates to "coconut cream," but it's not really a "cream" dessert. Also known as coconut gel, these cubes are made from fermenting coconut. It is similar to jelly cubes, but with a firmer texture which makes them a bit soft and chewy to eat. Unlike gelatin, these coconut jelly-like cubes have a solid white color and are semi translucent with an almost neutral flavor. It's usually added in a lot of cream-based sweet desserts like a creamy fruit salad.
Tips on Making Homemade Nata de Coco
Nata de coco originates from the Philippines, and has been a staple ingredient for a lot of traditional Filipino fruit cocktail desserts like halo-halo. It's also added in ice cream, yoghurts, and bubble teas. Don't miss out on this delicious and versatile dessert! With our helpful tips below, you can easily make a homemade nata de coco to fully enjoy and savor at home.
Use fresh coconut flesh

for richer tasting nata de coco cubes. It's better to use fresh coconut instead of buying ready-made grated coconut flakes

or

coconut milk

.

Coconut flakes are juicier, sweeter, and fresher when they're grated from the coconut itself, and then strained through the cheesecloth. 
Avoid moving the jars during fermentation.

If you want your nata de coco to be successful, then it's best that you don't move the jars around. Keep it in a safe place at room temperature. Avoid placing it under direct heat or sunlight during the growth period. 
Soak the nata de coco in water to remove the acidic taste

. When it's done fermenting, there may be a sour or acidic taste and smell present. We recommend soaking the nata cubes in several changes of water for at least 2 days. 
Boil nata de coco cubes for a softer texture

. If you think the nata cubes are still too firm to chew, then boiling it in water for 5 to 10 minutes will help it soften. It also helps in eliminating any excess sourness. 
How To Make Homemade Nata de Coco
Make your own nata de coco at home with this simple recipe. You'll love incorporating this dish into a salad, cakes, ice cream, and more!
Ingredients
1

kg

fresh coconut,

grated

1¼

cups

glacial acetic acid

3

cups

refined sugar

2

cups

coconut water,

or coconut juice

12

L

tap water

2

L

nata starter
Instructions
Mix grated coconut with water in a bowl. Strain the water with a cheesecloth.

Add the rest of the ingredients and mix.

Pour the mixture into clean sterile fermenting basins or jars with a 2-inch depth.

Ferment for 12 to 14 days.

Harvest and wash.

When the mix has fermented, cut nata into cubes or desired size.

Soak in several changes of water until the acidic taste or smell is completely removed.
Nutrition
Sugar:

306g

:

Calcium:

241mg

Calories:

3517kcal

Carbohydrates:

309g

Fat:

1g

Fiber:

3g

Iron:

1mg

Potassium:

626mg

Protein:

2g

Saturated Fat:

1g

Sodium:

565mg

Vitamin C:

6mg
Nutrition Disclaimer
Frequently Asked Questions
Is nata de coco healthy?
Yes! It is actually full of health benefits, being low in calories and rich in vitamins (vitamins B, B1, B2, and C) which helps in improving the body's immunity. These coconut cubes also contain plenty of dietary fiber which helps with digestion and prevents constipation. It is also a suitable and safe food for diabetic patients since it doesn't affect blood sugar levels. Just remember to eat these coconut cubes in moderation.
How long is nata de coco good for?
When stored properly in a sealed glass jar or container, these coconut cubes can last for up to 6 months in the refrigerator. If stored in a plastic container, it will last up to a month. Despite its long expiry date, it's still important to double check the nata de coco before consuming it again. There may be changes in the texture and smell over time which can affect the overall quality of the dish.

What can you do with nata de coco?
These coconut jelly-like cubes are best enjoyed in creamy fruit salad desserts. It's usually added in desserts like buko pandan which is a traditional and popular Filipino cold dessert. In English, it's basically a fresh coconut salad mixed with sweetened condensed milk. Since it doesn't have an overwhelming sweet or sour flavor, these coconut cubes taste delicious with sweetened desserts. It's also often paired with tapioca pearls and gelatin cubes. You can also make a quick and easy sweet dessert with just mango slices, condensed milk, whipping cream, and nata de coco!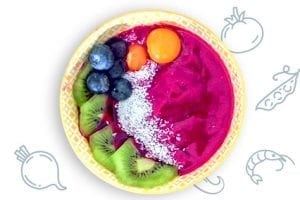 Conclusion
Enhance any sweet and creamy desserts with this homemade nata de coco recipe. These delicious coconut gel dessert cubes are the perfect add-ons! It's so easy to make this, and even more exciting when mixed with other fruity ingredients.
Topics: