Winter melon soup, or canh bi dao, is a traditional Chinese soup that's often served during winter. This recipe is proof that even a handful of humble ingredients can transform into something delicious. It's just a bonus that making this soup recipe is such a breeze. Slowly simmered in a meaty broth, this dish is the ultimate comfort food. It's great as a main course, or for dinner with bread.
Moonlighting as a vegetable, winter melon (also known as dong gua or ash gourd) is actually a fruit commonly used in Chinese food and other Asian recipes. Combined with chicken or pork hocks, shiitake mushrooms, and red dates, it can turn into a bowl of deliciousness that'll carry you through the coldest nights.
Tips for Making Winter Melon Soup
Winter melon soup is one of the tastiest Chinese soup recipes you ought to try. You can make this comfort meal with pork ribs, meatballs, and even with chicken. It's also great when filled with dried scallops, barley, and of course, with mushrooms! Here are more tips up our sleeves to help you whip up one of the most delicious winter melon recipes:
Look for the best winter melon

. When choosing winter melon for this

soup recipe

, cherry-pick something with more white skins and has thicker flesh. White winter melons are very tasty, especially when cooked.

Cut off the skin of the winter melon and remove the seeds

. The skin of winter melon is a bit hard and thick even when cooked, so it's basically inedible. Use a vegetable peeler or a knife to peel the fruit. It's also best to remove the seeds and the soft flesh that holds them.

Soak the dried mushrooms and dried red dates in warm or room temperature water before adding to the pot

. Rehydrate the dried shiitake mushrooms and dried red dates if using them for soup. Doing so gives them a plumper texture and helps them to soften more quickly. 

Feel free to add more flavorful ingredients

. You can incorporate scallions, soy sauce, chicken bouillon, or your own homemade chicken stock to better the taste of this

winter melon recipe

.

Remove the excess foam forming when the soup starts to boil

. The icky foam doesn't exactly look appetizing and aesthetically pleasing. Removing it will help maintain the taste of your winter melon soup. You can skim off the foam using a fine mesh sieve.

Do not overcook the winter melon

. It can get very mushy when overcooked, so check the texture of the fruit from time to time while cooking.  

Let the soup simmer for at least an hour

. When making any

soup recipes

, it's recommended to let it simmer for one hour or so. In this case, this lets the flavors of chicken or pork hock, ginger, winter melon, and mushrooms meld together.

Sass up your winter melon soup with tasty garnishes

. For a better visual presentation and added taste, garnish the soup with green onions and cilantro. 
Looking for more Chinese soup recipes? You will surely love the rich and deep flavors of this egg drop soup. We are also certain that this Chinese onion soup recipe will warm you up on a cold, rainy day. You can also experience the authentic taste of Chinese cuisine with this Chinese hot and sour soup.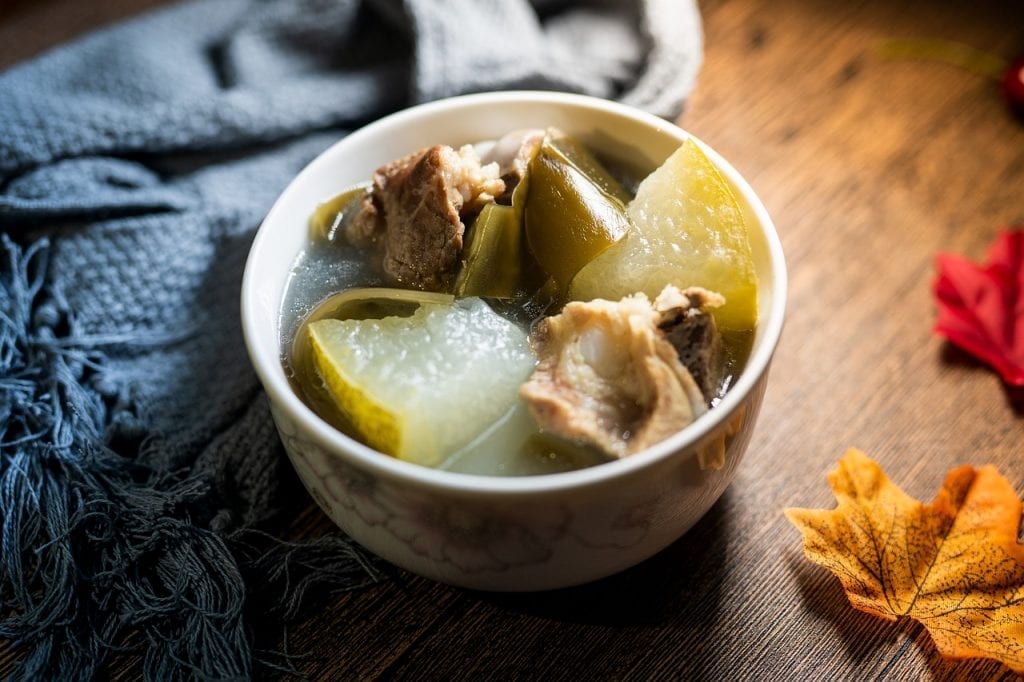 Winter Melon Soup Recipe
How To Make Winter Melon Soup
This winter melon soup is made of winter melon fruit, shiitake mushrooms, red dates, and chicken or pork hock. Simmer for one hour for a deliciously filling result, perfect for when it's chilly outside.
Ingredients
1½

lbs

winter melon,

peeled and seeded

1

lb

chicken,

or pork hock

3

pcs

shiitake mushrooms,

dried

2

pcs

red dates,

(jujube), dried

8

cups

water

¼

inch

ginger,

chopped

salt,

to taste
Instructions
First, soak shiitake mushrooms and red dates in warm water.

Put chicken or pork hock and ginger in a pot of water and boil for about 10 minutes. Afterward, remove the chicken or pork hock.

In a clean pot, pour the water and let boil over high heat. Add chicken or pork hock, shiitake mushrooms, dates, and winter melon into the boiling water.

Lower heat and let simmer for one hour.

Add salt to taste. Serve warm with rice, and enjoy!
Recipe Notes
Feel free to replace the chicken or pork hock

with meatball

s

and cooked ham. 

You can also add glass noodles and goji berries in this Chinese soup.

For a heartier soup, toss in other veggies, such as silk squash or carrots.
Nutrition
Sugar:

1g

:

Calcium:

20mg

Calories:

119kcal

Carbohydrates:

1g

Cholesterol:

41mg

Fat:

8g

Fiber:

1g

Iron:

1mg

Monounsaturated Fat:

3g

Polyunsaturated Fat:

2g

Potassium:

110mg

Protein:

10g

Saturated Fat:

2g

Sodium:

62mg

Trans Fat:

1g

Vitamin A:

76IU

Vitamin C:

1mg
Nutrition Disclaimer
Frequently Asked Questions
Can you eat winter melon raw?
No, you cannot eat winter melon raw. This fruit is tasteless and should be cooked to bring out its deliciousness. You can simmer, grill, or roast winter melon. It's also a welcome addition to other soup recipes, stews, curries, and stir-fries. You can even make sweet candies out of this versatile fruit! Just remember not to overcook it. Otherwise, it'll turn too soft.
What can you serve with winter melon soup?
You can serve winter melon soup with plain rice. Or you might want to complete your Chinese-style dinner and pair it with this chicken stir fry recipe filled with cashews or this cabbage fried rice. You can also make this soup a complete meal by accompanying it with a grilled cheese sandwich or crusty bread.
Can you prepare winter melon soup ahead of time?
Yes. You can actually whip up this soup in advance. It can keep in the fridge for up to three days. Just make sure to reheat it as soups are best enjoyed when served hot.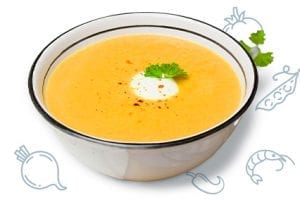 Conclusion
This winter melon soup isn't just full of flavors—it's a cinch to whip up, too! For this Chinese soup to have next-level flavors, incorporate flavorful elements. Cozy up with this comfort meal on chilly evenings and rainy days.