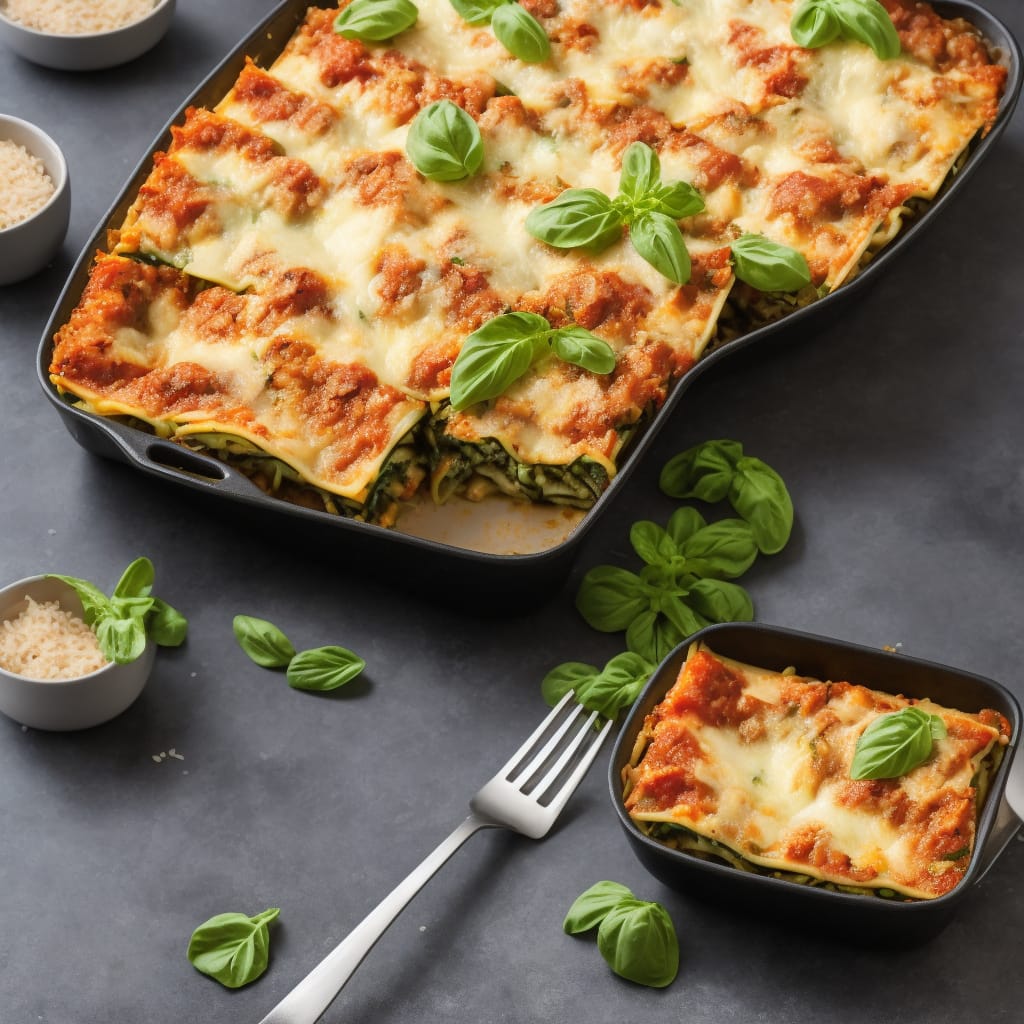 Ultimate Low-Carb Zucchini Lasagna Recipe
How To Make Ultimate Low-Carb Zucchini Lasagna Recipe
On a strict diet? Changing your eating habits? Don't worry! You can still have delicious meals for breakfast, lunch, and dinner without breaking your diet. Check out our low carb recipes for some tasty yet healthy meals!
Ingredients
2 large zucchinis, sliced lengthwise
1 cup ricotta cheese
1 cup shredded mozzarella cheese
1/2 cup grated Parmesan cheese
1 cup marinara sauce
1 tablespoon olive oil
2 cloves garlic, minced
1/2 teaspoon dried oregano
1/2 teaspoon dried basil
Salt and pepper, to taste
Instructions
Preheat your oven to 375°F (190°C).

In a pan, heat the olive oil over medium heat. Add the minced garlic and cook until fragrant, about 1 minute.

Add the marinara sauce, dried oregano, dried basil, salt, and pepper to the pan. Stir well and let it simmer for 5 minutes.

In a separate bowl, mix together the ricotta cheese, shredded mozzarella cheese, and grated Parmesan cheese.

Arrange a layer of zucchini slices in a greased baking dish. Top with a layer of the cheese mixture, then spoon some of the marinara sauce over it. Repeat this process until all the ingredients are used, finishing with a layer of marinara sauce.

Cover the baking dish with foil and bake for 30 minutes.

Remove the foil and continue baking for an additional 10 minutes, or until the cheese is melted and bubbly.

Let the lasagna cool for a few minutes before serving.
Nutrition
Calories :

340kcal

Total Fat :

23g

Saturated Fat :

12g

Cholesterol :

64mg

Sodium :

1092mg

Total Carbohydrates :

12g

Dietary Fiber :

3g

Sugar :

6g

Protein :

23g