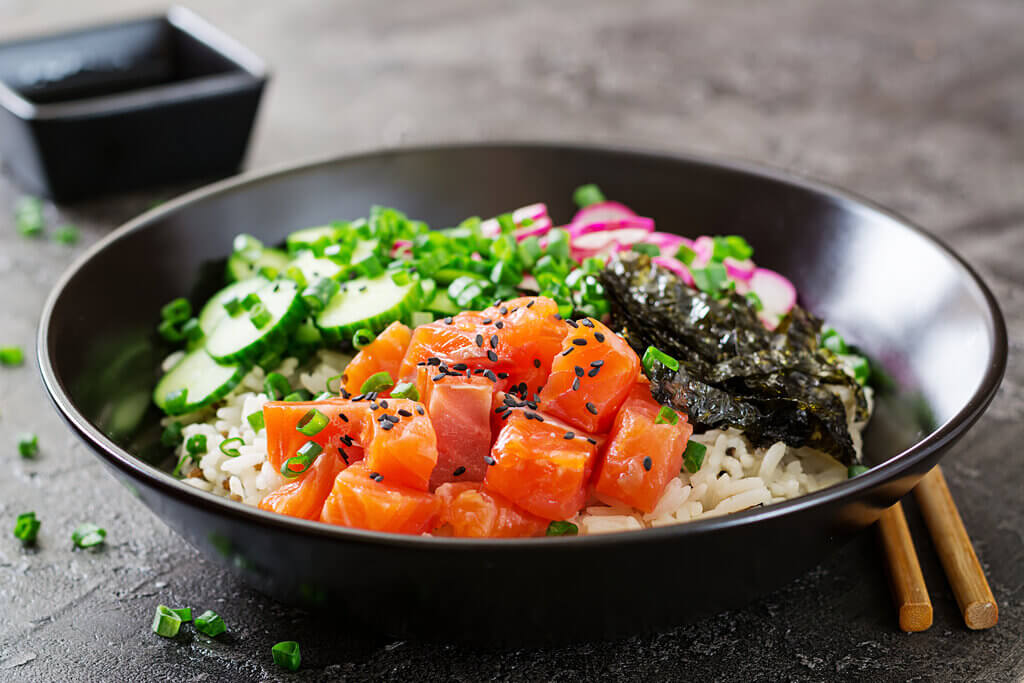 Hawaiian Poke (Shoyu Ahi) Recipe
Whenever I'm in the mood for something quick and fresh to eat, I make my favorite homemade Hawaiian-style poke bowls. Ever since my friend introduced me to her delicious traditional, Hawaiian tuna poke recipe, I've been craving it non-stop! But what is poke (pronounced as poh-kay), you might ask? Well it's basically a dish made with fresh cuts of raw, marinated seafood that are mixed with rice, and drizzled with savory sauces (or poke dressing), and other flavorful toppings. They're so easy to make, and they're even more wonderful to eat either as an appetizer or a main course.
For this Hawaiian poke recipe, I made a shoyu-ahi poke bowl. It's an ahi (yellowfin tuna) poke fish bowl mixed with shoyu (soy sauce), sesame oil, and sambal oelek (Indonesian chile paste). This is my favorite combination of ingredients, so I'll be sharing my go-to toppings and sauces for making a savory and spicy ahi poke bowl with you. But of course, you're always welcome to mix and match other ingredients to make it even better.
As I mentioned, the main ingredient of this homemade poke bowl is tuna. You'll need to buy the highest-quality yellowfin tuna for this recipe to taste like a delicacy. It's best to buy in seafood markets where the tuna is often labeled as sashimi or sushi-grade, as these are better-suited for raw preparations.
The next ingredient you'll need is soy sauce. A Hawaiian poke recipe is also all about the mix of savory sauces, so I recommend using regular soy sauce rather than a low-sodium one for your ahi poke sauce. It tastes much better when combined with sesame oil and chili paste compared to the "lite" or reduced sodium soy sauces which are not as flavorful.
After choosing your tuna and soy sauce, the mixed vegetables and other toppings are next. You can add some of your favorite veggies like seaweed, sliced avocados, or crushed macadamia nuts to the mix. For my version, I went with simple chopped scallions and special Maui onions. In case you're wondering, these onions are a bit sweeter and milder than regular onions – so they taste wonderful with the raw tuna and chili paste.
This Hawaiian ahi poke bowl is exploding with savory, sweet, and spicy flavors that I kept coming back to it. Served with cold fish, the steamed white rice definitely completes the whole Hawaiian poke bowl experience for me!
How To Make Hawaiian Poke (Shoyu Ahi)
Bring Hawaii to your home with this simple Hawaiian poke recipe. Each bowl of this tropical dish is loaded with diced raw tuna, mixed vegetables, and a drizzle of soy sauce served over steamed rice.
Ingredients
1 lb sushi-grade tuna

, preferably

yellowfin tuna

,

cut into ¾-inch cubes

¼ cup

Maui

onions,

or yellow onions,

thin

ly

sliced

½ cup scallions,

or green onions,

green parts only, sliced

2 tbsp soy sauce

1 tsp sesame oil

½ tsp sambal oelek

, sriracha, or

chili garlic sauce

¾ tsp Hawaiian sea salt, to taste, optional
To serve:
2 cups steamed white rice

cucumber, thinly sliced

avocado, thinly sliced

sesame seeds, for garnish

seaweed, dried
Instructions
In a medium bowl, combine all the ingredients and gently fold until mixed well.

Serve immediately

over

steamed rice,

and garnish with cucumber, avocado, sesame seeds, and dried seaweed.

Or, cover tight and refrigerate for up to a day. Enjoy!
Nutrition
Calories: 

145.66kcal

Fat: 

1.74g

Saturated Fat: 

0.37g

Trans Fat: 

0.02g

Monounsaturated Fat: 

0.59g

Polyunsaturated Fat: 

0.66g

Carbohydrates: 

2.26g

Fiber: 

0.55g

Sugar: 

0.76g

Protein: 

28.65g

Cholesterol: 

44.23mg

Sodium: 

324.41mg

Calcium: 

18.01mg

Potassium: 

575.02mg

Iron: 

1.18mg

Vitamin A: 

26.71µg

Vitamin C: 

3.53mg