Get ready to swap your chips and candies for a healthy, nutty snack! This simple yet amazing recipe is composed of roasted peanuts coated in salted honey glaze. You'll get to enjoy a tasty yet healthy alternative snack to salty store-bought chips and sweet candies. What's more, it's also a great topping for your homemade vanilla ice cream. Let us guide you on how to make a tasty finger food snack with simple roasting and mixing!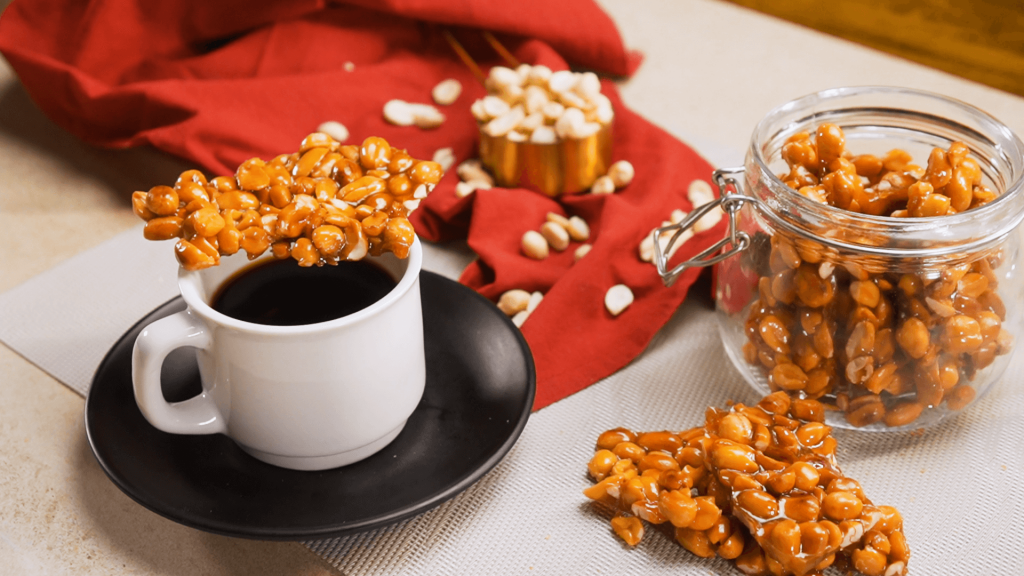 Tips In Making Honey-Roasted Peanuts
You can now skip your usual chips and popcorn while watching your favorite shows. It's also great for whenever you need finger food snacks for studying or working. Here are some tips on how you can make honey roasted peanuts easier and yummier:
Use unsalted peanuts.

We will be using salted honey glaze which will give your peanuts their extra flavors.

You should use raw peanuts without skin, or the ones that are still in their peanut shell. Here are some tips on how to remove the skin from peanuts: 

Option 1: Preheat your oven at 350 degrees F and lay your shelled raw peanuts on a lined baking sheet and bake them for 5 minutes. When it has cooled down, rub the peanuts lightly and the skin will tear off easily.

Option 2: Place your shelled peanuts in boiling water, a few at a time for 3 minutes then drain. Remove peanut skin using your fingers then place it on a sheet of parchment paper to dry them out.

 Feel free to turn the glaze into salted honey caramel.

You can easily achieve this by caramelizing brown sugar with butter and salt before you add it to the honey.

Add a few spices

like cayenne or chipotle powder for extra kicks. You will love adding these spices especially if you're into sweet, spicy, and salty food. You can also add other spices like a teaspoon of cinnamon or ground ginger for added flavor. 
All this talk of food is surely making you hungry! So let's dive right into making these quick and easy honey-roasted peanuts!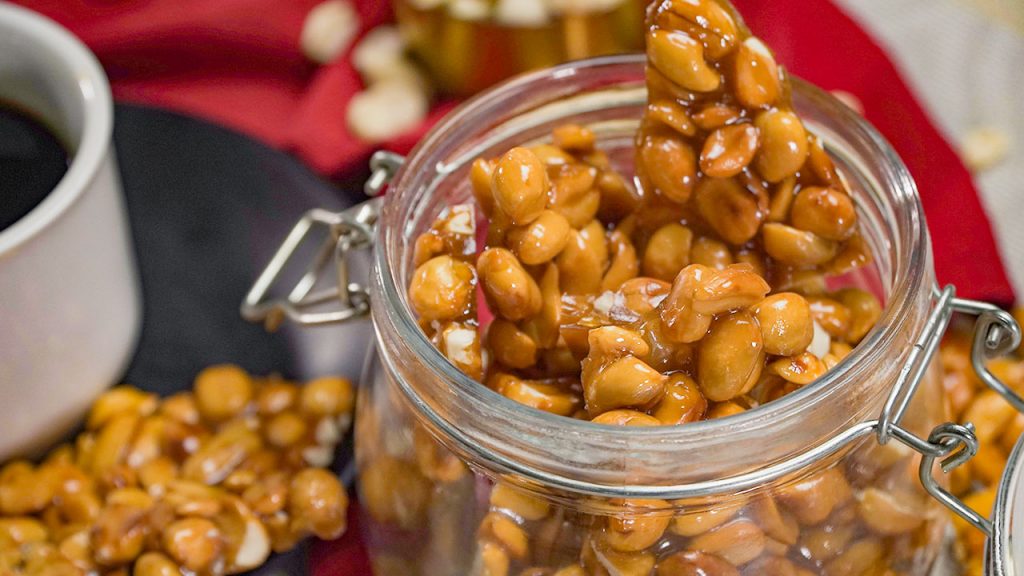 Honey-Roasted Peanuts Recipe
How To Make Honey-Roasted Peanuts
Aromatic peanuts are honey-roasted to golden brown perfection with this easy and quick recipe. These yummy honey-flavored peanuts are the perfect alternative snack for chips and candy.
Ingredients
2

cups

peanuts,

raw and unsalted

1

cup

water

⅔

cup

granulated sugar

1½

tbsp

honey

¼

tsp

salt,

or sugar
Instructions
Combine all ingredients, except the peanuts, into a skillet over medium heat. Bring to a simmer, just until sugar has melted.

Add the nuts and simmer for roughly 10 minutes, stirring occasionally, until the liquid has reduced by ¾ and has turned amber in color.

Reduce heat to low, then shuffle the pan away and back to the heat, constantly stirring, to avoid burning the peanuts.

Once the sugar has completely melted, pour the mixture onto a silicone mat and allow it to cool down completely. You will see that the candied sugar clings to the peanuts, which is a good sign.

Serve and enjoy snacking on these Honey-Roasted Peanuts once cool!
Recipe Notes
We highly recommend using raw peanuts for this recipe. If there aren't any available, it's best to use peanuts with as little processing and salt as possible, so as not to clash with the honey flavor.

You can swap the salt for sugar if you prefer a sweeter treat. Some versions of this recipe also use powdered sugar or confectioner's sugar. 

If you prefer darker-roasted peanuts, roast them for a little longer and don't stir at the first 5-minute mark.
Nutrition
Sugar:

26g

:

Calcium:

53mg

Calories:

379kcal

Carbohydrates:

34g

Fat:

24g

Fiber:

5g

Iron:

2mg

Monounsaturated Fat:

11g

Polyunsaturated Fat:

8g

Potassium:

365mg

Protein:

13g

Saturated Fat:

4g

Sodium:

110mg

Vitamin C:

1mg
Nutrition Disclaimer
Commonly Asked Questions
Do I need to soak peanuts before roasting?
Yes. In fact, soaking peanuts before cooking aids to digestion. Not soaking peanuts will retain phytic acid, a natural substance that diminishes the mineral absorption ability of our bodies. Soaking peanuts overnight is the best way to go.
Should I use raw peanuts or green peanuts for this recipe?
The main difference between raw peanuts and green peanuts is their moisture content. Raw peanuts have already been air-dried, and therefore hold the right amount of moisture needed for storage. Green peanuts, on the other hand, are peanuts that have been freshly dug from the soil. Therefore, no moisture has been removed! They're only available during harvest season and expire fast, so they should be refrigerated immediately once dug from the field.
Do honey roasted peanuts go bad?
These will last for up to 3 weeks to 3 months if stored properly in the refrigerator in an airtight container. Just take them out of the fridge 20 minutes before you wish to consume them. On the other hand, raw peanuts can last in the pantry for 6 months or a year if frozen. Just don't forget to let them thaw completely in the fridge before eating.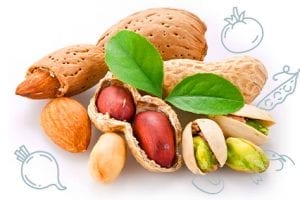 Conclusion
These honey-roasted peanuts are a quick and easy snack that's sure to become a household favorite. They're healthy, tasty, and much more affordable than the ones bought at stores! Make a fresh batch of honey-roasted peanuts for you and your loved ones to snack on.