Get ready to swap your chips and candies for a healthy, nutty snack! In this recipe, we'll be roasting peanuts and coating them in a wonderful salted honey glaze. Our Quick and Easy Honey Roasted Peanuts are a tasty yet healthy alternative snack to salty store-bought chips and sweet candies. And not only that! They're also a great addition to savory dishes and tasty desserts. They can amp up this Chopped Kale Greek Salad and serve as a great topping for classic Vanilla Ice Cream.
Both roasted peanuts and honey are loaded with numerous health benefits. And even better, the raw peanuts we'll be using in this recipe will taste more organic and natural. It doesn't end there, because these peanut snacks are simple and fast to make as well.
With just a simple roasting and mixing, you've got yourself a scrumptious treat. These homemade honey-roasted peanuts are also more affordable than the ones you can find in stores. So, what are you waiting for? Get your unsalted peanuts, honey, and oven ready 'cos we're making an addicting healthy snack!
The Peanut, A Truly Versatile Legume
The peanut, also known as groundnut, goobers, and monkey nut, is a legume most popular for its tasty seeds. Despite its name, peanuts are not nuts! While peanuts taste like and have nutrients similar to walnuts and almonds, they are technically legumes. Legumes are the fruits or seeds of a plant, not a tree. That makes peanuts a lot more closely related to beans, lentils, and even soy.
Most people eat peanuts through peanut butter spreads, with the classic PB&J as an example. However, it's a truly versatile food that tastes great mixed in both desserts and main dishes! Don't believe us? Try making some of our savory peanut recipes, like our Peanut Chicken Breast and Noodle Salad with Peanut Sauce.
While peanut butter tastes amazing, at the end of the day, nothing beats having peanuts as is!  They're great for snacks since they pack such an addicting crunch and nutty flavor. They're also bursting with nutrients and have numerous health benefits too!
Do peanuts have health benefits? Are roasted peanuts healthy? The answer to both questions is a resounding yes! In fact, both raw and roasted peanuts have nutrients and health benefits which make them a great snack.
In general, peanuts are rich in protein, healthy fats, and fiber. They're also a good source of vitamins, minerals, and nutrients like vitamin e, copper, and phosphorus, and magnesium. Peanuts also contain biotin and folate which are essential for pregnancy.
Peanuts are also low in carbs, making them safe for people diagnosed with diabetes. They're shown to help with weight loss, prevent gallstones, and promote heart health. So, it doesn't matter if it's raw, dry-roasted, or oven-roasted peanuts, benefits stay the same!
Tips In Making Honey-Roasted Peanuts
Honey-roasted peanuts are healthy, tasty, and easy to make! What else could you ask for in a snack?  In this recipe, we'll show you how to roast peanuts in the oven. We'll also make a sticky honey and butter coating to flavor your deliciously roasted legumes.
We also have a few tips in mind for when you're making this recipe. Don't have any parchment paper to line your cookie sheet? Use a non-stick baking mat or some aluminum foil instead!
For this recipe, we also recommend you use unsalted peanuts, which you can easily buy in stores near you.  You can also use raw peanuts, or the ones that are still in their peanut shell. You can remove peanut shells in two ways: a dry method and a moist method.
For the dry method, you should freeze the raw-shelled peanuts for at least several hours or at best overnight. Remove from the freezer, then just pick the skins off using your fingers. For the moist method, place peanuts in boiling water, a few at a time. Wait for about 3 minutes, then drain. Remove the skin using your fingers, then place on paper to dry out the peanuts.
Once you've mastered this recipe, you can also try experimenting some more by adding spices like cayenne or chipotle powder. This will give you spicy peanuts that are, in addition, honey-roasted too.
You can also add other spices like a teaspoon of cinnamon or ground ginger for added flavor. Why not add in some aromatic herbs for a more unique taste?
Must-Try Recipes With Honey Roasted Peanuts
Your honey-roasted peanuts can also be an added ingredient to savory dishes and delicious desserts. Coarsely chop these snacks and use them as a topping to Salted Caramel Ice Cream or Boston Cream Pie.  They'll also work great with Nutella Brownies or Chocolate Molten Lava Cakes.
Aside from desserts, honey-roasted peanuts also taste great when mixed in refreshing salads, giving them added crunch and flavor. Try incorporating them into Peanut Chicken Salad and our Broccoli Noodle Salad with Asian Peanut Citrus Sauce! 
All this talk of food is surely making you hungry! So let's dive right into making these Quick and Easy Honey-Roasted Peanuts!
How To Make Quick and Easy Honey-Roasted Peanuts
Aromatic peanuts are honey-roasted to golden brown perfection with this easy and quick recipe. These yummy honey-flavored peanuts are the perfect alternative snack for chips and candy.
Ingredients
2

cups

peanuts,

unsalted

2

tbsp

butter

3

tbsp

honey

1

tsp

salt,

or sugar
Instructions
Preheat the oven to 350 degrees F.

Heat the butter and honey together in the microwave or on a stove. Stir well.

Add the peanuts and toss into the mixture to coat well.

Spread the peanuts on a parchment-lined cookie sheet and bake for 5 to 10 minutes. Stir the mixture on the first 5-minute mark.

Continue to bake until peanuts are golden brown.

Remove from the oven and stir until cool, to prevent the peanuts from sticking together.

Sprinkle peanuts with salt for a savory snack, or sugar for a sweet treat.

Serve and enjoy snacking on these Honey-Roasted Peanuts!
Recipe Notes
We highly recommend using raw peanuts for this recipe. If there aren't any available, it's best to use peanuts with as little processing and salt as possible, so as not to clash with the honey flavor.

You can swap the salt for sugar if you prefer a sweeter treat. Some versions of this recipe also use powdered sugar or confectioners' sugar. 

If you prefer darker-roasted peanuts, roast them for a little longer and don't stir on the first 5-minute mark.
Nutrition
Calcium:

52mg

Calories:

343kcal

Carbohydrates:

16g

Fat:

28g

Fiber:

5g

Iron:

2mg

Potassium:

362mg

Protein:

13g

Saturated Fat:

4g

Sodium:

443mg

Sugar:

9g

Vitamin A:

167IU
Nutrition Disclaimer
Commonly Asked Questions
What are dry roasted peanuts?
There are two main ways to roast peanuts: dry roast and oil roast. Dry roasting uses heat to roast the peanuts without using oil or water as a carrier. You can both dry roast and oil roast peanuts in the oven. It's just that with the latter, you won't use any water or oil to cook them–just the oven's heat.
Which should I use for this honey roasted peanuts recipe: raw peanuts or green peanuts?
The main difference between raw peanuts and green peanuts is their moisture content. Raw peanuts have already been air-dried, and therefore hold the right amount of moisture needed for storage. Green peanuts, on the other hand, are peanuts that have been freshly dug from the soil. Therefore, no moisture has been removed! They're only available during harvest season and expire fast, so they should be refrigerated immediately once dug from the field.
How long do roasted peanuts last?
These will last for up to 1 month when stored properly in the refrigerator using an airtight container. Just take them out of the fridge 20 minutes before you wish to consume them. On the other hand, freezing your peanuts will make them last for up to 6 months. Don't forget to let them thaw completely in the fridge before eating.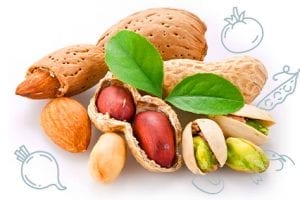 Conclusion
These honey-roasted peanuts are a quick and easy snack that's sure to become a household favorite. They're healthy, tasty, and much more affordable than the ones bought at stores! Make a fresh batch of honey-roasted peanuts for you and your loved ones to snack on.