Grilled burgers are such a comfort food to enjoy. A juicy and tender grilled burger patty made with ground chuck served between two golden hamburger buns along with your favorite sauce and fillings would be perfect for any outdoor summer party, right? This BBQ burger recipe is sure to bring juicy patties made extra saucy with the best homemade barbecue sauce. Load up the juicy burgers on the grill as you whip up some french fries to go with it for the best BBQ grill party.
Tips on Making BBQ Burger
Grilling burgers at home is not a fuss at all with this easy BBQ burger recipe. Plus, we have listed the most helpful tips on how to grill burgers to ensure that you come up with good ones every time. Here they are:
Use 80% lean and 20% fat ground beef.

Fat is the most important factor in keeping the bbq hamburger juicy. Ground chuck is a good choice because it has a good amount of fat and is both tender and flavorful.
Shape the patties an inch bigger than the buns.

This is because they will shrink as they cook. Also, put a dimple in the beef patty by gently pressing your thumb in the middle to prevent it from bulging.
Don't overwork the meat when mixing.

Otherwise, it'll be more prone to be tough and crumbly. Mix it just until it comes together.
Keep it cold.

It helps to keep the meat chilled before mixing and after being shaped into patties. Doing so will help the fat remain in the meat. If the fat melts away before they're cooked, then you'll be likely to end up with crumbly and dry patties.
Cook them hot.

Let the grill come to 400 degrees F. When the patties hit it, they will have a beautiful sear which will also seal all the tasty juices in them. If you don't have a grill, you can also cook the burgers in a

cast iron skillet.
Once the patties touch the hot grill, don't disturb them and flip them only once. This is because the less you touch them, the less they are likely to break apart. It takes around 5 minutes for one side to be done. You'll know it's time to flip once it wells up in the middle.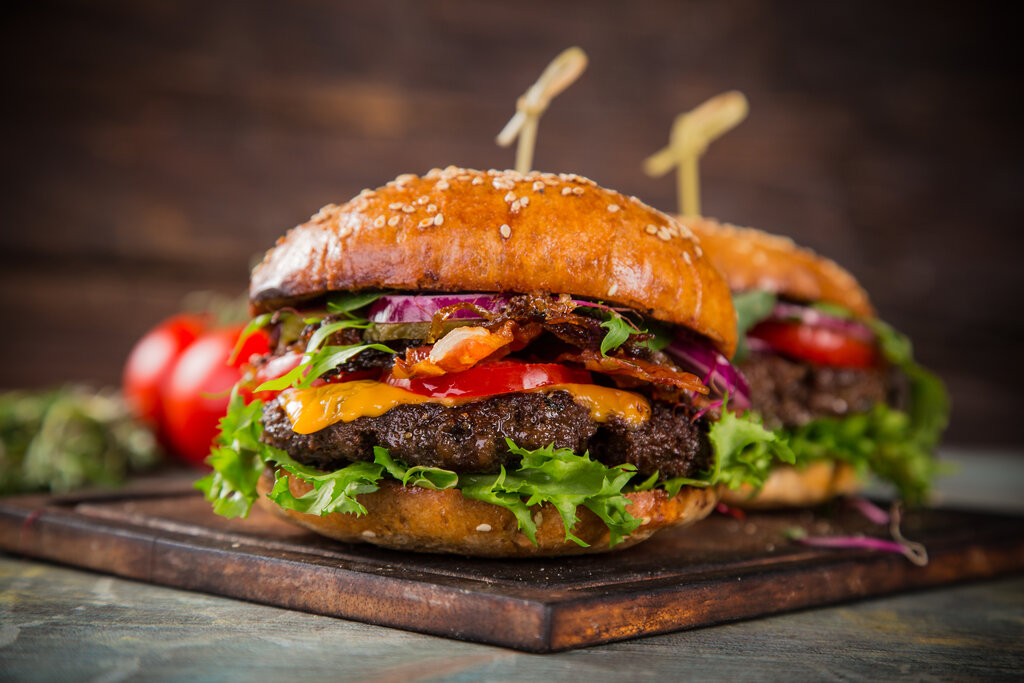 The Best Grilled BBQ Burger Recipe
How To Make The Best Grilled BBQ Burger
This recipe for BBQ burger makes the juiciest and most flavorful burger patties. It comes with a sweet and tangy homemade barbecue sauce for the ultimate burger experience.
Ingredients
2

lb

ground chuck,

or 80% lean ground beef

1

tsp

salt

½

tsp

ground black pepper

1

tsp

granulated garlic

1

tsp

onion powder

4

hamburger buns

lettuce leaves

2

tbsp

butter,

for the buns

4

american cheese slices,

or shredded cheese

2

tbsp

mayonnaise,

optional
Homemade Barbecue Sauce:
1

cup

ketchup

2

tbsp

vinegar

2

tbsp

prepared mustard

2

tbsp

brown sugar

2

tbsp

Worcestershire sauce

2

tbsp

butter

1

cup

onion,

chopped into ½-inch squares

chili powder,

to taste
Instructions
Preheat the grill to 400 degrees F. Grease it with oil.

Combine ground beef, salt, pepper, granulated garlic, and onion powder in a mixing bowl. Mix until combined.

Divide the mixture into 4 equal parts. Form each into a patty, making sure that the patty is bigger than the hamburger bun.

Place the formed patties on a parchment paper-lined baking sheet. Chill for 20 minutes before grilling.

Meanwhile, in a shallow saute pan, heat up the butter. Add the onions and saute until slightly brown, about 2 minutes.

Add the ketchup, vinegar, mustard, brown sugar, Worcestershire sauce, and chili powder. Simmer on low heat for about 5 minutes or until it thickens and comes together.

Cook the burgers for 4 to 5 minutes each side or until the internal temperature reaches 160 degrees F when measured using an instant read thermometer.

Butter the buns. Toast them on the grill for 1 minute or until golden brown.

Assemble the burger in this order: bottom bun, lettuce leaves, burger patty, cheese, barbecue sauce, mayonnaise, and top bun.

Keep the burger in place by inserting a cocktail pick in the middle. Serve and enjoy!
Nutrition
Sugar:

24g

:

Calcium:

162mg

Calories:

993kcal

Carbohydrates:

50g

Cholesterol:

164mg

Fat:

66g

Fiber:

2g

Iron:

7mg

Monounsaturated Fat:

27g

Polyunsaturated Fat:

8g

Potassium:

1025mg

Protein:

46g

Saturated Fat:

21g

Sodium:

1842mg

Trans Fat:

3g

Vitamin A:

828IU

Vitamin C:

7mg
Nutrition Disclaimer
Frequently Asked Questions
How long do you cook burgers on the grill?
The answer to how long to grill burgers varies according to the desired doneness. For burger patties of this size, a rare burger should have the internal temperature of 120 to 125 degrees F when measured using an instant read thermometer. It should be between 130 to 135 degrees F for medium rare. For a medium burger, let it reach 150 to 155 degrees F. Finally, for a well done burger, the internal temperature should reach at least 160 degrees F. Do note that it's safest to serve the burgers well done for children and pregnant women to avoid the risk of any food borne illness.

What is the secret to a juicy BBQ burger?
A juicy burger is mainly achieved by having a good fat to meat ratio. The sweet spot is found at 80 percent lean and 20 percent fat. However, if you prefer to use or only have lean ground beef or ground sirloin on hand, you can compensate for the lack of fat by adding chopped bacon or chicken fat. The bacon drippings will keep the patties juicy.

How do you make BBQ burgers stick together?
One key factor for the burger to stick together and not disintegrate is the fat content. The fat emulsifies the burger so that it forms into one single meat mixture. If you prefer to use lean ground beef, you can cheat by adding 1 egg yolk per pound. The egg will act as the binder.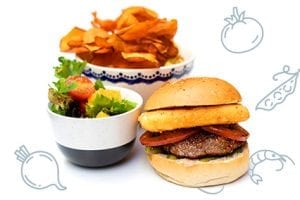 Conclusion
Say goodbye to dry and bland burgers once you make this grilled burger recipe! You might want to make a few extra BBQ burgers. They're so good that you'll want more.
Topics: