Garlic Bacon Bok Choy Recipe
Firstly, this Garlic Bacon Bok Choy recipe is sure to make you fall in love with vegetables! By the way, if you have never tried Bok Choy, it is similar to Chinese Cabbage and is quite light in flavor. Moreover, this dish can easily make your list of keto dishes if you're in a path to eating healthier. In fact, this easy recipe is simple in preparation but packed full of flavor in every bite.
Also, Bok Choy is one of those ingredients that is perfect for stir fry's, with its crunchy stalks and tender greens. Furthermore, you can treat the crunchy cabbage variety like any other type of leafy greens and you are open to a world of other recipes.
In addition, garlic, dried chili flakes and sesame oil make this the most delicious Bok Choy recipe you will ever taste. YUM! And you know, everything is better with bacon! Meanwhile, if you are vegan or vegetarian – you can just leave the bacon off. Ready in just 10 minutes, enjoy this easy vegetarian side dish with chicken, beef, or fish. In fact, pair it with our Chicken Breast with Orange Glaze Recipe for a perfect accompaniment to this crisp and vibrant Garlic Bacon Bok Choy.
Tip: Remember that cooking bok choys or any other green, leafy vegetables is you have to cook them fast for it to retain its crispness and vibrancy. So you want to expose the leaves with the sauce only for about 1-3 minutes before turning off the heat.
How To Make Garlic Bacon Bok Choy
This garlic bacon bok choy is one of the healthy keto bok choy recipes you can make under 10 minutes.
Ingredients
3

rashers bacon

fried

2

tbsp

vegetable oil

1

tbsp

garlic

minced

1

lb

baby bok choy

½

tsp

sesame oil

4

tsp

dried chili flakes
Instructions
Prepare the bok choy first. Wash the vegetables in coriander, pat them dry, and peel the individual leaves off. You can cook them as it is, cut in half, or small pieces. Set this aside.

On a skillet over medium-high heat, fry 3 bacon rashers until they are crispy. Set this aside as well.

Saute ingredients using the bacon fat from the same pan and 2 tablespoons of vegetable oil. Add the minced garlic and 1 pound of bok choy.

Cook until bok choy wilts.

Add ½ teaspoon of sesame oil.

Add 4 teaspoons of dried chili flakes.

Chop the bacon rashers into crumbles for toppings.

Serve on a plate. Top with chopped bacon.
Recipe Notes
Baby bok choys are your best option over large adult ones. To keep the crispiness of both bacon and bok choy, cook this recipe for less than 10 minutes and serve immediately.
Nutrition
Calcium:

540mg

Calories:

621kcal

Carbohydrates:

17g

Cholesterol:

44mg

Fat:

57g

Fiber:

7g

Iron:

5mg

Potassium:

287mg

Protein:

14g

Saturated Fat:

31g

Sodium:

864mg

Sugar:

5g

Vitamin A:

22557IU

Vitamin C:

207mg
Commonly Asked Questions
Is this keto friendly?
If you're into a ketogenic diet, you would be glad to know that bok choy has very low carbs and almost no fat just like most greens you can use in a salad. They are very rich in Vitamin K. If you need more protein in this dish, you can always add more bacon, mushrooms, and boiled eggs. For more flavor, you can also use ginger and red pepper in the recipe.
Are there bacon alternatives?
Yes! If you're slimming down your intake of fat, you can substitute bacon with a leaner meat, such as turkey bacon.

How can I turn this into a vegan recipe?
You can omit the bacon and replace it with tempeh or tofu as an alternative source of protein for this recipe.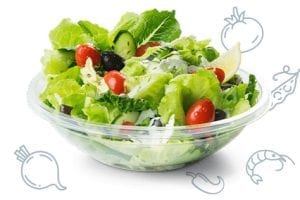 Conclusion
Finally, this Garlic Bacon Bok Choy is probably one of the easiest, effortless dishes you can make for a quick snack. Thus, as you go along experimenting with this recipe, you can switch up more ingredients as you like!
Related Vegetables Recipes