If you're looking for a tasty and healthy dish, then this bok choy stir fry is perfect for you. This dish explodes with flavors despite its simplicity. With roasted garlic, crispy fried bacon, and crisp bok choy we're surely in for a crunchy treat. Furthermore, you can serve this savory vegetable dish with chicken curry for a superb lunch or dinner!
Tips on Making Bok Choy Stir Fry
Bok choy is also known as bok choi, park choi, pak choi and pak choy. It's a green, leafy Asian vegetable commonly used in stir fry recipes. It's similar to a napa cabbage in terms of texture and flavor but is a darker green. We're making pan fried bok choy cooked in aromatic roasted garlic, soy sauce, and mixed with crispy fried bacon. We'll show you just how easy stir fry is to make indeed.
Use baby bok choy

over adult ones. It is smaller, more tender, and has a sweeter taste. This is because it's harvested earlier than adult bok choy. 

Add garlic to a cold pan first. Because y

our pan will gradually heat up as the garlic is sauteed gently. By starting with a cold pan, your garlic is prevented from burning, allowing the flavors to shine more.

This recipe is so versatile you can easily add other ingredients.

To make it even tastier and more filling, you can include carrots and mushrooms to add color and texture. You can also turn it into an equally healthy

chicken stir fry

recipe by adding chicken breast pieces. This should add healthy protein to the mix.

Cook your bok choy stir fry fast.

If you cook it for too long, it'll lose its firmness and crunch. Consequently, it'll also lose its vibrant green color and turn dark. So aim to cook it for a maximum of 10 minutes.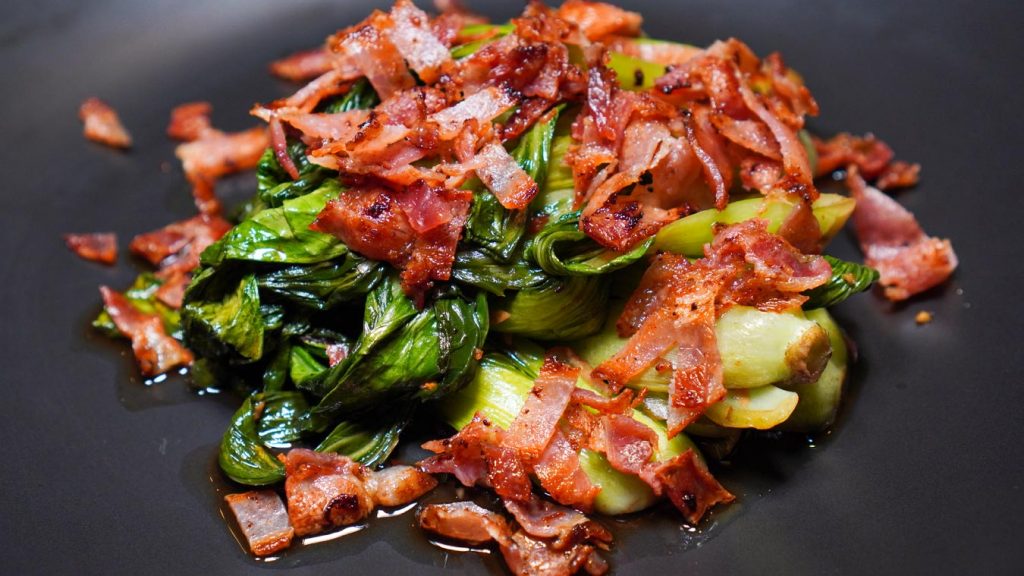 Garlic Bacon Bok Choy Stir Fry Recipe
How To Make Garlic Bacon Bok Choy Stir Fry
We're topping our crisp and flavorful bok choy stir fry with crunchy chopped bacon and a spicy soy sauce mix. This savory dish is easy and simple to make, but incredibly rewarding to eat!
Ingredients
3

bacon rashers

2

lb

bok choy

2

tbsp

vegetable oil

1

tbsp

garlic,

minced

1

tsp

ginger

2

tbsp

soy sauce

½

tsp

sesame oil

¼

tsp

dried chili flakes
Instructions
Heat the bacon in a skillet until crispy. Set it aside.

Using the same skillet, add the vegetable oil to the pan and allow to heat while you slice the bok choy in half.

Add the garlic and ginger to the oil and let cook for about a minute.

Add the bok choy and cook each side for about a minute or two until the leaves start to wilt. Saute by batch as needed.

Pour in the soy sauce and sesame oil and toss to combine.

Add the dried chili flakes, then stir and remove from heat.

Chop the fried bacon and sprinkle on top.
Nutrition
Sugar:

6g

:

Calcium:

540mg

Calories:

378kcal

Carbohydrates:

18g

Cholesterol:

4mg

Fat:

31g

Fiber:

8g

Iron:

6mg

Potassium:

232mg

Protein:

11g

Saturated Fat:

23g

Sodium:

2528mg

Vitamin A:

22557IU

Vitamin C:

207mg
Nutrition Disclaimer
Frequently Asked Questions
How do you cut bok choy for stir fry?
You should always cut the bottom of the stem. This part is too thick and won't cook evenly along with the leaves and upper parts of the stem.
How do you cook bok choy so it's not bitter?
For our healthy stir fry and all other bok choy recipes it is recommended that you blanch the bok choy before stir frying. This will get rid of some of its bitterness and its leaves will have a brighter green tinge.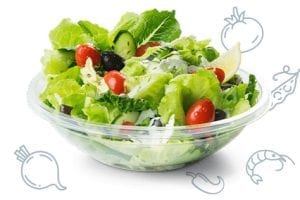 Conclusion
This rich and flavorful bok choy stir fry is simple and easy to make. It's perfect for busy days when you're in need of a quick but delicious and healthy meal to fill your hungry tummy. Who says vegetable dishes are boring? This tasty stir fried bok choy and bacon proves that wrong.
Topics: