Wondering what to make with your left-over pumpkin puree? Perhaps you're thinking of more Thanksgiving ideas to go with your mashed potatoes and delicious turkey. Why not make the most out of your pumpkin puree by making this whole wheat flour bread with pumpkin puree? With its super-moist texture, sweet pumpkin puree, and aromatic spices, it might be the next star of your Thanksgiving dinner!
A Pumpkin-Filled Thanksgiving
It's no secret that when the chilly autumn season starts, different pumpkin-filled food and drinks take over the menus of restaurants. And what's not to love? Pumpkins add depth to many foods and drinks with its earthy and sweet taste. When it comes to Thanksgiving celebrations, it wouldn't be complete without a Pumpkin-filled drink, side dish, or dessert. 
There's always a way to incorporate pumpkin puree recipes into our easy Thanksgiving recipes. For starters, give warmth to your cold season by serving this creamy Spicy Pumpkin Appetizer Soup Recipe. Aside from the deliciously creamy and thick soup, this recipe only takes 20-minutes to make so you've got more time preparing most of your Thanksgiving menu list. 
While your guests wait for your turkey, serve our sweet and tangy Pumpkin Pineapple and Rum Cocktail Recipe. For another pumpkin puree recipe that is new to the crowd, try our unique Creamy Pumpkin Marinara! The pumpkin puree blends perfectly with different spices and flavors, you'll be surprised you haven't made one in the past!
And to continue the tradition, this classic Quick And Easy Pumpkin Pie Recipe will surely impress your guests with your simple Thanksgiving menu! Now, let's head to our star pumpkin dish!
Our Whole Wheat Bread Recipe with Pumpkin Puree
The best thing about pumpkin puree is its very versatility. You can incorporate it into almost any food you want and it would still taste incredible! And in this Whole Wheat Pumpkin Loaf Recipe, we're using canned pumpkin puree for a super-moist texture and an added fall taste! 
You can also use fresh pumpkin puree in your pumpkin loaf but make sure you squeeze the moisture out of your pumpkin puree with a paper towel. A runny pumpkin puree might make your healthy pumpkin loaf runny and have a juicy texture.
In making our homemade pumpkin bread from scratch, we're using whole wheat flour to our pumpkin bread for a lighter texture and a better rise. Whole wheat flour is also a good source of protein, fiber, and has a variety of different vitamins. So if you're wondering if this light pumpkin loaf is healthy, without a doubt!
To make things even better, we're using honey instead of the usual sugar for our healthy pumpkin bread. So if your guests are watching their sugar levels, they can enjoy a slice of this loaf without worrying about their sugar. Just like how pumpkin puree is always around in our fall must-haves, we're adding in the all-time favorite fall spices ground ginger and ground cinnamon. These spices blend perfectly with our pumpkin puree bringing out more flavors.
This Whole Wheat Pumpkin Loaf Recipe is extremely easy to make. All we'll be doing is mixing, transferring, and baking! You'll be surprised at how this simple recipe makes the best pumpkin loaf.
More Pumpkin Loaf Variations
Love a good chocolate chip pumpkin bread? Add ½ cup of chocolate chips to your batter and you can easily have pumpkin bread with chocolate chips. You can also follow our decadent Nutella Pumpkin Chocolate Chip for a Nutella-filled chocolate pumpkin bread!
You can also mix in more flavors to your sugar free pumpkin bread by adding fruits such as bananas to your pumpkin bread. Add in 1 mashed banana to your mixture or you can also follow our Banana Pumpkin Bread Recipe. Looking for pumpkin bread with cream cheese frosting? Simply top your pumpkin loaf with cream cheese frosting to turn this pumpkin loaf into one!
Now you can enjoy more pumpkin-filled desserts without wasting your left-over pumpkin puree.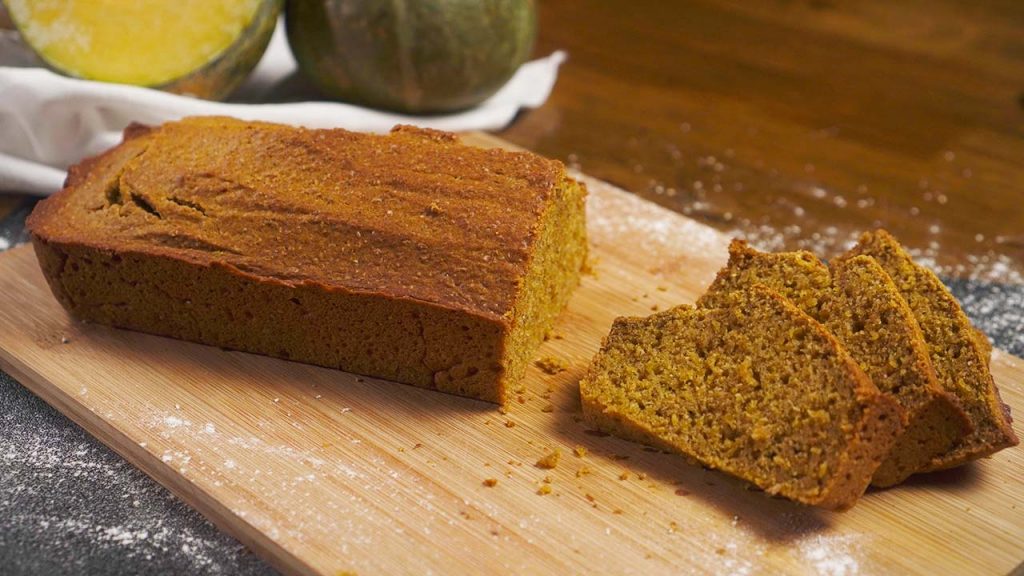 Whole Wheat Pumpkin Loaf Recipe
How To Make Whole Wheat Pumpkin Loaf
Serve this super-moist Whole Wheat Pumpkin Loaf for Thanksgiving dinner.  Made even tastier with pumpkin puree and aromatic spice, this light pumpkin pie will go perfectly with your delicious turkey!
Ingredients
2

eggs

½

cup

coconut oil

⅔

cup

honey

2

tbsp

water

1¾

cups

whole wheat flour

2½

tsp

ground cinnamon

½

tsp

baking soda
Instructions
Preheat the oven to 350 degrees F.

Grease a 12-Inch loaf tin with cooking spray.

Sift together the flour, cinnamon, ginger, salt, and baking soda. Whisk the sifted ingredients briefly, then set aside.

In a large bowl, combine the eggs, oil, pumpkin, honey, and water. Whisk until thoroughly combined.

Add the sifted flour mixture into the pumpkin mixture and whisk until evenly incorporated.

Pour the batter into the greased loaf pan and smooth the top into an even layer.

Bake for 40 minutes, or until a toothpick inserted into the center comes out clean.

Let the loaf cool in the pan for 10 minutes before carefully unmolding.

Then let the loaf sit at room temperature for at least 1 hour before slicing.

Serve with your favorite fall drinks and enjoy!
Nutrition
Sugar:

47g

:

Calcium:

50mg

Calories:

621kcal

Carbohydrates:

86g

Cholesterol:

82mg

Fat:

31g

Fiber:

7g

Iron:

3mg

Potassium:

250mg

Protein:

10g

Saturated Fat:

24g

Sodium:

192mg

Vitamin A:

119IU

Vitamin C:

1mg
Nutrition Disclaimer
Commonly Asked Questions
How to store pumpkin bread?
Pumpkin bread is best served fresh from the oven but you can store your pumpkin loaf at room temperature by wrapping it with plastic wrap and it'll last for up to 5 days. If you haven't consumed it after 3 days, you can place it in your fridge. It will keep for another week. But if you want to freeze your pumpkin bread, wrap it tightly with a plastic wrap then put it in a freezer-safe ziplock bag. If a freezer-safe bag is not available, wrap it with a second layer of foil. Your pumpkin loaf will last up to 3 months in your freezer.
How to reheat pumpkin bread?
Remove your frozen pumpkin loaf from the ziplock bag and place it on a cooling rack before loosely opening the plastic wrap. Let the bread sit at room temperature for about 2 to 3 hours or until fully thawed. Wrap the bread with foil then reheat it at 350 degrees F for 10 to 15 minutes.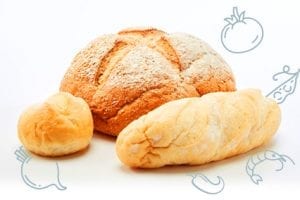 Conclusion
Made with whole, wheat flour, pumpkin puree, and fragrant spices, this pumpkin loaf recipe makes a perfect addition to your Thanksgiving feast. Pair this with a savory creamy pumpkin soup for a perfect blend of contrasting flavors!