We all love going to a local bakery to grab some freshly baked crescent rolls. Having them for dinner makes any meal extra special. This fluffy, buttery pastry is also a perfect afternoon snack, especially when paired with a cup of tea or coffee. With this recipe, we'll teach you how to make crescent rolls at home so you can enjoy them fresh anytime you want.
While we love store-bought crescent rolls, homemade crescent rolls taste a lot better. You can play around with the flavors and fillings. This jam-filled crescent rolls recipe will give you a delicious snack that will satisfy your sweet tooth.
Crescent Rolls and Croissants: Are They The Same?
Have you ever gotten confused between crescent rolls and croissants? We don't blame you for that, as indeed, both pastries are shaped very similarly! Despite their similar shapes, however, crescent rolls and croissants differ in many ways.
Crescent rolls have a buttery and slightly crisp exterior and fluffy and soft interior. Croissants, on the other hand, are flaky and tastier. Crescent rolls are often served as dinner rolls while the other is commonly served for breakfast. To learn more about croissants, try making our Chocolate Caramel Croissants.
Both of them are delightful to eat, but making them at home requires different levels of skill. Making croissants is more complicated to make as it requires folding of the dough multiple times to achieve its flaky texture. Crescent rolls, meanwhile, are easier to make and have a shorter baking time.
How to Roll Crescent Rolls?
Crescent rolls have their distinct shape. Although they look beautiful, their shapes seem complicated to make. But they are actually easy and even newbies can roll them up like a pro. We'll tell you the secret on how to roll crescent rolls perfectly.
First, you need to prepare your dough. A ready made crescent roll works fine, but you can also make crescent roll dough from scratch. You just need to combine all the dough ingredients and knead it for several minutes until you achieve the right consistency. Then you have to let it rest to rise before rolling it out and cutting it into triangles.
Once your crescent roll dough is ready, roll it into a rectangle or a round shape, and flatten it on your work surface. Cut your dough to create several triangles. Starting from the wide end, roll each triangle up to the tip and form it into a crescent shape. Simple, right? Now that you know the secret to shaping crescent rolls, you can go on to learn to make freezer crescent rolls which will allow you to prepare a batch of ready crescent rolls for this recipe!
How to Make Jam-Filled Crescent Rolls?
Making bread may seem intimidating, especially for beginners. But crescent rolls are surprisingly easy to make. Learning basic recipes for crescent rolls allows you to experiment with different flavors, be it sweet or savory. There are a lot of possibilities to make delicious stuffed crescent rolls. For example, you can make our Breakfast Sausage Crescent Rolls.
Jam is one of our favorite fillings for homemade crescent rolls. We always have them in our fridge so it's easily available whenever we crave for a sweet, fruity crescent roll. Jams also come in a variety of flavors, from berries to tropical fruits! Feel free to use any flavor you want or mix different flavors.
Once you have chosen the flavor of your filling, you need to prepare the dough. Using premade crescent roll dough is an ideal choice if you want to save time and energy. But feel free to make your rolls from scratch if you have the time.
When making stuffed crescent rolls, you need to spread the filling onto the triangles before you roll them up. Be careful not to overfill your dough as it might be difficult to roll them.
How To Make Jam Filled Crescent Rolls
1 pkg. crescent rolls
1 jar apricot jam
1 tsp. cinnamon
Preheat your oven to 375 degrees F. Place unrolled crescent rolls on a ungreased cookie sheet.
Spread a layer of jam on each triangle.
Sprinkle with cinnamon.
Roll from the bottom of triangle to the point.
Place in oven and bake for 10 to 11 minutes or until golden brown.
Remove from oven and serve while warm.
How to Make Jam-Filled Crescent Rolls
These stuffed crescent rolls are filled with a delicious apricot jam for fruity dinner rolls you can enjoy anytime of the day. They are light, soft, and best served while they are warm.
Ingredients
1

pkg

crescent rolls dough

1

jar

apricot jam

1

tsp

cinnamon
Instructions
Preheat your oven to 375 degrees F.

Remove crescent rolls from the package and unroll. Then, place the unrolled crescent rolls on an ungreased cookie sheet.

Spread a layer of jam on each triangle.

Sprinkle cinnamon over the jam.

Roll each triangle from the bottom up to the tip.

Place the roll in a cookie sheet and bake for 10 to 11 minutes or until golden brown.

Take them out of the oven and serve while warm.
Recipe Notes
When placing your rolls on a baking sheet, make sure to leave at least 2 inches between each roll. They will puff up once they're baked and the spaces will prevent them from sticking to each other.
Nutrition
Calcium:

3mg

Calories:

100kcal

Carbohydrates:

12g

Fat:

6g

Fiber:

1g

Iron:

1mg

Protein:

1g

Saturated Fat:

3g

Sodium:

222mg

Sugar:

3g
Nutrition Disclaimer
Commonly Asked Questions
How can I make my crescent rolls flaky?
Crescent rolls are generally not flaky like croissants. But it doesn't mean you can't make them flaky. You can do this by making your own dough as it will give more control over the texture. It will be an extra process, but the result will be worth it. To achieve a flaky texture, you need to use a technique called lamination. Roll your dough into a long rectangle, fold it into thirds, and turn it 90 degrees. Repeat the process at least three times. You'll be creating hundreds of layers of dough and butter that will make your crescent rolls super flaky when baked. This step is common in making croissants.

Are crescent rolls dairy free?
You might find it hard to believe, but most recipes for crescent rolls are actually dairy free, even the pop cans you buy from the stores. Since they are a type of bread, their basic ingredients consist of flour, water, yeast, and salt. Adding milk to your dough, however, can improve the flavor and texture of your bread significantly. Milk acts as a tenderizer so your crescent rolls will be soft and not tough and chewy.
Are crescent rolls puff pastry?
Puff pastry is like a croissant. It's made by layering dough and butter, while crescent rolls are made with a single layer. Puff pastry also uses butter as a leavener instead of yeast, which is used in crescent rolls. Despite their differences, both are a perfect addition to many meals.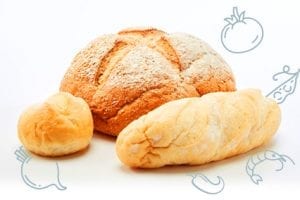 Conclusion
Homemade crescent rolls are a delicious snack you can enjoy at an afternoon tea or be a part of your dinner. You can stuff with different filling, be it sweet or savory, depending on your taste. They may seem difficult to make at home, but they are easy to make. You can make a large batch and enjoy soft, flavorful crescent rolls anytime you want.
Related Breads & Doughs Recipes