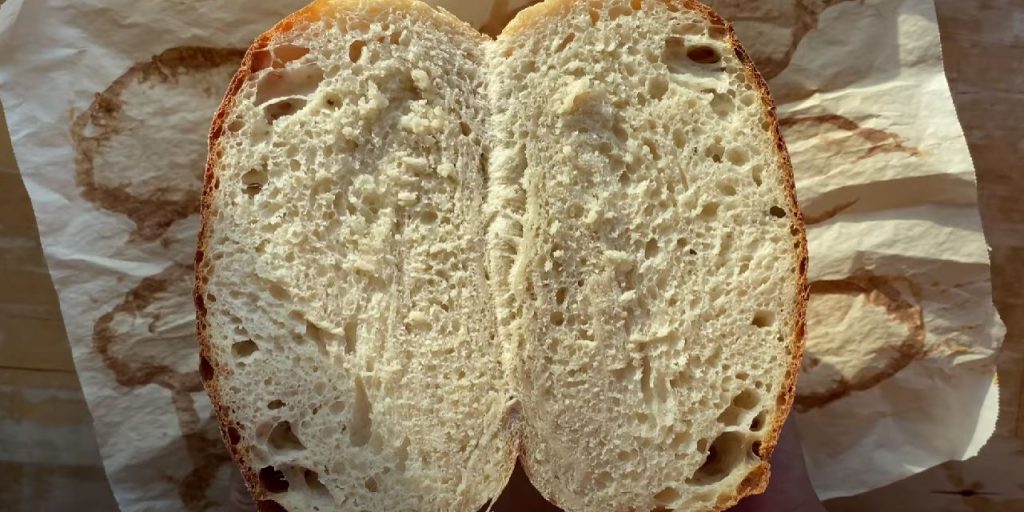 Homemade Artisan Bread (With or Without Dutch Oven) Recipe
How To Make Homemade Artisan Bread (With or Without Dutch Oven)
This artisan bread recipe serves easy breakfast goodies with just 4 simple ingredients! Made with bread flour and yeast for a crusty and chewy baked dish.
Total:
4 hours 25 minutes
Ingredients
3¼

cups

bread flour,

spoon and leveled, plus more for hands and pan

2

tsp

instant yeast

2

tsp

coarse salt

1½

cups

cool water

cornmeal,

for dusting pan, optional
Instructions
In a large un-greased mixing bowl, whisk the flour, yeast, and salt together.

Pour in the cool water and gently mix together with a rubber spatula or wooden spoon. The dough will seem dry and shaggy, but keep working it until all the flour is moistened. The dough will be sticky. Shape into a ball in the bowl.

Cover the dough tightly with plastic wrap or aluminum foil and set it on the counter at room temperature. Allow to rise for 2 to 3 hours. The dough will just about double in size, stick to the sides of the bowl, and have a lot of air bubbles.

Place covered dough in the refrigerator for 12 hours to 3 days. The dough will puff up during this time but may begin to deflate after 2 days. That's fine and normal– nothing to worry about.

Lightly dust a large nonstick baking sheet with flour and/or cornmeal. Turn the cold dough out onto a floured work surface.

Using a sharp knife or bench scraper, cut dough in half. Some air bubbles will deflate while working with it. Place dough halves on prepared baking sheet.

Using floured hands, shape into 2 long loaves about 9×3-inches each about 3-inches apart. Loosely cover and allow to rest for 45 minutes.

During this 45 minutes, preheat the oven to 475 degrees F.

When ready to bake, using a very sharp knife or bread lame, score the bread loaves with 3 slashes, about ½-inch deep. If the shaped loaves flattened out during the 45 minutes, use floured hands to narrow them out along the sides again.

Place the shaped and scored dough in the preheated oven on the center rack. Bake for 20 to 25 minutes or until the crust is golden brown. Gently tap the loaves– if they sound hollow, the bread is done.

Remove the bread from the oven and allow to cool for at least 5 minutes before slicing and serving.

Serve and enjoy.
Recipe Notes
For a slightly crispier crust: After the oven is preheated and bread is scored, place a shallow metal or cast iron baking pan or skillet on the bottom oven rack. Carefully and quickly pour 3 to 4 cups of boiling water into it. Place the scored dough/baking pan on a higher rack and quickly shut the oven, trapping the steam inside. The steam helps create a crispier crust.
Nutrition
Calories: 

204.17kcal

Fat: 

1.00g

Saturated Fat: 

0.15g

Monounsaturated Fat: 

0.12g

Polyunsaturated Fat: 

0.40g

Carbohydrates: 

40.78g

Fiber: 

1.60g

Sugar: 

0.17g

Protein: 

7.07g

Sodium: 

235.09mg

Calcium: 

10.13mg

Potassium: 

65.25mg

Iron: 

2.48mg

Vitamin C: 

0.00mg