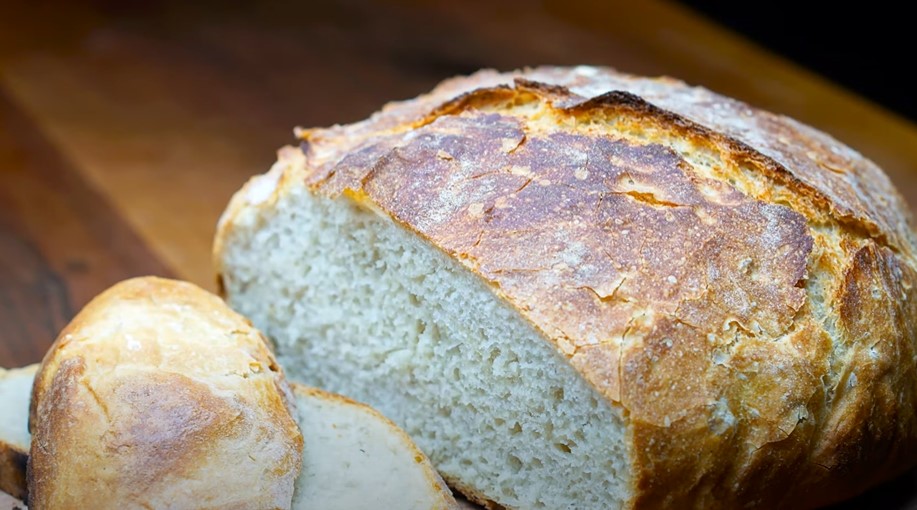 Crusty Dutch Oven Bread Recipe
How To Make Crusty Dutch Oven Bread
Enjoy crusty homemade dutch oven bread made with just 4 simple ingredients! It's a soft on the side and crackly on the outside bread perfect for snacking.
Preparation:
2 hours 15 minutes
Total:
3 hours 10 minutes
Ingredients
4

cups

bread flour

1½

cups

water

2

tsp

salt

1

tsp

active dry yeast
Instructions
Pour the bread flour into the bowl of an electric stand mixer and add water, followed by salt. Sprinkle the yeast over the surface and allow to dissolve for about 5 minutes.

Mix on medium speed using the paddle attachment until the dough comes together. Replace the paddle with a dough hook. Continue mixing for about 10 minutes until dough is smooth and elastic.

Cover the bowl with plastic wrap and allow to the dough to rise to about twice its size for 30 to 45 minutes. Push a finger into the dough. The dough should give some resistance, but not spring back. If it springs back, let it rise longer.

Turn dough out onto a floured surface and punch down to expel excess gas and redistribute the yeast.

Cover with a clean dish towel and let rest for 10 to 15 minutes.

Shape the dough into a boule by pushing back and forth on the counter in a circular motion until there is a round, smooth ball.

Cover dough with a clean dish towel and allow to rise for about 1 hour.

Preheat the oven to 450 degrees F. Grease a Dutch oven.

Slice a very shallow "X" into the top of the bread with a sharp knife to help it expand while baking. Place loaf into the prepared Dutch oven and cover with the lid.

Bake in the the oven for 10 minutes. Reduce temperature to 375 degrees F and continue to bake, covered, for 20 minutes.

Remove the lid and continue baking for 25 to 30 minutes until deep golden.

Serve and enjoy.
Nutrition
Calories: 

165.94kcal

Fat: 

0.78g

Saturated Fat: 

0.11g

Monounsaturated Fat: 

0.08g

Polyunsaturated Fat: 

0.33g

Carbohydrates: 

33.26g

Fiber: 

1.19g

Sugar: 

0.14g

Protein: 

5.61g

Sodium: 

175.86mg

Calcium: 

7.95mg

Potassium: 

48.89mg

Iron: 

2.02mg

Vitamin C: 

0.00mg