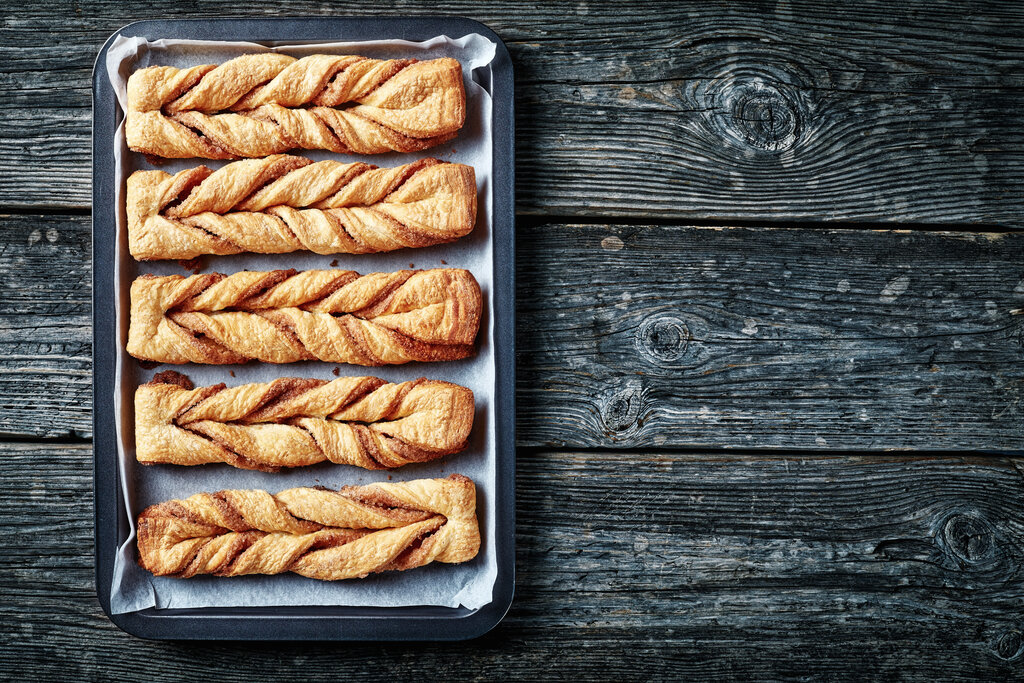 Cinnamon Twists Recipe
Cinnamon twists are quick and easy dessert treats perfect for serving at family gatherings or during the holiday season. If you like the oh so popular Taco Bell cinnamon twist, then you're going to love my rendition of their famous snack. Its hand-held size makes it a delightful snack to share, and its sweet and spiced flavor is an appetizing flavor combination. I decided to make this cinnamon twist recipe as part of my surprise treats for my kids. One of them really loves anything cinnamon flavored.
I had fun making this buttery and flaky cinnamon twist dessert. It was really easy to make since I only needed 4 ingredients: ground cinnamon, sugar, butter, and crescent rolls. There are a lot of different ways to make homemade cinnamon twists. Some people would make their own dough, use puff pastry dough sheets, or even pizza dough. In my recipe, I chose crescent rolls since it's the typical dough used when making cinnamon rolls. It's also used in other bread recipes since it's softer and fluffier. But, of course, feel free to use whatever dough you like.
Next step is spreading the melted butter, and then sprinkling the cinnamon sugar mixture on top of the dough. After that, cut and twist the dough, sprinkle some of the remaining cinnamon sugar, and then you're ready to bake. Other methods call for deep frying these cinnamon twists, but I prefer baking mine since it gives the best results of crispiness and flakiness.
After a few minutes, you'll have a tasty batch of cinnamon bread twists ready for munching. There are more topping variations for this cinnamon twist recipe. Try drizzling it with a powdered sugar glaze or cream cheese spread. Or, you can also enjoy this homemade cinnamon twist with a dipping sauce on the side. I personally like pairing my cinnamon twists with or a cream cheese dip.
Enjoy this cinnamon twist snack even longer by storing them inside an airtight container or a zipper bag. It will prevent them from getting soggy and losing moisture. Have fun munching!
How To Make How to Make Cinnamon Twists
Treat yourself with a sweet cinnamon twist dessert made from crescent rolls, ground cinnamon, sugar, and butter. Make this delicious cinnamon sugar treat in just 15 minutes! Serve alongside a tasty cup of afternoon tea or coffee.
Ingredients
2

tbsp

sugar

1

tsp

ground cinnamon

8

oz

crescent rolls,

(1 can)

3

tbsp

butter,

melted
Instructions
Preheat oven to 375 degrees F.

Unroll the crescent dough and lay down as 4 rectangles on a greased baking sheet with parchment paper making sure you press the triangles together to form the rectangles.

Mix together the sugar and cinnamon in a small bowl and set aside.

Spread melted butter onto 2 of the rectangles and sprinkle a little less than half the cinnamon/sugar mixture on top of the melted butter.

Take the two non-buttered rectangles and put those on top of your buttered and cinnamon/sugar rectangles. Press edges together.

Using a pizza cutter, cut both rectangles into 6 strips and top with any reserve melted butter. Twist each strip a few times and spread onto baking sheet.

Sprinkle with remaining cinnamon and sugar. Bake for 8 to 10 minutes.
Nutrition
Calories: 

89.43kcal

Fat: 

5.03g

Saturated Fat: 

2.59g

Trans Fat: 

0.28g

Monounsaturated Fat: 

0.75g

Polyunsaturated Fat: 

0.11g

Carbohydrates: 

10.28g

Fiber: 

0.40g

Sugar: 

2.96g

Protein: 

1.20g

Cholesterol: 

7.63mg

Sodium: 

201.90mg

Calcium: 

7.39mg

Potassium: 

1.83mg

Iron: 

0.46mg

Vitamin A: 

24.31µg

Vitamin C: 

0.01mg