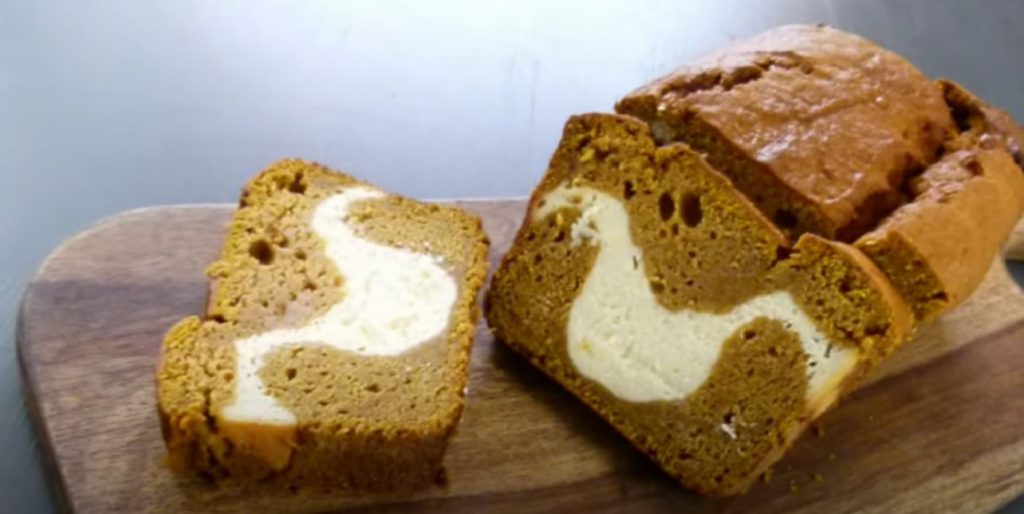 Chocolate Chip Pumpkin Cream Cheese Bread Recipe
How To Make Chocolate Chip Pumpkin Cream Cheese Bread
This moist pumpkin cream cheese bread is baked with gorgeous thin layers of cream cheese, loaded with semisweet chocolate chips, and a hint of cinnamon.
Cooking:
1 hour 15 minutes
Instructions
Preheat the oven to 350 degrees F.
In a large bowl, add the pumpkin, brown sugar, granulated sugar, vegetable oil, eggs, vanilla, and 1 cup of chocolate chips to the bowl. Whisk until completely combined.
Add the flour, baking soda, salt, cinnamon, ginger, cloves, and nutmeg into the bowl, then whisk until just combined.
To make the cream cheese layers, add the cream cheese, sugar, egg, and milk.
Pour half the pumpkin batter to the bottom of the two loaf pans, then add half the cream cheese layer to the two pans, ¼-inch each.
Pour in half of the remaining pumpkin batter, then cream cheese to the pans. Finally, top with the remaining pumpkin batter.
Sprinkle with the remaining chocolate chips atop.
Bake for about 60 to 75 minutes or until a toothpick or knife comes out clean.
Serve warm with coffee, and enjoy!
Nutrition
Monounsaturated Fat: 

15.56g
Polyunsaturated Fat: 

3.59g
Topics: