Do you love tea time in the afternoon? Elevate it by adding a tasty treat like this cherry scones recipe. Scones are biscuit-like pastries that have a crisp, flaky, and buttery exterior with a soft and crumbly interior. They are usually bland in taste so they are mixed or topped with choices of sweet or savory ingredients. In this recipe, the buttermilk pastry will be mixed with dried tart cherries and sprinkled with turbinado sugar for a sweet and sour cherry scones bite. Serve it with this apple tea for relaxing afternoons.
Tips on Making Cherry Scones
In making cherry scones, you'd want to achieve its perfect texture of a flaky exterior and soft inside. But aside from the pastry itself, you'd also want to focus on its toppings or the other ingredients you will incorporate in the dough that would give this recipe a burst of flavor. Here are some tips that could help you in recreating this recipe: 
Use thicker milk like buttermilk or heavy cream.

They yield a more flavorful and thicker pastry than thinner milk would.
Chill your dough before baking.

Putting your

scone dough

in the fridge before using it makes it firmer and easier to shape. Even 15 minutes of chilling time will make a great difference. 
Use a round glass to shape your dough.

If you don't have a cookie cutter, then pressing a glass down on the dough will work just as fine. Some may prefer

triangle scones

or other shapes, so you can also try using your hands to get your desired shape. 
Be creative with your other main ingredient.

Aside from the dried tart cherries, you can also add pieces of other fresh or dried fruits like cranberries, blueberries, raisins, oranges, or apricots in the dough or on top of your baked goods to make it more delicious and appetizing. Nuts and chocolates are also good additions for either

cherry almond scones

or

chocolate cherry scones

. 
For additional flavor, you can try to put fillings in your scones.

Slice your scones horizontally and spread fruit jams like strawberry or cherry jam in between so you can enjoy bites of

jam-filled scones.
Cherry Scones Recipe
How To Make Cherry Scones
This 30-minute cherry scones recipe is easy to make and yields flaky and crumbly baked goods that are buttery and have sweet dried tart cherries in them and a sprinkle of turbinado sugar. It's firm on the outside and soft on the inside.
Ingredients
4

cups

flour

½

tsp

baking soda

1

tbsp

baking powder

1½

cups

butter

1⅓

cups

buttermilk

½

tsp

salt

¼

cup

sugar

dried tart cherries

heavy cream

turbinado sugar
Instructions
Preheat the oven to 425 degrees F. Ready your baking sheet by greasing it first. Set aside.

In a mixing bowl, combine the following dry ingredients: flour, baking powder, baking soda, and sugar.

In a separate mixing bowl, cream together butter and buttermilk. Gradually add in your dry ingredients.

On a clean flat surface, sprinkle it with a bit of flour before you knead the dough gently for about five or six times. Roll out to ½-inch thick and cut with a 4-inch cookie cutter.

Lay the dough on a baking sheet and moisten the edges. Brush the scones with heavy cream and sprinkle them with turbinado sugar.

Bake for 15 minutes. Let the scones cool for 5 minutes before serving.
Nutrition
Sugar:

6g

:

Calcium:

104mg

Calories:

389kcal

Carbohydrates:

38g

Cholesterol:

3mg

Fat:

24g

Fiber:

1g

Iron:

2mg

Monounsaturated Fat:

11g

Polyunsaturated Fat:

6g

Potassium:

93mg

Protein:

5g

Saturated Fat:

5g

Sodium:

545mg

Vitamin A:

1059IU

Vitamin C:

1mg
Nutrition Disclaimer
Frequently Asked Questions
How do I get my scones to rise and be fluffy?
One factor you can check is the amount of water you've added in your mixture. If it didn't rise that much, you might need to add more water. Other things you need to reconsider are your rising agents. For this recipe, the baking powder and baking soda help puff up the dough and make the scones extra fluffy. If the scones didn't rise, then you might need to add a bit more of these. An eighth or quarter teaspoon of baking powder or baking soda can make a difference. Do not add too much because your scones might end up too dense.

How long will homemade scones last?
The key to your scones' shelf life is proper storage. If you have leftover scones, put them inside a plastic or ziplock bag or cover them with foil or plastic wrap. At room temperature, they will last for a day or two. If they are stored in the fridge, then they can last for a week. Scones can even last for two to three months if you put them in the freezer. Just make sure to check the scones for any sign of spoilage or mold before consuming.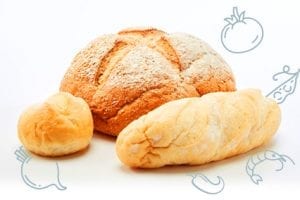 Conclusion
Try the easy and crumbly goodness of this sweet cherry scones recipe now. Each batch yields enough servings that you can share with your loved ones to level up your afternoon tea time.