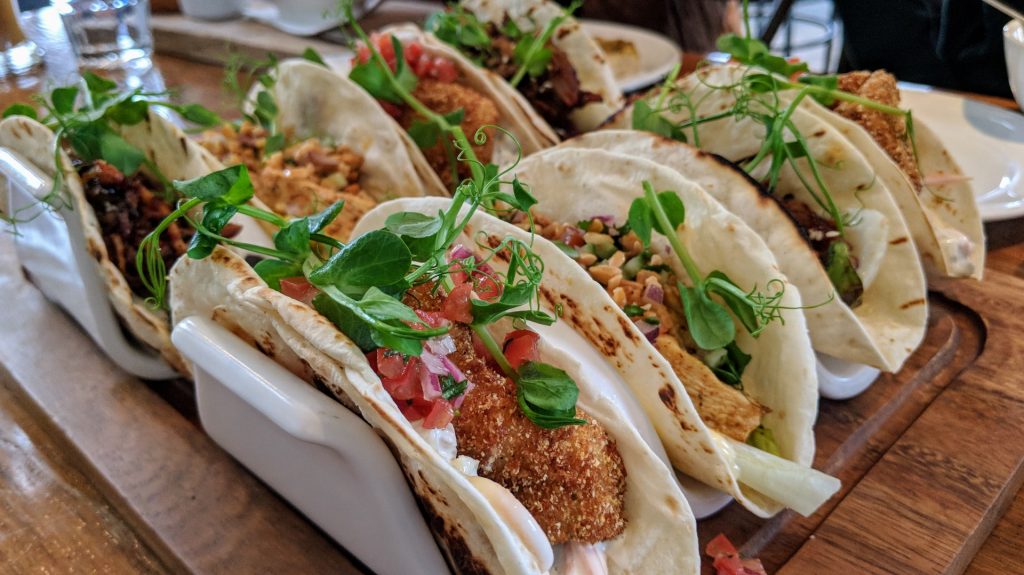 37 Best Leftover Chicken Recipes for Dinners Made Easy
Wouldn't it be such a waste to throw out perfectly good chicken dishes from the day before? To cut down on food waste, perhaps you can whip up some easy shredded chicken recipes. But apart from that, there are lots of other dishes to try to repurpose meat. And that's where knowing the best leftover chicken recipes will come in handy.
If you're interested in discovering what to make with chicken and what else you can do to make old meat taste fresh and new, continue reading. From recipes with rotisserie chicken to healthier ones, we got it all here. Who knows? You might just end up with a few more "real food" ideas for your weekly meal prep!
---
Easy Leftover Chicken Recipes
In this section, we've gathered all the leftover chicken recipes that are fairly easy to recreate. These are perfect for beginner cooks, and for days when you don't have much time or energy to spare. Browse through the short list below.
Northern Indian Chicken Curry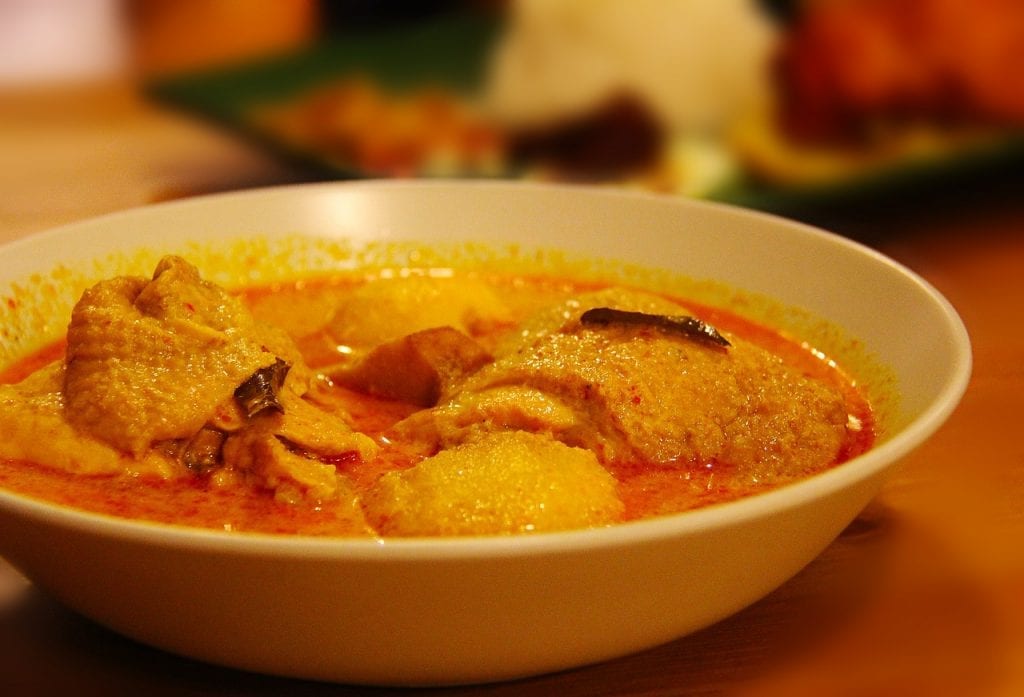 Take out your raw leftover chicken pieces from the fridge and slowly simmer them in chicken broth with a handful of herbs and spices — including homemade garam masala. And in an hour, you'll get to enjoy a rich and saucy chicken curry rendition a la Wolfgang Puck, one of America's very own top chefs. With a serving of fluffy white rice, this is guaranteed to be one of the best recipes for leftover chicken that you can try!
Recipe for Inspiration: Northern Indian Chicken Curry 
Chicken Tacos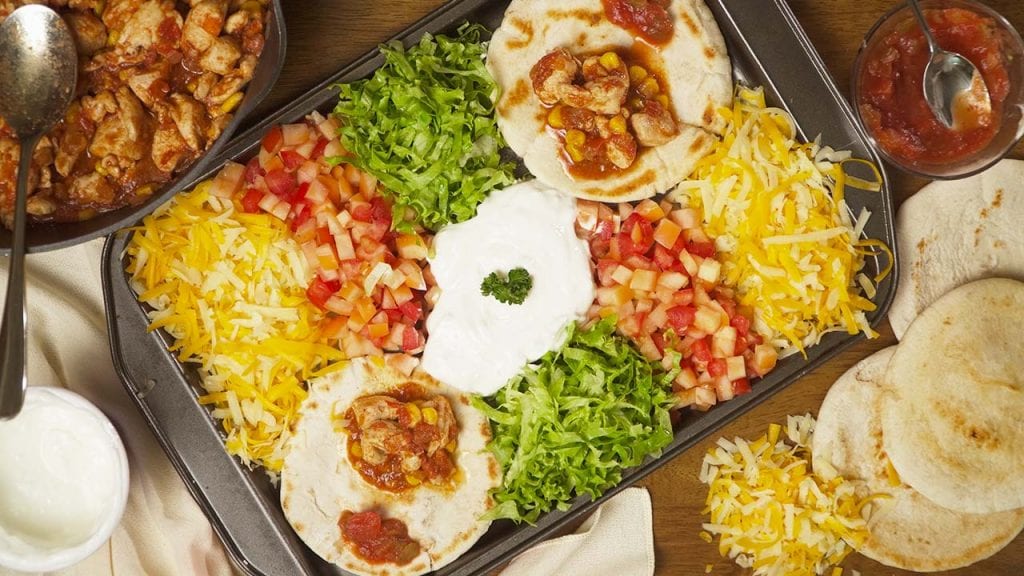 No weeknight dinner plans? If you're up to it, use this recipe to make some sweet and tangy filling for tacos with some leftover chicken chunks. Once done, serve the mixture in toasty flour tortillas, then add shredded cheese, lettuce, and some more tomatoes on top. And voila: you got yourself a meal with one of the easiest recipes using leftover chicken!
Recipe for Inspiration: Easy Chicken Tacos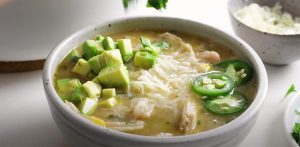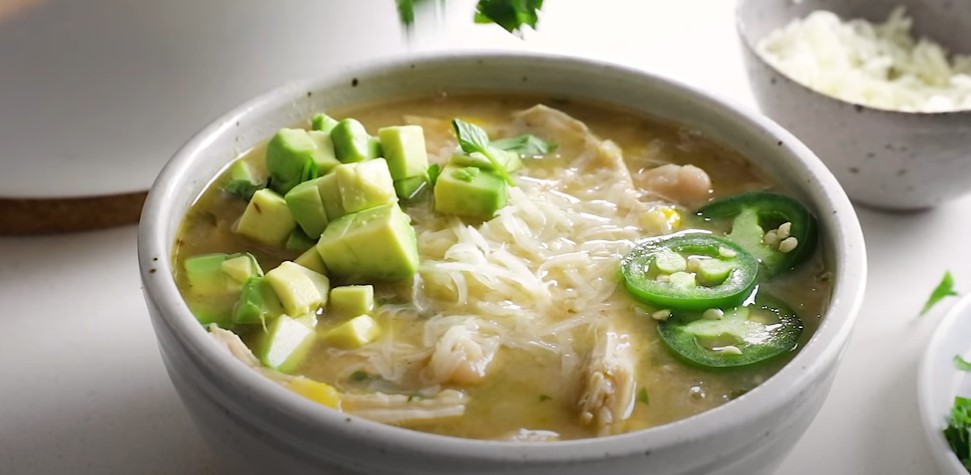 For more brilliant chicken lunch ideas, listen up! Whip up this dish with raw leftover chicken breast nuggets, corn, and beans in broth. This is one of the best chicken leftover recipes if you want something light and comforting, but with a tinge of heat from the chilis and poblano peppers.
Recipe for Inspiration: White Chicken Chili
Stuffed Sweet Potatoes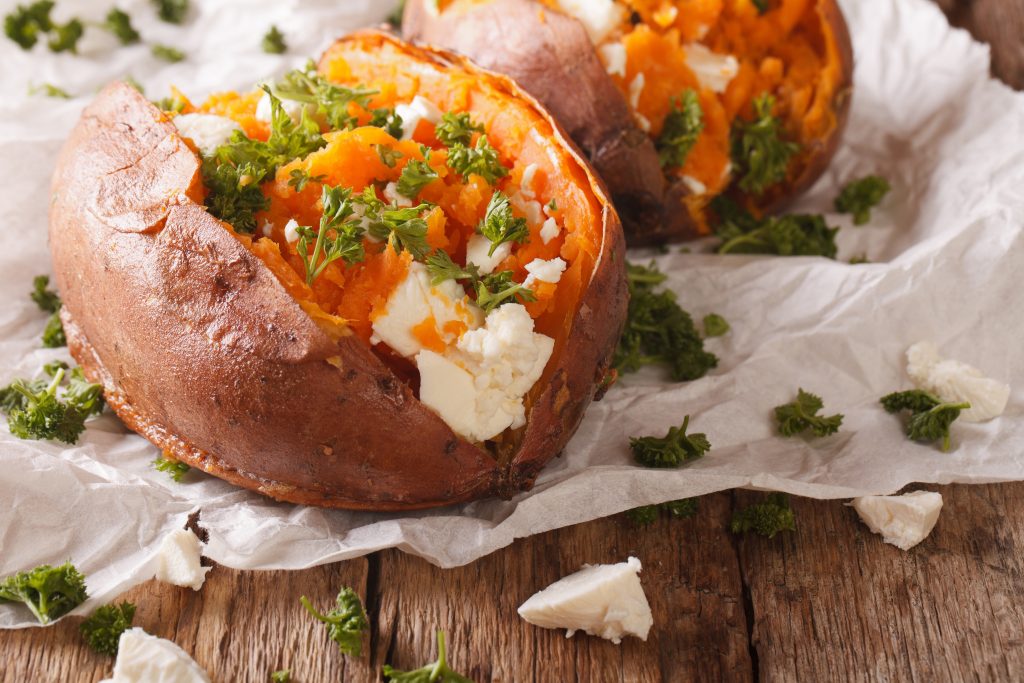 The best thing about recreating recipes with leftover chicken is that you can entirely skip the cooking process of the meat. For this one, proceed to shred and flavor the cooked chicken breast with enchilada sauce. Stuff some slow cooker potatoes with it before broiling, and treat yourself to cheesy spuds loaded with meat for dinner.
Recipe for Inspiration: Chicken Enchilada Stuffed Sweet Potatoes
Chicken Burrito Wrap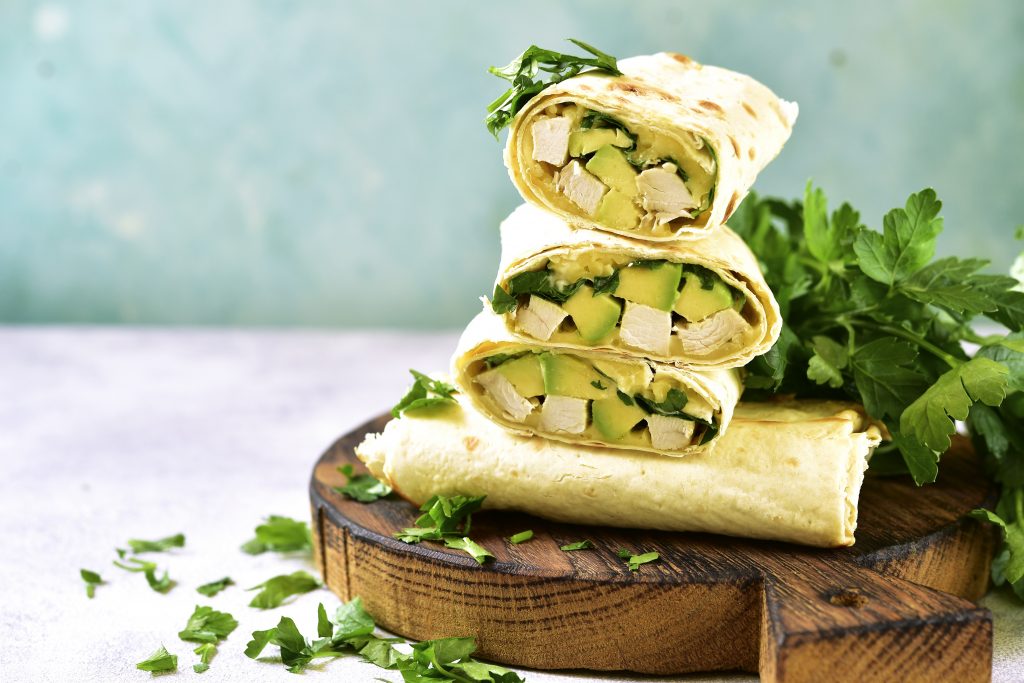 This burrito dish is one of the best leftover baked chicken recipes to try. Not only does it take less than 30 minutes to whip up, but it's filling and delicious as well. With this dish, you can transform unappetizing leftover chicken into a creamy burrito filling. Simply dice it up and mix it with sour cream, cheese, avocado, and seasonings for chicken wraps that truly hit the spot!
Recipe for Inspiration: Baked Chicken Avocado Burritos
Mexican Chicken Corn Chowder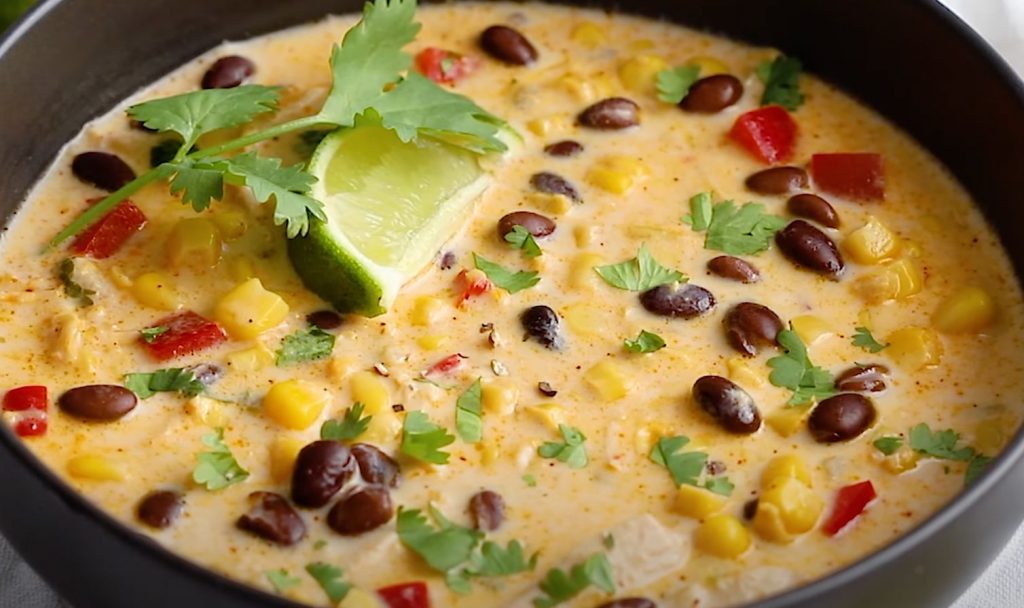 Are you racking up your brain with the question: what can I do with leftover dry chicken? Well, the answer is quite simple. Try your hand at making leftover cooked chicken recipes with chicken broth or sauces to mask the parched meat. Give it a try with this satisfyingly creamy and slightly spicy chicken soup!
Recipe for Inspiration: Mexican Chicken Corn Chowder
Chicken And Waffles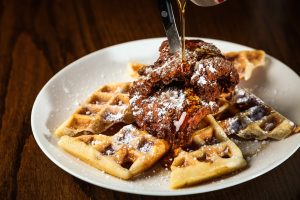 You can absolutely make easy chicken recipes for breakfast, and this dish is one good example of that. For a fun twist on a modern-day brunch staple, serve leftover fried chicken with waffles and a homemade pear butter puree on the side. Just make sure to reheat the meat, and it'll be good as new. Needless to say, this is definitely among the most practical leftover fried chicken recipes out there.
Recipe for Inspiration: Pear Butter Chicken And Waffles
Chicken Stew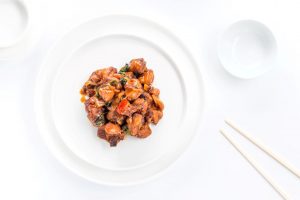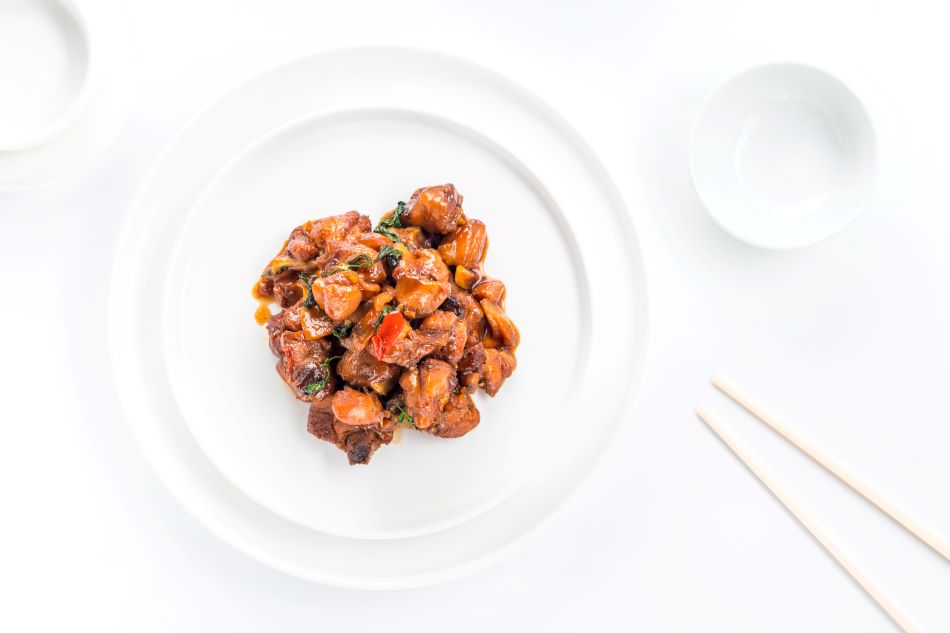 As some of the more traditional easy chicken dinner ideas, it's not surprising that chicken stew managed to make it on this list of ours. Your raw leftover chicken could just be the perfect protein addition to this saucy concoction. And if you only have chicken that's already cooked, ditch the cooking process and stir the meat into the tomato-based mixture just before it's done cooking.
Recipe for Inspiration: Chicken Stew
Chicken Cordon Bleu Bites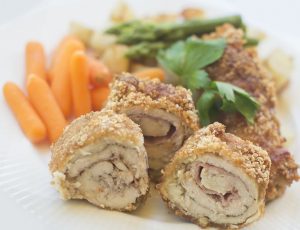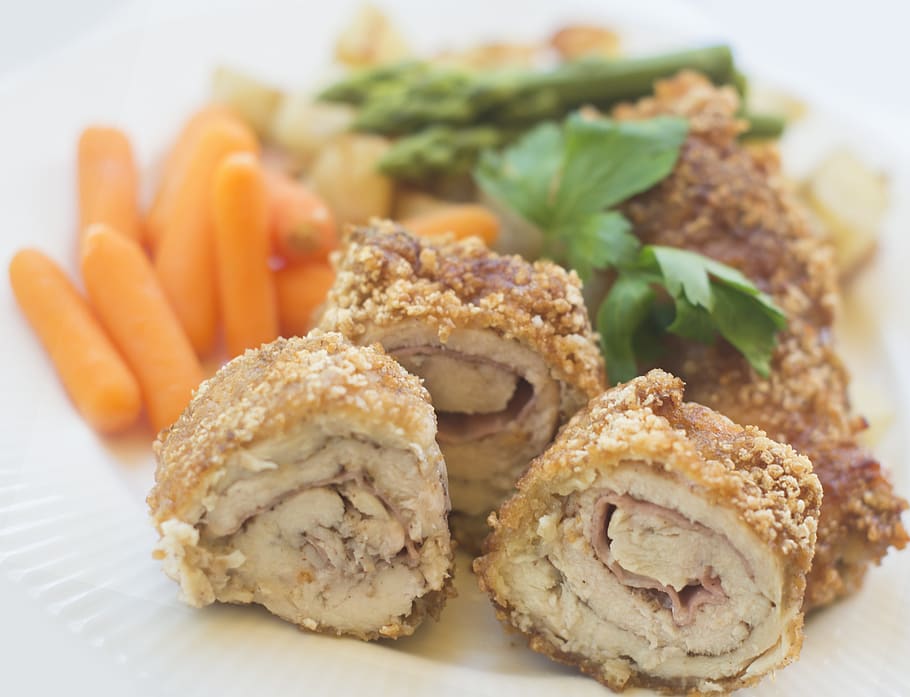 Chicken cordon bleu sounds like a fancy dish that requires a ton of effort, right? But that's not the case with this fun, bite-sized version! Grind pieces of raw, leftover chicken and mix it with ham, egg, and breadcrumbs to start. Then, form the mixture into a ball around some Swiss cheese cubes before deep frying. Time to make some deliciously gooey but easy chicken dinner balls that even kids will love!
Recipe for Inspiration: Chicken Cordon Bleu Bites
---
Recipes for Leftover Rotisserie Chicken
How long is rotisserie chicken good for and how long do they last? Well, the standard is four days, which isn't that long. So to cut down on food waste, one of the best things you can do is to recreate some easy leftover rotisserie chicken recipes! Check out some of them below.
Chicken Noodle Soup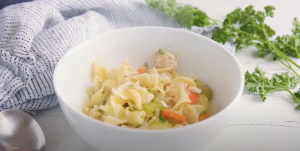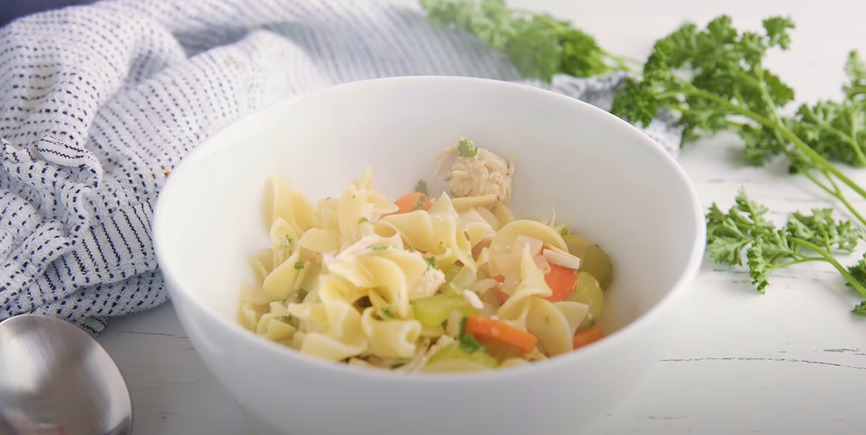 Soup recipes using rotisserie chicken are great renditions of the classic comfort food that we all know and love. Stir some shredded rotisserie chicken into a light broth mixture with egg noodles, and you got yourself a cozy meal for cold days. It's one of the most fool-proof rotisserie chicken leftover recipes you could possibly make for yourself.
Recipe for Inspiration: Rotisserie Chicken Noodle Soup
Chicken Pot Pie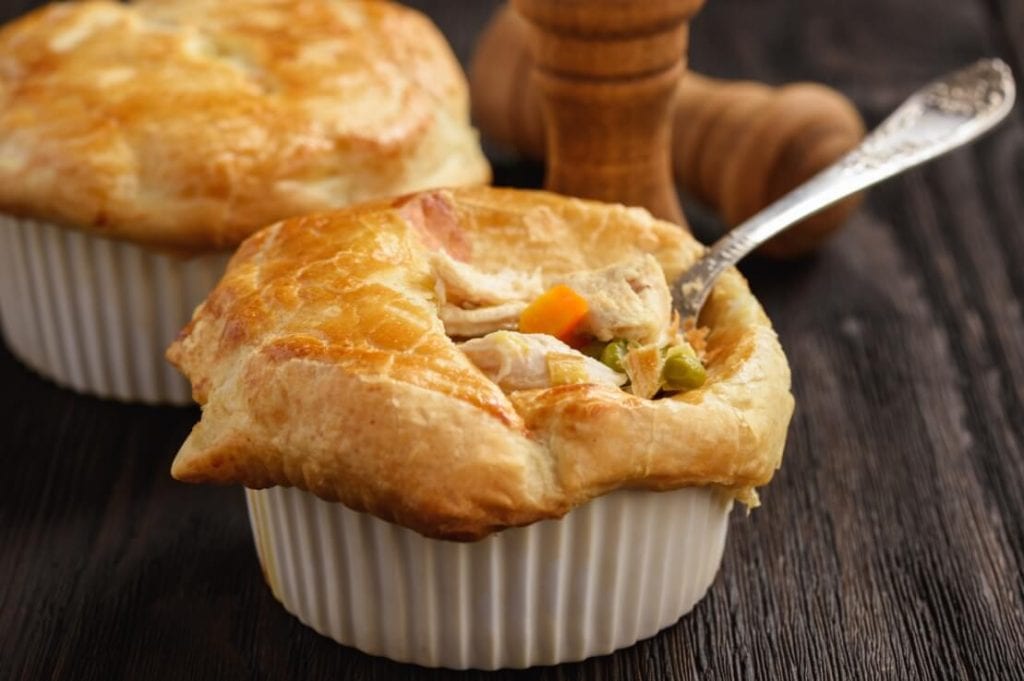 This chicken pot pie made easy is one of the recipes that use a rotisserie chicken that you should check out. That's because, in a little over 30 minutes, this recipe yields a hefty serving of shredded rotisserie chicken and veggies in cream of chicken soup. You can feed a whole family of six with this in your arsenal! Top it with a flaky and buttery pie crust to tie everything together.
Recipe for Inspiration: KFC Chicken Pot Pie 
Chicken Stromboli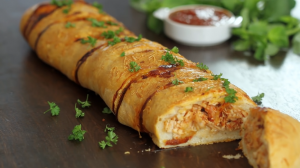 For leftover BBQ chicken recipes such as this one, slather the meat in barbecue sauce to further enhance and highlight the meat's rich smoky flavor. Make a meal out of it by spreading the mixture on top of frozen pizza dough, along with sautéed onions and salty provolone cheese. Then, roll it up and bake it for the tastiest loaded Italian-American turnover without much effort.
Recipe for Inspiration: BBQ Chicken Stromboli 
Potstickers With Buffalo Chicken
Potstickers made with buffalo chicken might be one of the more unusual rotisserie chicken recipes, but it works! Simply toss the shredded meat together with celery, carrots, cream cheese, and hot sauce to make a creamy stuffing for the wrappers. And after you cook it, you can enjoy crisped dumplings with your choice of dip on the side.
Recipe for Inspiration: Buffalo Chicken Potstickers
---
Leftover Chicken Casserole Recipes
Instead of throwing out chicken from last night's dinner, repurpose the meat you have with these leftover chicken casserole recipes! Check out which dishes to try below, and whip up something delicious that tastes good as new.
Chicken Casserole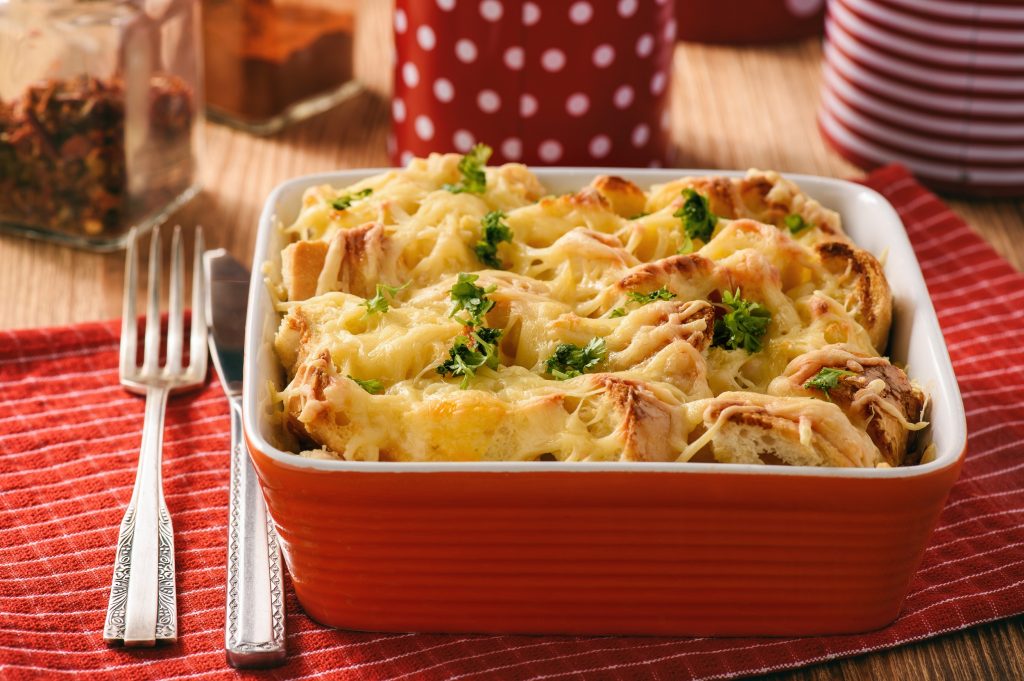 Twenty minutes is all you need to make this chicken casserole recipe. In this dish, the leftover meat will serve as a delicious meaty filling for crescent rolls, along with cheese. All in all, this casserole is savory and creamy with a golden-brown crust since it's baked in a creamy concoction of milk and chicken soup to finish.
Recipe for Inspiration: Crescent Chicken Casserole
Chicken Enchilada Casserole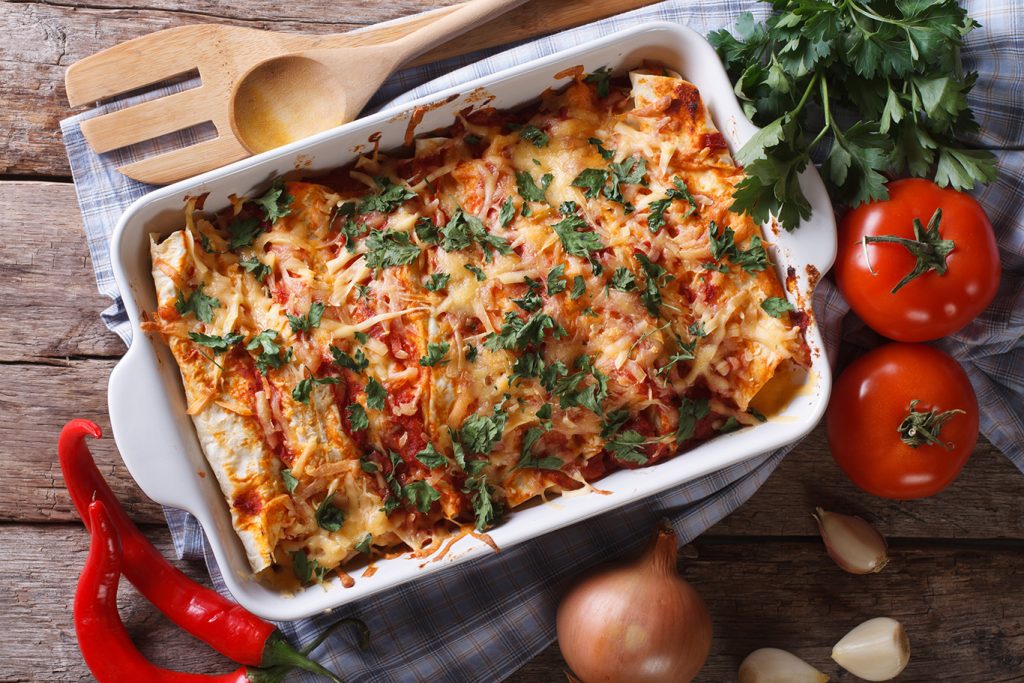 This tasty chicken dinner recipe can transform last night's meal into a scrumptious Mexican delicacy! And although you can make this dish from scratch, you're free to skip the step for cooking the meat if you'll be using leftovers to fill the tortillas. Dig into loaded rolls baked in a rich-tasting ancho enchilada sauce that packs just the right amount of heat.
Recipes for Inspiration: Ancho Chicken Enchiladas
Chicken Pasta Casserole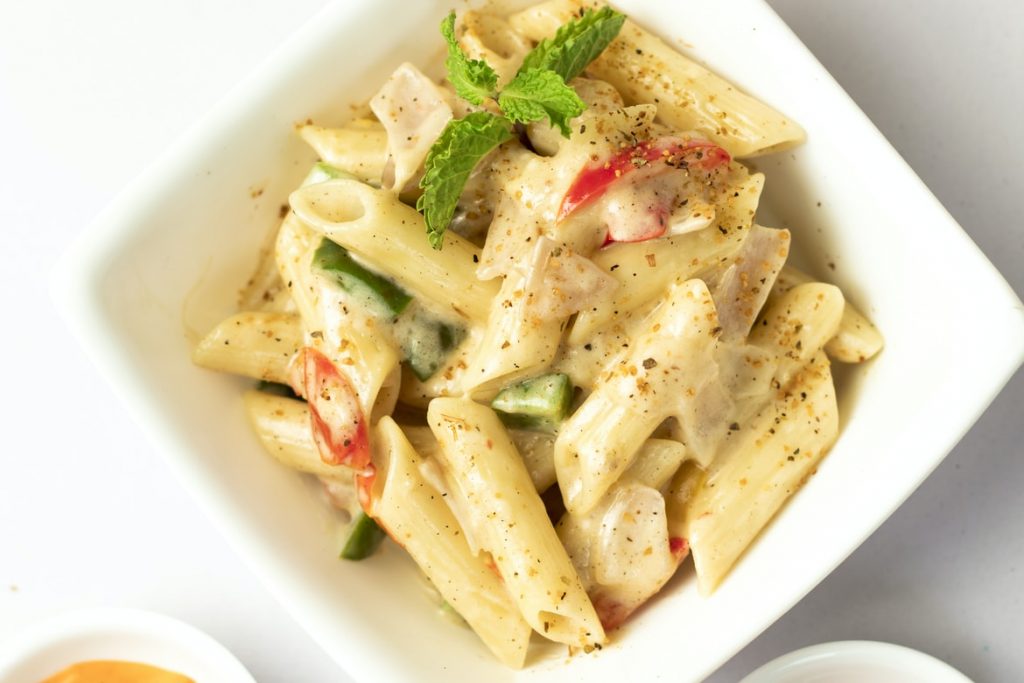 What's better than pasta? Pasta with melted cheese on top! And with this easy chicken pasta recipe, you can finally learn how to make some yourself! Begin by coating some penne pasta noodles in rich and tangy alfredo sauce with ranch, then bake it with mozzarella to finish. Its gooey and oh-so-creamy quality is sure to give all your other chicken recipes for dinner a run for their money.
Recipe for Inspiration: Fiesta Ranch Chicken Pasta Casserole 
Chicken Broccoli Casserole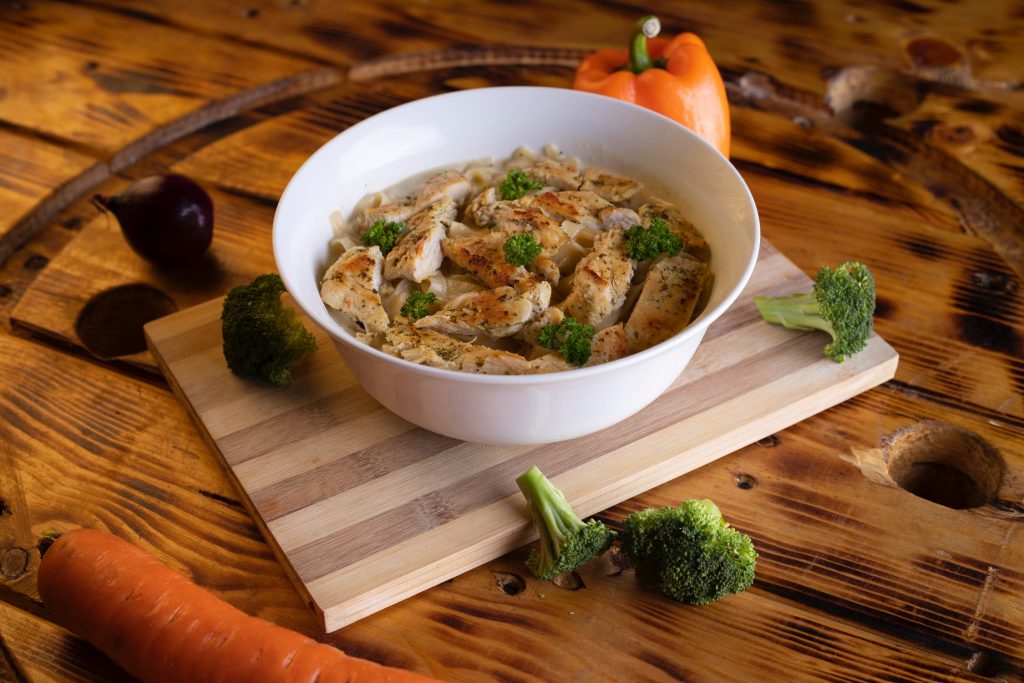 Can't get your kids to enjoy veggies? You may want to try a chicken dinner recipe that masks the flavors of the vegetable. Try this chicken broccoli casserole with veggies, pasta noodles, and meat tossed and baked together in a cheesy alfredo sauce. Serve it warm and fresh from the oven for the best flavor experience!
Recipe for Inspiration: Chicken Broccoli Casserole
Chicken Spaghetti Casserole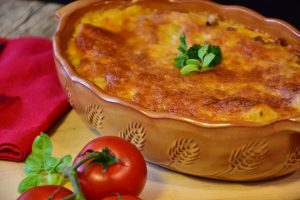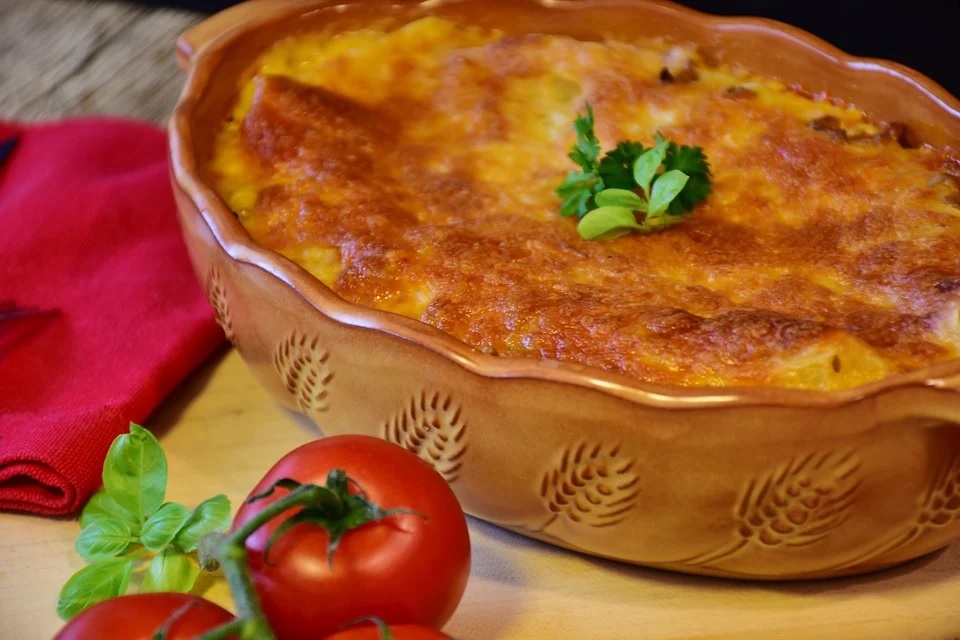 It may sound uncanny at first, but spaghetti makes for one of the best dinner ideas with chicken! The tart marinara sauce clings beautifully to the pasta noodles and smoky rotisserie chicken cubes in this dish. Topped with browned and melted sharp cheddar, parmesan, and bread crumbs, digging into this casserole is always a satisfying experience.
Recipe for Inspiration: Cheesy Cheddar Chicken Spaghetti Casserole
---
Leftover Shredded Chicken Recipes
Shred some pieces of meat and you can make some of the best tried and tested leftover chicken breast recipes out there. Don't believe us? Simply think about what to make with shredded chicken, and you'll be greeted with lots to try! Check out this section and discover easy and practical recipes with shredded chicken.
Onion Soup With Roast Chicken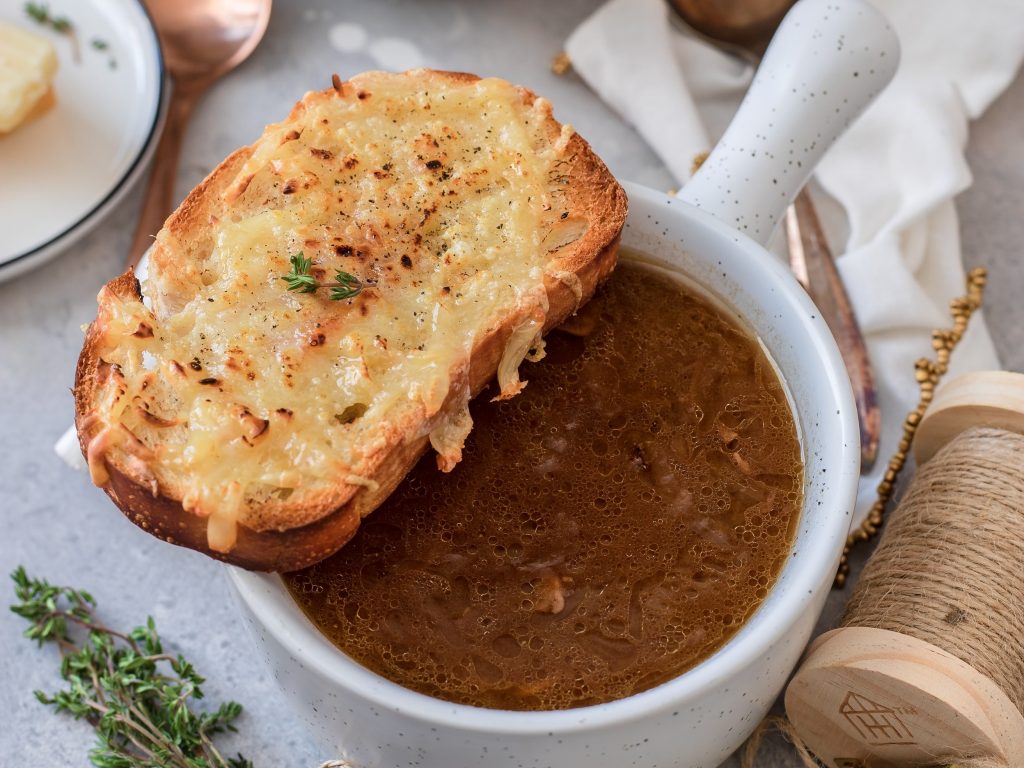 Got roasted chicken to spare? Transform your leftovers into this deliciously savory onion soup. Accompanied by firm campanelle pasta, carrots, and celery, a warm bowl of this dish can surely fill up a grumbling tummy. Not to mention, you can achieve this easy leftover roasted chicken recipe in only five simple steps.
Recipe for Inspiration: Roasted Chicken with Caramelized Onion Soup 
Chicken Tortilla Soup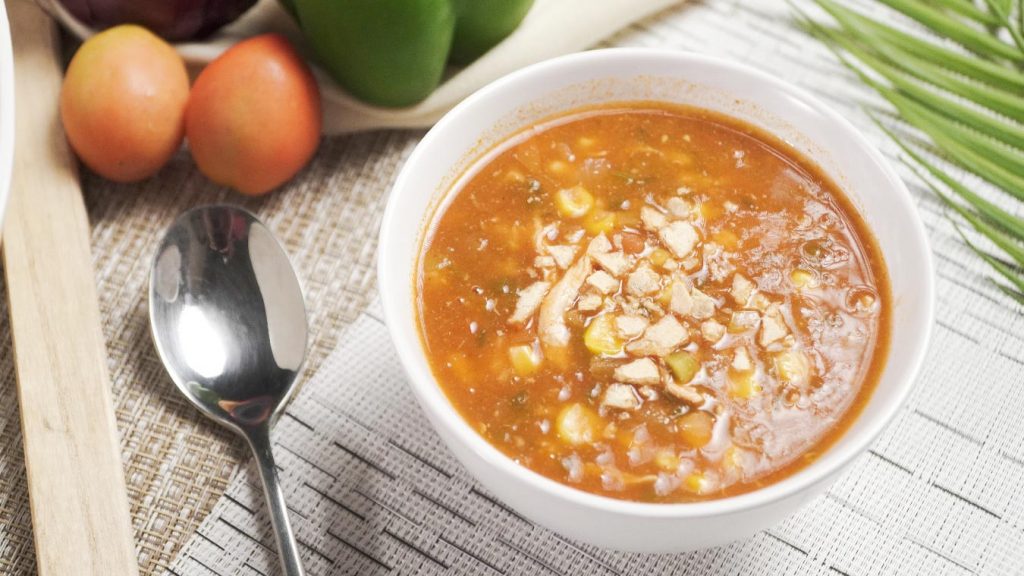 Tender shredded chicken works great for a lot of leftover chicken soup recipes. Take this dish for example. Here, the pieces of chicken add a satisfying layer of meatiness to the thick and tart tomato-based soup. Corn kernels are also stirred into the mix for pockets of sweetness. And of course, don't forget the crispy crushed tortillas on top.
Recipe for Inspiration: Copycat Pollo Loco Chicken Tortilla Soup 
Buffalo Chicken Pizza With Bacon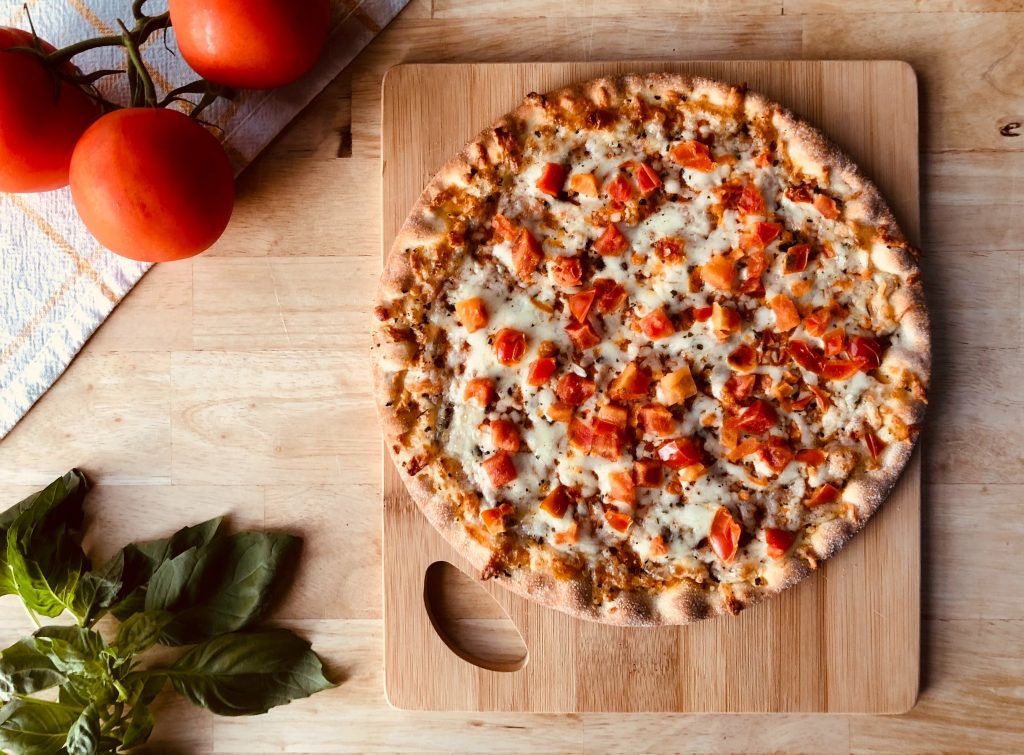 Whip up easy chicken dinners with shredded meat as the main ingredient. For this dish, the chicken is transformed into a tasty topping for pizza. It's tossed in buffalo sauce and nestled over a thick layer of ranch before baking, so you can expect a flavor burst of rich tanginess with each bite. And although this recipe calls for a cauliflower crust, you can make do with any flatbread pizza that you have lying around.
Recipe for Inspiration: Bacon Buffalo Chicken Pizza
Thai Chicken Ramen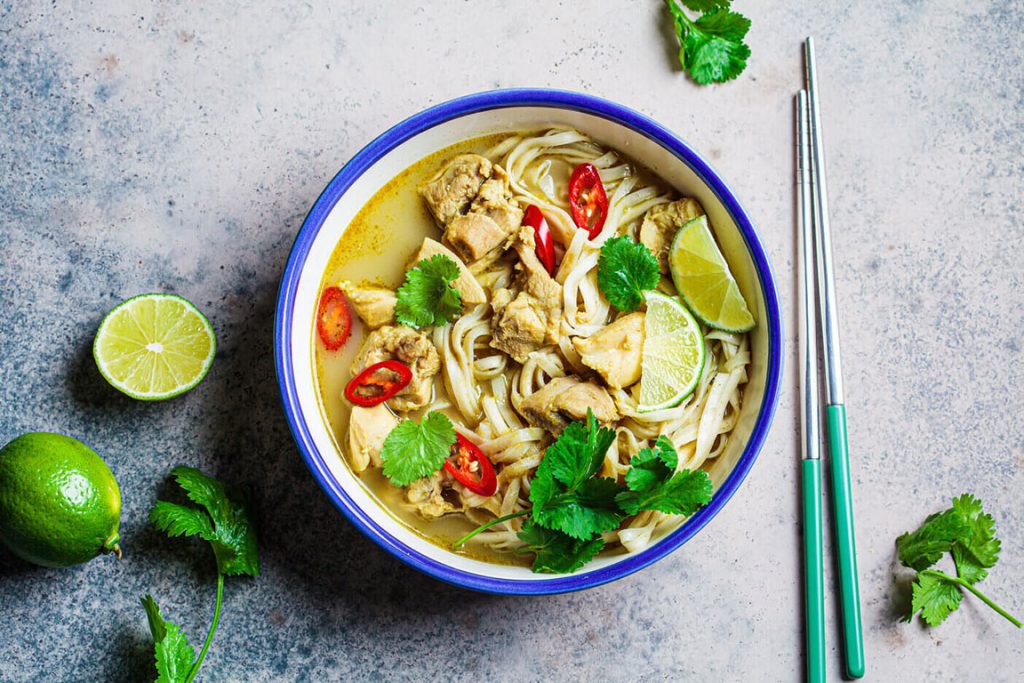 We bet you didn't expect to see ramen in this list of cooked chicken recipes. Although it's not traditional, you can stir some shredded chicken into your noodle soup for something different. This dish is a perfect fusion of the iconic Japanese delicacy and Thai ingredients like green curry and coconut milk. With leftover chicken and tonkotsu instant noodles, who knew that you could achieve something this delicious?
Recipe for Inspiration: Thai Chicken Ramen
Southwest Chicken Quesadilla
Been wanting to try Southwest recipes for chicken? Then this is the sign! Make tasty dishes while using up your leftover meat. In this dish, shredded chicken is smothered with a tangy salsa-mayo blend that works well with buttery Monterey Jack cheese. This tasty mixture is perfect when sandwiched in between toasty flour tortillas!
Recipe for Inspiration: Southwest Chicken Quesadilla
---
Leftover Chicken Recipes With Pasta
We can't discuss what to do with leftover chicken without mentioning pasta. Check out this section and discover all the different ways of incorporating this type of meat into iconic pasta dishes.
Mac and Cheese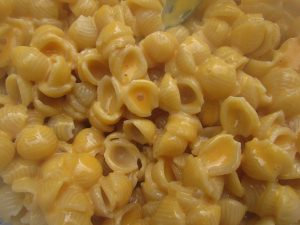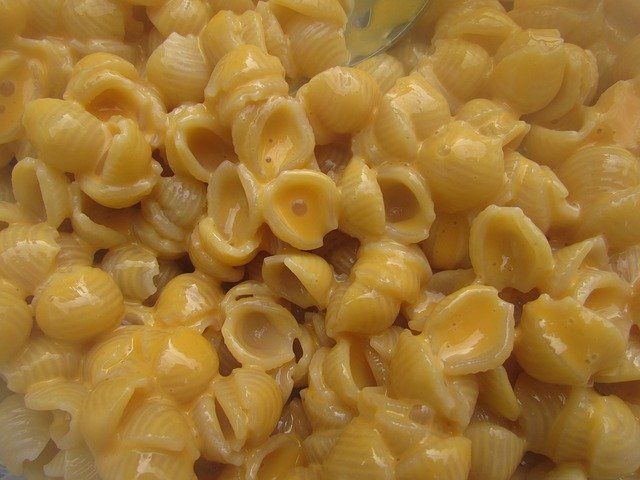 First on this list of leftover chicken recipes with pasta (and in our hearts) is good ol' macaroni and cheese. Arguably, a simple and classic rendition of this cheesy pasta dish already tastes delicious on its own. However, a combination of pasta, cheese, and chicken does sound awfully good — and it is! So stir in your leftover meat and veggies into this dish for a hearty twist on a family dinner staple.
Recipe for Inspiration: Macaroni and Cheese
Chicken Gnocchi Soup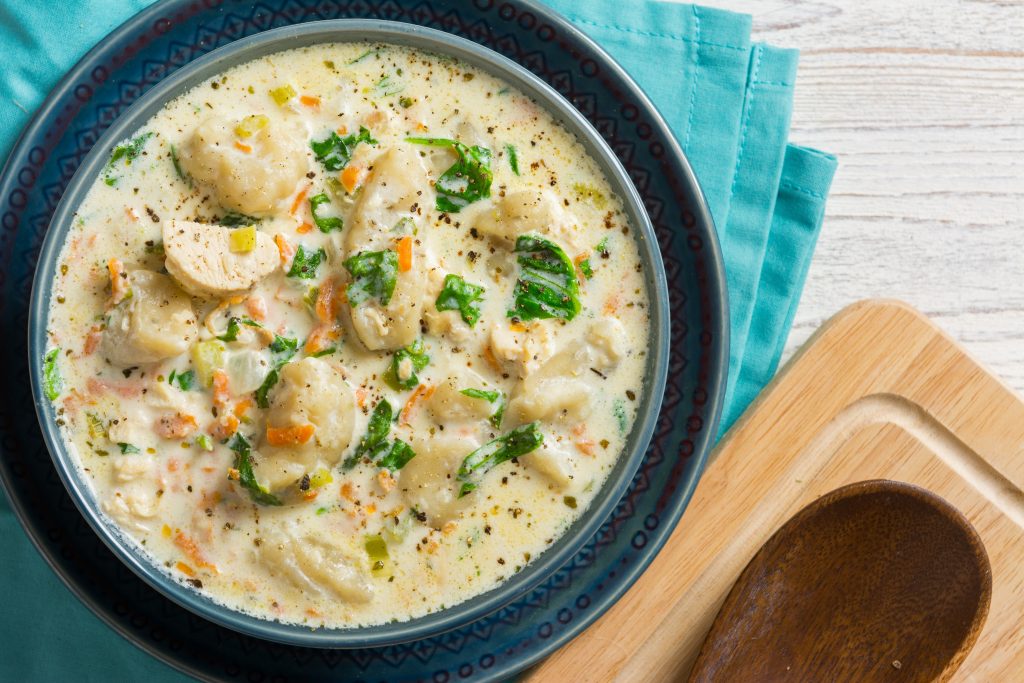 In this recipe, cooked chicken dives into a creamy mixture of chicken broth and half-and-half. Coupled with diced celery, carrots, and spinach, all the ingredients work together to complement the true star of the dish: fluffy gnocchi pasta. This rich-tasting and filling dish is the comfort food that you deserve.
Recipe for Inspiration: Chicken Gnocchi Soup
Chicken Pasta Salad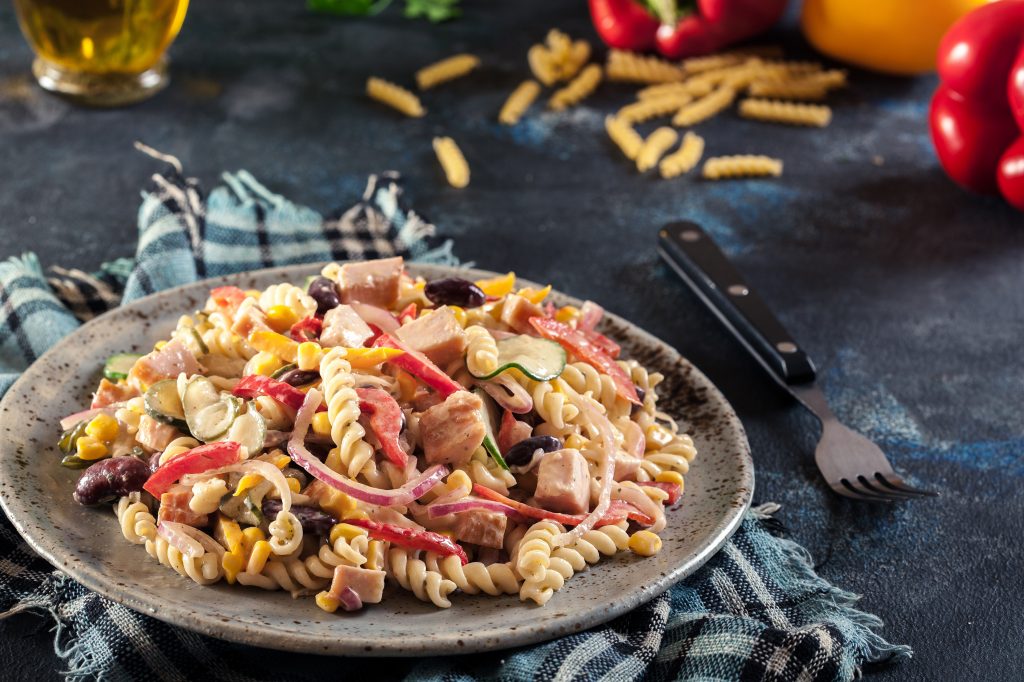 In a way, pasta recipes with chicken can help you down your greens. For this dish, chopped chicken breasts are tossed in a tart creamy sauce with broccoli and tomatoes. On top of bacon and pasta, the pieces of chicken add a necessary meatiness that helps balance out the acidity of the yogurt-buttermilk dressing. We recommend serving this chilled for the best experience!
Recipe for Inspiration: Creamy Chicken Pasta Salad
Pasta With Chicken And Bacon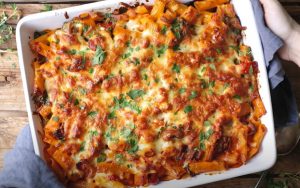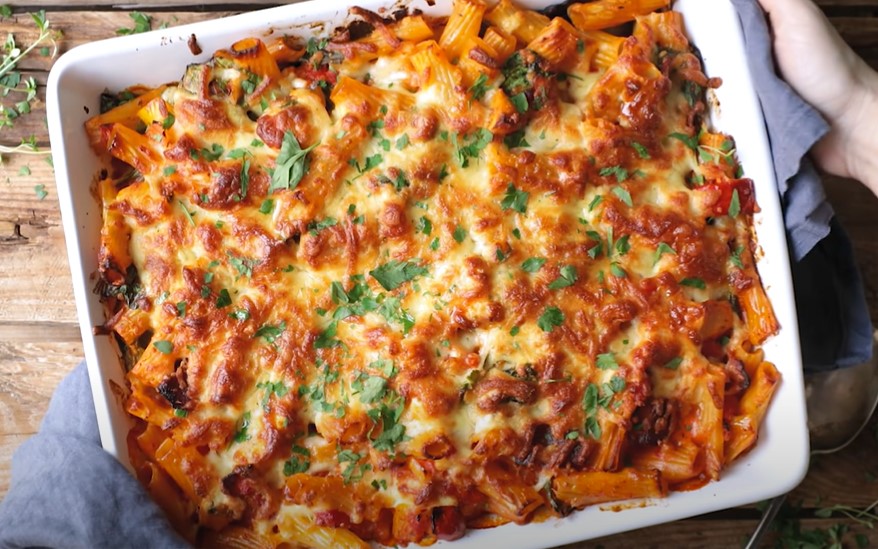 For leftover chicken recipe ideas, the meat doesn't have to be completely incorporated into the dish. On some occasions, you can simply chop up the chicken and serve the pieces as a side dish or topping. That's exactly the case with this recipe. If you have leftovers, you can skip cooking the meat and focus on whipping up the tastiest cheesy pasta base. Top the meat before serving, and you'll have a complete meal before you even know it.
Recipe for Inspiration: Chicken Bacon Pasta 
Chicken Alfredo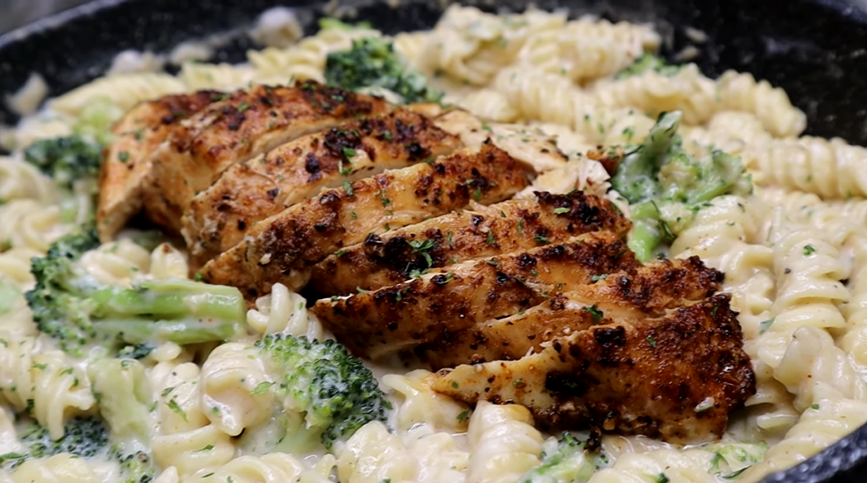 Pasta is one of the best answers if you're wondering what to make with rotisserie chicken. And with the help of leftover rotisserie chicken pasta recipes like this one, making some for yourself is now easier than ever before. With a short 20-minute cooking time and four simple steps, you can throw together this meal of chicken and egg noodles coated with a classic creamy alfredo sauce.
Recipe for Inspiration: Easy Leftover Rotisserie Chicken Alfredo
---
Leftover Chicken Recipes With Rice
Rice is one of the best sides to have with chicken. In this section, learn how to repurpose leftover meat with the help of this filling grain.
Chicken Fried Rice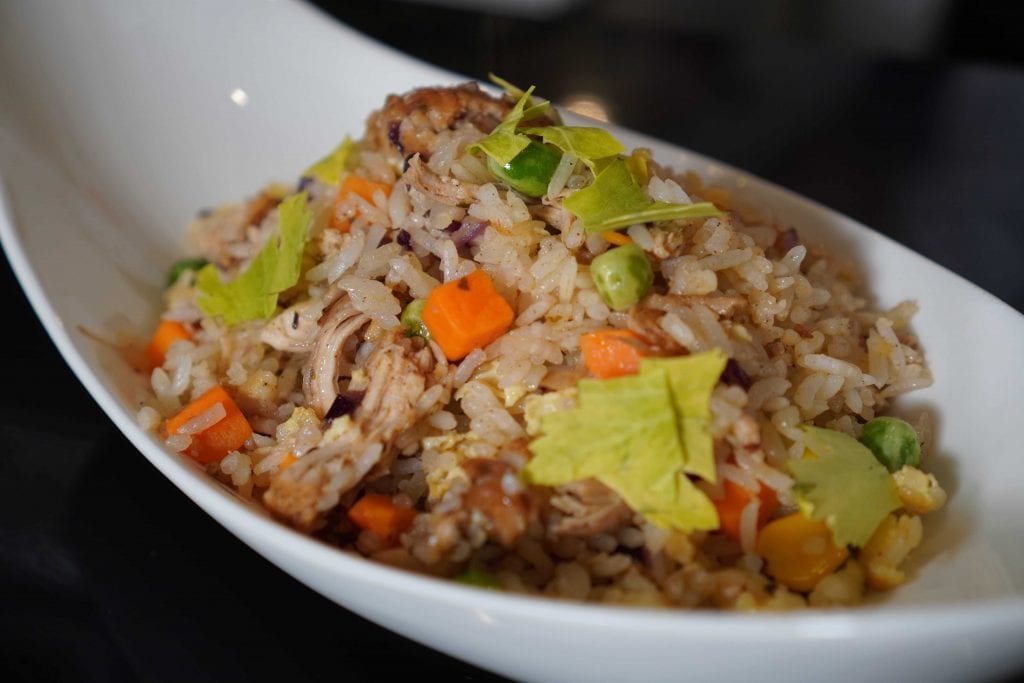 Picture your favorite egg fried rice, but better. That's exactly what this chicken dish is. And apart from being able to use the meat that's been sitting around in your fridge, you can use leftover rice for this, too. So, hit two birds with one stone and make this filling fried rice dish with bits of chicken, egg, and mixed veggies! This is easily one of the best leftover chicken and rice recipes that you can try.
Recipe for Inspiration: Shredded Chicken Fried Rice
Chicken Biryani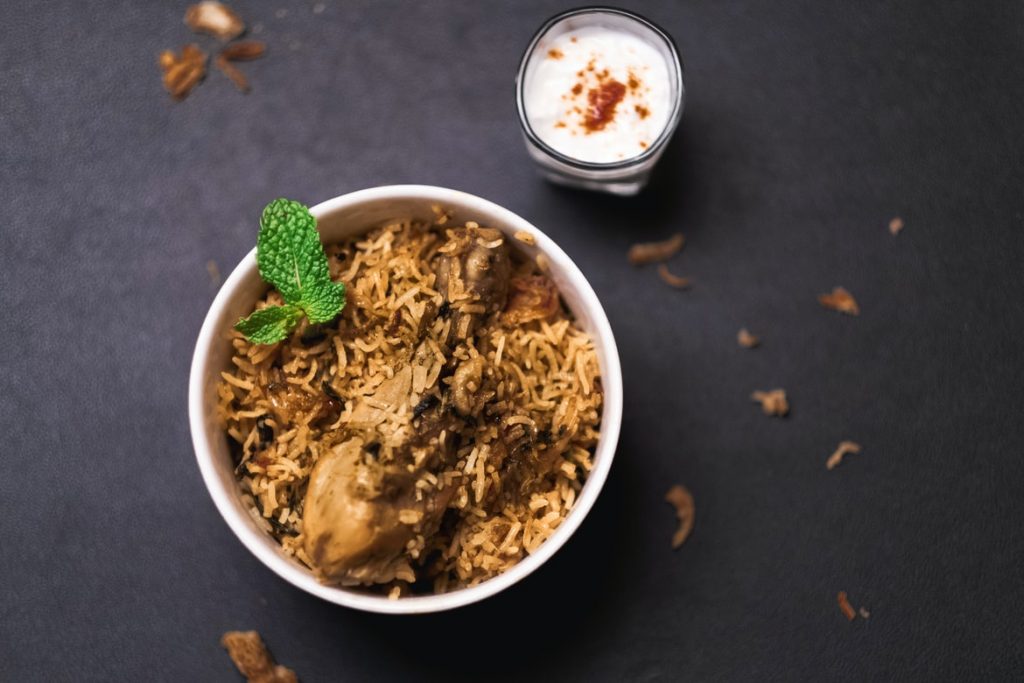 This recipe for cooking chicken can take your taste buds to a whole new continent! Savor the Middle Eastern flavors with the colorful combination of herbs and spices in this dish. Unlike other techniques, you toss the cooked chicken in the seasoned rice just as you're about to cook it. As a result, both the meat and grains turn incredibly tender and aromatic. Sprinkle with almonds and cilantro to garnish!
Recipe for Inspiration: Weeknight Chicken Biryani
Risotto With Chicken and Mushroom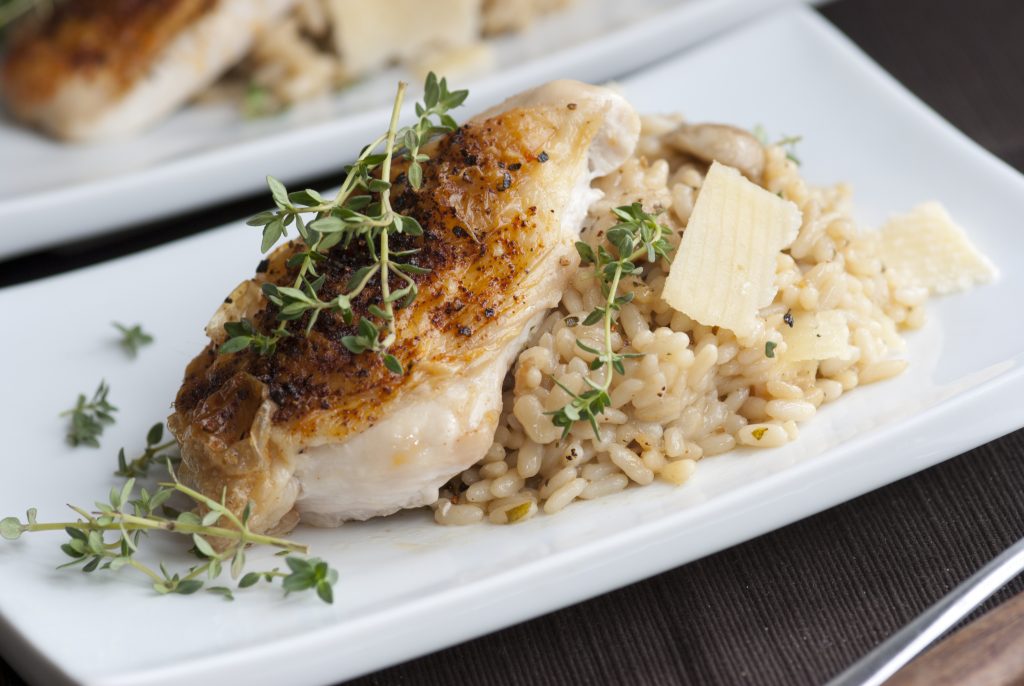 Risotto may sound luxurious and difficult to achieve, but it isn't! Try making some by simply stirring rice in chicken broth or stock, along with sauteed mushrooms. This sounds scrumptious with chicken, doesn't it? This deserves a spot in your list of chicken meals to try.
Recipe for Inspiration: Mushroom and Chicken Risotto
Casserole With Chicken And Rice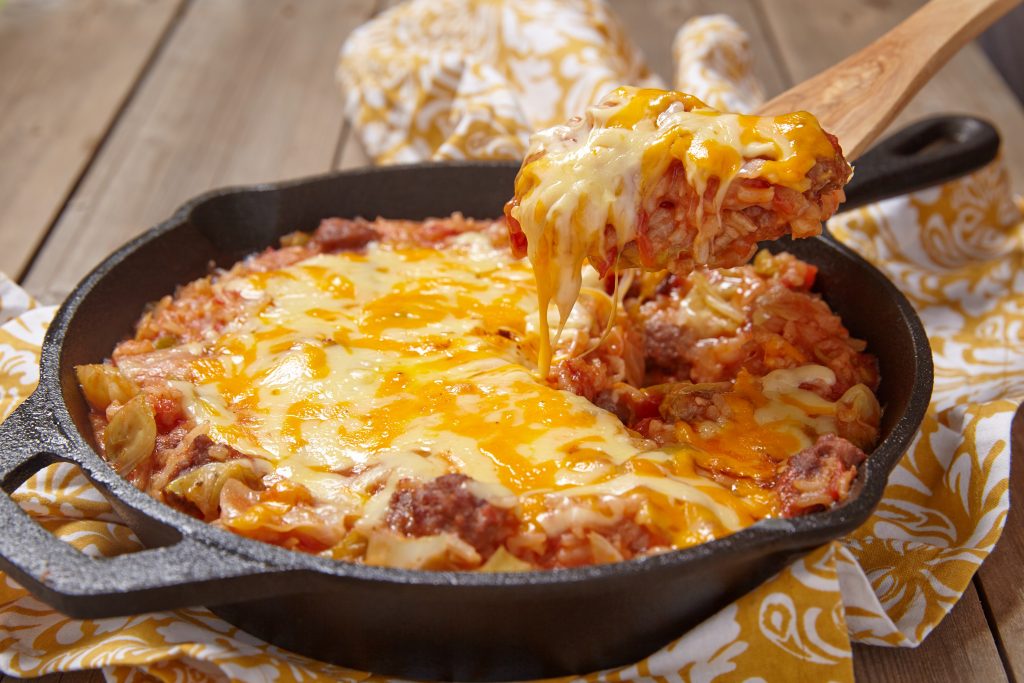 You may have already heard of other leftover chicken breast recipes for casseroles. But what truly sets this dish apart from the rest is the fact that it's made with fluffy rice. It's by no means a traditional casserole ingredient, but it tastes great slathered in salsa and baked with shredded chicken and cheese on top.
Recipe for Inspiration: Salsa Chicken and Rice Casserole
---
Healthy Leftover Chicken Recipes
Whether you're on a keto, low carb, or gluten-free diet, there are chicken recipes suited for your diet. But while you're here, check out these dishes that call for fruits and veggies that contain a good amount of good nutrients for your body.
Chicken Salad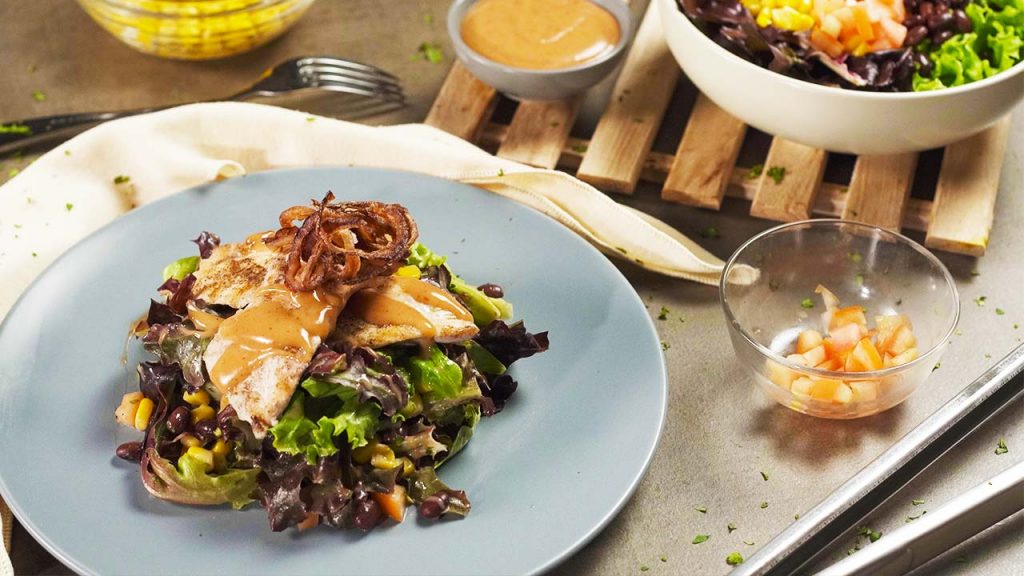 With the help of this chicken recipe, you'll get to enjoy all the saucy and smoky goodness of barbecue chicken in salad form! But instead of coating the meat, toss your salad greens, tomatoes, cilantro, corn, and black beans in barbecue sauce. Simply top it with your leftover chicken breasts on top, and you're all set for experiencing one of the best chicken recipe ideas.
Recipe for Inspiration: Barbecue Chicken Salad
Fiesta Chicken Salad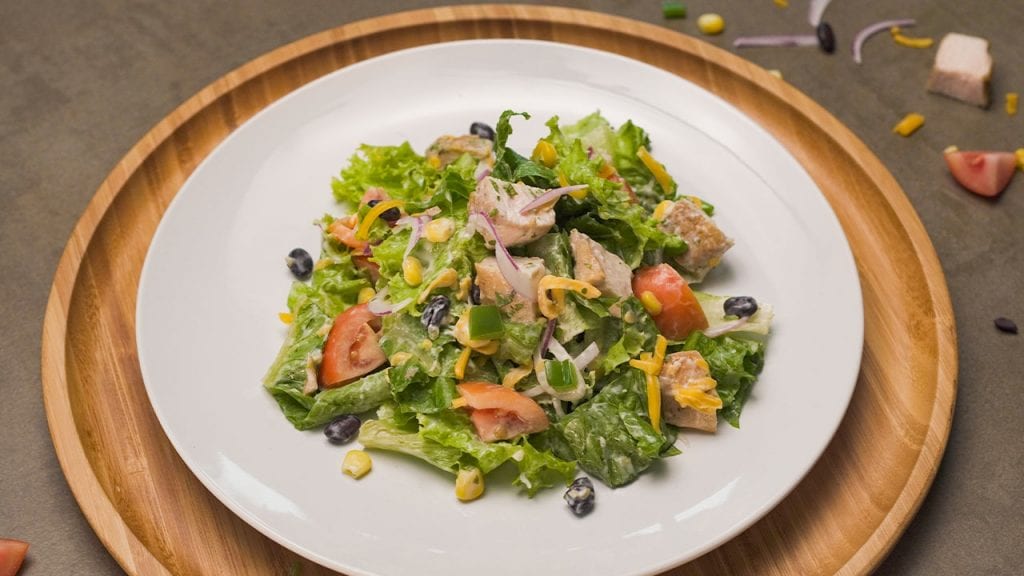 Who said recipes for leftover grilled chicken can't be festive? If you're up to it, you might want to check out colorful salad chicken recipes for dinner such as this one. So, chop up some cooked chicken breasts from the day before and stir them into a salad bowl. Not only will you be doing the environment a favor by reducing food waste, but you'll also get to enjoy an added element of flavor and protein in your dish!
Recipe for Inspiration: Copycat Applebee's Fiesta Chicken Salad
Chicken Salad Sandwich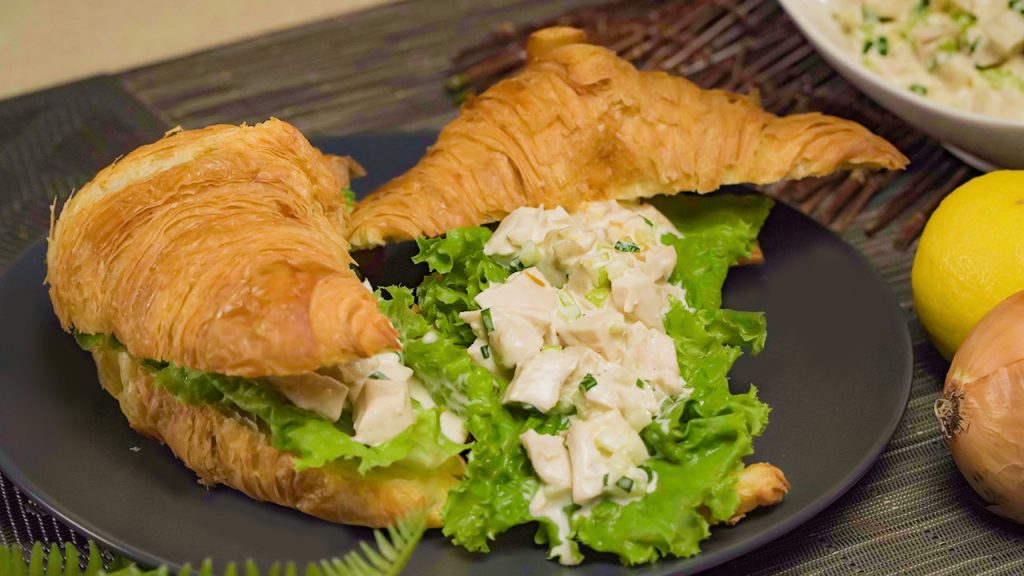 For quick and easy chicken recipes, don't just stop at making salads. Because thanks to this one, you can now whip up chicken salad sandwiches! Spend a few extra minutes on assembling the dish, and we guarantee that the creamy chicken and veggie filling is definitely worth the wait.
Recipe for Inspiration: Healthy and Simple Chicken Salad Sandwiches
Chicken Lettuce Wraps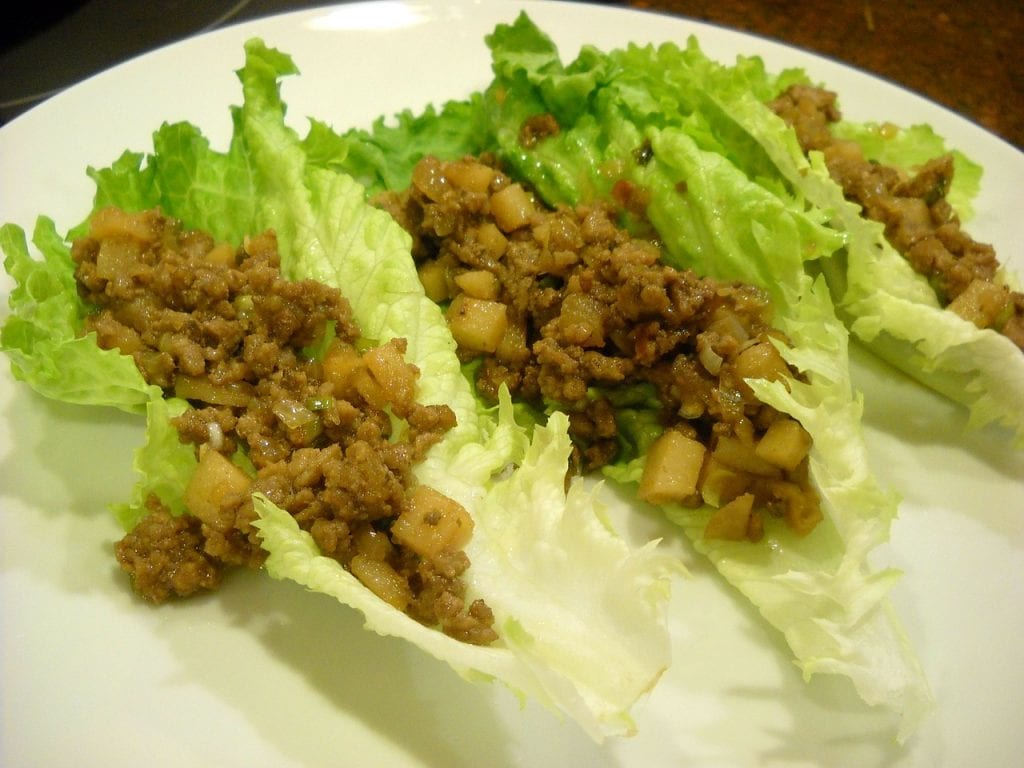 Eating lettuce wraps is another healthy way of having your fill of vitamins and minerals from veggies. For this dish, cook some raw ground meat for the filling. Or, you can also use already cooked chicken leftovers if you have them. Either of these two will taste great wrapped in crisp iceberg lettuce. We recommend serving this dish with sweet chili soy sauce on the side for extra flavor.
Recipe for Inspiration: Chicken Lettuce Wraps
Chicken Dumplings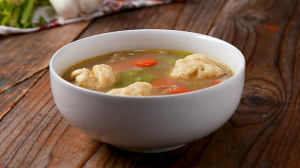 Soup is good for the soul. And of course, soup is also good for the body if made with the right ingredients. This chicken meal that's chock-full of meat and veggies is a good example of that. So dig into this soup's light chicken-based broth, and enjoy morsels of corn, carrots, biscuit, and chicken with each spoonful.
Recipe for Inspiration: Chicken Dumpling Soup