This KFC Chicken Pot Pie is finger-lickin' good indeed with its crunchy crust yet tender and creamy filling. Bring the KFC goodness to your own home and start serving this delicious chicken pot pie with puff pastry to your family and friends.
Read on and discover how easy it is to make mini chicken pot pies with this copycat recipe. If you're not familiar with what's inside chicken pot pies, worry not, because we'll talk a bit about the ingredients needed and tips that would come in handy when making them. For more finger-lickin' good dishes that you can bring home from the KFC menu, our Copycat KFC Recipes are just waiting for you.
What's In Our Copycat KFC Chicken Pot Pie?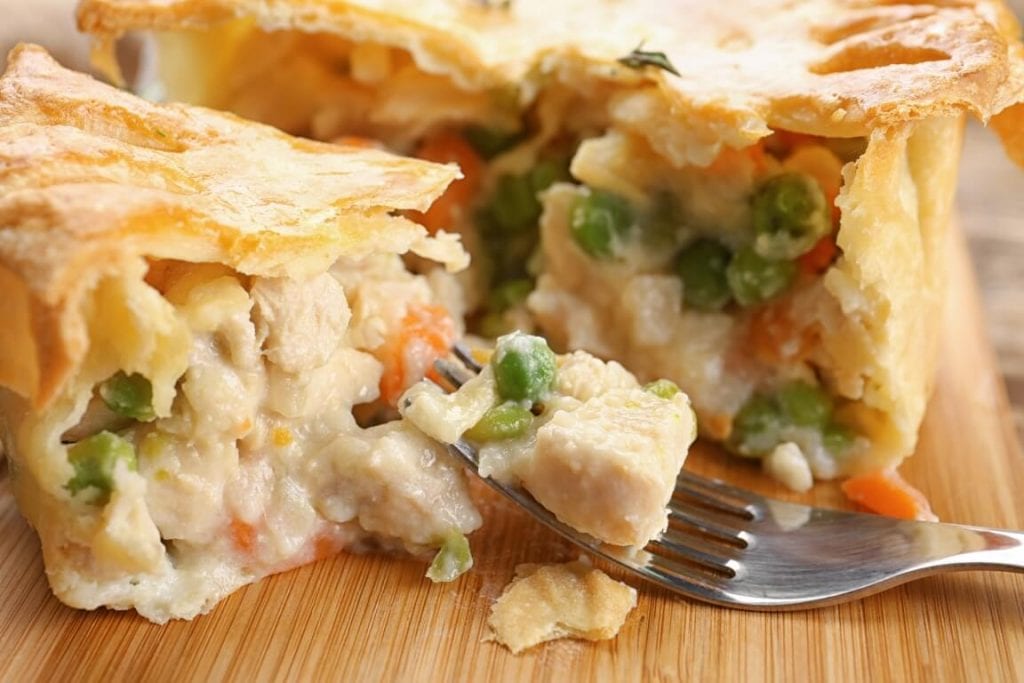 The famous KFC Chicken Pot Pie is carefully cooked to achieve that crusty and golden brown pastry exterior while keeping it moist and creamy on the inside. It's filled with creamy stuffing made up of hand-deboned chicken and fresh vegetables with milk. 
So if you're wondering what makes our chicken pot pie with puff pastry so delicious and comforting, let's run through the ingredients in this recipe and some alternatives you can try:
Crust – We used sheets of puff pastry dough for this recipe and made a disc shape before assembling it around the pie pan. We made chicken pot pie using puff pastry to achieve that sweet and buttery taste of the crust along with those crusty edges.

Sauce –  To make the sauce creamy, sweet, and savory, we also used cream of chicken soup, milk, and sugar. You can also add some butter to your sauce if you like. 

Filling – We used deboned and shredded rotisserie chicken meat. Chicken breasts or thighs would be ideal cuts to use in making pot pie as well. We also added in vegetables like potatoes, carrots, and peas.
Tips In Making Healthy Chicken Pot Pie 
Not only does this recipe require minimal ingredients but also minimal effort. This chicken pot pie with puff pastry is already pretty easy to make but we still have a couple of tips for you in making it: 
To make the preparation easier for you, you can opt for diced rotisserie chicken for this recipe. Check out our

Copycat Boston Market Rotisserie Chicken Recipe

and see how much flavor it can offer to your pot pies. 

This recipe includes peas and carrots for the frozen vegetables used for the filling, but you can also add in or replace them with broccoli, cauliflower, or corn. 

For an additional cheesy flavor, try to add some shredded cheddar cheese or any cheese of your choice to the pot pies 5 minutes before the end of its baking time. 
Using Puff Pastry To Make Mini Chicken Pot Pies
Puff pastry is so convenient to find and to cook with, so if you want to make things easier for you in making this delicious comfort food, we highly recommend opting for puff pastry in making your chicken pot pie similar to KFC's. Here are a couple of tips for using puff pastry in making your chicken pot pies:
You can easily look for store-bought puff pastry dough in supermarkets. 

You can also your mini chicken pot pies in ramekins instead of foil tins if you prefer. Although note that if you do this, you should bake your pot pies for 20 minutes.

Instead of covering your pot pie filling with puff pastry and sealing as we did in this recipe, you can make 1-inch thick slices on each puff pastry sheet using a pizza cutter. Then make a criss-cross design using the puff pastry strips on top of your mini pot pie filling instead.
If you want to know how to make crockpot chicken pot pie and instant pot chicken pot pie, don't miss our CAQs section below. This version of the recipe is made with shredded chicken mixed with veggies and milk. Its creamy and lean mixture is great to serve with perfectly roasted brussel sprouts, fruit salad, or sauteed asparagus. Try it for yourself! 
How To Make Chicken Pot Pie (KFC Copycat)
Recreate this easy-to-bake chicken pot pie recipe just like KFC. Savor on its crunchy pie crust and hearty and moist chicken and vegetable fillings.
Ingredients
5

red potatoes,

diced

1

cup

carrots,

chopped

1½

cups

peas,

frozen

28

oz

cream of chicken soup

2

cups

milk

1

tsp

sugar

2

sheets

puff pastry dough

1

rotisserie chicken,

shredded

Salt and pepper,

to taste
Instructions
Preheat the oven at 400 degrees F.

Boil the potatoes and carrots until they're tender. 

Drain the liquid and add the peas. Set this aside.

Combine the soup, milk, and sugar in a pot and bring it to a simmer.

Add in the chicken, potatoes, carrots, and peas and let it simmer until warm while stirring frequently.

Line 6 pieces of 5 to 6 inch-foil tins with the first sheet of puff pastry dough and scoop the mixture into the shells.

Moisten the edges of the pastry dough, top the tins with more dough using the second sheet, and press the edges to the rim to seal together. Bake for 18 minutes.

Serve immediately and enjoy!
Nutrition
Calcium:

152mg

Calories:

968kcal

Carbohydrates:

86g

Cholesterol:

115mg

Fat:

50g

Fiber:

7g

Iron:

5mg

Potassium:

1186mg

Protein:

45g

Saturated Fat:

14g

Sodium:

1563mg

Sugar:

11g

Vitamin A:

4226IU

Vitamin C:

31mg
Nutrition Disclaimer
Commonly Asked Questions
How do I make slow cooker chicken pot pie?
Place all the ingredients in your slow cooker and cook your pot pie filling on high for 5 to 6 hours. Add your frozen vegetables and let it cook for another 1 hour. Scoop your filling into the foil tins and proceed with the recipe instructions from there.
Can I make chicken pot pie ahead of my cooking time?
Of course! Take note that you have to cover your uncooked assembled pot pies with foil before putting them inside your fridge. You may store it for up to 3 to 5 days. Once you're ready to serve them, go ahead and bake them according to our recipe instructions and be ready to serve delicious pot pies in no time.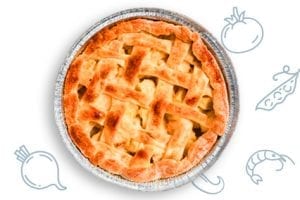 Conclusion
KFC's classic chicken pot pie will satisfy your craving for something light and tasty with this easy recipe. You don't need to go out to experience its salty, sweet and creamy taste. Follow this helpful and easy recipe! Serve this with your favorite roasted veggies and you'll have the perfect dessert of your night.
Related Pies & Pastries Recipes