Fried rice is a quick, easy, and relatively healthy weeknight meal that you can make with leftover meat and rice. If you're tired of eating the same thing 3 nights in a row, fried rice is a great way to use up whatever you have in the fridge.
When you get Chinese takeout cravings, try this recipe at home and taste the difference. You get to manage the ingredients you're putting into your food. Since you can make this recipe with just leftovers, you have more flexibility with what you put in it. Fix your cravings without all the excess!
We recommend adding our Black Pepper Shredded Chicken to this recipe to give your chicken fried rice a dash of hot peppery taste!
How to Make Shredded Chicken Fried Rice
This fried rice recipe can easily be made with leftover rice and basic ingredients you have in your fridge. Feel free to experiment with different flavors and make your own fried rice dish!
Ingredients
Vegetable oil

as needed

35

g

onion

finely sliced

75

g

garlic

finely minced

Salt

as needed

750

g

rice

cooked and cold

2

eggs

beaten

150

g

mixed vegetables

frozen

150

g

chicken

cooked and shredded
Instructions
Preheat a skillet or wok over medium heat. Pour a drizzle of oil and heat it up.

Add the onions and garlic and sauté until translucent. Add in some salt to taste.

Stir in the cold rice to heat it up in the pan. Make a hole in the middle of the rice and pour in the eggs. Fry the rice and eggs together, breaking up any big egg chunks with your spatula.

Add the frozen mixed vegetables and stir them in to thaw them.

Add the shredded chicken and mix them in well with the rice. Continue sauteing the rice on high heat and stir every half a minute for 3 to 5 minutes until the ingredients are mixed well together and cooked evenly. If needed, add more oil to thoroughly cook the ingredients.
Nutrition Facts
Calories:
3240
kcal
|
Carbohydrates:
649
g
|
Protein:
88
g
|
Fat:
25
g
|
Saturated Fat:
7
g
|
Cholesterol:
381
mg
|
Sodium:
298
mg
|
Potassium:
1790
mg
|
Fiber:
18
g
|
Sugar:
3
g
|
Vitamin A:
8193
IU
|
Vitamin C:
43
mg
|
Calcium:
433
mg
|
Iron:
11
mg
Commonly Asked Questions
What kind of rice is best used for fried rice?
When making fried rice, you want to ensure that the rice doesn't become too soggy and overcooked, which is what will happen if you use freshly-cooked rice. Therefore, it is best to use leftover rice that has had time to chill in the refrigerator. On top of this, it is best to use long-grained rice varieties such as Jasmine rice. Shorter grains like Japanese sushi rice already tend to be stickier. You want to stay away from this!
Can I add other ingredients to my fried rice?
Absolutely! As mentioned before, fried rice is the perfect way to make full use of any leftovers you might have. When adding cooked leftovers, add these ingredients in last just to warm them up. Fried rice is also a brilliant way to sneak in a couple of servings of vegetables. Crunchy veggies like bell peppers and cabbage are great options to add some texture and extra flavor to your dish; just make sure to cook them slightly to retain their crunchiness.
How can I add more flavor to my fried rice?
One way is to add leftover meat or vegetables that were already cooked in a sauce. If not, you can always add condiments like light soy sauce or oyster sauce to add some umami savoriness to your rice. For those who like it spicy, add your favorite chili sauce or oil to the rice.

Why does my fried rice always turn out mushy?
The most common reason for rice to turn out "mushy" is when you cook the rice before frying it, the rice is not allowed to cook until all the cooking liquid doesn't steam away from the pan you cook it in.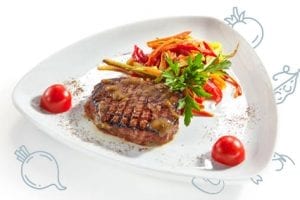 Conclusion
Keep this recipe handy for when you can't decide what to make for dinner or if you find yourself with heaps of leftovers. We know it can get a little frustrating eating the same dish for nights on end, so this is a quick and easy way to spruce up said leftovers.
Let us know what are your favorite things to add to fried rice, we'd love to hear from you in the comments below!