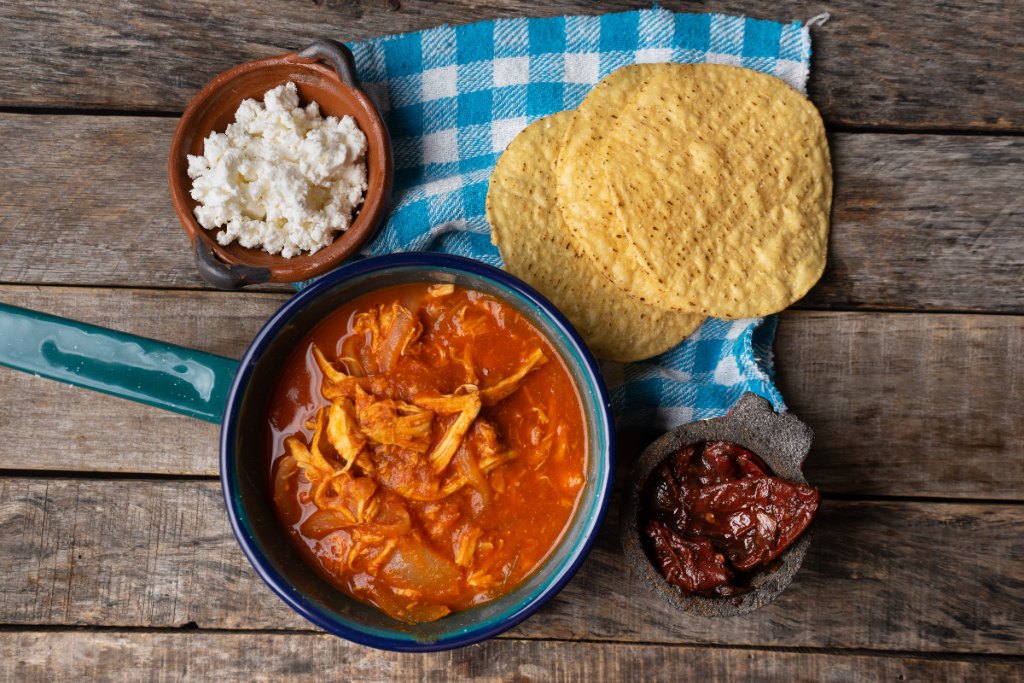 27 Easy Shredded Chicken Recipes for Every Occasion
It's such a waste to throw out leftover chicken from your fridge. But you got to admit that most of the time, reheated freezer meals aren't as good as the ones you've cooked an hour ago. Good thing there are other ways of salvaging chicken scraps to make them taste as if they are freshly cooked! One method you can try is to shred them and make the best shredded chicken recipes. Take inspiration from this curated list and say goodbye to plain chicken leftovers forever. We've got everything from crockpot shredded chicken to sandwiches that you can incorporate into your regular chicken meal prep rotation. 
How to Make Shredded Chicken
Before you can successfully recreate recipes for a shredded chicken like this buffalo chicken dip, it's important that you first learn how to make the said ingredient. The easiest and most practical one is to use leftover chicken scraps from your fridge. Since it's already cooked, all there's left to do is re-heat the meat and shred it. Just make sure that the chicken is still good for consumption. To extend the shelf life of your leftover chicken in the future, keep it in an airtight container before putting it in your fridge or freezer. 
If you don't have leftovers, it's all good because you can also easily make shredded chicken from scratch. Here's how to cook chicken breast and/or thighs on the stove: boil or poach them. If you're wondering how to boil chicken, it's actually pretty simple. Simply put the pieces in a pot, pour seasonings and water, then simmer for 15 minutes or until fully cooked. Other ways of cooking chicken include grilling or baking. The ideal temp to cook chicken in the oven is 400 degrees F. And to see if it's done, check the chicken breast internal temperature. It should read 165 degrees F. 
READ ALSO: 12 Best Candy Thermometers – Plus, Tips for Buying Insert Title
You can also take advantage of your kitchen appliances in making shredded chicken, especially if you'll be cooking frozen ones. You can pour the broth into an instant pot with seasoned meat and cook it at high pressure for 10 minutes. Once done, carefully release the steam from the pot for safety before taking out the meat.
How to Shred Chicken
Once your pieces of chicken are cooked and ready for shredding, you have two options for accomplishing this step. The first one is to shred it using a stand or hand mixer. This is undemanding, but it requires a special piece of kitchen equipment. 
Don't worry if you don't have a mixer, because you can also shred chicken manually. There's no strict way of doing this. All you need is a fork on each hand to shred the meat into your desired size. 
READ ALSO: 10 Mouth-Watering Chicken Salad Recipes
Mexican Shredded Chicken Recipes
Now you know how to make shredded chicken. Browse this section next and get inspired with Mexican recipes using shredded chicken as the main protein. 
Chicken Quesadilla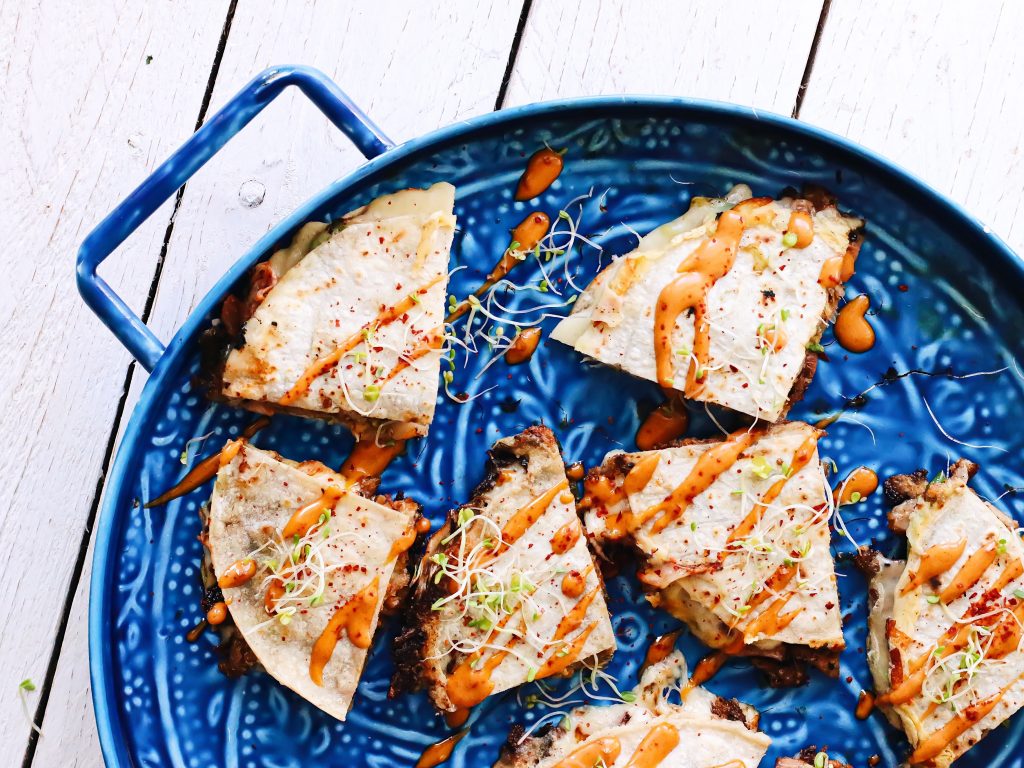 This quesadilla is the first one on this list of easy shredded chicken recipes and with good reason. That's because aside from being delicious, it's very easy to make. After you've pan-seared the seasoned chicken breasts, all you have to do is shred it and douse it in smoky barbecue sauce. Then, you can already use it to fill some toasty flour tortillas along with cheese, onion, and cilantro. What's more, this recipe calls for low-calorie and low-fat ingredients so you can enjoy cheesy quesadillas without the guilt.
Recipe for Inspiration: BBQ Chicken Quesadilla  
Chicken Tortilla Cups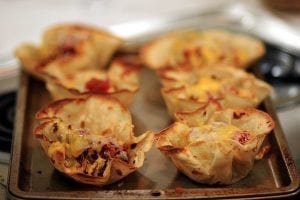 Looking for quick shredded chicken recipes? If so, these chicken tortilla cups will definitely be up your alley! This dish may look complicated at first, but it's definitely achievable with a cook time of 20 minutes. You can easily form the cups with this trick up your sleeve: bake the flour tortillas in a greased cupcake tray until hardened. Then, you're free to fill the shells with cheese, as well as beans and corn mixed with salsa and taco sauce. These will meld incredibly well together once you bake the cups for the last time, with a satisfying layer of gooey melted cheese cradling the tangy red sauce mixture.  
Recipe for Inspiration: Chicken Tortilla Cups
Slow Cooker Chicken Tacos
Put a Mexican twist to your slow cooker shredded chicken recipes by making a batch of these tasty tacos! And instead of making a standard tortilla dish, spice it up by stirring in a splash of honey and spicy chipotle peppers to the taco seasoning blend to be used for flavoring the shredded chicken meat. This adds a kick and a hint of satisfying sweetness that perfectly ties together the tartness of the tomato sauce and the savoriness of the adobo sauce. All with the help of your slow cooker, too! 
Recipe for Inspiration: Slow Cooker Honey Chipotle Chicken Tacos 
Spicy Chicken Enchiladas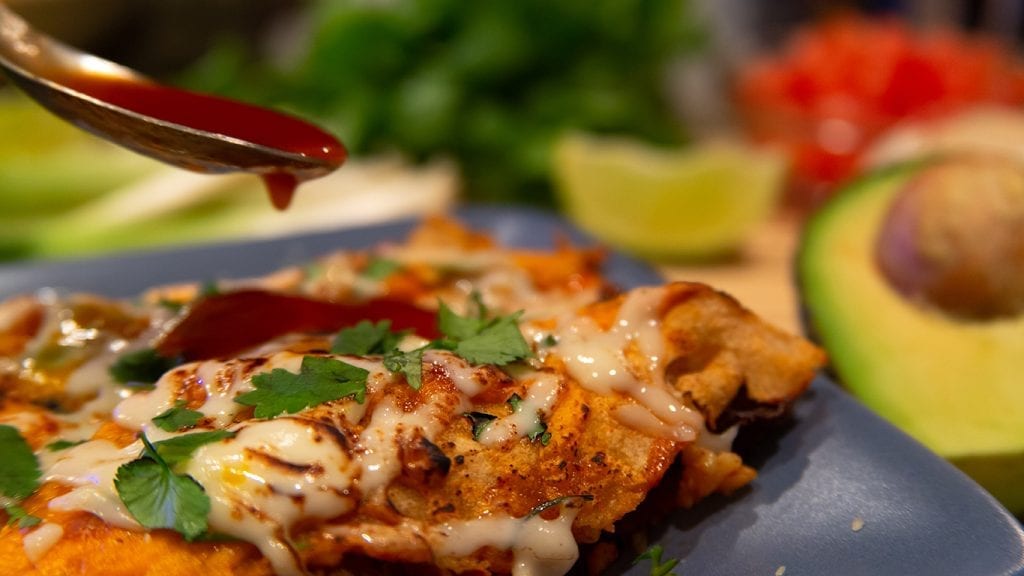 Out of all the shredded chicken enchilada recipes, this one is perfect for Mexican and spicy food lovers alike! Enjoy a serving of baked enchiladas swimming in a gooey blend of Monterey Jack and enchilada mix. This casserole is made with flavorful shredded chicken and sauteed herbs and spices carefully tucked inside a toasty corn tortilla roll. Have it for family dinners and get-togethers! 
Recipe for Inspiration:  Spicy Chicken Enchiladas
Chicken Tinga Tacos
Who can say no to tasty tacos stuffed with slow-simmered shredded chicken in tomato chili sauce? Not us! And if that still isn't enough, the filling is cooked with chorizo slices and shredded lettuce, too. Use warm corn tortillas and serve with avocado slices, and this is guaranteed to be one of the best shredded chicken recipes that you can make for your loved ones. 
Recipe for Inspiration: Chicken Tinga Tacos (Tinga De Pollo) 
Buffalo Chicken Tacos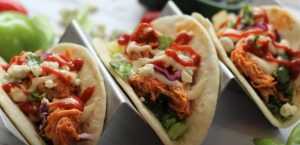 On the prowl for new taco flavors? If that's the case, then you might want to check out this recipe for shredded chicken tacos! You'll love its unique buffalo chicken flavor that is unlike any other. Indulge in a tangy and saucy shredded meat filling cradled by flour tortillas. Top it with tomato slices and shredded lettuce to give it a pop of color and flavor. Lastly, drizzle with rich and creamy ranch dressing before serving and you're all set for a flavorful adventure!
Recipes for Inspiration: Buffalo Chicken Tacos 
Buffalo Chicken Taquitos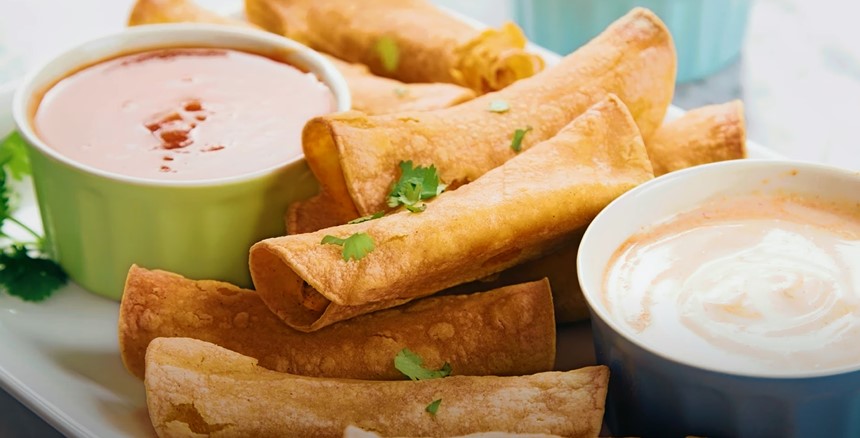 Serve something fun for your main dish with these tasty and crispy baked taquitos! Apart from the cooked shredded chicken filling that is flavored with tangy buffalo sauce, each tortilla roll is also jam-packed with cheese. We recommend having them fresh from the oven so that you can enjoy the taquitos in all their gooey glory.
Recipes for Inspiration: Baked Buffalo Ranch Chicken Taquitos 
Soup Recipes With Shredded Chicken
Shredded chicken is also a more than welcome addition to a bowl of warm and hearty soup. Check out this section to get inspiration from broth-based recipes. 
Chicken Pot Pie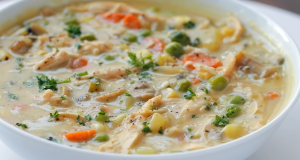 We love chicken pot pie because it combines the best features of two of the most beloved dishes: pie and soup. However, it takes quite a bit of elbow grease to make, and this really isn't ideal if you're going for a quick meal. Thankfully, you can now whip up this clever and practical version that's good to go in under 35 minutes! All you have to do is saute the vegetables and cooked chicken together, then bring them to a simmer in a mixture of chicken broth and milk. Serve with crackers on top or on the side to replicate the experience of having a baked good element in the dish. 
Recipe for Inspiration: Chicken Pot Pie Soup
Enchilada Soup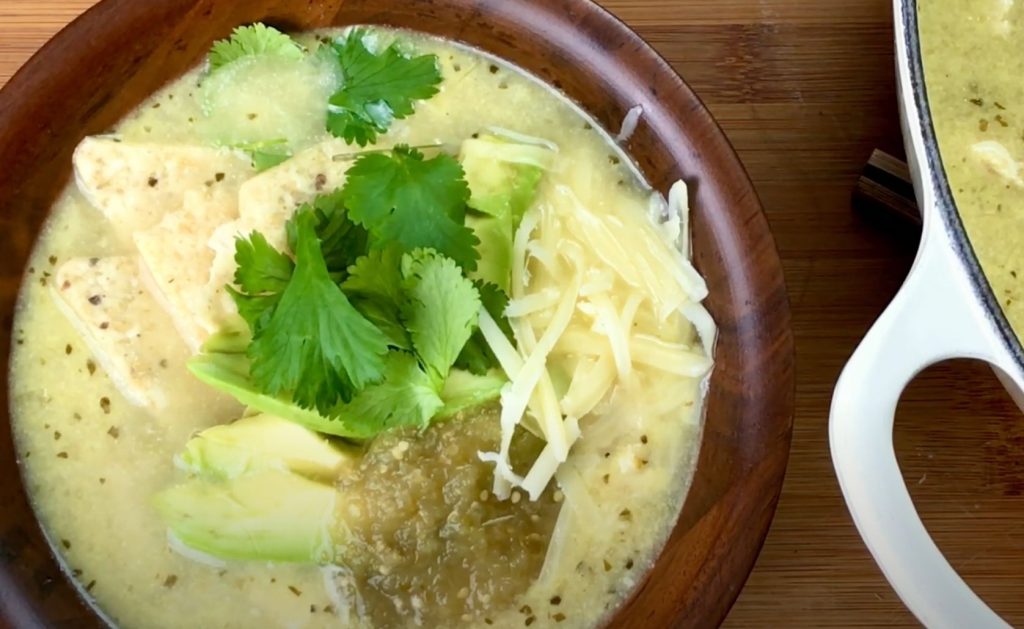 Out of all the shredded chicken enchiladas recipes on this list, this one sticks out because it's in soup form. And yes, it's possible! For this dish, there's no need to wrap the ingredients in tortillas and bake them. That's because all the vegetables, shredded chicken, cheese, and seasonings are simply simmered together in a large pot of unsalted chicken broth. This cheesy and spicy soup is best for the cold weather, but feel free to have it any time you like!
Recipe for Inspiration: Green Chile Enchilada Soup 
Chicken Noodle Soup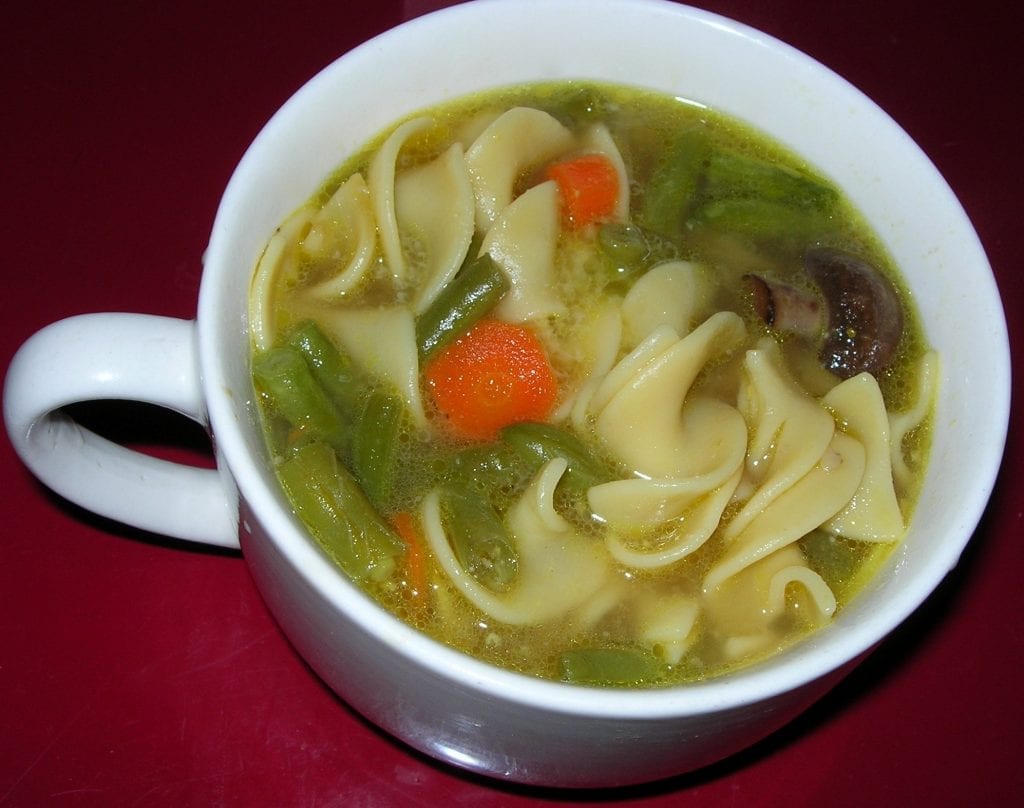 Over the years, chicken noodle soup has become synonymous with comfort. But what if we told you that you can make it with even lesser effort? Enter this quick and easy shredded chicken recipe that you can make in 25 minutes! Throw together and simmer lightly sauteed veggies and noodles in a pot of chicken stock, and you'll be able to take a sip of a warm and cozy soup in no time.
Recipe for Inspiration: Quick and Easy Chicken Noodle Soup
Chicken and Rice Soup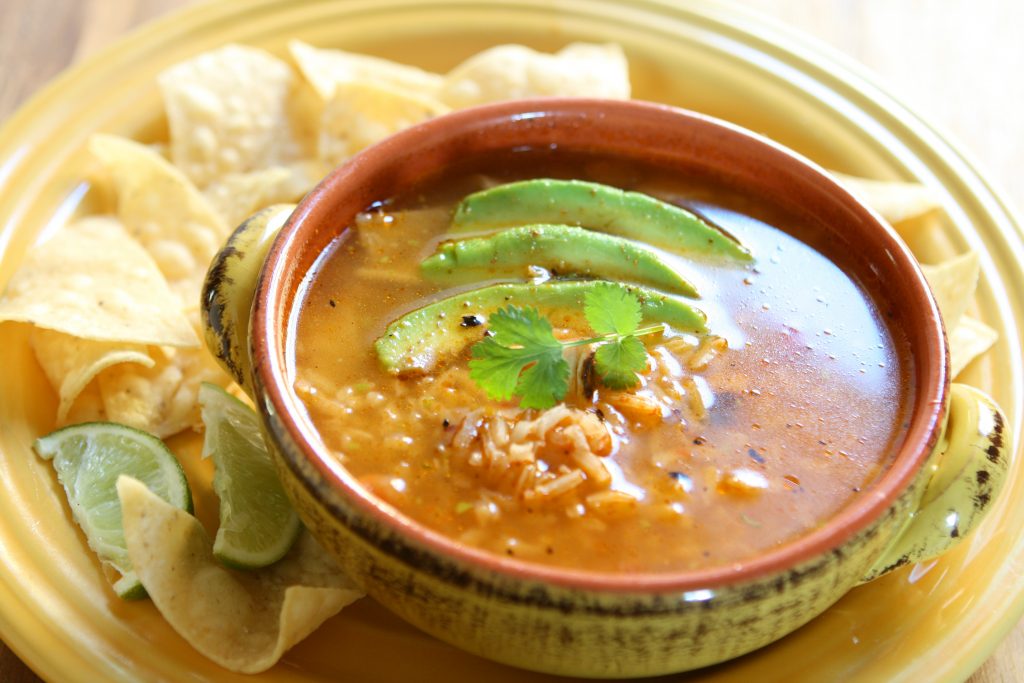 Up for a hearty meal? Then check out this easy chicken and rice dish! Out of all the soup recipes with shredded chicken, this is perfect for days when you're craving something more filling. Enjoy a warm and spicy bowl of sauteed veggies and shredded chicken simmered in flavored chicken broth, with traditional Mexican cuisine ingredients like rice and smoked chipotle peppers. Top with avocado slices, tortilla chips, queso fresco, and cilantro for presentation.
Recipe for Inspiration: Mexican Chicken and Rice Soup
Soup With Chicken and Chili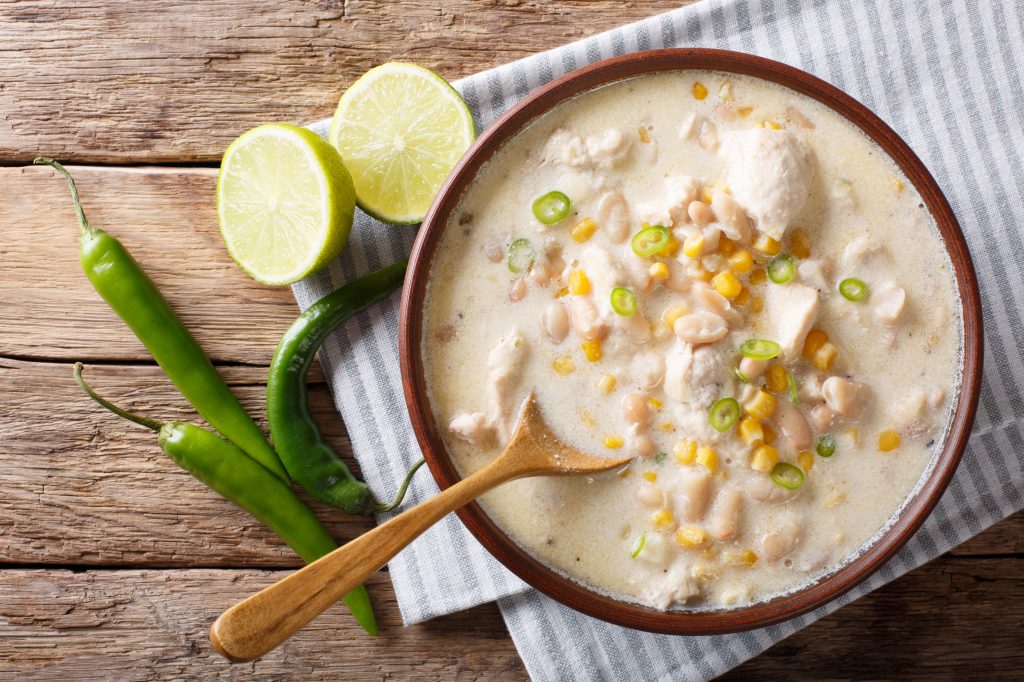 Compared to other shredded chicken recipes, you don't need a lot of ingredients to make this delicious soup from scratch. All it takes is stock, beans, salsa verde, cumin, and of course, shredded chicken to recreate this dish. Simmer them together for a few minutes, and you'll have a pot of soup that lends a comforting savory, spicy, yet surprisingly zesty flavor. 
Recipe for Inspiration: 5-Ingredient White Chicken Chili 
Thai Chicken Ramen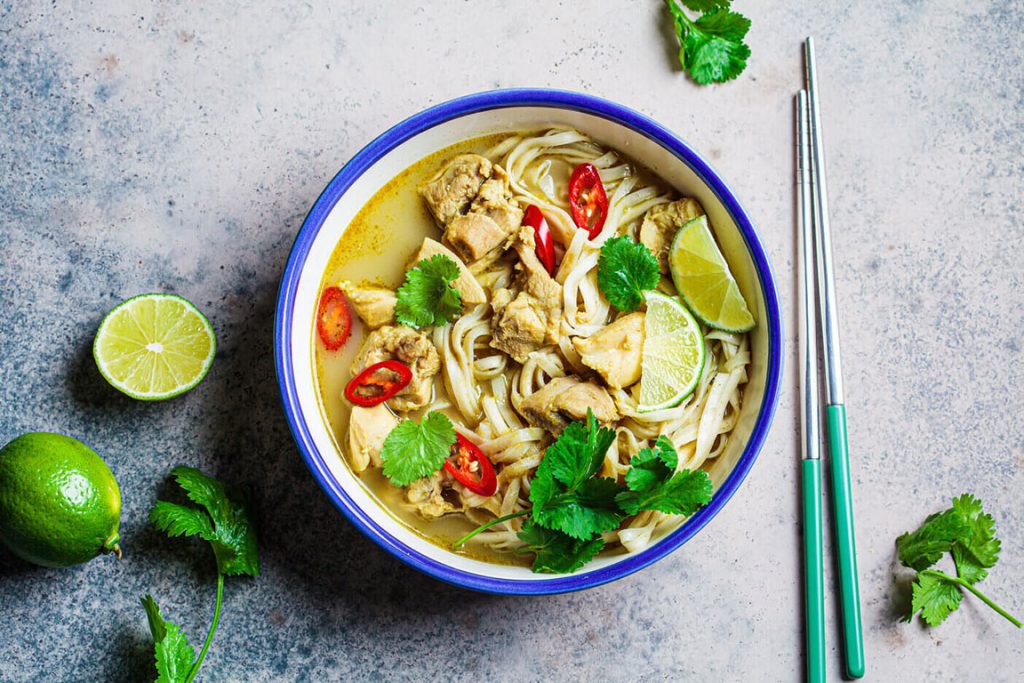 If you're a fan of Asian cuisine, this shredded chicken recipe is for you! This dish showcases not only one, but two Asian cooking traditions by fusing the famous Japanese ramen with the traditional Southeast Asian flavors of Thailand. 
Instead of the instant noodles served alone, they are cooked in a mixture of green curry paste and coconut milk with sauteed veggies, shredded chicken, and cilantro. You can't say no to a thick and creamy noodle soup that tingles your taste buds ever so slightly with just the right amount of heat.  
Recipe for Inspiration: Thai Chicken Ramen
Healthy Shredded Chicken Recipes
Explore this section for shredded chicken salad and casserole recipes that are fit for a nutritious diet.
Pecan Chicken Salad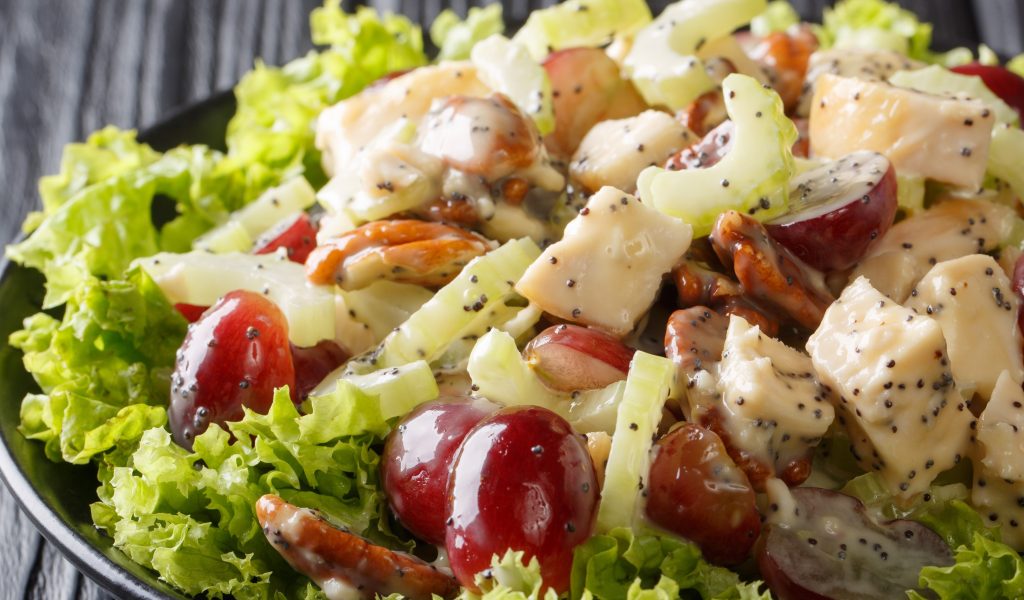 This chicken salad with pecan is one of the best shredded chicken breast recipes for the health-conscious! Whip up this dish to have your fill of vitamins and healthy protein. It's a simple yet nutritious throw-together of shredded chicken, fruits, vegetables, and nuts. To make it even more appetizing, stir in a tangy mixture of mayonnaise and sour cream. Season with salt and pepper to finish. 
Recipe for Inspiration: Pecan Chicken Salad 
Chicken and Vegetable Casserole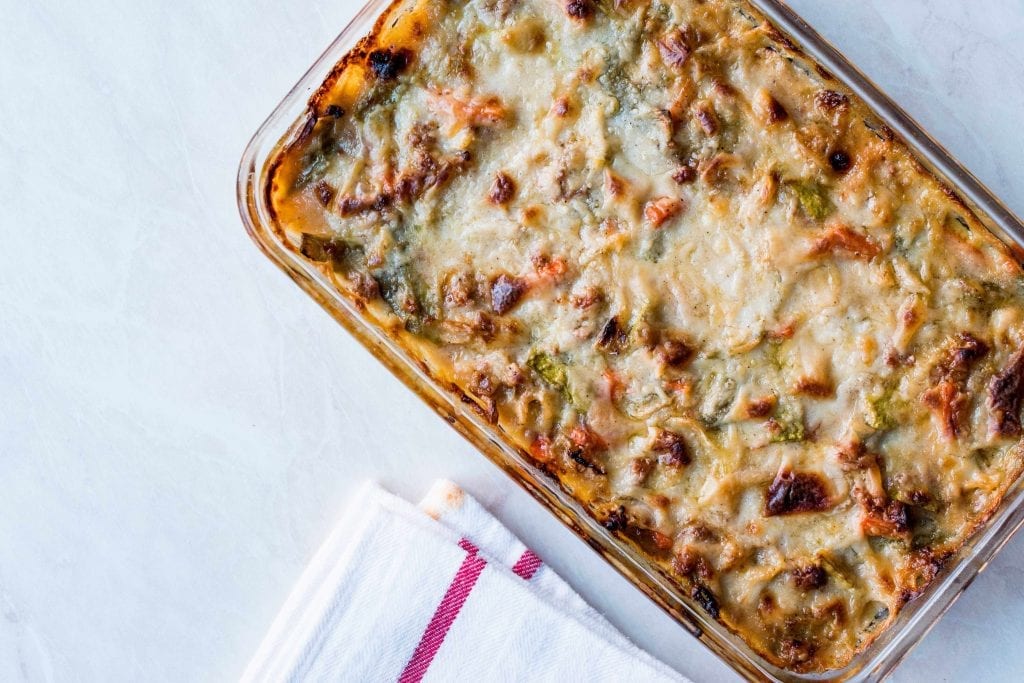 Switch up your dinner nights with a serving of this easy shredded chicken casserole dish. First of all, it's very easy to whip up because all you have to do is stack the components together. When it's ready, you'll be able to enjoy layers upon layers of sliced veggies, well-seasoned grilled chicken, and gooey cheese without much effort.
Recipe for Inspiration: Hearty Chicken and Vegetable Casserole
Avocado Chicken Salad Wrap With Ranch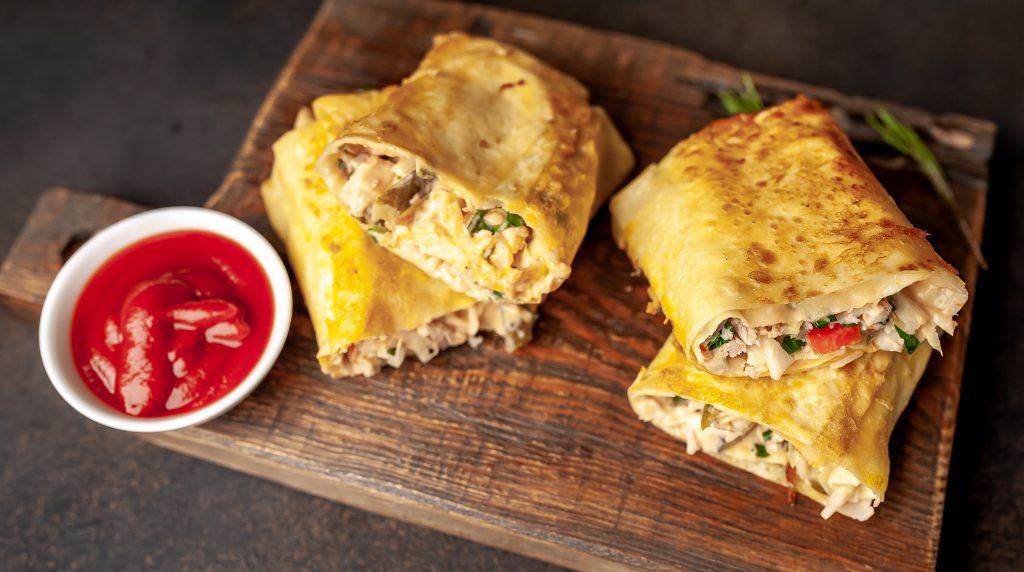 Avocado and ranch is a culinary pairing that deserves more love and attention. Have this tart creamy combo in wrap with this shredded chicken recipe. Stir them together with herbs, seasonings, celery, and chicken to make a loaded filling for your wrap. To complete your meal, envelop the mixture in flatbread with lettuce and tomato slices.
Recipe for Inspiration: Avocado Ranch Chicken Salad Wrap 
Buffalo Chicken Pasta Salad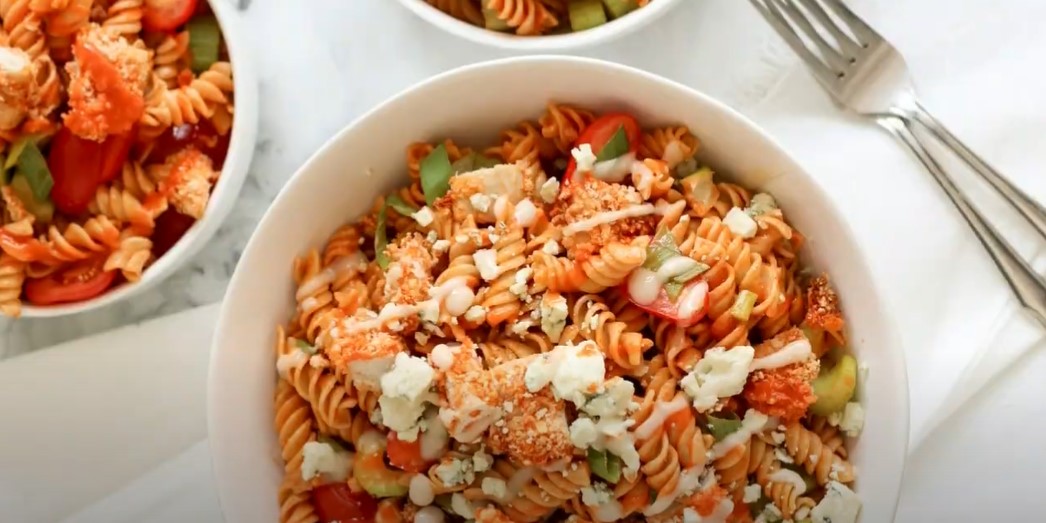 For another unlikely pairing that works incredibly well, check out this pasta dish with buffalo chicken! For the best results, cook the rotini pasta until full to the bite. Toss it with red pepper, buffalo sauce, and a handful of other dressings and seasonings to finish.
Recipe for Inspiration: Buffalo Chicken Pasta Salad Recipe
Shredded Chicken Pasta Recipes
Rotisserie Chicken Alfredo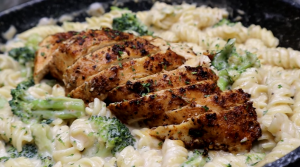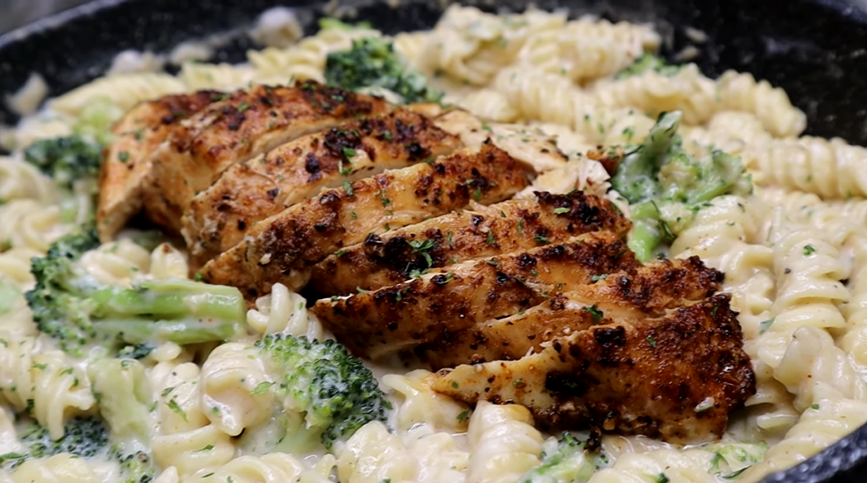 Wondering what to do with leftover chicken? We got you covered! There are tons of leftover shredded chicken recipes out there, so there's no need to throw out scraps from your fridge. For this one, leftover rotisserie chicken is the star of the dish, and it's actually pretty brilliant. Incorporate the shredded chicken into a creamy alfredo pasta sauce to serve over egg noodles. You wouldn't even realize that the meat's been sitting in an airtight container in your fridge or freezer before cooking.
Recipe for Inspiration:  Easy Leftover Rotisserie Chicken Alfredo 
Chicken Parmesan Pasta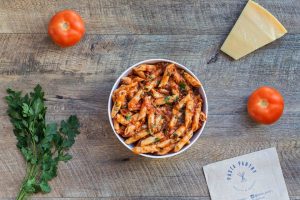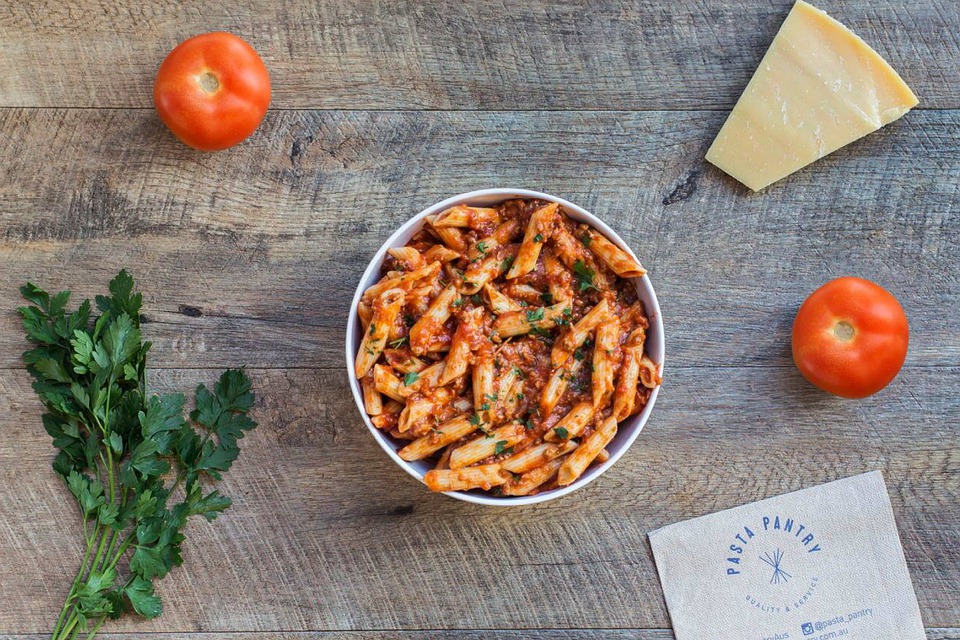 Who can say no to chicken and pasta? Definitely not us! For this dish, shred chicken and stir it into the tart marinara pasta sauce. Once you've tossed everything together, sprinkle shredded mozzarella and parmesan on top before baking for a satisfying melted cheese garnish.
Recipe for Inspiration: Chicken Parmesan Pasta
Buffalo Chicken Lasagna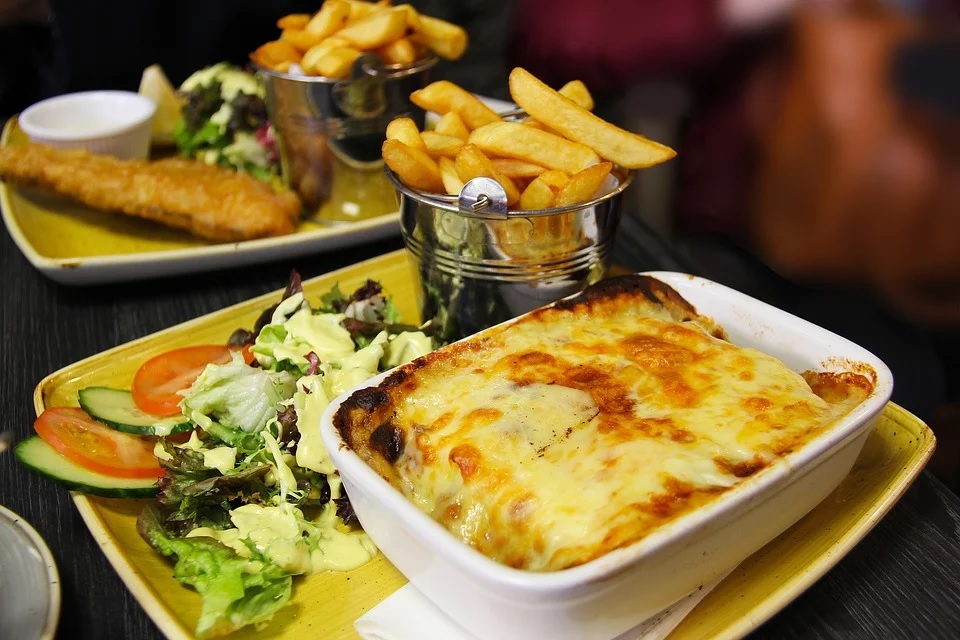 Sure, traditional lasagna is delicious in and of itself. But did you know that there are more ways of preparing this pasta dish? For this rendition, the Italian dish is fused with the all-American flavors of buffalo chicken. It's still cheesy and creamy from the traditional roux, but with a good amount of heat and tartness from the shredded chicken tossed in hot sauce that works surprisingly well with the other components. 
Recipe for Inspiration: Buffalo Chicken Lasagna
Chicken Tortellini Soup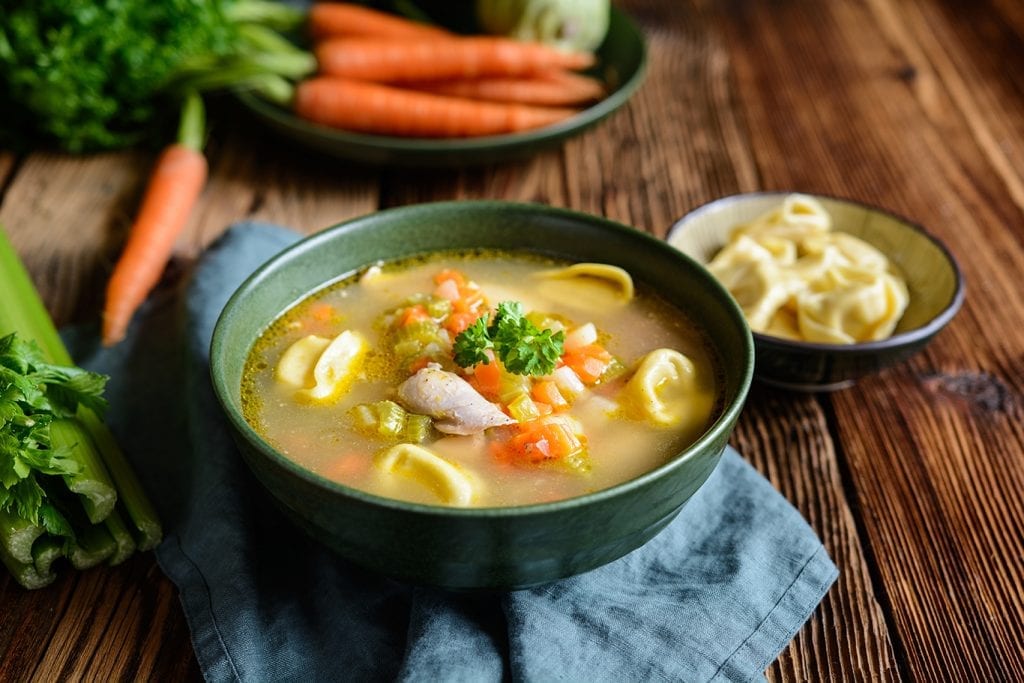 Explore another way of making veggies taste delicious for both kids and picky eaters with this effortless pasta dish! We aren't exaggerating about how easy it is to whip up! You can achieve this in one piece of cookware, starting from making crockpot chicken breast to the broth itself. This veggie-loaded soup is simply one of the easiest and most practical crockpot shredded chicken recipes that you can make.
Recipe for Inspiration: Crockpot Veggie-Loaded Chicken Tortellini Soup
Chicken Spaghetti Casserole With Cheddar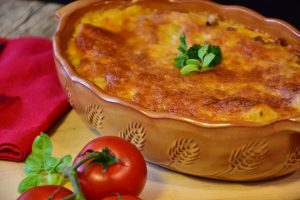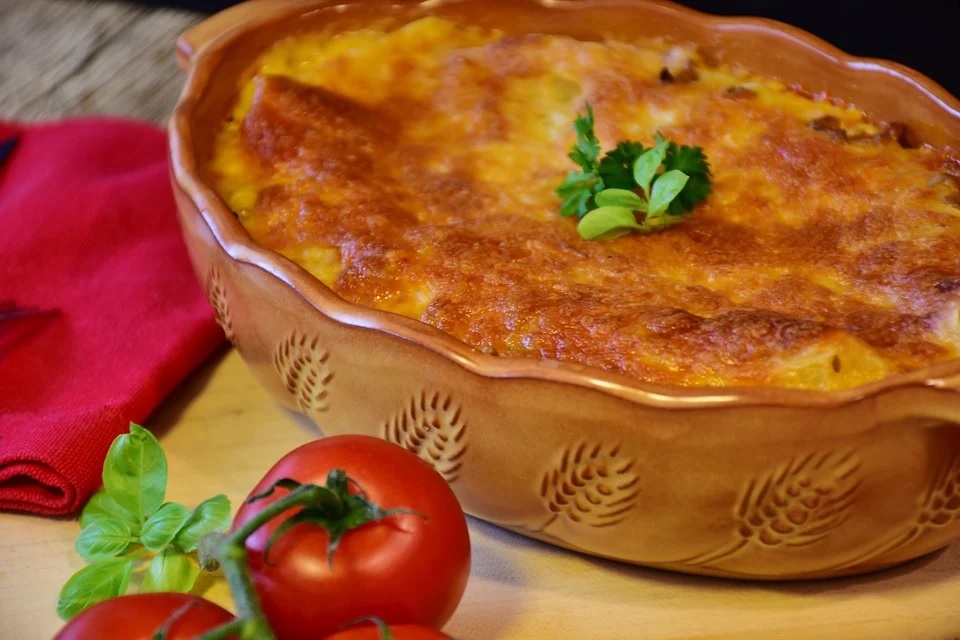 You really can't go wrong with cheesy pasta! For this dish, the shredded meat is tossed with spaghetti in a tangy sour cream and chicken-flavored sauce. Then, it's topped with breadcrumbs, sharp cheddar, and parmesan cheese, and baked until the toppings are nice and bubbly.
Recipe for Inspiration: Cheesy Cheddar Chicken Spaghetti Casserole
Shredded Chicken Sandwich Recipes
Keep on reading to discover easy shredded chicken sandwich recipes that you can recreate in the comforts of your own kitchen.
Pulled Chicken Sandwich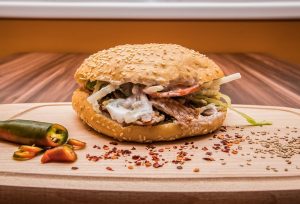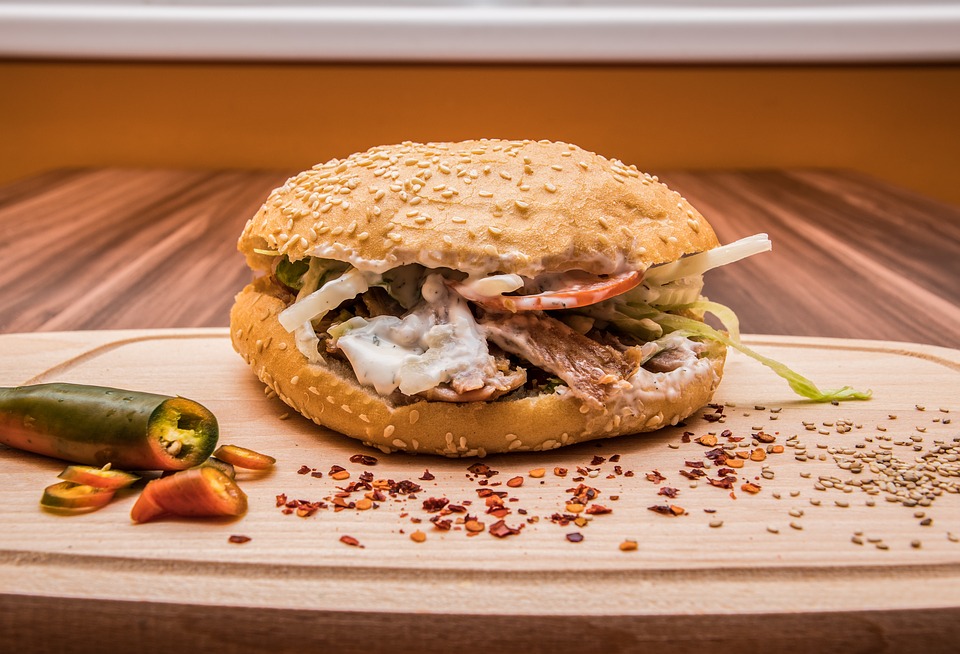 Love barbecue? Then this tasty pulled chicken sandwich recipe might be the one for you! For this dish, shredded chicken is taken from the flavorful thigh part of the poultry and cooked low and slow until they fall off the bone. It's mixed with some barbecue sauce that imparts a smoky and savory quality to the meat. To finish, the barbecue-flavored chicken is laid in between warm toasted buns, along with crisp and tart coleslaw. 
Recipe for Inspiration: BBQ Pulled Chicken Sandwiches
Shredded Chicken Sandwich With Black Pepper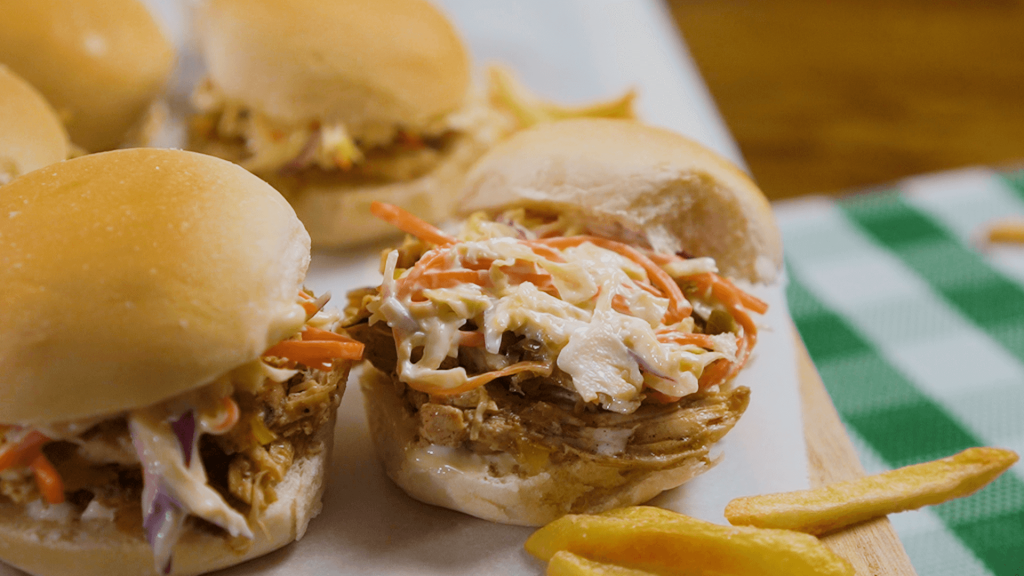 Have a taste of this delicious black pepper sandwich for your next meal! This dish boasts a shredded chicken filling liberally seasoned with a slightly spicy ground black pepper blend before cooking and shredding. For a full gastronomic experience, the meat is stacked with mouth-puckering pickle relish and coleslaw sandwiched in between sweet buns.
Recipe for Inspiration: Black Pepper Shredded Chicken Sandwich
Greek Chicken Sliders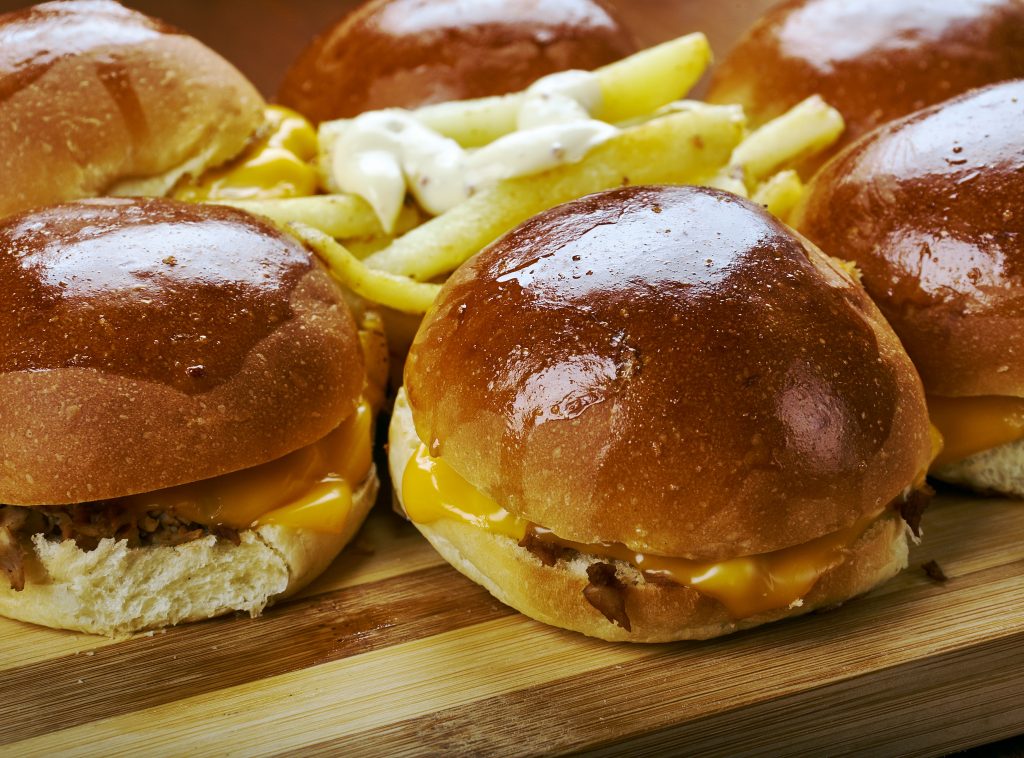 There are lots of ways to serve shredded chicken in a bun, and this dish of Greek chicken sliders is one of the best. What makes this Greek, you ask? The answer is in each of the components. Savor the flavor of these herb-brushed cheesy baked sliders. It has a rich and creamy filling of shredded chicken coated with salad dressing and a dollop of mellow tzatziki sauce on top. 
Recipe for Inspiration: Greek Chicken Sliders
Hawaiian Chicken Salad Sandwiches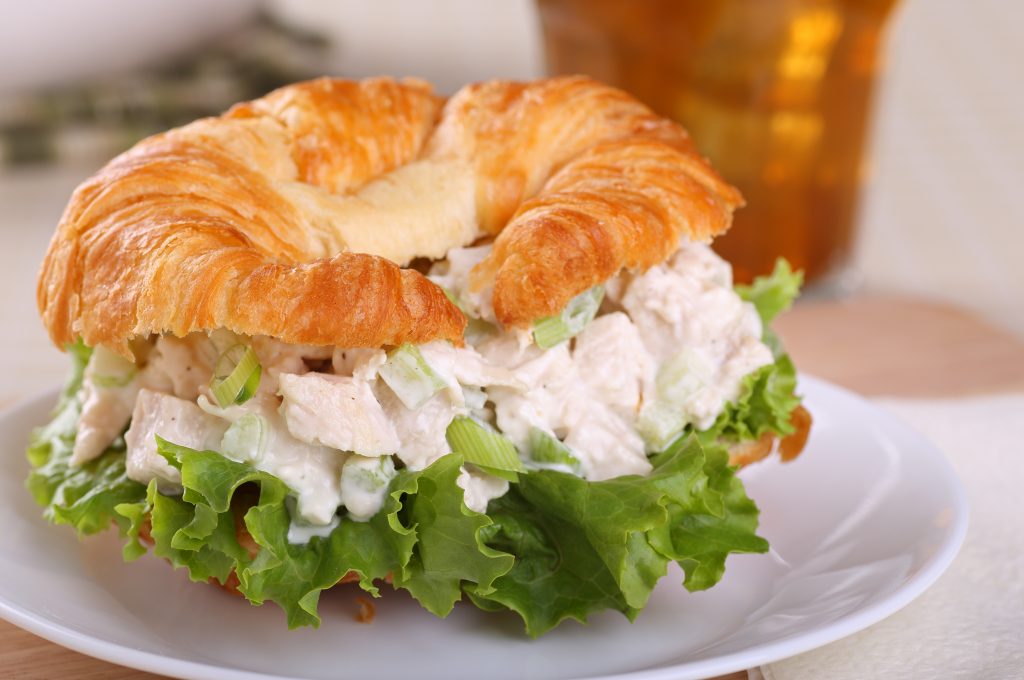 Who could say no to a chicken salad sandwich with a tropical twist? This dish deliciously melds together sweet and salty flavors with its pineapple-flavored shredded chicken filling with ham and nuts. The best part is, the choice of bread is totally up to you. This tastes great with everything from crusty artisan bread types to the more delicate croissants. 
Recipe for Inspiration: Hawaiian Chicken Salad Sandwiches
Pesto Chicken Sandwich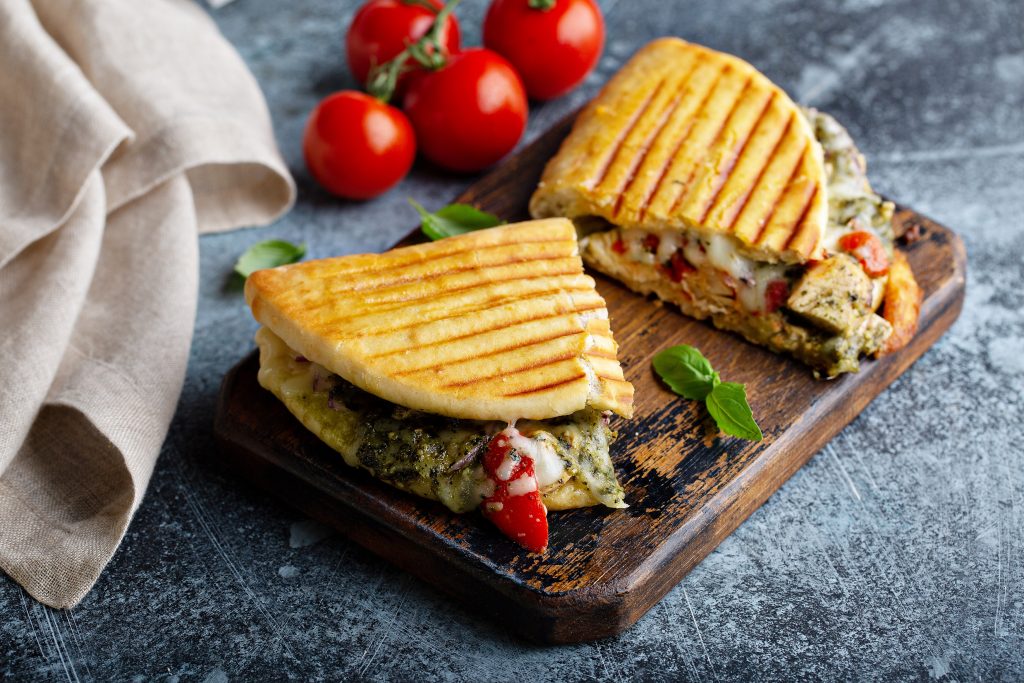 Delight in the signature herby flavor of pesto, but in sandwich form with this quick recipe. After you prepare and cook shredded chicken, toss it in mayonnaise and a homemade, freshly-pulsed pesto sauce. And voila: it's ready to use for any type of sandwich bread you desire. This recipe is very flexible, so you can mix and match other ingredients from the buns to the toppings according to your preference. 
Recipe for Inspiration: Basil Pesto Chicken Sandwich