Summer brings in an awful amount of heat and because of that, we sweat a lot. Sweating means excreting water from our bodies. Too much sweating can cause dehydration that is why it is important we need to stay hydrated and refreshed. For today's recipe, we are going to show you how to make a refreshing watermelon salad.
The watermelon salad is fairly easy to make. We guarantee that you don't have to break a sweat for this one. All you need to do is purchase the meatiest watermelon in your grocery store. Don't worry the refreshingly sweet flavor of the watermelon will be balanced by the saltiness of the feta cheese and the sourness of the red wine vinegar.
This salad recipe will surely be an explosion of flavors. You'll never have to suffer throughout the summer season with this absolutely amazing salad dish. For more refreshing treats for the summer, try your hands on this Watermelon Lemonade Recipe.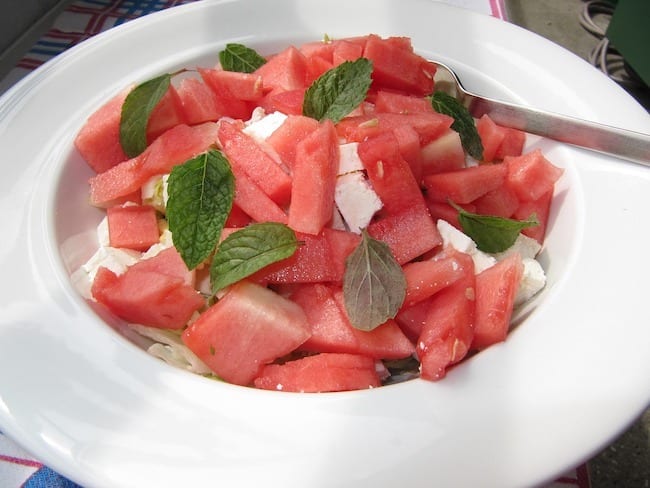 Watermelon Salad with Mint Leaves Recipe
How To Make Watermelon Salad with Mint Leaves
Ingredients
5

lbs

watermelon

1

vidalia or other sweet onion

1/4

cup

red wine vinegar

salt and pepper

1/2

cup

extra-virgin olive oil

2

tbsp

fresh mint,

chopped

4

oz

feta cheese,

crumbled

6

whole mint sprigs
Instructions
Cut the flesh from the melon into bite-sized pieces, making sure to remove and discard the seeds. Set aside afterward.

Peel and slice the onion into rings. In a small bowl, combine the vinegar, salt, pepper, and whisk until the salt is dissolved.

Slowly whisk in the olive oil, a few drops at a time, then add in the chopped mint. Feel free to taste and adjust the seasonings as desired.

In a large bowl, combine the melons, onions, and feta cheese. Pour the dressing over the melon mixture and toss gently until everything is coated and evenly mixed.

Lastly, garnish your salad with mint sprigs. Afterward, serve and enjoy!
Nutrition
Sugar:

26g

:

Calcium:

138mg

Calories:

344kcal

Carbohydrates:

34g

Cholesterol:

17mg

Fat:

23g

Fiber:

2g

Iron:

1mg

Monounsaturated Fat:

14g

Polyunsaturated Fat:

2g

Potassium:

520mg

Protein:

6g

Saturated Fat:

5g

Sodium:

226mg

Vitamin A:

2344IU

Vitamin C:

34mg
Nutrition Disclaimer
Frequently Asked Questions
How do I know if my watermelon is fully ripe?
There are a handful of ways to tell if a watermelon is ripe. First, look at its underside. Farmers would call this side the "belly" because this is the part that is exposed to the ground. Watermelons usually have this so-called "field spot" that turns yellow when ripe (in contrast to white when it is not yet fully ripe). Another way of checking if the fruit is already ripe is to knock on it. A ripe watermelon will produce a hollow sound. Lastly, smell the watermelon. Ripe watermelons will exhibit a slightly sweet smell.
Can I put some dressing in this salad?
Yes, definitely. We suggest using sour cream for dressing or Thousand Island to have that sweet and sour contrast.
How long can I store this salad?
The watermelon salad can last for a week. Please make sure that it is refrigerated and placed inside an airtight container.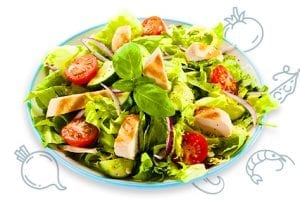 Conclusion
You'll be surprised at how well the watermelon salad works with other ingredients such as onions and cheese. It's perfect on its own but feel free to add the dressing of your choice. Serve this for lunch or dinner or even have it as a snack. Summer will never be the same again with this dish.