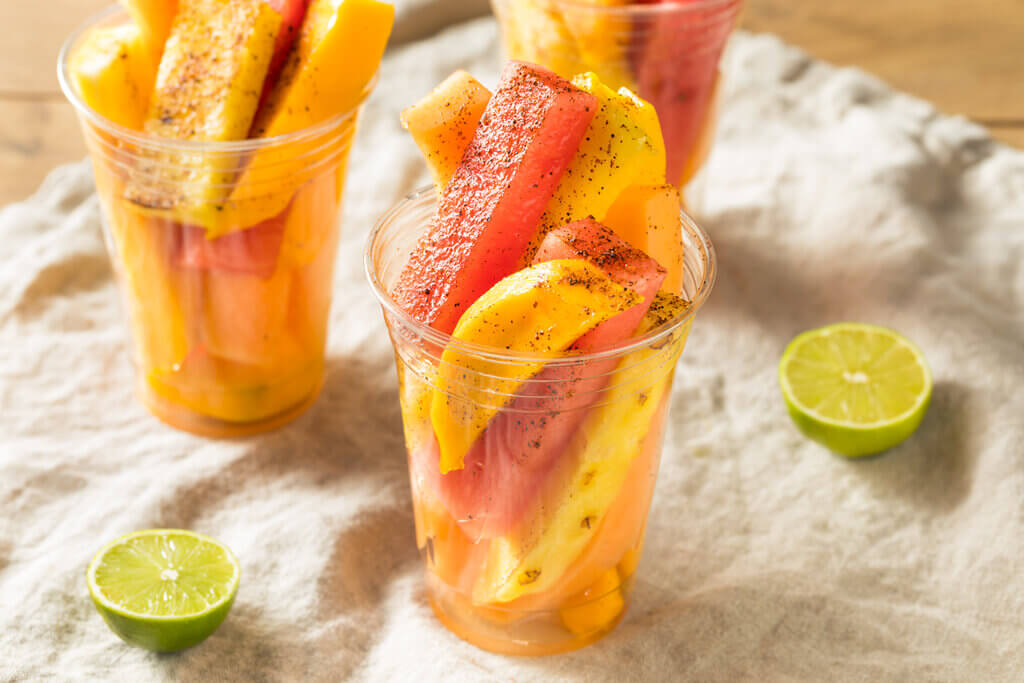 Mexican Fruit Cups Recipe
Whenever it's a hot and summer day, I always think back to the delicious fruit in a cup dessert that I ate when I was in Mexico. These fresh Mexican fruit cups were sold everywhere. There was almost always a Mexican fruit cup near me that was sold in fruit stands, which showcased a variety of colorful fruits from pineapples and mangoes to Mexican fruits like jicama. It's a very popular and common street food, and I would always buy one whenever I can. What makes this Mexican fruit cup so special and appetizing to eat is the Tajin seasoning and, sometimes, chamoy sauce that they drizzle all over the fruits.
This Mexican fruit seasoning truly elevates the flavor of the tropical fruits. Tajin seasoning or chile lime seasoning adds a zesty and savory citrus taste with a bit of mild heat to pair. The resulting taste is a perfect mixture of sweet, sour, salty, and even spicy. These burst of flavors blend beautifully with the sweet taste of the tropical fruits. I decided to recreate this tasty Mexican fruit cup at home to satisfy my cravings for it.
In a classic Mexican fruit cup, they always use pineapple, mango, watermelon, papaya, and jicama fruits. You can also add or swap out other fruits for cucumber or cantaloupes. Honestly, it's like a Mexican fruit salad seasoned with chamoy and Tajin in a cup. For this recipe, however, I'm only using fresh fruits with Tajin because I prefer the zesty and mild spicy flavors it offers. You can buy Tajin seasoning in a lot of mainstream grocery stores. Chamoy sauce is also a popular Mexican fruit seasoning, but I prefer its salty, sweet, and spicy taste more when paired with just mangoes. Feel free to experiment with it though for a variety of flavors.
Once you have your fruits and vegetables, prepare them for slicing or dicing. Make sure they are peeled, seeded, and cored before cutting them into long spears. Some Mexican fruit cups served them diced, but I honestly preferred the long spears since I got to enjoy each individual taste of the fruits. After cutting them into spears, arrange and stack them in a cup. I used clear plastic cups for this one since it's what they used back in Mexico, but you can use other types of cup.
Afterwards, serve these Mexican fruit cup appetizers (or dessert!) with a side of lemon wedges and sprinkle it with the Tajin seasoning. For more zesty and fresh flavors, squeeze in some fresh lime juice. I ate a lot of these fruit cups alone as a healthy snack. I also tried serving these fruit cups for party celebrations, and they really enjoyed eating these sweet and spicy fresh fruits in a cup! And if you have any leftover fruits, you can save them to make bionico, a Mexican fruit bowl, which is exactly what I did. It's just as delectable as these Mexican fruit cups!
How To Make Mexican Fruit Cups
This Mexican fruit cup recipe features fresh fruits drizzled with Tajin chile lime seasoning for an added citrus and mildly spicy flavors.
Ingredients
6 pineapple spears, peeled and cored

6 mango spears, peeled and seeded

6 papaya spears, peeled and seeded

6 watermelon spears, peeled

6 English cucumber spears, peeled

6 jicama spears, peeled

6 lime wedges

3 tsp Tajin seasoning, per cup

1 tbsp Chamoy sauce

, per cup (optional)
Instructions
Place one of each type of fruit and vegetable

into 6

clear plastic cups

.

Serve with lime wedges and sprinkled with chile lime seasoning

or

chamoy sauce

to taste.
Nutrition
Calories: 

2505.52kcal

Fat: 

11.26g

Saturated Fat: 

1.74g

Monounsaturated Fat: 

2.62g

Polyunsaturated Fat: 

3.52g

Carbohydrates: 

629.51g

Fiber: 

79.42g

Sugar: 

465.59g

Protein: 

44.30g

Sodium: 

125.42mg

Calcium: 

696.90mg

Potassium: 

8879.13mg

Iron: 

20.42mg

Vitamin A: 

1692.88µg

Vitamin C: 

1327.58mg