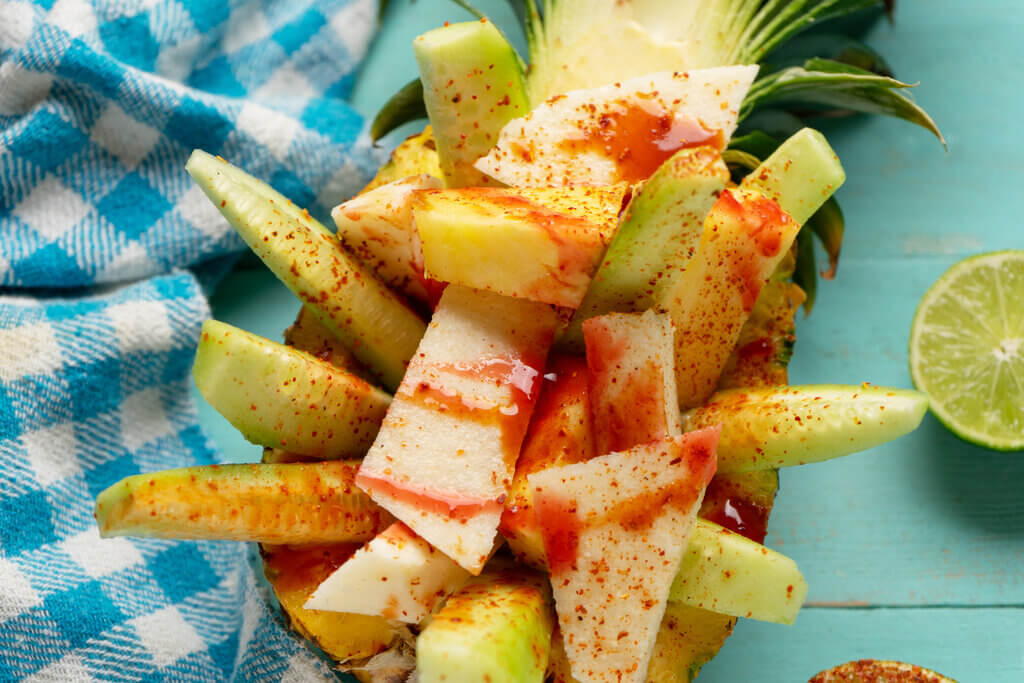 Mexican Fruit Salad Recipe
Mexican fruit salad is refreshing and spicy at the same time. While I love fresh fruits soaked up in a creamy dressing, diving into a platter of this Mexican-style fruit salad hits differently. Summer or not, this exciting variation is the perfect side salad to jazz up your meals!
Mexican food, as we all know it, borders on being spicy. Even some Mexican desserts, albeit sweet, have hints of fieriness. Take this fruit salad recipe, for instance. It puts a hot twist on my favorite summer dessert with the addition of chili lime seasoning. But just like the classic version, it's among the healthy recipes out there. It's a total package, I must say. That's why it quickly became one of my favorite Mexican fruit desserts ever!
Making this Mexican fruit salad recipe wouldn't take much of your time. It's so easy that even the kids in the house can help you out! I used my favorite tropical fruits for my salad, such as watermelon, mangoes, and papaya. Although, you can pick and choose your preferred fruits. But if I were you, I'd try to get a variety of colors for this spiced-up salad. Think of a gorgeously-arranged Mexican fruit bowl with jicama, mandarin oranges, honeydew melon, dragon fruit, and cantaloupe. Absolutely stunning and delicious, no doubt!
When crafting this Mexican fruit salad, I made sure that I had rinsed and peeled the fruits that needed to be peeled. Then, I sliced the mangoes and papayas into bite-size pieces. Using my melon baller, I also made cute watermelon balls for a prettier visual presentation. If you don't have a fruit baller, just scoop out the fruit with a round measuring spoon. Or, if you want to keep things vibrant yet simple, simply cut the watermelon into cubes or chunks.
While a regular fruit bowl is great for serving fruit salads, I decided to be a little creative and went for a pineapple boat instead. To make the pineapple fruit bowl, I cut the pineapple in half, removed the crown and the core, and scooped out the flesh. Then, I tossed in the fruits in the pineapple boat. You can arrange them by color or by type. It's up to you. You also have the option to use clear plastic cups and serve Mexican fruit cups instead.
The Mexican fruit seasoning makes this fruit salad recipe stand out from the rest. For my version, I opted for chili lime seasoning. Tajin seasoning is an excellent choice as it's a well-known Mexican spice for fruit and is quite accessible. Trust me, try to sprinkle a dash of Tajin on fruit slices, and you'll love the piquant taste it brings about! You can also make your own chili lime sauce if you like. Just combine lime juice with chili powder, honey, and salt. Mexican fruit salad with chamoy sauce is also one to try!
Learn how to make fruit salad Mexican-style to bring exciting flavors to your tables. Whether it's Cinco de Mayo or you're just having a Mexican-inspired feast, it's one of the best side dish recipes to serve. Finish it off with mint sprigs and lime wedges. Chia seeds and chopped pecans are also delicious toppers. You can even serve your Mexican fruit salad with yogurt or with whipped cream.
How To Make Mexican Fruit Salad
This Mexican fruit salad features fresh tropical fruits dusted with chili lime seasoning for a refreshing, spicy treat. Serve in a hollowed-out pineapple and garnish with lime wedges and mint sprigs for a more delectable presentation.
Ingredients
1 pineapple, halved

1 cup watermelon balls, or 1 inch chunks

1 cup mango, 1 inch chunks

1 cup papaya, 1 inch chunks

lime juice

chili lime seasoning, to taste

mint sprigs, optional garnish

lime wedges, optional garnish
Instructions
Add the mango, papaya, and watermelon balls to a large mixing bowl.

Sprinkle the fruit chunks with lime juice. Gently toss to coat.

Transfer the fruits to the hollowed-out pineapple. Then, place the pineapple fruit bowl on a large plate.

Drizzle the fruit salad with chili lime seasoning.

Garnish with mint sprigs and lime wedges.

Serve immediately and enjoy!
Recipe Notes
Ensure that you remove the seeds and rinds from the fruits, especially watermelon.

You can also sprinkle your

Mexican fruit salad

with a dash of chili powder for extra spice.

Feel free to use diced avocados, kiwis, strawberries, and bananas.

You can add honey to the salad dressing for a touch of sweetness.
Nutrition
Calories: 

172.54kcal

Fat: 

0.68g

Saturated Fat: 

0.12g

Monounsaturated Fat: 

0.13g

Polyunsaturated Fat: 

0.21g

Carbohydrates: 

44.53g

Fiber: 

5.61g

Sugar: 

33.28g

Protein: 

2.40g

Sodium: 

9.55mg

Calcium: 

69.34mg

Potassium: 

485.76mg

Iron: 

2.31mg

Vitamin A: 

80.19µg

Vitamin C: 

152.31mg