This Moroccan Lentil Salad recipe is a fantastic way to get some protein into a vegetarian diet. Alternatively, this dish is a great way to go meat-free. It is fresh, zesty, and filling. What more could you want? Of course, getting into a vegetarian diet will take some time to get used to. However, with this dish, we guarantee, that you will appreciate vegetables more.
For this recipe, all you need to prepare are bell peppers and garbanzo beans. Don't worry, you can easily find these two ingredients in the market. Feel free to add herbs aside from cilantro. For instance, you can use rosemary to make it more savory or to have that smoky flavor. You may also use mints for this lentil salad recipe to have the cool and sweet flavor.
Lentils are great if you want to boost fibers and proteins in your body. They're a bit easy to cook as well. All you need to do is boil or simmer. They will add a rather earthy flavor to your dish, for instance, in this salad recipe. If you want more vegetable-based salad, you might want to try our Rice Salad with Grilled Vegetables Recipe. Like the lentil salad, this one is absolutely filling and healthy.
How To Make Moroccan Lentil Salad
A quick, colorful, and spicy protein-rich salad or side dish.
Ingredients
½

cup

dry lentils

1 ½

cup

water

½

15 oz. can chickpeas

drained

2

tomatoes

chopped

4

green onions

chopped

2

hot green chile peppers

minced

1

green bell pepper

chopped

½

yellow bell pepper

chopped

1

red bell pepper

chopped

1

lime

juiced

2

tbsp

olive oil

¼

cup

fresh cilantro

chopped

salt to taste
Instructions
Place lentils and water in a pot. Bring water to boil, reduce to simmer. Cook for 30 minutes or until tender. 

In a medium size mixing bowl, combine lentils, chickpeas, tomatoes, green onions, green chilies, bell peppers, lime juice, olive oil, cilantro, and salt to taste. 

Toss well. Chill for 20 minutes. Serve chilled.
Nutrition Facts
Calories:
172
kcal
|
Carbohydrates:
23
g
|
Protein:
8
g
|
Fat:
6
g
|
Saturated Fat:
1
g
|
Sodium:
13
mg
|
Potassium:
558
mg
|
Fiber:
10
g
|
Sugar:
5
g
|
Vitamin A:
1588
IU
|
Vitamin C:
111
mg
|
Calcium:
37
mg
|
Iron:
3
mg
Commonly Asked Questions
Can I make this dish with other lentils?
If you don't have any garbanzo beans on hand you can make use of any other beans. They will work just as well with the other components of this dish and give you just as good a serving of protein. You can use other types of lentils as well. For instance, beluga lentils are great for salads as well.

Can I make this in advance?
Yes, you can definitely make this salad in advance. After making this salad, place it in an airtight container and place it in the fridge. Make sure to seal the container tightly or else it will go stale. No need to heat this up before serving once again.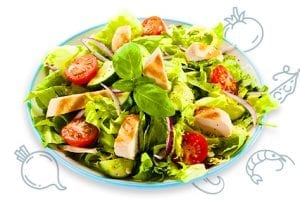 Conclusion
Serve dish as an appetizer or as a side to a main dish. This Moroccan Lentil Salad will do well with a portion of grilled chicken breast. Try out the meatless burger with this lentil salad recipe as well. We guarantee that it's going to be an amazing gastronomic experience.