This Moroccan Lentil Salad recipe is a fantastic way to sneak some protein into a vegan diet. It is crunchy, zesty, and filling. What more could you want? Of course, getting into a vegan diet will take some time to get used to. However, with this dish, we guarantee, that you will appreciate vegetables more.
For this recipe, all you need to prepare are bell peppers, chickpeas, and lentils. Lentils are a highly nutritious type of legume. Unassuming in their tiny round appearance, these humble beans actually pack a great deal of healthful goodness for you. As a matter of fact, a cup of lentils can be a good source of iron and protein — it's a great alternative for meat! Moreover, lentils are high in fiber and low in calories. Consuming lentils can also provide vitamins and minerals like potassium and folate which are beneficial to your heart.
Feel free to add herbs aside from cilantro. For instance, you can use rosemary to make it more savory or to have that smoky flavor. You may also use mint for this lentil salad recipe for a refreshing sensation.
Lentils are not only good for health, they're delicious and easy to cook as well. All you need to do is boil or simmer them to add a complex flavor to your dish. Depending on the types of lentil you use, you'll actually get very distinctly different flavors. Green lentils have a peppery taste, while brown lentils are earthier, with black lentils, or Beluga lentils, being the earthiest. Yellow and red lentils taste sweet and slightly nutty.
If you want to try another vegetable-based salad, you might want to try our Rice Salad with Grilled Vegetables Recipe. Like the lentil salad, this salad is absolutely filling and healthy.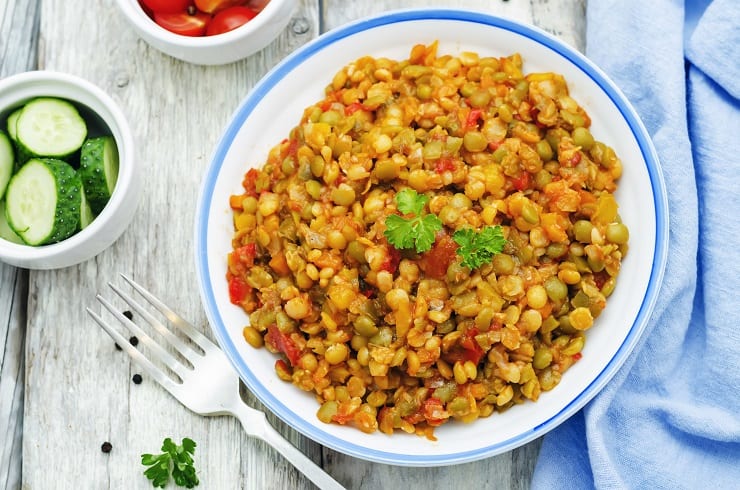 Moroccan Lentil Salad Recipe
How To Make Moroccan Lentil Salad
A colorful and spicy protein-rich chilled vegan salad that brings the rich Moroccan culture to you.
Ingredients
½

cup

dry lentils

1½

cups

water

7½

oz

chickpeas,

(½ can) drained

2

tomatoes,

chopped

4

green onions,

chopped

2

hot green chile peppers,

minced

1

green bell pepper,

chopped

½

yellow bell pepper,

chopped

1

red bell pepper,

chopped

1

lime,

juiced

2

tbsp

olive oil

¼

cup

fresh cilantro,

chopped

salt to taste
Instructions
Place lentils and water in a pot. Bring water to boil, reduce to simmer. Cook for 30 minutes or until tender. 

In a medium size mixing bowl, combine lentils, chickpeas, tomatoes, green onions, green chilies, bell peppers, lime juice, olive oil, cilantro, and salt to taste. 

Toss well. Chill for 20 minutes. Serve chilled.
Nutrition
Sugar:

7g

:

Calcium:

55mg

Calories:

226kcal

Carbohydrates:

32g

Fat:

7g

Fiber:

12g

Iron:

3mg

Potassium:

639mg

Protein:

10g

Saturated Fat:

1g

Sodium:

16mg

Vitamin A:

1599IU

Vitamin C:

111mg
Nutrition Disclaimer
Frequently Asked Questions
Which lentil should I use for this lentil salad recipe?
Going to the grocery store, it can be quite confusing to choose a particular lentil as there is an overwhelming diversity of lentils available in the market. But it's actually quite easy to determine lentils according to the color. Usually, the most common type of lentil available is green and brown lentils. These lentils retain their shape well, making them suitable for salads. If you're willing to splurge, French Puy lentils will give your salad a more robust taste than regular green lentils. Otherwise, Beluga lentils, or black lentils, also work as a salad base as they hold their shape well when cooked. Red and yellow lentils are not as suitable for salads as they'll turn mushy after cooking. These lentils are actually ideal for soups and curries, which is why you usually see them in Indian and Middle Eastern cuisines.  
Can I make this salad in advance?
Yes, you can definitely make this lentil salad in advance. After making this salad, place it in an airtight container and place it in the fridge, at least for a couple of days. Make sure to seal the container tightly or else it will go stale.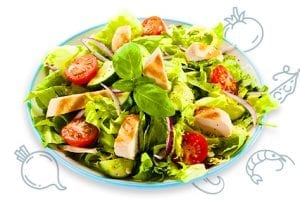 Conclusion
Aside from being a great main dish for busy weekday lunches, you can also serve this dish as a colorful appetizer or as a side to your main course. This Moroccan Lentil Salad will pair well with a portion of grilled chicken breast. To have a true vegan experience, try out the meatless burger with this lentil salad recipe as well.